39 Entry Level Jobs That Pay Well – No Degree Required
Updated on: by Amy Kennedy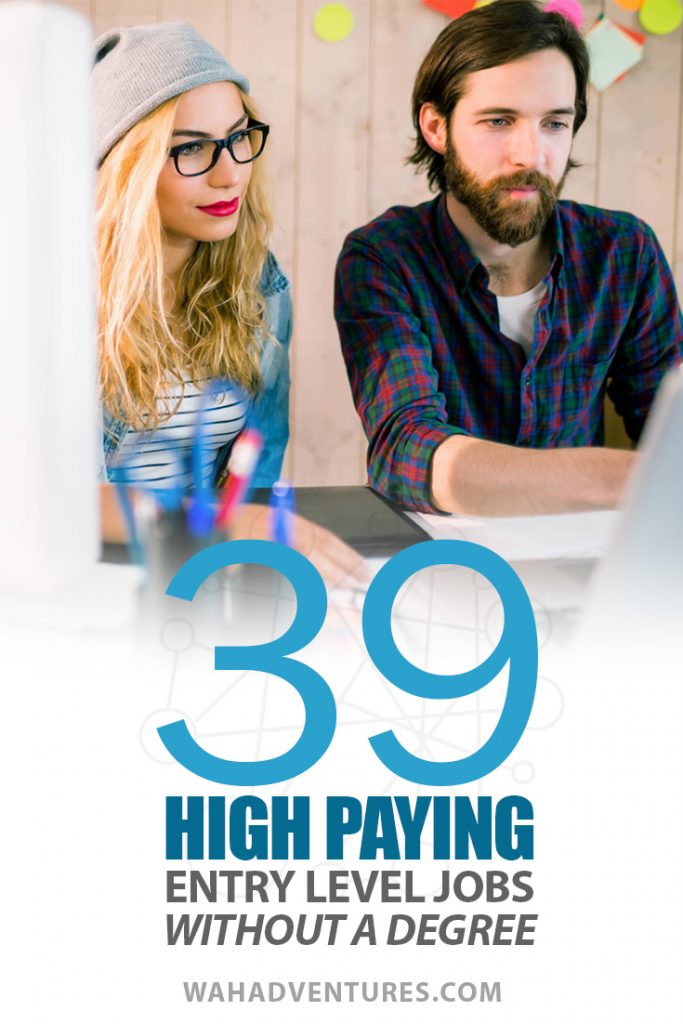 I'm a college graduate.
Need Easy Extra $350+/Month For Free?
I'll never say I regret going to college, even though it landed me thousands of dollars in debt.
I loved the experience and I'm proud of my dual-degree!
But, do I think I could have found an excellent job even without my degree?
Yes, I probably could have, because it's becoming more common for people to do just that.
I came across several entry-level jobs that pay great money.
The best part?
They require zero college experience.
Why Skip College?
To put it simply – college is expensive!
Many people are finding entry level jobs that turn into a career that is just as well-paying (or even more lucrative!) than a career landed with a college diploma.
CollegeData.com estimates that the average year of tuition at an in-state college or university in the United States is around $24,610.
For an out-of-stater, you're looking at double that cost.
And, there's not even a guarantee that you'll land a job once you graduate!
The reality is that many non-college-goers are getting awesome jobs starting out at an entry level position and working their way up to a long-lasting career.
And, these entry-level positions pay incredible salaries!
So, throw what you know about college out the window.
Need Easy Extra Cash?
Pinecone Research, a leading name in online survey panel honesty, absolutely guarantees $3 cash for every survey you complete!
Take advantage of their time limited New Membership drive and register NOW. Join today: 100% free!


These jobs prove that a college degree isn't imperative to landing the career of your dreams.
The Big List of Entry-Level Jobs That Pay Well
It's important to note that many of these careers will still require a special certification or some experience in a trade school.
But, the amount of money and time required to get what you need is usually a lot less than what you'd spend at college.
I've arranged this list with the highest-paying entry-level jobs first. Salary projections are from the most current list of salaries from the U.S. Bureau of Labor Statistics.
UPDATE 6/2023: This list has been updated to reflect more current salaries and requirements of each job, based on information from the U.S. BLS, Glassdoor, Salary.com, and other reliable sources.
I'll note any changes below!
Air Traffic Controller ($96,870) 

Airlines  now require a ATPs to have bachelors degree.



It's best to have at least 3 years of related experience to become an air traffic controller and you'll have to pass extensive courses and exams with the Federal Aviation Administration (FAA).
If you want to take the course, hurry! You must start it before you turn 31.
You'll also need to pass the required medical and background checks before obtaining your certification from the FAA.
Safety is a top priority for air traffic controllers, as they're responsible for helping planes take off and land safely, monitor and direct in-air traffic, and handle emergencies.
It can be an extremely fast-paced and stressful job, hence the high salary.
Installation & Maintenance Technician Supervisor ($85,637)
This career can entail several types of jobs, from installing cable lines and internet systems to testing and repairing switches for telecommunications products.
A bachelor's degree can earn you a higher wage, but it's not required.
It's possible for a supervisor to get hired for the position based upon prior work experience or extensive knowledge in the areas he or she will be working.
Supervisors will oversee technicians, but will still report to a manager and adhere to the company's requirements and procedures.
UPDATE 6/2023: The average salary for this position is now $89,504.
Elevator Mechanic ($78,890)
Who knew repairing elevators could be so lucrative?
Elevators require extensive repair knowledge to fix properly, like the ability to read blueprints, install and repair control systems, adjust safety controls, and more.
Although a degree isn't required, you'll likely need a certification from a trade school to get started in this career.
Some companies also require you to complete an apprenticeship under a fully-trained technician before venturing out on your own.
UPDATE 6/2023: The average salary for this position is now $79,480.
Commercial Pilot ($77,200)

– This job now requires a bachelor's degree.

Commercial pilots fly for various reasons, including emergency medical purposes, aerial application of chemicals for farms, or charter flights.

They typically fly between 30 and 90 hours per month, plus have several other responsibilities, like plane maintenance and training.

You'll need a pilot's license, which will require a specific number of logged flight hours, a medical exam, a written exam, and a flight exam to obtain.

UPDATE 6/2023: The median salary for this position is now $130,059. Commercial airlines do now require a bachelor's degree, but it doesn't always have to be aviation-related.
Supervisor of Non-Retail Salespersons ($73,150)
Supervisors of non-retail salespersons tend to earn much higher salaries than those of retail salespersons.
This career entails overseeing salespersons in non-retail areas like online business, marketing, or investments.
A supervisor may also be responsible for accounting, budgeting, and other behind-the-scenes work.
These supervisors typically need excellent computer skills and sales and marketing experience.
Earn Everything… nearly!
Join Opinion Outpost, one of the few faithful and honest survey panels and earn cash and gift cards for your opinion. Stack your points and redeem them: Simple! No hidden fees and completely free!


UPDATE 6/2023: The average salary for this position is now $82,200.
Margin Department Supervisor ($73,149)
The margin department of a brokerage firm is responsible for extending or denying credit to clients and makes sure its products meet federal requirements.
As a supervisor of the department, much of that responsibility will be on your shoulders.
You'll also oversee the margin department's workers to ensure they adhere to policy and regulations.
Some companies will require a degree for the position, but often, a few years of experience related to the field can get you the job.
UPDATE 6/2023: The average salary for this position is now $74,566 and may increase if you do have relevant education.
In-Flight Service Manager ($67,680)
In-flight service managers help to ensure safe and smooth flights for everyone.
They may be in charge of the hiring process and continuous training for flight attendants, monitor the morale of the crew, and attend company meetings.
In-flight service managers typically need at least a few years of flight attendant experience.
UPDATE 6/2023: The average salary for this position is now $61,762.
Agricultural Manager ($66,360)
If you have plenty of farming or agricultural experience, you can likely become an agricultural manager with no college degree.
The agricultural manager oversees the daily operations of commercial farming, from the development of crops to the treatment and processing of animals.
You'll need to know how to plan crops to minimize waste and maximize profits, create and maintain a budget, and oversee relations with the businesses you sell to.
Much of this job relies on business operations, so business experience is a plus.
The American Society of Farm Managers and Rural Appraisers (ASFMRA) provides certification for prospective agricultural managers, but it's not a requirement to start.
UPDATE 6/2023: The average salary for this position is now $69,300.
Landscape Architect ($63,480)
A landscape architect helps design outdoor areas for parks, businesses, homes, campuses, and more.
Plenty of internship experience can help you enter this field, but you'll likely be required to also obtain licensure, which varies by state.
The Landscape Architectural Examination Board provides accredited programs, but you can also go straight for licensure.
Check with the Council of Landscape Architectural Registration Boards for the requirements for your state.
UPDATE 6/2023: The average salary for this position is now $49,378.
Construction Supervisor ($62,980)
Construction workers themselves can make a decent salary, especially if they have a particular area of expertise.
But, the construction supervisor can double a worker's salary and also doesn't require college experience.
This job requires you to organize and control a project, assign duties to workers, adhere to time limits, and conduct inspections.
Most construction supervisors who enter at this level have vocational training, but it's possible to also advance to this position through plenty of experience as a construction worker.
UPDATE 6/2023: The average salary for this position is now $107,815.
Boilermakers ($62,060)
Boilermakers don't need a college degree, but they do need strict attention to detail, expert knowledge and experience with boilers and necessary equipment, and good construction, math, and welding skills.
Most boilermakers must pass a four to five-year apprenticeship for technical training.
Through the program, they'll learn about inspection practices, boiler assembly and installation, repairs, and more.
UPDATE 6/2023: The average salary for this position is now $55,442.
Construction/Building Inspector ($58,480)
As a construction or building inspector, you can command a high salary without ever stepping foot in college.
You'll complete a variety of tasks at construction sites or finished buildings, like reviewing blueprints to ensure they meet local code, monitor plumbing or electrical installations, and take photos and logs during inspection.
Most inspectors learn the trade on the job, but most states require you to obtain licensure before you start.
UPDATE 6/2023: The average salary for this position is now $54,125.
Real Estate Broker ($56,790)
Real estate brokers help clients find the perfect property by taking them to view properties, advise them on housing conditions in the area, and assist them on obtaining a mortgage.
You'll need licensure before beginning this career, and the requirements differ in each state.
Most states require a few specific courses before you can obtain licensure, but you can often complete these in just a few months, compared to years at a college.
UPDATE 6/2023: The average salary for this position is now $101,445.
Railroad Track Laying and Maintenance ($53,970)
Most railroad jobs pay well because there's a high demand for workers in the business and they're often physically demanding.
Railroad track layers and maintenance workers tend to command high salaries without needing a college degree.
Instead, related work experience can help you get the job.
You should have expert knowledge of railroad work safety practices and operation of heavy equipment needed to repair and maintain tracks.
UPDATE 6/2023: The average salary for this position is now $52,431.
Electrician ($52,720)
Many electricians get their start in the business after completing a couple of years at a trade school for electric work.
This job can be highly dangerous, so although a degree isn't required, it's in your best interest to have had plenty of training before making it your career.
An apprenticeship may be a good choice to help you learn the ins and outs of local codes, safety practices, and the latest technology.
Some companies will require you to obtain ongoing training to stay up-to-date with the latest practices in the field.
UPDATE 6/2023: The average salary for this position is now $47,638.
Funeral Director ($50,090)
A funeral director isn't one of the most-desired jobs, which is likely why its salary is so high.
As a funeral director, you'll be responsible for helping families plan funerals, organizing and planning funerals, paperwork, financial tasks, and possibly embalming bodies.
All 50 states require licensure before becoming a funeral director, and some states do require at least two years of education. Others, however, only require apprenticeship and a passing grade on the state exam.
UPDATE 6/2023: The average salary for this position is now $48,676.
Firefighter ($48,030)
Although many firefighters are volunteers, others do make it their paying career.
There's no degree necessary for firefighters, but they do need to pass tests that examine their strength, endurance, and other physical abilities.
Your location will also determine what else is required.
For example, firefighters in New York City will need special training for rescuing people in high-rise buildings.
Your department will likely have a training program that provides coursework and physical training before you can become an official member of the department.
UPDATE 6/2023: The average salary for this position is now $43,488.
Personal Trainer ($45,630)
No education required to become a personal trainer – but it definitely takes a lot of love for fitness and health!
Although many personal trainers have degrees in nutrition or a related field, they can typically join the profession after completing CPR training and obtaining certification.
There are different certification programs rather than a governing one, but IFPA offers some of the most popular options for personal trainers.
UPDATE 6/2023: The average salary for this position is now $48,869.
Security System Installer ($44,330)
As a security system installer, you'll benefit from training at a vocational school, which can train you on safety practices, installation of various systems, and repair tactics.
Most jobs in this field require at least a few years of experience with one or more types of systems, like security or fire alarms.
Typically, no certification is required.
But, you'll be traveling to homes and businesses for installations and repairs, so you'll need to adhere to your state's driver's licensing requirements.
UPDATE 6/2023: The average salary for this position is now $46,218.
As a freelance writer myself, I can tell you this job can be quite lucrative – and doesn't require a degree, no matter what people may tell you.
I have an English degree, and although it's taught me important writing skills, I'd be lying if I said a client has ever asked for my college credentials.
Your income as a freelance writer depends on (1) how fast you write, (2) how well you write, and (3) the amount of time you put into finding ideal clients.
Sure, a degree can help you if you don't already write well. But, it's definitely not a requirement.
And, if you're already a great writer, it's highly unnecessary.
UPDATE 6/2023: The average salary for this position is now $63,923.
Auto Body Technician ($41,540)
Becoming a skilled auto body technician relies more on experience than a college degree.
However, many people do benefit from attending trade school to learn the skills.
Most programs will take anywhere from six months to two years to finish, which is still less than most college programs.
And, you'll learn everything from math and physics to electronics and hands-on body work.
UPDATE 6/2023: The average salary for this position is now $47,467.
Truck Driver ($41,340)
Most companies require truck drivers to attend on-site training, which lasts anywhere from four to eight weeks.
Often, it's through this training that you'll obtain your commercial driver's license (CDL), which is required for trucking jobs.
Truck driving isn't for everyone; it's long hours and, of course, a lot of driving.
But, if you want to travel the country and get paid to do so, this could be a great choice for you.
UPDATE 6/2023: The average salary for this position is now $43,425.
Medical Coder ($40,000)
Medical coders are the ones behind the scenes that create detailed reports of your procedures and health information for your records and the insurance company.
Most of what they do entails in-depth knowledge of special software that assigns codes for medical billing.
If you choose not to have an associate's degree for the job, most companies will require you to obtain certification.
The one most often desired is Certified Professional Coder (CPC), which requires two years of experience and passing an exam.
UPDATE 6/2023: The average salary for this position is now $46,095.
IT Technician ($38,040)
I know a couple of people in this field, and although it's obviously very technical, neither one needed a college degree to start at an entry level technician.
These are the people who diagnose and repair a variety of computer issues, install computer systems, and maintain the systems.
Some companies require special certification to make it on their teams, but others don't ask for any.
One IT tech I know even works in a large hospital and maintains its vast system of information.
He didn't need any degree or certification for his position.
UPDATE 6/2023: The average salary for this position is now $42,419.
Freelance Photographer ($34,070)
Photography is one of the biggest money-makers for freelancers because there are so many avenues to build a career.
You can book private events, schedule school photo sessions, or specialize in newborn photo shoots.
The options are virtually endless.
And, depending on how much time you can devote to your career, you can earn much more than the median salary.
Although some photographers opt to enter a trade school to improve their skills, others have completely natural talent and earn a living with it.
After all, most clients aren't interested in a photographer's education background.
They just want to see proof of their skills!
UPDATE 6/2023: The average salary for this position is now $57,218.
Emergency Medical Technician (EMT) ($32,670)
It might be surprising that an EMT's median salary is the lowest on this list since it's such a demanding career.
But, at over $32,000, the salary is respectable, especially for a no-degree-required, entry level position.
EMTs are the first responders of emergencies.
They assess a patient's condition and do what they can to keep a patient stable until they figure out the necessary actions to take.
EMTs do need to become certified, as well as pass CPR training.
Certification requirements differ for each state, but usually requires both a written and physical exam and will need to be recertified annually.
UPDATE 6/2023: The average salary for this position is now $35,410.
New Additions to the List for 2020:
Paraprofession / Paraeducator ($31,998)
A paraprofessional, also known as a paraeducator, is basically an assistant in an educational classroom. You might also hear them referred to as a teacher's assistant.
Paraprofessionals assist teachers in a range of grades with whatever they need help with, like filing paperwork, helping students locate information, cleaning, grading, etc.
Many paraprofessionals remain with one classroom throughout the year and often assist teachers who provide education to students with special needs.
Although many school districts require their paraeducators to have at least an associate's degree in a relevant field, not all do.
Some districts are okay with a high school diploma or equivalent if you have other relevant experience in an educational setting.
You will likely need to complete a certification course by a specific date, though, even if you do already have a degree.
Pharmacy Technician ($33,968)
Believe it or not, those pharmacy technicians that help dispense and handle your medications may only have a high school diploma.
Some pharmacies may hire technicians with experience in the medical field through volunteering or something similar but will likely require them to complete certification as they work through a specified program.
Other pharmacies may require the certification beforehand, and almost all will want their technicians to have as much relevant experience as possible.
Still, no degree is required but you should count on getting recertified every couple of years.
Postal Worker ($37,436)
Postal workers make a decent wage and require no type of formal education. All they need is their high school diploma or equivalent to get started.
However, they do need to have a very clean track record when they get a background check.
Postal workers can't have any dings on their check from criminal violations and the like, and they must be able to pass a drug screening and physical exam.
They'll also need to complete a written exam that checks their knowledge of common postal worker duties and will need to have strong references from past employers.
The salary noted above is just starting, but postal workers with 10 or more years can make an average of $55k or more, depending on where they live.
Choreographer ($37,836)
Have dancing experience?
You could become a choreographer without ever studying dance, the arts, or a relevant field in college.
Most choreographers are hired based on their dance skills and experience alone, often with years of experience to prove their skills.
As a choreographer, you might work in a private dance studio or create routines for theater dances.
Some of the best choreographers can even design dance routines for music videos and concerts for musicians.
Although no college education is required as a choreographer, it wouldn't hurt to have something to fall back on should you get injured or age out of the career.
Technical Support Analyst ($50,984)
Technical Support Analysts are those awesome people you call, email, or chat with who help you fix your phone, computer, and any other piece of technology that goes haywire.
They're definitely people we need in our lives, which is probably why they make such a good salary.
It's surprising to think that, generally, tech support workers don't need any sort of degree to do their jobs.
A lot of what they do comes from on-the-job learning, helpful resources, and basic knowledge of computers and other technology.
In many cases, vocational training may be all that's required to get started in this field, although those with experience and a degree can typically make a higher salary.
Computer Programmer ($63,137)
Computer programmers are needed more than ever before, as almost everything gets turned over to computers in today's modernized and techie world.
The job is very technical, but surprisingly doesn't require a degree.
Most computer programmers simply have a knack for all things computers, while others may have gone through a certification program through their high school to learn the basics.
Although most programmers do have a bachelor's degree in computer science or a relevant field, not all employers will require one.
Some are willing to hire based on ability and experience alone, but you may start out with a lower salary until you prove your skills.
Criminal Investigator ($65,340)
Criminal investigators are the people that ask people questions relevant to a current case they're working on.
They must be cool, calm, and collected at all times, know the right questions to ask, and know how to pay close attention to detail so they don't miss anything important.
Sometimes, investigators will need to be armed, so they'll need to have the proper licensure to carry an armed weapon.
Otherwise, no degree is typically required, although some departments may ask for at least an associate's degree in criminal justice, engineering, or another relevant field.
Candidates will, however, need to pass the police academy and complete other required trainings noted by their department.
Police Supervisor ($71,774)
A police supervisor works to oversee the other members of the police department, their activities, and the crimes they're working with.
Surprisingly, this field doesn't require a college degree, although some departments may not hire for this position without a bachelor's degree. Otherwise, a high school diploma is the standard requirement.
Most supervisors must also have police officer experience before they are granted this position.
Often, departments will move up their own rather than hiring out, if possible.
You'll need a valid driver's license, clear background check, and a passed physical exam, including a drug test, to get started.
Ultrasound Technician ($74,226)
Some ultrasound technicians – the people who actually perform an ultrasound on a patient – make incredible money every year without a college degree.
Some hospitals and offices may require, at the least, an associate's degree, but others only require candidates to complete a one-year certification program, and may even allow them to complete it during a probationary period on the job.
If you're in the military, you might also be able to take advantage of training it offers for free as part of your service to jump-start your career in this field.
Other Ways to Make an Excellent Income without a College Degree
I want to mention that there are some other plausible ways to earn an excellent income without needing to sit through college classes.
These ideas relate to becoming your own boss, rather than working for someone else.
Sounds awesome, right?
And, believe it or not, there's nothing stating that you need a business degree or any kind of formal education to become a business owner!
Check out these other great ideas for making the income of your dreams:
Starting a Business
Starting a business of your own can take on a lot of forms, a few of which I'm going to outline below.
You could go the multi-level marketing route, using a company like Younique that makes its own products and recruits people like you to sell them for commission.
Those can be very time-consuming to get moving, though, so you're better off using your own ideas and seeing where they take you.
First, think of your interests and skills.
What ones do you have that could mesh well together?
For example, if you love cooking and are especially good at coming up with new recipes, you might want to start writing cookbooks.
Or, if you have a knack for coming up with funny sayings and you also love playing around with computer graphics in your spare time, you might start a t-shirt design business using your funny slogans and design skills.
Whatever you choose to do, your business is all yours, so you're in control of how it operates and how much you can make – the sky's the limit.
This guide to home-based business ideas can give you some inspiration.
Blogging
Blogging is one of the best businesses you can start in today's techie world.
Bloggers are making some incredible money by monetizing their blogs through sponsored posts, advertising, affiliate marketing, and selling products related to their blogs.
It's pretty amazing, if you think about it.
Blogs were intended to be online journals, but they've become so much more.
They now act as a way to make a full-time income – and even surpass the salary you could get in industries like medicine or law!
Just take a few money-making blogger examples into consideration:
Perez Hilton, an entertainment blogger and influencer, earns close to $600k per month just from his blog.
Pat Flynn, a finance blogger and owner of Smart Passive Income, earns over $200k every month from his blog.
Jeff Rose of Good Financial Cents earns over $138,000 monthly from his financial blog.
Rosemarie Groner, a parenting and budget blogger, makes about $86k every month from her blog, Busy Budgeter.
Obviously, it's an incredible way to start making money.
Who knows – maybe in a year from now you'll be living the good life making thousands of dollars just from your blog!
Freelancing
I always recommend freelancing to people who are interested in earning a better salary than they do now.
Why?
Because, like blogging, freelancing gives you a lot of space to explore your interests and skills while giving you the freedom to earn money on your own terms.
It's flexible and fun because you can do what you love to do as a freelancer.
The great thing is that this business doesn't have to require a ton of marketing for your business if you stick with freelance marketplaces and job boards for remote gigs.
Places like Upwork let clients post gigs for writers, developers, photographers, and more, while freelancers can apply to the ones they're interested in.
You'll have access to a steady stream of clients and gigs without having to constantly promote your services like you might with a different type of business.
Here are a few average freelancing salaries (in addition to freelance writer and photographer salaries listed above) just to give you an idea of what to expect:
Software Developer: $110,000
Web Designer: $55,509
Graphic Designer: $56,097
Tutor: $45,000
Marketer: $54,895
Editor: $57,163
Starting Several Side Gigs
Finally, you might consider starting a few side gigs that give you ultimate flexibility and an excellent salary.
Side gigs – like personal grocery shopping, mystery shopping, and rideshare driving – let you work when you want to, but also can give you a better income than regular work when you throw a couple of them together (sometimes, even on their own!).
Here are a few posts we've written that can help you find some awesome side gigs to give you the income you want:
Tips of Choosing Entry Level Jobs That Pay Well
1. Identify Your Skills and Interests
Your skills and interests should guide your job search.
Start by identifying what you're good at and what you enjoy doing.
This will help you narrow down your search and focus on jobs where you can excel and gain satisfaction.
Don't be afraid to think broadly about your skills.
For example, if you're good at problem-solving, this skill is applicable to many jobs across various industries.
2. Research the Industry and Job Market
Take time to learn about different industries and the job market.
Look at the average pay for entry-level positions in different sectors and the prospects for growth in these sectors.
Industries such as tech, finance, and healthcare often have higher-paying entry-level jobs.
Websites like Glassdoor, Payscale, and Indeed can provide useful information about salary ranges for different positions and industries.
3. Look for Jobs with Upward Mobility
When choosing an entry-level job, it's important to consider not just the starting salary, but also the potential for future income growth.
Jobs with clear career paths and promotion opportunities can lead to higher salaries over time.
Therefore, it's wise to choose an entry-level job in a field where you can gain the necessary skills and experience to move up the ladder.
4. Consider the Total Compensation Package
The salary is only one part of your compensation.
Don't overlook benefits like health insurance, retirement plans, and paid time off, which can significantly increase the total value of your compensation package.
Some companies may also offer perks like tuition reimbursement or professional development opportunities, which can help advance your career and increase your earning potential in the long run.
5. Network
Networking is a crucial part of any job search. Connect with professionals in your field of interest to learn more about the industry, the types of jobs available, and the salary ranges.
Networking can also open up opportunities that you might not find through traditional job search channels.
Remember, many jobs are not advertised publicly and are often filled through personal connections.
So start building your network early, and make the most of professional networking platforms like LinkedIn.
They May Not Be Quick Easy Careers, But…
That's a pretty incredible list, right?
They won't necessarily be quick and easy, but these jobs are ones you can get started on without a college degree.
But, I'll still go ahead and make an important note here.
I will never speak badly about college other than it's expensive.
The things you'll learn and experiences you'll have can far outweigh the costs.
So, if it's something you can afford, I highly recommend it because it can lead you to your dream career.
If college isn't in the cards for you, I hope you've found some valuable information here about a career you might be interested in starting.
Have you had experience with college or did you find a great career without it?
Please let us know about your experiences and thoughts in a comment below!
Related Posts:
Earn Everything… nearly!
Join Ipsos iSay, one of the few Faithful and Honest survey panels and earn prizes, gift cards and donations. Stack your points and redeem them: Simple! No hidden fees and completely free!