These 10 Best Pieces of Equipment Can Help You Transcribe from Home!
Updated on: by Amy Kennedy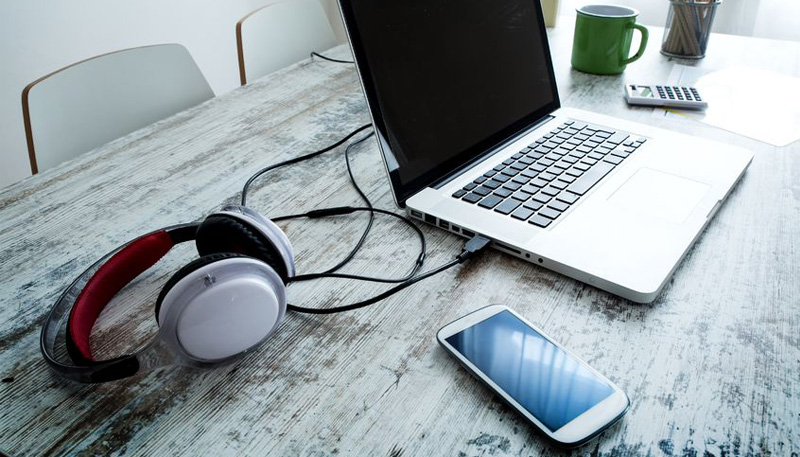 Work from home transcription jobs are becoming more available as many companies switch to remote, rather than on-site, employment.
Need Easy Extra $350+/Month For Free?
If you're thinking about a career in transcription, then this is the perfect article for you!
Although transcription work is generally a field you can enter quickly and without much experience, you'll need to treat your work from home job as a business.
That means that, unlike traditional employment, you'll usually need to provide your own equipment and software to get started (although there are some companies that will provide you with a computer, software, and other equipment!).
So, I thought it was important to outline the equipment that you'll need – aside from the obvious computer, of course! – for your transcription work from home so you can be adequately prepared to jump into your new career.
Do I Really Need Special Equipment for Transcription Work?
Is it necessary to have a headset, audio typing equipment, and other things to get started as a transcriptionist?
Not always.
Some people jump right in and start working without any of the above.
It depends on where you choose to work, of course, as some places require you to have a headset, foot pedal, or transcription software.
Others don't have any requirements, as long as you complete your work promptly and accurately.
I know that, as a beginner, it can be tempting to get started earning money as a transcriptionist without having to first spend money on all this extra stuff.
But, this "stuff" will make your job much easier and can also increase your speed and accuracy.
This, by the way, can pave the way for rate increases and extra work!
If you're only considering picking up a few hours of transcription work a week, I don't suggest purchasing extra equipment that you can't afford.
As a career, though, you'll benefit from having the equipment listed here, or at least a few of them, at your disposal.
Necessary Transcription Equipment for a PC
1. Headset
A headset is one of the pieces of equipment that most transcriptionists won't go without.
Need Easy Extra Cash?
Pinecone Research, a leading name in online survey panel honesty, absolutely guarantees $3 cash for every survey you complete!
Take advantage of their time limited New Membership drive and register NOW. Join today: 100% free!


It's also one of the most common things for companies to require all transcriptionists to have, even if you work as an independent contractor.
A good transcription headset works to cancel noise in the background, making it easier for you to hear the speaker(s) on your audio file.
Most headsets come with volume adjustment so you can control how loud you want your audio to be without pressing anything on your computer.
Headsets can be plugged right into your computer and don't require any batteries or charging, so they're quick to set up and use.
Some of the best headsets for transcription work include:
2. Foot Pedal
As someone who has done transcription work, I can't imagine not having a foot pedal to transcribe!
As you listen to audio files, you'll sometimes need to pause, slow down, or speed up the audio so you can catch certain words that may be difficult on regular speeds or to just catch up with your typing.
A foot pedal lets you use your foot to control the speed and pausing so you can continue to type with your hands.
Think of the foot pedal as an extra set of hands for transcription!
This also helps to keep you from getting distracted, which is easy to do when you have to keep stopping your brain from listening and your hands from typing so that you can change audio speeds.
Here are a few good foot pedals to consider:
And, if you want a foot pedal, headset, and transcription software in one package, you can check out the Express Scribe Pro Transcription Kit.
It can save you money if you're looking to buy these pieces separately anyway and is highly recommended by seasoned transcriptionists who do this work for a living.
3. Transcription Software
Transcription software is one of the things that many companies require before you begin transcription work.
Even as a freelancer, it can really help you control your audio playback to make your transcription process easier.
When used with a foot pedal, you'll have the ultimate convenient experience available to you by being able to stop, start, slow down, and speed up audio.
Express Scribe is one of the most popular pieces of software for transcription.
You can order it on its own or in a set with a headset and foot pedal.
This software supports foot pedal controls so you can control audio hands-free.
Most software for transcription can read various types of audio files so that you won't need a separate file converter to transcribe the file.
And, some software will even help you transcribe video files, like Inqscribe.
There are also quite a few free transcription software sets that you can get if you'd like to get a feel for how they work before purchasing more comprehensive software.
4. Word Processing Software
Most transcription software comes with their own word processing piece that you can use to type transcribed text into.
But, they may not offer the same formatting capabilities and other helpful features that word-processing software can.
Some transcriptionists prefer to use their software to type their text as they transcribe and then copy and paste their text into a word processor for final editing and formatting.
This isn't a necessity, of course; just a personal preference.
Microsoft Word is among the most common to use and also one of the easiest.
You can complete automatic spelling and grammar checks and use a variety of tools to format your document to your needs.
It does have a subscription cost, though.
Earn Everything… nearly!
Join Opinion Outpost, one of the few faithful and honest survey panels and earn cash and gift cards for your opinion. Stack your points and redeem them: Simple! No hidden fees and completely free!


An alternative is to use Google Docs, which is completely free and saves your files in Google Drive, rather than on your computer.
This will allow more space on your computer and keeps your files safe from accidental moving or deletion.
5. Grammar and Spell Checker
Grammar and spell checkers come standard with most word processing software, but to ensure your transcription accuracy, you may want to invest in some extra software that goes more in-depth.
I suggest Grammarly, which looks over your document and gives you suggestions for misspelled words and grammar mistakes you may not have caught otherwise.
Of course, if the speaker on the audio file made a grammatical error, you should keep it intact, but Grammarly can help you catch little mistakes that you made.
You can use Grammarly via its website by uploading your document and browsing through edit suggestions.
Or, use the handy extension for Microsoft Word that corrects your mistakes right in your dashboard.
Grammarly does have a subscription cost. If you're not yet ready to shell out a monthly amount for it, try Paperrater for free.
6. Dictionary or Thesaurus
If you're going to work from home in transcription, you may want either a dictionary or thesaurus.
Both can help you with spellings for words you don't know and may also help you ensure that you're typing a word you think you hear in an audio file.
If you hear a certain word but aren't sure of its meaning or that you're hearing the correct word, you can look up its definition or synonyms and, using context clues from the audio file, you can gauge whether that may be the correct word.
7. Industry-Specific Manuals
Are you considering legal transcription, medical transcription, or transcription for another industry that involves high-level knowledge?
If so, you may want to invest in some industry-specific manuals that can help you get through tough terminology and subjects.
A book of medical terms, for example, may help with medical transcription. Medilexicon is a helpful, free, online-based medical dictionary that can assist you.
Once you're ready to invest some money into your business, the American Medical Association's Complete Medical Encyclopedia can give you a comprehensive look at medical terminology.
And books that can help you decipher some legalese can aid you in legal transcription.
There are several free, online legal term websites, like the one on Law.com, but a good one to consider purchasing is Black's Law Dictionary.
8. Text Expander
Even fast typists can benefit from something that makes their job easier, right?
As a transcriptionist, speed is key.
You need to be able to keep up with your audio file as much as possible so you can catch everything the speaker says – and without making mistakes.
A text expander works somewhat like your smartphone might when you type.
If there are common phrases that you begin typing out in a text, for example, your phone may show you, and insert, the full phrase before you finish typing it to save you time.
A text expander works similarly in that, while you transcribe, it will allow you to press a key or code to insert long phrases that you may use repeatedly.
The code or key press can save you time over typing the full phrase, like a macro would.
Phrase Express and TextExpander are good options for transcriptionists.
9. Time Tracking Software
If you work for a company as an hourly employee or set an hourly rate for yourself as a freelancer, an accurate time tracking software can ensure that you're getting paid for your full time you spend transcribing.
Unfortunately, most companies set their rates per audio hour or minute, rather than the hours you spend transcribing.
This is to ensure that people don't milk the clock with a file to make more money.
You'll only get paid per the company's rates for how many minutes or hours of audio you transcribe.
However, as a freelancer, a time tracking software is your best friend.
You can track how many hours you've spent transcribing the audio so you'll get paid for your full working time.
Make sure your client knows your hourly rate and always provide an estimate for how long you believe the file will take you to transcribe so you don't surprise your client with tons of extra billable hours.
If you work through Upwork, you'll benefit from being able to use its built-in time tracking software.
Upwork's time tracker is helpful for clients, too, because it takes periodic screenshots of your work and logs your keyboard and mouse clicks for additional proof that you work as long as you say.
If you find private clients, though, a time tracker like Toggl can come in handy, and it even comes with apps for your smartphone or extensions for your browser.
10. File Converting Software
As mentioned, your transcription software can usually handle the various types of audio files you may receive from clients to transcribe.
But, what happens when a client requests that your final transcript gets turned in using a specific format, like a PDF?
In that case, you may need file converting software that can help turn text files to files with other extensions, like .pdf, .jpg, or .docx.
Fortunately, this is something you can usually do using a free online software, like Zamzar or FileZigZag.
Conclusion: Guide to Transcription Equipment
There you have it!
This helpful equipment can get your transcription business off the ground so that you can find success in your work from home career.
If you can't afford shelling out money for all of it at once, don't worry.
It's absolutely possible to start transcribing without any of the above equipment.
But, you may want to consider investing a little bit of money once you start making money in a headset or transcription software to start.
The rest can come later as you end up making a steady income.
What are some of your favorite pieces of equipment for transcribing?
Is there anything else we didn't mention that you use daily for transcription work?
Let us know in a comment below!
Related Posts:
Earn Everything… nearly!
Join Ipsos iSay, one of the few Faithful and Honest survey panels and earn prizes, gift cards and donations. Stack your points and redeem them: Simple! No hidden fees and completely free!