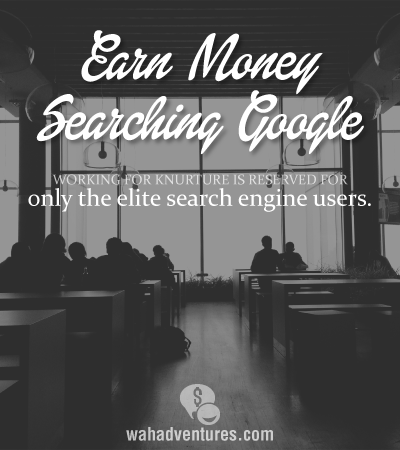 Have a knack for language? Always the first of your friends and family to seek out hard-to-find information? Love working on a computer? Working as an Expert Googler for Knurture is a great potential avenue to earn income from home!
Need Easy Extra $350+/Month For Free?
What is Knurture?
Knurture is a design house that specializes in developing digital products for B2B and SaaS companies. The company has a special interest in startups and excels in producing interfaces that not only encourage company growth, but customer loyalty, with their patented Retention First Approach. A few of the clients they work with on UI and UX optimization include ServiceTrade, Windsor Circle, and Archive Social.
What is an Expert Googler for Knurture?
An Expert Googler is an individual with supreme search engine mastery. Their expertise equips them with next level knowledge on ins-and-outs of search engines, especially Google. An Expert Googler is capable of retrieving all kinds of information using advanced skills, beyond simply entering basic keywords and phrases into a search engine. The ideal candidate is capable of employing special characters and experimenting with different search terms to obtain more specific results.
What are the qualifications?
To be considered for the position of Expert Googler, you must exhibit strong analytical and information-processing abilities and a meticulous attention-to-detail. You demonstrate an advanced grasp of the English language and are able to manipulate words and characters to optimize your searches.
To prove your skills, you are required to complete an online test. Knurture only contacts applicants who score in the top 1% for the position – this is more competitive than entrance to Ivy League schools!
Is this is a full-time or part-time position?
While the position is not full-time, it provides regular opportunities for work.
Is this position open to international candidates or only to American citizens?
The position appears to be open to international applicants.
What equipment or materials are needed?
No specialized equipment or materials appear to be required. Because search engine work is web-based, a reliable computer with speedy Internet and a quiet space to work are always pluses!
How much does Knurture pay their Expert Googlers?
The pay is not something we have been able to locate in a public source. One contractor who worked for Knurture, however, did state the pay was "good" during their review at Glassdoor, where they gave an overall score of 5/5 stars.
How do you apply?
Complete the online test to qualify. The test is comprised of two search challenges. In the first challenge, you are asked to make a list of Google Doc competitors and, in the second, you are required to list at least seven Airbnb homes from rent that are furnished with a Womb Chair. You are also instructed to detail the methodology you employed to obtain your results. A couple of other questions regarding your fee for services and your personal background and you're done!
This is not the final step of the process though – if successful, you will be contacted for further rounds of testing to determine your eligibility.
Related Posts:
Need Easy Extra Cash?

Join e-Poll, one of the few faithful and honest survey panels and earn cash - paid via PayPal - gift cards for Amazon, Best Buy, iTunes, Starbucks, and Walmart, plus Retail e-vouchers.
The surveys are aimed at entertainment-related research, covering such things as personal TV watching habits, give feedback on new TV commercials or to review DVDs that are sent to your home.
For USA residents aged 13+. No hidden fees and completely free!


Want more money?

Join Surveyo 24 #1 paid survey site. It's easy - complete a survey and receive payment. No hidden fees and completely free!