20 Places to Find Wood Pallets for Free to Sell for a Profit
Updated on: by Amy Kennedy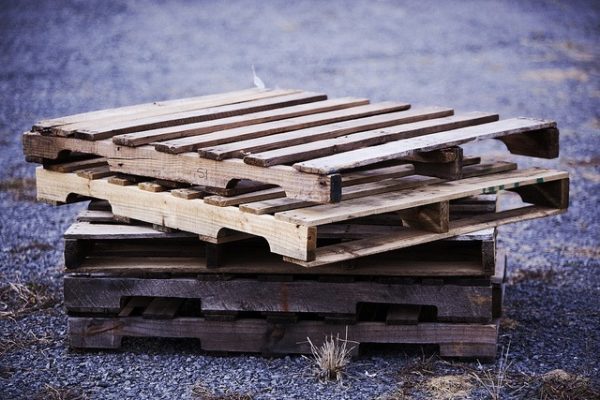 Wood pallets are for more than just transferring stuff to and from businesses and warehouses.
Need Easy Extra $350+/Month For Free?
They're also good for making money and completing projects.
People have started turning the collection of wood pallets into a business.
Because wood pallets can be used by so many people, there are a lot of potential ways to make a profit by selling them.
If you're interested in getting started with collecting wood pallets either to sell or make things with, then we're going to help you find them at places near you.
Where to Get Free Wood Pallets Near Me
The following spots are where you can go to find wood pallets near you and online!
Stores that Give Away Wooden Pallets
First, let's start with some stores that let you have wood pallets.
They may not all allow you to have them for free, but in most cases, they will.
If you have any of the following spots near you, you're in luck:
Lowe's
Lowe's is one of very few big businesses that reportedly allow people to come pick up their pallets for free.
This depends on your location, though, as some will already contract with a company to pick up pallets.
Give your local store a call and see if it allows free pallet pickup from anyone who wants them.
I've seen people in forums about making money talk about being able to get pallets from their local Lowe's as long as they've checked with the store first.
Tractor Supply and Similar Stores
Tractor Supply and other similar rural supply stores may let you have their wood pallets for free.
But again, ask.
It seems that this type of store is one of the more gracious types, though, when it comes to giving away its pallets – and there are usually many of them to grab each week!
Need Easy Extra Cash?
Pinecone Research, a leading name in online survey panel honesty, absolutely guarantees $3 cash for every survey you complete!
Take advantage of their time limited New Membership drive and register NOW. Join today: 100% free!


Hobby and Craft Stores
Local hobby and craft stores could also be good ones to call for pallets, as they get frequent shipments of supplies that would arrive by pallet.
Be sure to check over them for paint spills and wetness.
Habitat for Humanity
I've seen some people mention that their local chapter of Habitat for Humanity, a community organization that helps people build homes, gives pallets away for free.
Check with the organizer for your chapter to find out when new building projects are happening and if you can stop by to grab the pallets when they're empty.
Local Grocery Stores
Grocery stores are some of the best for finding wood pallets.
They're constantly bringing in new stuff to stock their shelves with.
If you have locally-owned grocery stores, even better.
They're probably more willing to contract with you to pick up pallets than a chain grocery store would be.
Furniture Stores
Furniture stores go through a lot of pallets when they get new shipments in, so check with those near you.
You might need to see when they tend to get shipments, as they may not be as regular as other stores.
Pet Food Stores
Pet food stores in your area are also good options for tracking down pallets.
Look for locally-owned versions of chain stores like PetSmart.
Liquor Stores
Ask nearby liquor stores if you can grab their pallets when they've finished stocking.
Find out when their trucks come and offer to pick up the pallets later that day to give them time to unload.
Other Small Businesses in Your Area
Look into other small businesses in your area.
There's no harm in calling them to see if they get items delivered on wood pallets and if you can come pick them up for free.
Other Places to Find Wooden Pallets Near Me
These other places aren't stores, but they can still be excellent options for finding the wood pallets you want:
Construction Companies
A lot of people seem to have luck working with construction companies in their area to collect pallets.
You might call ones local to you and see what their process is for pallet collection.
You may be able to offer to pick some up from job sites once in a while to save the company from hauling them back to their main office for collection.
Recycling Centers
Recycling centers often have wood pallets dropped off to them, and it's possible that they're willing to let them go for free.
Find recycling centers near you with Earth911.
Factories and Warehouses
Call nearby factories and warehouses.
There are always pallets going in and out of them, and if the place is local, there's a better chance that they don't already contract with a company to get them.
Neighbors
Your neighbors might have wood pallets or work at a place that has them, so ask around.
You might be surprised at what you'll learn!
Schools and Universities
Schools and universities may have wooden pallets delivered to them when they get new supplies, food, etc., and they'll probably be more than happy to have someone come collect them for free to save doing the work themselves.
Start a Service in Your Neighborhood
You can always market yourself as a wood pallet collector and have people come to you when they have some to get off their hands.
Put an ad in the newspaper, advertise yourself on Facebook or your other social media channels, and create listings on Craigslist and wherever else you can think of.
Earn Everything… nearly!
Join Opinion Outpost, one of the few faithful and honest survey panels and earn cash and gift cards for your opinion. Stack your points and redeem them: Simple! No hidden fees and completely free!


Let your neighbors know and have them tell people they know.
You could end up with a steady stream of business before you know it.
Online Places to Find Wooden Pallets
Now, let's get into some online spots that are perfect for finding wood pallets!
Craigslist
Craigslist is one of the top recommended online places to find pallets because of its 100% free section for each locality.
Many claim that Craigslist is basically a treasure trove resource for finding pallets in your area, and that there are often listings for free pallets if you are willing to come pick them up and haul them away.
If you don't see any in your area, you can create a listing letting others know that you're looking for free pallets.
Facebook
Facebook has a couple of ways you can use it to find pallets.
First, you can search local buying and selling groups for pallets.
Create a post asking others if they have any they're willing to part with if you come pick them up.
You can also make a post on your personal profile letting your Facebook friends know that you're looking for pallets.
Make it public so that others can share your post and tag their friends if they know someone who might be able to help.
Selling Apps
Use apps designed to help you sell and buy stuff in your area, like OfferUp.
They're kind of like having a yard sale right at your fingertips.
You can browse the listings in your area to see if any pallets are for sale or free.
eBay
eBay isn't a top choice for finding wood pallets near you, but it's there as a last resort.
Just be aware that you will probably need to pay something, as this site is about selling and auctions.
eBay has a feature that allows people to do local pickups rather than get things shipped to them, so make sure you have that selected when you're browsing to find pallets near your zip code.
1001 Pallets is an online classifieds site specifically for wood pallets.
Yes, this really does exist!
You can post your need for free pallets by creating a listing on the site for free.
Make sure you note what size pallets you need and any other information about the specifics you're looking for.
You can also click the Find Free Pallets link on the site to get notified when someone posts a listing for free pallets in your area.
Is There Anywhere I Shouldn't Get Wood Pallets From?
There are actually some places you shouldn't try to get wood pallets from.
First, don't grab them from anywhere you find them without asking the owner first.
If you spot them on the side of the road, don't just assume they're there for the taking.
The owner may just not have gotten them to their final place yet, and it could be illegal to take them without permission.
Whether it's in your neighborhood or laying outside of a business, always try to contact the owner before you grab pallets.
If you can't find the owner, don't take them.
Next, try to avoid any pallets that come from companies that use chemicals.
The chemicals can often remain in the wood even after cleaning them.
Things like petroleum and other oils can leave stains that are nearly impossible (or maybe even impossible) to get out.
Depending on how you're using the pallets, this can be bad news.
For example, you need clean wood to make furniture that will end up in someone's house.
The last thing you want is for the wood from your pallets to be contaminated with harmful chemicals that goes in someone's home.
Furthermore, if you're looking to resell the pallets or the wood from pallets, it's best not to try to sell wood laced with chemicals and oil, which can be a cross-contamination risk for pallets holding food and other items.
Another place you won't usually want to look for wood pallets is big corporations.
Big businesses usually contract with a company that comes and picks up their pallets, so they won't have a need for an individual to come get them too.
Of course, this isn't always the case, as you can see from Lowe's above.
Depending on your local store, you might have luck asking the business if you can get their wood pallets.
Finally, avoid getting pallets that are wet.
Wetness can come from food spills, being left out in weather, and other incidents involving moisture.
Wetness and wood don't go together well.
You won't know how long the wetness has been there, and it could be a challenge to dry the wood completely.
That leaves you with the potential to have mold buildup, wet rot, and other issues that come with wet wood.
Tips for Collecting Wooden Pallets
You know where you're getting your wooden pallets from, so now it's time to start collecting.
Here are some tips that can help:
Bring Your Gloves
You don't want to handle wooden pallets with your bare hands, so bring along a rugged pair of gloves to use to collect them.
You might also want a backup pair just in case anything happens to your main pair.
Wood pallets might be dirty, so you'll protect your hands from the grime that's on them.
But more importantly, you'll save yourself cuts, scrapes, and splinters from handling wood.
Inspect Them First
Spend some time inspecting your wood pallets before you collect them.
Look for breakage in the wood, splinters, cracks, and anything else that might leave the pallets unusable or unsellable.
If you're going to be using the pallets to break down for DIY projects, it's especially important that you have wood in good condition.
You should also look for any stamps on the pallets that indicate to whom the pallets belong.
Some companies stamp their logo on their pallets so they can make sure they return back to them with another shipment, so you'll need to make sure you don't end up taking any of those that are already claimed.
Finally, sort out the pallets you find as you collect them.
Pallets come in different sizes and sorting by size can help you resell them faster.
Have a Truck for Collections
Having a truck can help out tremendously when you're collecting pallets.
Without a truck, you might only be able to squeeze a few pallets into your car or SUV.
But a pickup truck can hold several in its bed, even if they're on the larger side.
With a truck, you'll be able to pick up more pallets at once to save you trips on your collections.
Create a Schedule for Pickups
Next, if you plan to pickup pallets regularly, you'll benefit from planning out a schedule that details where to pick up your pallets and when.
For example, you might make the rounds to three stores on Monday, Wednesday, and Friday, and then pickup pallets from four other spots on Tuesday and Thursday.
Doing this will help you streamline the process of picking up pallets and make sure you don't forget any of your pickup spots each week.
Plus, it can help businesses and other pickup spots get into the routine of having the pallets ready for you to save you some time.
What Can I Do with Wooden Pallets After I Collect Them?
There are so many things you can do with wooden pallets after you pick them up from your destinations!
One of the most common things people do is actually the simplest: They collect wood pallets for free and then sell them for a little bit of money.
They might not get a bunch of money per pallet, but the cash adds up quickly when they can sell hundreds of pallets they collect each week.
However, the better money is in finding something else to do with wood pallets.
Some people fix up pallets and sell them to others who do DIY projects with them.
These crafters might be more willing to pay a decent price for pallets that are already in good shape instead of having to hunt them down and fix them up themselves.
Pallet collectors might also do their own DIY projects with them, like crafting furniture out of them or making wooden signs to paint or stain.
The sky's the limit with these options, depending on what you choose to make with the pallets.
People pay a lot of money for handmade furniture and home décor items made from pallets though!
Finally, you might take the pallets apart to sell the wood pieces separately.
This is a good option for pallets that are in excellent condition or pallets that have a few pieces in great condition that you can save.
You can bundle up the wood and sell it by size to get it off your hands and make a profit.
Finding Wooden Pallets Near You
Finding wood pallets in your area shouldn't be too difficult if you have a lot of stores around.
If you live in a more rural area, it could be a bit more challenging to find places with pallets.
Your best bet is to call around to places in your location to ask whether they have pallets to spare before driving around to all of them.
You may need to ask for the business owner or someone in charge of supply directly rather than a sales representative to get an accurate answer.
And remember that most major businesses already contract with someone to come get their pallets, so you may not have as much luck working with them.
Related Posts:
Earn Everything… nearly!
Join Ipsos iSay, one of the few Faithful and Honest survey panels and earn prizes, gift cards and donations. Stack your points and redeem them: Simple! No hidden fees and completely free!