27 Places to Find Wood Pallets for Free to Sell for a Profit
Updated on: by Amy Kennedy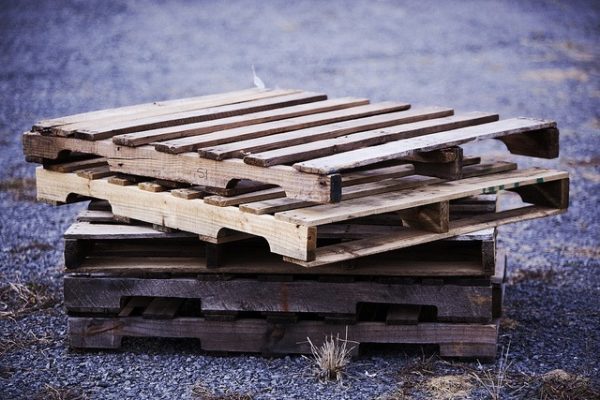 Wood pallets are for more than just transferring stuff to and from businesses and warehouses.
They're also good for making money and completing projects.
People have started turning the collection of wood pallets into a business.
Because wood pallets can be used by so many people, there are a lot of potential ways to make a profit by selling them.
If you're interested in getting started with collecting wood pallets either to sell or make things with, then we're going to help you find them at places near you.
Where to Get Free Wood Pallets Near Me
The following spots are where you can go to find wood pallets near you and online!
Stores that Give Away Wooden Pallets
First, let's start with some stores that let you have wood pallets.
They may not all allow you to have them for free, but in most cases, they will.
If you have any of the following spots near you, you're in luck:
Lowe's
Lowe's is one of very few big businesses that reportedly allow people to come pick up their pallets for free.
This depends on your location, though, as some will already contract with a company to pick up pallets.
Give your local store a call and see if it allows free pallet pickup from anyone who wants them.
I've seen people in forums about making money talk about being able to get pallets from their local Lowe's as long as they've checked with the store first.
Tractor Supply and Similar Stores
Tractor Supply and other similar rural supply stores may let you have their wood pallets for free.
But again, ask.
It seems that this type of store is one of the more gracious types, though, when it comes to giving away its pallets – and there are usually many of them to grab each week!
However, we recommend that you be aggressive when finding suitable tractor supply and similar stores.
Why? 
That is because many people like using this approach to wood pallet sourcing because it's convenient. So, being aggressive in finding the right ones keeps you a step ahead of the competition.
Plus, finding these stores is an ongoing process that never stops. Doing this ensures you have real-time updates on services that shift their operations to include wood pallet sourcing services.
Hobby and Craft Stores
Local hobby and craft stores could also be good ones to call for pallets, as they get frequent shipments of supplies that would arrive by pallet.
Fortunately, many of these stores have a good online presence that you can use to your advantage. You can use their websites or social media profiles to send messages about wood pallet sourcing services. Some even upload detailed images of their wooden products, and this can include pallets.
You can also search for phone details which can also make the communication process convenient.
Be sure to check over them for paint spills and wetness.
Habitat for Humanity
I've seen some people mention that their local chapter of Habitat for Humanity, a community organization that helps people build homes, gives pallets away for free.
Habitat for Humanity is a global non-profit housing organization. It has a presence in all states in the USA and over 60 countries worldwide. This organization also has an excellent online presence, making it perfect for sourcing wood pallets.
Since it's a popular organization, ensure you use a notification system to learn more about its offerings. Also, try and contact the support team for more insight on accessing wood pallets.
Check with the organizer for your chapter to find out when new building projects are happening and if you can stop by to grab the pallets when they're empty.
Local Grocery Stores
Grocery stores are some of the best for finding wood pallets.
They're constantly bringing in new stuff to stock their shelves with.
If you have locally-owned grocery stores, even better.
They're probably more willing to contract with you to pick up pallets than a chain grocery store would be.
Furniture Stores
Furniture stores go through a lot of pallets when they get new shipments in, so check with those near you.
You might need to see when they tend to get shipments, as they may not be as regular as other stores.
Pet Food Stores
Pet food stores in your area are also good options for tracking down pallets.
Look for locally-owned versions of chain stores like PetSmart.
Liquor Stores
Ask nearby liquor stores if you can grab their pallets when they've finished stocking.
Find out when their trucks come and offer to pick up the pallets later that day to give them time to unload.
Other Small Businesses in Your Area
Look into other small businesses in your area.
There's no harm in calling them to see if they get items delivered on wood pallets and if you can come to pick them up for free.
Equipment Stores
There are several equipment stores in your area that probably use wooden pallets. We recommend you get in touch with them for access to high-quality pallets for your projects. Some common equipment stores include those in the cargo or electronic fields.
Newspaper Companies 
Newspaper companies often use wooden pallets for a vast array of functions. However, they also dispose of some of them occasionally, and you can use this to your advantage. Fortunately, finding local newspaper companies in your area is simple.
Visit a Local Pallet Recycler or Producer 
Pallet recyclers don't often receive high-quality pallets, but they are still a great source for your needs. You just have to maintain regular contact with such a service provider for first-time insight on when pallets are available. Remember to also evaluate the quality of each pallet to ensure it gives the perfect results for your needs.
Clothing Stores 
Similar to newspaper companies, clothing companies, especially large ones, also tend to own several pallets. You can use this to your advantage by seeking the companies that provide the pallets.
Other Places to Find Wooden Pallets Near Me
These other places aren't stores, but they can still be excellent options for finding the wood pallets you want:
Construction Companies
A lot of people seem to have luck working with construction companies in their area to collect pallets.
You might call ones local to you and see what their process is for pallet collection.
You may be able to offer to pick some up from job sites once in a while to save the company from hauling them back to their main office for collection.
Recycling Centers
Recycling centers often have wood pallets dropped off to them, and it's possible that they're willing to let them go for free.
Find recycling centers near you with Earth911. The other option you can use involves the internet, including:
Using search engines. Many other recycling centers have availed information about their services online. Use platforms like Google to find them.
Social media. Ask around on platforms like Facebook and Twitter for more information about recycling centers.
Factories and Warehouses
Call nearby factories and warehouses.
There are always pallets going in and out of them, and if the place is local, there's a better chance that they don't already contract with a company to get them.
Neighbors
Your neighbors might have wood pallets or work at a place that has them, so ask around. We recommend that you focus on your neighbors with many trees. Why? Because they are the most likely people to provide you with wood pallets for your projects.
They are also excellent sources of information.
You might be surprised at what you'll learn!
Since communication is nowadays easy, consider using resources like social media or e-mail to send bulk messages. Ensure you provide all the details about the wood pallets you would require and any possible returns that you can promise for those who can help. 
Schools and Universities
Schools and universities may have wooden pallets delivered to them when they get new supplies, food, etc., and they'll probably be more than happy to have someone come to collect them for free to save doing the work themselves.
Start a Service in Your Neighborhood
You can always market yourself as a wood pallet collector and have people come to you when they have some to get off their hands.
It's an excellent technique because you get to give value to the community and still earn a living.
Put an ad in the newspaper, advertise yourself on Facebook or your other social media channels, and create listings on Craigslist and wherever else you can think of.
One of the keys to success with ads is to ensure you provide all the relevant details about your wood pallet needs. You can include your contacts, business address, and specific wood pallet preferences.
Additionally, inform people of the ways you plan on using the wood pallets. Ensure you also inform about aspects such as the sustainability of your operations and the value you can provide as a wood pallet service provider.
Let your neighbors know and have them tell people they know.
You could end up with a steady stream of business before you know it.
Online Places to Find Wooden Pallets
Now, let's get into some online spots that are perfect for finding wood pallets!
Craigslist
Craigslist is one of the top recommended online places to find pallets because of its 100% free section for each locality.
The company has a rich history dating as far back as 1995 – so you are sure of getting valuable information. 
Many claim that Craigslist is basically a treasure trove resource for finding pallets in your area, and that there are often listings for free pallets if you are willing to come pick them up and haul them away.
If you don't see any in your area, you can create a listing letting others know that you're looking for free pallets.
Facebook
Facebook has a couple of ways you can use it to find pallets.
First, you can search local buying and selling groups for pallets.
Create a post asking others if they have any they're willing to part with if you come pick them up.
You can also make a post on your personal profile letting your Facebook friends know that you're looking for pallets.
Make it public so that others can share your post and tag their friends if they know someone who might be able to help.
While Facebook is one of the best places to find Wood Pallets online, we still recommend caution.
Why?
That is because some sellers on social media platforms are not always legit. However, this doesn't mean that all of them are bad per se. Instead, it means that you should verify each person you transact with first for the best outcomes.
Selling Apps
Use apps designed to help you sell and buy stuff in your area, like OfferUp.
They're kind of like having a yard sale right at your fingertips.
You can browse the listings in your area to see if any pallets are for sale or free.
Again, as with all online resources for purchasing wood pallets, ensure you pick those from legitimate service providers.
Why should you do this?
It helps ensure you get apps that provide valuable information and resources for wood pallet investments.
eBay
eBay isn't a top choice for finding wood pallets near you, but it's there as a last resort.
Just be aware that you will probably need to pay something, as this site is about selling and auctions.
eBay has a feature that allows people to do local pickups rather than get things shipped to them, so make sure you have that selected when you're browsing to find pallets near your zip code.
Fortunately, eBay maintains a strict seller approval service which should work in your favor. You even have the option of reviewing the profiles of each seller before investing or sourcing their services.
1001 Pallets is an online classifieds site specifically for wood pallets.
Yes, this really does exist!
You can post your need for free pallets by creating a listing on the site for free.
Make sure you note what size pallets you need and any other information about the specifics you're looking for.
You can also click the Find Free Pallets link on the site to get notified when someone posts a listing for free pallets in your area.
Like eBay, 1001 pallets have a strict protocol to ensure all clients receive valuable wood pallet solutions. Some of the other standout features and benefits of this service include:
It has been in operation since 2013 (the company is over eight years old.)
The team behind the company's operations is immense and legitimate.
You receive access to an extensive list of wood pallet alternatives and resources.
The platform contains crafters and professionals from different zones worldwide.
Discussion Forums
People are social beings, and one of the main ways they solve problems often involves discussions. It's why platforms such as discussion forums will pave the way for people to learn more about suitable places to find information on wood pallets.
Some common examples you can start with include Reddit and Quora. You have to create a user account and then post a relevant question. An excellent example for you would be a query that might involve your location. For instance, "where can I find wood pallets in West Virginia."
Reddit is a popular social media platform with numerous communities or "subreddits" dedicated to various topics, including recycling and DIY projects.
Joining relevant subreddits can provide you with valuable information about where to find wooden pallets in your area. Start by creating a user account on Reddit, then search for subreddits related to your location or specific interests.
You can post questions asking for recommendations on where to find wood pallets, specifying your location for more localized suggestions. Reddit's active user base often provides helpful responses and tips.
Quora is another online platform where you can seek advice and answers from the community.
Similar to Reddit, you'll need to create an account to start posting questions. Search for topics related to wooden pallets or recycling, and you'll find discussions and threads where people share their experiences and recommendations.
Pose a question related to finding wood pallets in your area, and Quora users can provide insights, suggestions, and even personal anecdotes about their own pallet collection experiences.
Local Online Classifieds
Apart from the platforms mentioned earlier, explore local online classified websites that are specific to your region or country.
These platforms are often used by individuals and businesses to advertise items for sale or giveaway, including wooden pallets. Conduct a search on these classified websites using relevant keywords such as "wood pallets" or "pallets for free."
Browse through the listings and contact the sellers to inquire about the availability of pallets in your area. Examples of local online classifieds can include:
Gumtree: Gumtree is a popular online classifieds platform used in the UK, Australia, and South Africa. It allows individuals and businesses to advertise items for sale or giveaway, including wooden pallets.
Kijiji: Kijiji is a widely used online classifieds platform in Canada that provides a marketplace for individuals and businesses to buy and sell items, including wooden pallets.
OLX: OLX is a popular online classifieds platform available in many countries. It allows users to post free ads for various categories, including wooden pallets.
Is There Anywhere I Shouldn't Get Wood Pallets From?
There are actually some places you shouldn't try to get wood pallets from.
First, don't grab them from anywhere you find them without asking the owner first.
If you spot them on the side of the road, don't just assume they're there for the taking.
The owner may just not have gotten them to their final place yet, and it could be illegal to take them without permission.
Whether it's in your neighborhood or laying outside of a business, always try to contact the owner before you grab pallets.
If you can't find the owner, don't take them.
Next, try to avoid any pallets that come from companies that use chemicals.
The chemicals can often remain in the wood even after cleaning them.
Things like petroleum and other oils can leave stains that are nearly impossible (or maybe even impossible) to get out.
Depending on how you're using the pallets, this can be bad news.
For example, you need clean wood to make furniture that will end up in someone's house.
The last thing you want is for the wood from your pallets to be contaminated with harmful chemicals that goes in someone's home.
Furthermore, if you're looking to resell the pallets or the wood from pallets, it's best not to try to sell wood laced with chemicals and oil, which can be a cross-contamination risk for pallets holding food and other items.
Another place you won't usually want to look for wood pallets is big corporations.
Big businesses usually contract with a company that comes and picks up their pallets, so they won't have a need for an individual to come get them too.
Of course, this isn't always the case, as you can see from Lowe's above.
Depending on your local store, you might have luck asking the business if you can get their wood pallets.
Finally, avoid getting pallets that are wet.
Wetness can come from food spills, being left out in weather, and other incidents involving moisture.
Wetness and wood don't go together well.
You won't know how long the wetness has been there, and it could be a challenge to dry the wood completely.
That leaves you with the potential to have mold buildup, wet rot, and other issues that come with wet wood.
Here are some of the other common places where you should avoid sourcing your wood pallets:
From states or locations that have strict government regulations on owning wood products.
People who won't provide you with legitimate or concise information on the wood sources.
Wood pallets come from extinct trees or those under strict government regulations.
Service providers that don't have a good reputation or those that don't seem trustworthy.
Services that won't let you access a sample of the wood pellets first for testing purposes.

 
Tips for Collecting Wooden Pallets
You know where you're getting your wooden pallets from, so now it's time to start collecting.
Here are some tips that can help:
Bring Your Gloves
You don't want to handle wooden pallets with your bare hands, so bring along a rugged pair of gloves to use to collect them.
You might also want a backup pair just in case anything happens to your main pair.
Wood pallets might be dirty, so you'll protect your hands from the grime that's on them.
But more importantly, you'll save yourself cuts, scrapes, and splinters from handling wood.
Bring a Crowbar or Pry Bar
One useful tool to have when collecting wooden pallets is a crowbar or pry bar.
These tools can help you easily dismantle pallets that are nailed or screwed together. By carefully removing the nails or screws, you can take apart the pallets and transport the individual pieces more efficiently.
This is particularly helpful if you plan to use the pallets for DIY projects or if you have limited space for transportation. Make sure to use the crowbar or pry bar safely and wear protective gloves to avoid any injuries.
Inspect Them First
Spend some time inspecting your wood pallets before you collect them.
Look for breakage in the wood, splinters, cracks, and anything else that might leave the pallets unusable or unsellable.
If you're going to be using the pallets to break down for DIY projects, it's especially important that you have wood in good condition.
You should also look for any stamps on the pallets that indicate to whom the pallets belong.
Some companies stamp their logo on their pallets so they can make sure they return back to them with another shipment, so you'll need to make sure you don't end up taking any of those that are already claimed.
Finally, sort out the pallets you find as you collect them.
Pallets come in different sizes and sorting by size can help you resell them faster.
Have a Truck for Collections
Having a truck can help out tremendously when you're collecting pallets.
Without a truck, you might only be able to squeeze a few pallets into your car or SUV.
But a pickup truck can hold several in its bed, even if they're on the larger side.
With a truck, you'll be able to pick up more pallets at once to save you trips on your collections.
Create a Schedule for Pickups
Next, if you plan to pickup pallets regularly, you'll benefit from planning out a schedule that details where to pick up your pallets and when.
For example, you might make the rounds to three stores on Monday, Wednesday, and Friday, and then pickup pallets from four other spots on Tuesday and Thursday.
Doing this will help you streamline the process of picking up pallets and make sure you don't forget any of your pickup spots each week.
Plus, it can help businesses and other pickup spots get into the routine of having the pallets ready for you to save you some time.
Get the Right Gear
You will be surprised at the sheer number of people who underestimate the importance of the right gear in collecting wood pallets. Some of the specific ones you need include:
Work safety boots.
Helmet.
Gloves
Eyewear.
Mask.
Prepare a Storage Solution for the Wood
While many people will want to tackle this state during the final steps, it's good to do it ahead of time. That is because preparing a suitable storage solution for your wood ensures they never go to waste. Wood pallets are delicate products, and any issues like damp environments can easily lead cause damage.
You have to identify specific locations and zones that you will use to store your wood pallets. A good example includes setting up a cool and dry area in your home or company for the wood. Here are some other helpful tips for wood pallet storage:
Never store wood pallets when damp or in a room with lots of water moisture. Doing this can easily lead to the production of mold.
Evaluate each piece of wood pallet, if possible, for infection or damage issues.
Keep the wood in a spacious environment where they are all easy to access. Setting wood in stuffed environments is one of the common causes of long-term damage.
Try and store different wood pallet types in different containers or settings. Or, consider labeling them for ease of identification purposes.
Build Relationships with Businesses
Finally, establishing relationships with local businesses can be advantageous for collecting wooden pallets.
Reach out to stores, warehouses, and manufacturing facilities in your area and inquire if they have any surplus or unwanted pallets that you can take off their hands.
By building rapport with these businesses, they may be willing to set aside pallets specifically for you or notify you when they have a surplus. Maintaining these connections can lead to a steady supply of pallets and save you time and effort in searching for them.
What Can I Do with Wooden Pallets After I Collect Them?
There are so many things you can do with wooden pallets after you pick them up from your destinations!
One of the most common things people do is actually the simplest: They collect wood pallets for free and then sell them for a little bit of money.
They might not get a bunch of money per pallet, but the cash adds up quickly when they can sell hundreds of pallets they collect each week.
However, the better money is in finding something else to do with wood pallets.
Some people fix up pallets and sell them to others who do DIY projects with them.
These crafters might be more willing to pay a decent price for pallets that are already in good shape instead of having to hunt them down and fix them up themselves.
Pallet collectors might also do their own DIY projects with them, like crafting furniture out of them or making wooden signs to paint or stain.
The sky's the limit with these options, depending on what you choose to make with the pallets.
People pay a lot of money for handmade furniture and home décor items made from pallets though!
Finally, you might take the pallets apart to sell the wood pieces separately.
This is a good option for pallets that are in excellent condition or pallets that have a few pieces in great condition that you can save.
You can bundle up the wood and sell it by size to get it off your hands and make a profit.
Here are some ideas for wood pallets you can try out:
1. Wooden Planter
Plants make up for excellent addition to your internal space. With wooden pallets, you can easily create durable wooden planters for your plants.
It's an easy and practical idea for your internal space. You even have the option of painting your planter if you want. The paint helps give the planter a natural and rustic appearance. You can even place the planters stacked against a wall.
2. Herb Garden
The other option for using wooden pallets involves a herb garden. You can combine the wood pallets to create specialized shelve-like spaces for your plants. Consider setting the planter against a wall or adding a base for convenience. Ensure you line up your pots and indicate the identity of each of your plants.
3. Pallet Seats
Set your feet up and take a breath if you manage to create one of these items. Get your toolbox out again, and nail some wooden pallets once again. Next, set some waterproof cushions on the chair, and you should be ready.
4. Pallet Table
You can also take things further by trying out the Wooden pallet approach. While a table made using this approach seems out of the ordinary, you can still make it look stylish. We recommend you paint it with a neutral tone and add some decorations to its surface.
5. Kitchen Backsplash
Do you want to incorporate a real conversation piece into your cooking area? Then, creating a DIY kitchen backsplash can be the perfect solution for your needs. It's also the ideal idea to spiff up your outdated kitchen.
Creating a suitable kitchen backsplash should be simple, with a few pellets, a hammer, some glue, and nails. We recommend cutting the boards in 18-inch sections and leaving the woods raw for the best weathering result.
6. Wood Pallet Bookshelf
Consider giving your treasured pictures, books, and other favored items a new home with these easy wooden pallet ideas. Creating a wood pallet bookshelf is easy, regardless of your skill level in woodworking projects. You will have a good time also trying out different wood pallet designs.
Finding Wooden Pallets Near You
Finding wood pallets in your area shouldn't be too difficult if you have a lot of stores around.
If you live in a more rural area, it could be a bit more challenging to find places with pallets.
Your best bet is to call around to places in your location to ask whether they have pallets to spare before driving around to all of them.
You may need to ask for the business owner or someone in charge of supply directly rather than a sales representative to get an accurate answer.
And remember that most major businesses already contract with someone to come get their pallets, so you may not have as much luck working with them.
Related Posts: