Fiverr Review: Is It a Worthy Marketplace for Finding Freelance Work?
Updated on: by Amy Kennedy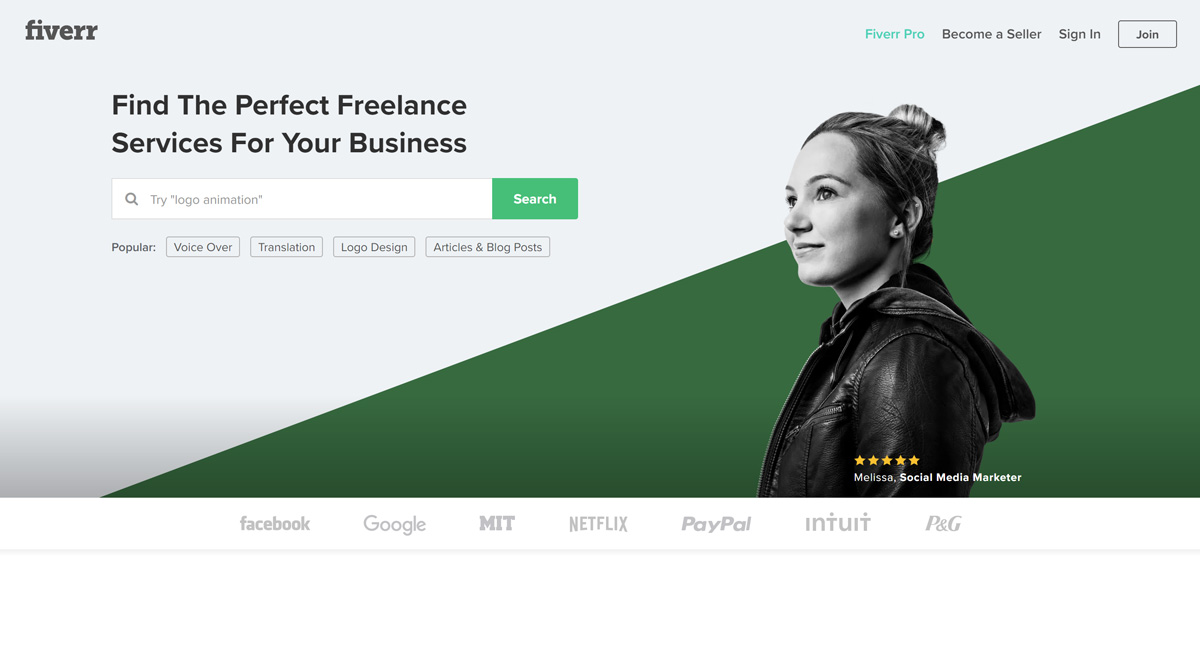 Not everyone wants to spend their time making money online by taking online surveys or shopping for cash back.
Need Easy Extra $350+/Month For Free?
Some people would rather use their talents or professional expertise to offer services to others.
If that sounds like you, then becoming a freelancer is probably something that would be right up your alley.
Freelancing offers flexibility and lets you use your favorite skills every day by providing your services to clients.
But it's not always easy finding freelance work.
Some freelancers choose to use freelance marketplaces to find clientele rather than cold pitching their services to clients they want to work with.
It's a way that people in need of their services can come to them for help.
Fiverr is one of many freelance marketplaces that exist on the web and most freelancers have tried it, or at least heard of it.
If you have yet to test out the platform but you're curious as to what it offers, then this review can help you out.
What is Fiverr?
Fiverr is both a website and an app that connects freelancers with clients who need their help.
It's been around since 2010, so it's not quite the oldest on the block, but it definitely has some longevity.
And it's certainly changed over the years in many good ways, although the platform still gets a bad rap from a lot of professionals.
The site used to be focused on $5 "gigs" or tasks professionals could do for $5, hence its name.
However, over the past couple of years, it's expanded into more of a name-your-price platform where freelancers can do more and charge more for their time.
You can still start gigs at $5, but sellers should really make sure that what they're doing is worth only $5 so they're not selling themselves short.
Writers, for example, might just offer quick product descriptions of 50 to 100 words for $5, while they can add on extras to their gigs to offer more.
Need Easy Extra Cash?
Pinecone Research, a leading name in online survey panel honesty, absolutely guarantees $3 cash for every survey you complete!
Take advantage of their time limited New Membership drive and register NOW. Join today: 100% free!


For instance, their next tier might be 10 of those product descriptions for $45.
Fiverr also now offers a Fiverr Pro service for people who want to stand out as experts and make more money on the platform, which I'll explain a little later.
Types of Fiverr Gigs
What can't you do on Fiverr??
This marketplace has tons of categories for all types of online services to let virtually anyone make money doing what they enjoy doing.
Here are just some of the many Fiverr categories that you can place gigs in for sale:
Articles and blog posts
Sales copy
Video editing
Game trailers
Web traffic
Social media marketing
T-shirt design
Postcard design
Jingle creation
Voiceovers
Chatbot design
Game development
Career advice
Virtual assisting
Viral videos
Online lessons
Product photography
How Does Fiverr Work for Freelancers?
Interested in becoming a Freelancer on Fiverr?
Here's what you need to know:
Who Can Join?
You can register to become a seller or a buyer on the Fiverr.com website.
Basically, anyone who's at least 13 years old can join Fiverr and start making money.
The site accepts people from all over the world who have something to offer.
Once you get yourself all signed up, you can start creating gigs.
Creating Gigs
To make a gig on Fiverr, you'll need to do so from your seller dashboard.
You can have multiple gigs going at once, so you can sell multiple services in different categories if you want.
Your gig should detail exactly what you're offering to clients and how much you're pricing it for.
You can add images and samples to your gig, too, to show off what you can do.
Each gig also gives you a chance to add higher-value services to it through "extras".
These extras are things you can do related to the gig besides your basic service, which might be something like designing a basic logo for $10.
Your extras could be something like designing a more in-depth logo for $25 or creating multiple versions of your exclusive logo in different formats for $50.
Once you have everything set with your gig, you can publish it and it'll be ready to go on Fiverr (some gigs may require a manual check, but this usually doesn't take very long).
When your gig is published on the site, other people can see it immediately and purchase your services.
Completing Gigs
It goes without saying that your gig will only be successful as far as the customer's concerned if you do an awesome job and make sure you meet all their requirements.
This is why it's a good idea to message your customer first, just to make sure you're both on the same page about what they need and what you'll do.
The gigs you create will have deadlines outlined (you can pick them based on how long you expect each one to take), so be sure to meet your deadline or even get your work done faster than your deadline.
That's a surefire way to keep a customer happy!
Once your work is complete, you can send it over to the customer.
Your customer will have a few days to mark the order as complete, meaning that they're happy with your service and you did everything you were paid to do.
Once that happens, you can move onto getting paid (more on that in a moment).
Your customer will also have a chance to leave you a review after receiving the completed order.
This review will affect your star rating, which buyers can see along with your gigs.
Earn Everything… nearly!
Join Opinion Outpost, one of the few faithful and honest survey panels and earn cash and gift cards for your opinion. Stack your points and redeem them: Simple! No hidden fees and completely free!


You'll want that star rating to be as high as possible, as this is a key factor people look for when deciding who to buy from on Fiverr.
If someone does leave you a negative review, you can kindly contact your buyer and see if there's anything you can do to fix the problem.
If they choose, they can fix their negative review.
You can also send a removal request for a negative review to Fiverr if you have reason to believe that the review is unfair.
Getting Paid
The payment process on Fiverr is still a little strange compared to other similar marketplaces, like Upwork, where you get paid a couple of days after a client accepts your work.
In the case of Fiverr, you'll need to wait 14 days after a buyer marks their order complete to receive your money.
Once you get a consistent flow of orders coming in, it won't make much of a difference, but waiting on your first few paychecks from Fiverr can get a little annoying.
Fiverr lets you receive your money through PayPal, bank account, or a Fiverr Revenue Card, and you can withdraw your cash in multiple currencies.
You're also allowed to withdraw once every 24 hours if you have money in your account.
Fiverr Success Tips
I won't lie – getting people to buy your gigs on Fiverr when you haven't yet completed any or received any reviews is tough.
Once you get your first few out of the way and do really well with them, your gigs can gain popularity quickly.
But, how do you get started when you have zero reviews?
Honestly, the best way to get your feet wet is by offering your gigs for extremely low prices.
It's not something I like to recommend to any freelancer, but that's kind of the way it goes on this platform.
Think about it this way: You probably wouldn't want to pay $100 for a service from someone you don't know personally and really know nothing about and haven't seen samples from, even if the service is definitely worth that price.
You'd likely want to try it out first for a cheaper price to see if that person's the right one to work on your project.
Most buyers on Fiverr are the same way when they see someone new with no reviews.
How do they know you can do what you say you do without actually seeing it first-hand?
So, at least for your first few projects, you'll probably want to stick with the lowest prices you feel comfortable with to get some work under your belt.
After getting a few stellar reviews, you can bump them up.
Other tips from people who've done really well on Fiverr include:
Show samples of your work if at all possible, or at least have some prepared when people ask for them, even if they're just samples you made for yourself.
Get a few friends and family to be your first customers and leave you honest reviews. They're likelier to already trust that you'll do an awesome job.
Ask questions before starting. You can message your customers before beginning an order to make sure you know exactly what they want and ensure your success on the project.
Market yourself. Join Facebook groups where self-promotion is allowed and post helpful content that'll make people see that you know what you're talking about. Offer the links to your gigs! You can also share them on social media or your own website.
What is Fiverr Pro?
Fiverr Pro is a section of Fiverr where professionals can get vetted by the Fiverr Pro team to showcase their abilities to a whole different class of Fiverr users.
The clients seeking people on Fiverr Pro know that they're complete professionals in what they do because Fiverr checks over their degrees, credentials, portfolio work, and other things that prove their expertise.
As a Fiverr Pro, you can generally charge more for your gigs because the customers ordering them to realize your value.
Fiverr Pro is exclusive to people Fiverr feels deserve it, so it's not easy to get in.
You'll need to prove that you've already had professional experience designing, writing, or doing whatever else that you do.
The application is lengthy and detailed, but it's free to apply.
It can take a while to hear back from Fiverr about your status too (some have said weeks, and others have said months).
You can read this post for some more helpful tips on becoming a Fiverr Pro.
Is Fiverr Legit or a Scam?
Fiverr is definitely a legitimate freelance marketplace, but it's not without its flaws.
One of the reasons it's gotten a bad reputation over the years is because it accepts just about anyone who thinks of themselves as an expert.
People who don't know much about what they're offering can call themselves experts and place a gig for a lot of work for just $5, undercutting most of their competition who might actually know what they're doing but charge more.
That's why it's known as "a race to the bottom" to many freelancers, and it's true to an extent.
The key here is to know your worth.
If you do have a lot of experience and expertise in an area, don't be afraid to charge what it's worth or sign up for Fiverr Pro to get access to higher-paying clients.
It is possible to earn decent money on Fiverr, but only if you take some time to prove that your work is better than the work the bottom feeders are offering for $5.
Fiverr Review for Freelancers: Final Thoughts
I've used and have gotten paid by Fiverr before, so I know it's real and can work.
It does take some time to get your gigs off the ground, though, so don't count on it as a main income source for a while (although it certainly can be eventually).
Know your worth, stick to it, and keep impressing your customers and you'll find success on this platform.
Have you used Fiverr as a seller? Please leave your thoughts down below in the comments to help out other fellow readers!
Related Posts:
Earn Everything… nearly!
Join Ipsos iSay, one of the few Faithful and Honest survey panels and earn prizes, gift cards and donations. Stack your points and redeem them: Simple! No hidden fees and completely free!