30 Places To Get Free Baby Stuff for New (And Expecting!) Moms
Updated on: by Amy Kennedy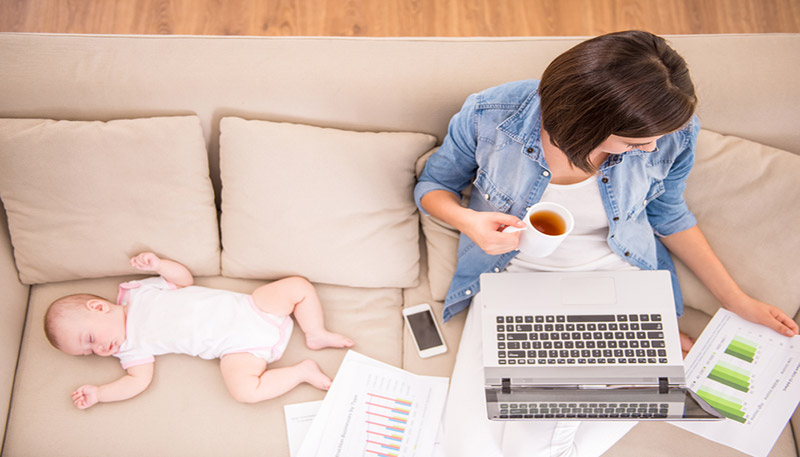 A lot of people who telecommute or start businesses in their homes do so because they have — or are expecting — small children at home. And anyone with a new baby can appreciate the opportunity to save a few dollars by scoring free stuff.
Need Easy Extra $350+/Month For Free?
The good news is, there are lots of companies and brands hoping to secure life-long customers by offering free baby stuff.
So new and expecting parents: take advantage of these great offers!
Free Diapers
You can never have too many. Several large brands also offer rewards programs, so sign up for all of them.
Even if you have one brand you prefer to buy, you can cash in rewards if other people bring diapers to baby showers, etc.
1. Pampers Gifts to Grow: Diaper Rewards Program
Gifts to Grow is a loyalty rewards program that allows you to earn points by entering codes from the packaging of Pampers products you purchase. You have to buy diapers (lots of diapers!) anyway — why not get some free baby stuff out of it?
2. Huggies Rewards: Diaper Rewards Program
Huggies has their own Huggies Rewards program as well. Similar to Pampers, the more diapers and wipes you buy, the more points you earn, and the more free stuff you can get. Huggies even has an app for their program.
3. Nieto Consumer Research: Diapers, Wipes, & More
If you're willing to give feedback for free items such as diapers, wipes, and feminine hygiene products, join the Nieto Consumer Research Panel and you'll receive items to try for free, along with a questionnaire. Once you sign up, someone will call you when a project is available for you. All of the product testing is done in your own home.
4. The Honest Company Discovery Kit: Diapers
The Honest Company is a subscription service that offers a free diaper kit to try (just pay shipping). If you don't want to be charged for future kits, be sure to cancel before the trial ends.
5. Free Cuties Diaper
Cuties is a monthly diaper club that offers affordable hypoallergenic diapers, and they'll send you a free sample by request.
Since you're not signing up for a subscription, you don't have to cancel if you choose not to stick with Cuties.
6. EveryDayHappy Free Diaper Trial Kit
EveryDayHappy boasts of "Sustainable Forestry Initiative-certified wood pulp absorbent cores" that have zero harsh chemicals, toxins, latex, or optical brighteners. Sign up for a trial kit and try them out for free.
7. EverydayFamily: Win Free Diapers for a Year
EverydayFamily offers free, stage-based monthly newsletters, coupon alerts, and baby samples. And when you sign up with EverydayFamily (for free) you're entered to win free diapers for a whole year!
8. The National Baby Diaper Bank Network
Do you really need help with diapers? If you have a financial need, The National Baby Diaper Bank will help you find a local agency that can help you out.
Free Baby Formula
If you need/choose to use formula, you'll need a lot of it too!
Big brands offer discounts and rewards on formula too, so sign up for all of them. Many of these companies send other little gifts with their free formula samples as well!
Need Easy Extra Cash?
Pinecone Research, a leading name in online survey panel honesty, absolutely guarantees $3 cash for every survey you complete!
Take advantage of their time limited New Membership drive and register NOW. Join today: 100% free!


9. Nestle Baby Program: Formula & Discounts
Signing up for the Nestle Baby Program will earn you "up to $130" in coupons for free formula and other baby products.
10. Enfamil Family Beginnings: Formula & Discounts
Join Enfamil Family Beginnings and you'll receive free stuff (a $400 value, according to the website) from Enfamil, including baby formula, belly badges, coupons, and special offers.
11. Similac Strong Moms Rewards: Formula & Discounts
Sign up for the Similac Strong Moms Rewards program and you'll get personalized gifts and discount offers. (Coincidentally, another $400 value, according to the website.)
Read more: 13 Best Ways for New Moms to Get Free Baby Formula Samples
Free Baby Care Products
From laundry detergent, to soap and shampoo, to diaper rash creams, babies have their own list of product needs. Most big brand names offer sample sizes of their products, but a bunch of free samples can really add up!
And there other perks to signing up for sample boxes.
Many of these companies throw in other fun freebies like bibs (which you'll also never have too many of) and belly stickers. Plus, some offer exclusive discounts to members.
12. Gerber Baby Box: Samples, Bibs, & More
Sign up for MyGerber to qualify for free baby items, including full-sized samples, bibs, belly stickers, and more (items may vary).
You'll also receive the MyGerber monthly newsletter, tailored to your baby's stage, and optional access to "Dorothy," Gerber's on-call baby expert.
13. Walmart Baby Welcome Box: Samples
Walmart wants to be your go-to place for affordable baby items, and their stage-relevant Walmart Welcome Box — filled with various samples — sweetens the deal.
Just fill out the short form and submit. Unless you opt out by unchecking the box, Walmart will send you emails about deals and promotions.
14. Johnson & Johnson All Better Baby Gift: Baby Toiletries
Sign up for Johnson & Johnson's Healthy Essentials Program and choose a free wellness pack. One option is the All Better Baby gift pack that includes several items to help sooth minor baby discomforts like diaper rash. You'll also receive coupons in the mail monthly and promotional emails.
15. Target Baby Welcome Kit: Samples & Discounts
Set up your baby registry on Target's website and receive a welcome box filled with samples and coupons, plus a 15% discount on everything on your list after the shower or your baby's birth.
16. Amazon Baby Welcome Box: Samples & Discounts
If you're an Amazon Prime member, the Amazon Baby Registry is a no-brainer. You'll get benefits galore, including a free gift box incentive, when you create a baby registry.
One of the nicest things about Amazon's registries is the Universal Wish List option that allows you to add items that are not sold by Amazon, on top of loads of discounts. Prime members get loads of discounts:
An extra 15% off across Amazon (10% for non-members)
20% off diaper subscriptions
25% off baby announcements or shower invitations from Tiny Prints
A 25% discount on your first baby apparel purchase on Amazon after registering
A free parenting eBook
Most offers become available a week after registering.
Read more: 22 Top Online Jobs for Pregnant Stay at Home Moms
17. EveryDayHappy Family Care Kit
EveryDayHappy is very proud of their eco-friendly, toxin-free family essentials.
They offer monthly subscription boxes, but you can try out all five products for free when you sign up for a free Family Care Kit trial kit.
Read more: How to Get a Free or Cheap Car for Single Moms
Free Books and Magazines for Parents and Baby
If you are a new parents, you probably already have a thousand questions, so sign up to get answers, advice, and ideas sent to your door for free. There are also resources to get free books for your babies and toddlers, because reading to little ones is so important for growth and development!
18. Totally Free Subscription to Parents Magazine
Courtesy of Judy's Healthy Snacks (a snack company geared toward parents and kids), you can sign up for a free one-year subscription to Parents magazine with no strings attached, no auto-renew, and no card number required.
Parents offers advice for every stage of parenting, from pregnancy through the teen years, as well as features on marriage and relationships, food, finance, home, fashion, beauty, and issues of interest to parents such as education.
19. American Baby Magazine
Another totally free, no-strings attached one-year magazine subscription for your American Baby.
20. Publix Baby Club: Book, Discounts, & More
If you're in Florida, Georgia, South Carolina, North Carolina, Alabama, or Tennessee, sign up for the Publix Baby Club.
You'll get free baby items, coupons, and a copy of Your Baby's First Year.
21. Dolly Parton's Imagination Library: Books
Dolly Parton sponsors a program called The Imagination Library that sends registered children a free book every month, from birth to age five? It's totally free.
The program started as a benefit for children in East Tennessee, but has expanded to communities in the US, Canada, UK, and Australia.
It's not available in every community, but communities join regularly, so if the program isn't available in your town, you can sign up to be notified if it does.
Earn Everything… nearly!
Join Opinion Outpost, one of the few faithful and honest survey panels and earn cash and gift cards for your opinion. Stack your points and redeem them: Simple! No hidden fees and completely free!


Or, if you're feeling especially ambitious, you can learn how to start a program for your community!
22. Free Children's Books from Kindle
If digital books are more your style, Amazon Kindle always offers free Kindle books for children of all ages (and for Mom, too!)
Free Baby Shower Supplies
Hosting a baby shower is one of the best ways to get free baby stuff, but it takes a little bit of work. Get some free printables to make your baby shower the best it can be!
23. Printable Baby Shower Word Find
Looking for a baby shower game that costs no more than the paper it's printed on? Posh Little has lots of free printables, including this cute baby shower word find.
24. Free Thank You Cards
With a new baby comes gifts, and you need to send those thank you cards!
These stylish watercolor, printable cards from Three Little Monkeys Studio won't magically give you the time to finish the task, but they will help you save money for all those diapers.
More Fun Baby Freebies!
Here are a few more fun baby freebies you won't want to miss out on:
25. Gymboree Free Class Pass
Sign up with Gymboree and get a free pass for your first class at a location near you.
Classes are geared toward ages 0 to 5, and include the Baby Lab for babies up to 10 months old and Play and Learn Classes for your baby or toddler's stage of development.
26. Baby on Board Pin
If you're pregnant and ride the subway, bus, or train, the Metropolitan Transit Authority will send you a free "Baby on Board" button to help take the load off during crowded train rides.
27. Seventh Generation Generation Good: Samples & Coupons
Seventh Generation Generation Good program offers samples and coupons for new and expecting mothers.
By joining the program, participants can receive free samples of Seventh Generation products, which include items such as diapers, wipes, and household cleaning products.
Additionally, members can access exclusive discounts and promotions.
28. Babylist Hello Baby Box: Samples & Discounts
Babylist Hello Baby Box is a gift box filled with samples and discounts for new and expecting parents.
To receive the box, individuals need to create a baby registry on the Babylist website. The box contains various baby products, such as diapers, wipes, baby care items, and more.
It is a great way to try out different products and save money with the included discounts.
29. BuyBuy Baby Free Goody Bag
BuyBuy Baby offers a free goody bag to customers who create a baby registry at their store.
The goody bag typically includes samples, coupons, and helpful baby-related items.
It's a convenient way to receive free products and take advantage of special offers while preparing for the arrival of a new baby.
30. Local Freecycle or Buy Nothing Groups
Local Freecycle or Buy Nothing groups are community-based platforms where people can give away and receive items for free.
These groups focus on promoting the concept of sharing and reusing within a specific local area. Expecting and new mothers can join these groups to find free baby items that other community members are willing to give away.
It's a great resource for obtaining gently used baby gear, clothing, toys, and other essential items without any cost.
Sign Up for Free Baby Stuff Today!
There's a treasure trove of freebies for new moms out there — most with no shipping cost attached.
Companies want to get their products in your hands (and on your baby's behind) for free to build brand loyalty.
Take a few minutes to sign up for several, and you can save quite a bit of money while trying out products you may have never even heard of!
Do you have tips on freebies for new moms?
Share them in the comments!
Alt text – baby with bath products
Related Posts:
Earn Everything… nearly!
Join Ipsos iSay, one of the few Faithful and Honest survey panels and earn prizes, gift cards and donations. Stack your points and redeem them: Simple! No hidden fees and completely free!