86 Best Free Educational Resource Websites for Students of All Ages
Updated on: by Amy Kennedy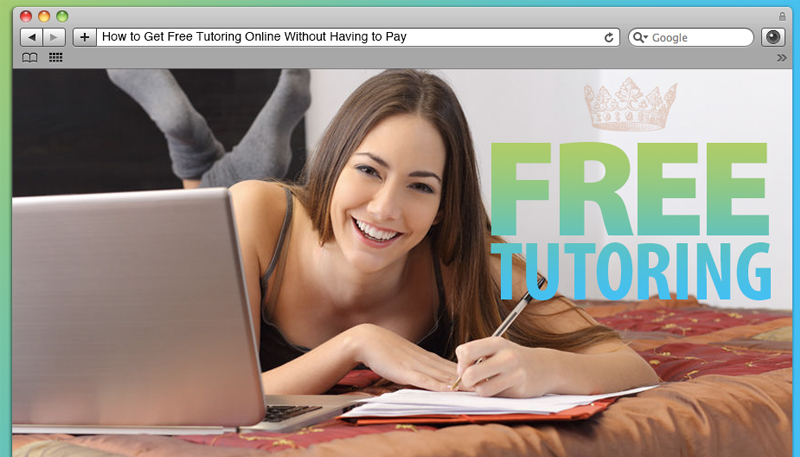 Are you a parent looking for some free educational resources for your school-aged child?
Need Easy Extra $350+/Month For Free?
Or maybe you're in college and need some extra help in your classes.
You might even be a middle or high-schooler who wants to take it upon yourself to brush up in an area you're struggling with.
Regardless of your specific situation, these websites can definitely help you.
The sites on this list don't require parents to shell out hundreds of dollars for tutoring.
They're all free – or at least have free trials or memberships – and they cater to just about every age group, whether you're about to graduate college or you're a parent who wants some extra help for a child entering kindergarten.
If You Need Help with Homework for Free, Try These Websites!
I've made this as easy as possible.
The 86 websites listed here are organized into categories based on the subject matter you need some help with.
If you're looking for some general homework sites, I have them grouped together too!
General Homework Help Websites
These sites are best to bookmark for when you need some general homework help.
They cover a wide range of subjects and sub-topics, so you can probably find what you need.
This site has been online since 1996 (meaning that even some of us parents have probably used it at one point or another!).
There are excellent resources for parents, teachers, and students here, from printable worksheets to science fair project ideas.
Chegg is a tutoring website where educators and experts can help tutor people in a range of subjects.
Although you can sign up for a monthly subscription, Chegg can give you a free trial.
Test it out for a tutoring session and see if it's for you and your child before you spend money on it every month.
Need Easy Extra Cash?
Pinecone Research, a leading name in online survey panel honesty, absolutely guarantees $3 cash for every survey you complete!
Take advantage of their time limited New Membership drive and register NOW. Join today: 100% free!


I used CliffsNotes back in the day for some confusing subjects in high school, like calculus.
They used to be in book form then, but now you can have access to all of its valuable information online for free.
This is an ultimate resource to bookmark for kids in middle school and high school, and it even provides free test questions to test their knowledge.
If your child's school participates in the Common Core curriculum (and it majorly confuses you), then you can get some help from Common Core Works.
The website offers information for parents to help them learn about the curriculum to be able to assist their kids with their homework.
You can find videos, games, interactive guides, virtual labs, and more on Discovery Education.
The site focuses mostly on K-8 students.
This website is both an educational resource for just about everything, and a go-to resource when your child needs some extra help in an area.
The great thing is that you can just use this website for educational fun, too, since it talks about interesting things like other countries, animals, and even coding.
Edheads focuses mostly on math, technology, and science-related topics.
You can find free games here that teach kids about DNA, manufacturing, and more.
Fact Monster is a site devoted to 1st through 8th graders who need help in just about any subject area.
You'll find interesting facts, fun games, educational quizzes, homework help, and various other resources to get your kids on the right track.
HippoCampus is an educational resource site for those in middle school to college.
There are subjects related to math, sciences, and humanities.
Each sub-topic has an informational video for students to watch to delve deeper into a lesson.
HomeworkSpot is a place your child can go to research information for written reports, learn more about a topic they covered at school, and get some homework help.
Those in elementary, middle, and high school can all find valuable resources here, and the site even offers help for parents and teachers.
Infoplease is one of the internet's largest educational databases.
You'll find an atlas, dictionary, thesaurus, and virtually endless informational lessons and articles on the site.
The site also has tools like a spell checker and periodic table for additional help.
Khan Academy gets featured in a lot of education-related publications because of the wealth of information it shares for kindergarteners to high schoolers.
The site covers all basic subjects and even throws in some extras, like computing, economics, and test prep.
Kids' Zone is a smaller site that has some interesting tools for younger kids to use, like a bar graph maker.
High schoolers can also use the site to search for colleges of interest and parents can use it to find out more information about their child's school.
Quora is free to sign up for and ask questions.
You or your child can post a question or search in the millions of questions already there.
Experts in those subjects will answer, and you can usually find an answer very quickly.
When you use websites as references for research papers, you may end up with a source that looks legit but isn't/
Earn Everything… nearly!
Join Opinion Outpost, one of the few faithful and honest survey panels and earn cash and gift cards for your opinion. Stack your points and redeem them: Simple! No hidden fees and completely free!


RefDesk can be a helpful place to check the information you find from your resources to make sure that everything going in your paper is factual.
SchoolTrainer provides academic instructional videos for students.
They mostly focus on math and science but do have other help areas too.
You can also submit free homework help questions for others to answer.
Slader has free resources for students who use certain textbooks to get extra help through exercises and quizzes.
Studypool is an on-demand question and answer site.
The site covers several subjects that students in middle school through college usually take.
If you know of someone who already uses the site, you can ask for their referral code, which will give you $10 and can cover you for a free question.
ThoughtCo is a blog that covers a lot of high school subjects, like humanities, science, and tech.
The articles are in-depth, fact-based, and very authoritative, so students can use them for research.
Read Also: Top 8 Sites Where You Actually Get Paid to Do Homework
Homework Help Apps
Need homework help? There's an app for that!
The following apps make homework a breeze.
This app is currently available for iOS devices only.
You can connect to tutors live, for free, and even chat with Sally the STEM bot for STEM-related help!
Invite your friends who are also struggling with their homework to see the answers to your questions.
This app is available for Android devices.
Using the app, you can connect to live tutors who are waiting to help you with your homework.
The app offers free help when you sign up for your first session but will require you to pay per minute for future sessions.
With this app, you can take photos of your homework and wait for the community to help you out with your answer.
Photo Math is a great way for students struggling with high-level math subjects to understand how to work out problems.
Just take a photo of an equation with the app.
Photo Math will not only tell you the answer but will also explain how it arrived at that answer.
Scholr lets you take pictures of your homework questions in a variety of subjects.
If the database has an answer, you'll get an instant answer.
If not, you can always turn to the community for some help.
Snap photos of your homework and receive answers to your questions through the intuitive AI database of community answers.
yHomework
yHomework is an app that doubles as a calculator for hard math problems, like algebra and calculus.
You'll even get a step-by-step solution rather than just an answer.
The app is available on Google Play and the App Store.
Yup is an app that lets your child text experts in subject areas he's struggling with.
Students can also take pictures of questions and receive walk-through help with the answers.
Read Also: Best Way to Get Paid for Studying and Finishing Your Homework
Online Tutoring Communities
If you want your child to become a part of a learning community devoted to helping students succeed, then these websites are for you.
Bored of Studies is an Australian online community that offers assistance to students.
You can join for free and receive help from your peers and educators that are also members.
Brainly is an ask-and-receive forum that relies on its members to both ask questions and help others in the community.
People from all over the world use Brainly.
Brainly is also available in an app for iOS and Android devices.
Jishka is a super simple website that offers a lot of help to students.
You can ask a question, and a teacher will respond as soon as possible.
There seem to be several teachers who are very active here, so you should be able to get quick help for your homework questions.
This is a nonprofit organization that helps underserved youth get the tutoring that they need for free.
You'll need to apply for your student to make sure he or she qualifies before you can start asking questions.
Quad is a website and app targeted toward college students from select colleges.
You can see if your college is on the list of participating schools and then sign up if it is.
You'll instantly get connected to your classes and other students in your school to help each other.
Your Local Library
Check with your local library to see if it offers an online community for educational resources.
Some libraries offer things like online homework assistance, career-related communities, and communities that provide help in specific subject areas.
The Howard County Library System in Maryland, for example, has an online homework assistance community for K-12 students.
Read Also: 27 of the Best Online Tutoring Jobs to Make Money from Home
Math Tutoring
The following math tutoring websites will help you figure out where all those numbers and letters go!
This site is helpful for parents, students, and educators.
You'll find an area where you can make free worksheets for extra help, plus sections for homework help, free flashcards, and more.
Algebra.com is all about helping students with their dreaded algebra homework!
You can plug in algebraic equations, and the site will show you how to simplify them, and you'll find valuable resources that can help you figure out just about any problem.
This Homework Hotline has 140 tutors on staff to help students with math and science questions.
Students in 6th through 12th grade can receive help from the hotline.
Brown Math offers free online math textbooks and articles to help students in middle school and high school get through their math classes.
From Pre-Algebra to Pre-Calculus, your budding math whiz can find extra help or practice using the Cool Math website.
This simple site offers a variety of quick, super helpful tricks to learn for division, square roots, and more.
If your child struggles with math, then this is one page you'll want to bookmark for handy reference.
DansMath.com may be an old-fashioned website, but it provides a lot of helpful information for students who struggle with math.
It doesn't look like the site is updated anymore, but if your child needs some help with common math problems, this site can help.
This site offers helpful solution guides and calculators for those in middle school and high school.
There are also some educational games to play and a message board for further homework assistance.
Martindale's Calculators is a one-page resource with links for just about any calculator you could ever need.
Your kids will no longer have an excuse that they couldn't find their calculator to complete their homework!
This site provides fun math and reading games for younger kids.
There are also resources to help you find a local tutor for your child.
Does your child learn best through visual work?
Then MathTV is perfect for him.
This site has instructional videos that walk students through each step of complex math problems so they'll know how to solve their own.
From basic math to calculus, Math.com covers it all.
You'll find practice worksheets, solving guides, and even helpful calculators for your kids to get their math done (and actually understand it!).
Conversions can be one of the trickiest things in math.
This site makes them simple by giving you conversions for density, area, and more.
From pre-K to 12th-grade students, this site covers just about every math area.
There are free worksheets, video lessons, math games, test prep, and even tutoring for your child.
This is a great website to find free review materials for your child who struggles in math.
The site also has a CyberBoard that lets you post questions to the community for extra help.
StudyGeek has free math solvers and tutors for everything from simple homework questions to intense help in a specific math subject.
This site is mostly focused on providing help to college-level students.
We all know that there are a lot of mess-ups we can make in math.
This site covers the most common errors that can make your whole math problem wrong and explains how to work around them.
If your child needs some ongoing help in a math subject, then you may want to have her take a free course from TheMathPage.
These online courses offer helpful information and solving guides and also give your child practice questions to apply what she's learned.
West Texas A&M University sponsors the Virtual Math Lab for college kids.
Choose a math subject and then pick a sub-topic to get an informational tutorial.
I'm adding YouTube here because I know how much it helps my own kids out with their math homework.
YouTube has tons of teachers who share instructional math videos on their channels.
Usually, all it takes is a quick search for something like, "how to divide fractions" and you'll find real teachers with great explanations.
Since your child can see the exact steps to solve the problem, they're likely to retain that information and be able to work out future problems on their own.
Language Arts, Writing, and Reading Help
Does your child need some help with grammar, writing, or reading?
These sites are perfect resources to get them the help they need.
A Research Guide for Students has super helpful resources for anyone who needs some extra help in the literary arts.
You'll find literature guides for some of the most common books taught in school, as well as information for formatting a bibliography, finding legitimate research resources, and more.
This site comes from the Library of Congress and helps you locate information in a variety of subjects.
You can ask the librarians questions for free using one of the online forms.
This website shows you where you can find some of the most famous books in online versions, perfect for doing some research for upcoming papers.
If you're like me, then you despise spending hours formatting citations for research papers.
Citation Machine can cut your time in half by letting you plug in the information for your resource and formatting the citation for you.
If you're stuck on whether to use they're, their, or there, then you need this website.
You'll find a database of common grammatical errors in English with helpful explanations for them.
This is another handy citation generator that can do most of the legwork for creating your bibliography page for you!
Grammar Book provides useful resources for anyone who wants to make sure their grammar is up to par.
There are even some online quizzes here that can help you practice what you've learned.
The guides on this site can assist anyone from those just learning English grammar to college-level students and beyond.
The site breaks down grammar into different categories so that you can find what you need quickly.
When you need some resources for papers or research, this site can help.
You'll find digital books, photography, and more that can especially help you find information from history.
Library Spot is basically like a library on your computer.
This website has tons of articles, digital magazines and books, questions and answers, and more to give you help wherever you need it.
This site tackles two of the most important subjects in school: math and reading.
You'll find games, homework help, and free tutoring here.
This online dictionary has several ways that you can plug in a word to find exactly what you need, like similar words, related words, or even phrases that contain that word.
It's like a souped-up dictionary and thesaurus in one handy site.
If you're looking for an easy way to create citations from books, this site is it.
All you need to do is plug in the ISBN number, and the site will pump out a citation for you!
I used this site all the time in college!
It has information on everything you need for writing awesome research papers, from formatting your citations to conducting research.
Reading Rockets is a literacy site focused on helping little ones build their literacy skills from an early age.
The site has links to literacy apps, too, for more help outside the classroom.
If you're ever struggling to understand a book you have to read for class, then SparkNotes should be your next stop.
This site offers thorough guides of the themes, symbolism, and events for some of the most popular books taught in school.
This site is useful for parents and teachers who want to help little ones learn to read.
It provides free lessons and guides for you to learn new tactics that can make reading fun and engaging.
When you need information from around the world for research, The World Factbook can be a go-to resource.
This site is designed by the Central Intelligence Agency (CIA) to provide facts about countries all over the world, country comparisons, and more.
To make your writing stand out, you need to increase your vocabulary.
If you have a professor who's a stickler for more interesting ways to say things in your research papers, then head to Thesaurus.com to find better synonyms for the words in your head.
Science Tutoring
Has chemistry and biology got you down?
Don't worry – there are some sites focused on helping young scientists learn what they need to know to pass.
Students in 6th through 12th grade can receive help from this hotline, which handles subjects mostly in science and math.
Little learners will love the Curious George STEM Resources site, which offers videos for kids and lesson plans for adults to further their child's learning.
The Periodic Table can be a jumbled mess of letters and numbers for some people.
But this site makes it much easier to understand by offering an interactive Periodic Table.
Click on an element, and you'll get a pop-up with detailed information about that element, who discovered it, and more.
HyperPhysics offers condensed physics information in a mind-map layout to let you quickly find the subject you need to learn more about.
You'll then get some detailed information on that sub-topic so that you can better understand what you learned in class.
Mad Sci Network is a website that provides fun experiments that can make you put your education to work.
You can also browse the archives of answered science questions if you need help or ask one of your own if it doesn't already exist.
SchoolPhysics focuses on students in middle and high school and their teachers.
You can find at-a-glance overviews of various sub-topics or spend more time on in-depth physics resources.
Another great resource for physics students, The Physics Classroom is like an online classroom for physics assistance.
Spent time on concept exercises or delve into interactive lessons.
Study Help
Maybe your child just needs help buckling down and studying for upcoming tests?
If that's the case, then these sites for study guides and skills-boosting tips should be helpful.
The SATs and ACTs can cause a lot of anxiety for high schoolers.
Fortunately, CollegeBoard provides free guides and practice exams for students gearing up to take the tests.
This site is all about building excellent study skills that can give your child the skills he needs to stay on task and study efficiently.
Read through articles and study tips and then take self-assessments to see what you've learned.
This is another study skills website that can teach students everything from excellent time management to how to navigate test anxiety.
This helpful site offers study guides in a variety of subject areas, like concentration techniques, persuasive writing, and using your learning style to your advantage.
You'll even find practice questions to make sure you understand the material.
This site is especially helpful for college students to learn and implement new ways to study efficiently.
You can learn tips and tricks for note taking, preparing for an upcoming class, resolving conflicts in group settings, and more.
In addition to various study skills related to education, this site can even be a great resource for graduating college students to learn some valuable work-related tips.
The site has a section dedicated to job-related resources, like building a CV and writing Letters of Application.
If taking tests isn't your strong suit even when you understand the material, then this site is one you should visit.
Learn things like reducing test anxiety, how to cram effectively when you don't have another option, and tips for writing essays on exams.
Conclusion: Get Free Tutoring Online Without Having to Pay
There are so many free resources available for students, parents, and educators to make sure that students have everything they need for a bright academic future.
From pre-K reading skills to middle school math help to setting college students up for landing their dream jobs, these sites all offer incredible educational assistance to students of all ages.
And, some even focus on giving parents the help they need to support their little learners!
Keep this article handy for future reference so that you can quickly find more help as your child grows and his needs change.
Do you know of other sites or apps that offer free homework or study help for students?
Let us know in a comment below!
Related Posts:
Earn Everything… nearly!
Join Ipsos iSay, one of the few Faithful and Honest survey panels and earn prizes, gift cards and donations. Stack your points and redeem them: Simple! No hidden fees and completely free!