15 Ways to Get Free Gift Cards Without Surveys & Offers
Updated on: by Amy Kennedy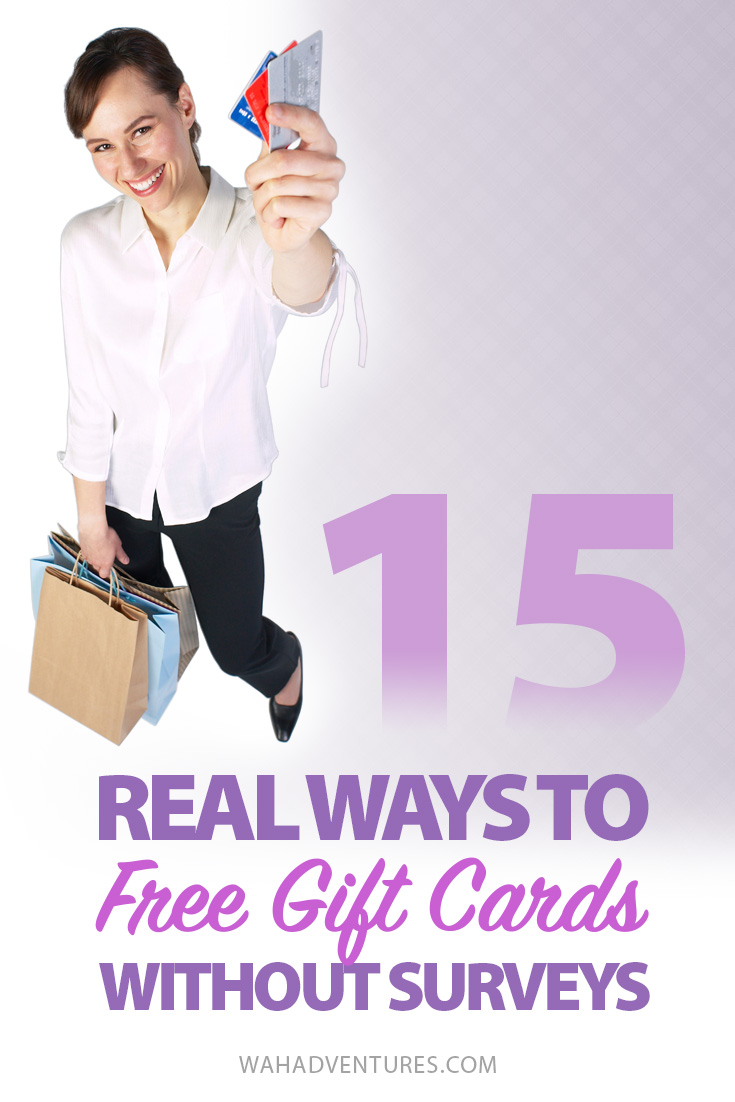 There are plenty of websites that claim to give you free gift cards by mail.
Need Easy Extra $350+/Month For Free?
But, most of these websites are scams that will inevitably put your computer at risk of viruses or malware.
Nobody wants that!
Instead, you want to know how to get some legitimate, real free gift cards, right?
There are plenty of ways to do it without harming your computer or getting your e-mail inbox bombarded with spam.
Of course, there are tons of survey websites where you can spend hours taking surveys to earn free gift cards.
But, the ways I'll outline in this post will get you free gift cards, no participation required! Even better, right?
Want to Know How to Get Free Gift Cards Without Surveys & Offers?
Survey websites are great ways to earn some cash and gift cards during your down time.
But, let's face it: some of them make you take a lot of surveys before you start earning enough to get a gift card.
If you're looking for some faster ways, look no further than these tips.
They'll still require some effort on your part, but you may be able to get free gift cards a bit faster than you would from survey and offer websites.
I do suggest setting yourself up with a new e-mail address to use for sign ups.
You'll need to register for a few of these, and a separate e-mail address will reduce spam and let you keep track of your earnings and sign ups a little easier.
Play Games
The internet is an awesome place to earn money and prizes, especially when you can do something fun to earn them, like playing games!
Swagbucks (review) is a rewards site that offers free games to play for a chance to earn points you can redeem for gift cards and other prices. InboxDollars works in a similar way, but may take a little longer to earn enough points to redeem.
This list of games that pay you to play is another great place to look! Most of these websites offer points that you can redeem for cash, prizes, or gift cards.
Need Easy Extra Cash?
Pinecone Research, a leading name in online survey panel honesty, absolutely guarantees $3 cash for every survey you complete!
Take advantage of their time limited New Membership drive and register NOW. Join today: 100% free!


Blog Giveaways
Blog giveaways are awesome.
When I have some downtime on the weekends, I find myself entering blog giveaways for everything from children's toys to beauty supplies to cash.
So many bloggers host giveaways on their blogs as a way to draw in huge amounts of traffic.
They usually include the giveaway on a blog post they're trying to drive traffic to.
Usually, bloggers partner with a company to provide an informative blog post or review about a product or service.
The company offers the blogger a prize to give away to her readers, which usually brings in a lot of traffic and exposure to that post.
It's a win-win for everyone, especially the reader who gets the prize!
Most gift cards bloggers give away are at least $25, and I've seen them go up to $1,000!
One of the most common prizes is a gift card, often to Amazon or PayPal.
But, I've seen tons of different gift cards given away for places like Best Buy, Target, or different restaurants.
If you've never participated in a blog giveaway, this is how they usually work:
Most bloggers use giveaway 'widgets' that help them keep track of entries. Look toward the bottom of the blog post for the rules and widget.
Enter your name and e-mail address.
Participate in 'mandatory' entries. Usually, this is something like 'Leave a comment on the blog post' or 'Visit the sponsor's website'. Make sure you pay attention to the requirements or all your entries will not count!
Do as many optional entries as you want. These usually include visiting and liking a Facebook page, signing up for an e-mail newsletter, or retweeting a Twitter tweet.
You may be able to come back each day to complete extra entries, so check the rules! The more entries you have, the better your chances of winning.
So, where do you find these awesome blog giveaways?
Bloggers love connecting to each other's blogs, so once you find one, it may be easier to find others!
Always check the blogs you already read to see if they have any first, and you may find some links to other open giveaways.
If not, here are some blog giveaway websites and link-ups that I use to find some awesome giveaways:
Buy Stuff
Have you ever been to a store and saw an advertisement for a free gift card with a specific item purchase or purchase amount?
I do occasionally see these kinds of gift card opportunities at local stores more than big retailers, but I've also heard of things like this at Target, Walmart, and similar stores.
Keep an eye out for in-store displays near products that mention a free gift card with your purchase. Of course, read the fine print to make sure you don't have to buy 10 of something just to get a gift card!
Also pay attention to circulars that come in the mail or newspaper. They'll often advertise things like this if they have the promotions available because it helps get people in the door.
Credit Cards with Rewards
Credit cards aren't for everyone. But if you're a responsible credit card user, you can earn cash back or free gift cards just by using your credit card as you normally would.
Of course, you need to have a good credit card with a great rewards program for this to work. People with good or excellent credit are usually the only ones who qualify for such credit cards.
Look for cards that have either cash back rewards or points rewards.
Cash back rewards can sometimes be given in the form of a gift card. Walmart's credit card, for example, allows you to turn in your cash back for either a statement credit or a Walmart gift card.
Points rewards cards let you turn in your earned points for a variety of prizes, including gift cards.
Check out some of these websites to compare the best rewards cards:
Gift Card Granny
Gift Card Granny is a one-stop shop for those who want free gift cards or discounted gift cards!
The blog lets you in on little secrets of all things gift cards and points you in the right direction to find what you're looking for.
If you sign up for the rewards program, you can earn points whenever you purchase gift cards from one of its partners.
So, if you need to buy a gift card, look here first!
Earn Everything… nearly!
Join Opinion Outpost, one of the few faithful and honest survey panels and earn cash and gift cards for your opinion. Stack your points and redeem them: Simple! No hidden fees and completely free!


You can also earn points from referring friends, sharing gift card deals you find on the web, and more.
You can pile up your points and redeem them for FREE gift cards!
Hang Around Your Local Stores' Social Media Pages
I frequent some of my local restaurants and stores' social media pages and it's astonishing how many prizes they give away.
On Facebook, especially, many of them will hold weekly or monthly giveaways of prizes or gift cards to their stores.
All I usually have to do is share, like, or comment on a post.
One of my favorite local grocery stores, for example, gives away $25 gift cards each week on Facebook.
Every month it holds a larger contest for something like a TV or larger gift card.
It seems to be much more common for smaller, local places to hold sweepstakes for their loyal customers than larger retailers.
So, I suggest liking and following your favorite local stores and restaurants on Facebook, Twitter, and Instagram.
Interact with their pages and check in at least once a week or so to stay on top of giveaways.
Mobile Apps
Who knew mobile apps could be such a good way to earn free gift cards?
Although some are definite scams, many rewards apps for your mobile device are completely legitimate ways to earn gift cards.
Just note that they do take some time to earn enough points to redeem a gift card.
And, you may want to complete some surveys or offers to earn points faster, but they aren't necessarily required.
These apps may have you download other apps, view advertisements, provide feedback on apps and advertisements, refer friends, and other quick tasks to earn points toward gift cards.
Many even offer PayPal gift cards!
Here are a few of my favorites:
Check out this list of 93 smartphone apps that pay you for a variety of tasks!
Many also offer gift cards as rewards.
Search the Web
Earn free gift cards with Bing Rewards!
This is a popular way to earn cash and rewards for something you likely do every day: search the web.
And, it couldn't be any simpler.
Sign into your Microsoft account (or register for one if you don't have it!). Use Bing to search and shop online. Earn points toward prizes, including gift cards.
You can also earn more points by downloading or buying apps from the Microsoft app store. Refer your friends to rake in tons of points!
You just have to be at least 13 years old to join and participate.
Bing Rewards even has a mobile app to let you earn on the go!
Shop Online
Okay, so this way isn't technically free. But, if you're going to be shopping online anyway, you're not spending any extra money to get a gift card, right?
Just don't start shopping for the sole purpose of earning a gift card.
That negates the purpose, doesn't it?
MyPoints, Ebates, and Swagbucks are great ways to earn points from your purchases.
Check these places first before you visit a store's website to see if they partner with that store.
If so, you'll earn a specific number of points per dollar you spend.
You can then redeem your points for free gift cards.
Make sure you rack in more points by taking advantage of each reward site's other ways to earn points, like friend referrals, watching ads, or reading e-mails.
Store Loyalty Cards
If you have any loyalty rewards cards for stores, it's time to start paying attention to your rewards!
Rite Aid, for example, offers free gift cards for certain purchases.
It usually advertises these promotions in its weekly circulars, and sometimes even in-store on shelf price tags.
I've also gotten tons of coupons for $4 to $10 off my next purchase just by using my loyalty card!
It's not technically a gift card, but it's free money to take off a purchase, so it's basically the same thing.
Other stores may let you accrue points or a cash value that you can turn in for gift cards and other prizes.
I also have an Amazon store card that gives me 5% cash back any time I make an Amazon purchase.
I save up my points and use it toward another purchase, just like a gift card!
Test Drive Cars
This is a little-known fact, but your local car dealership may offer you a gift card just for test driving one of its cars!
Why?
Well, it's a good way to convince you to go there and check out a car.
Of course, the dealership is hoping you'll fall in love with it and maybe purchase one of your own.
At the very least, maybe you'll spread your love for the car to your friends and get some of them to come in!
It's a low-cost form of advertisement for the dealership.
Usually, the gift card is at least $25 in the form of a prepaid Visa, but some have offered up to $100!
Subaru, Kia, and Hyundai dealerships have all participated in test drive programs like this with free gift cards.
Just be aware that you usually can only do this once every 6 months or so.
The dealership will usually take down your information just to make sure you're not abusing the system.
You'll probably also get contacted by the dealership a few times after, either by e-mail or phone, so be prepared!
Trade In Items
One of my favorite ways to get Amazon gift cards is to trade in items I no longer need. I've traded in cell phones, books, and video games, for example, in exchange for Amazon gift cards.
All you need to do is search for the item you want to trade in. Amazon doesn't do this with everything, but books, games, and electronics are good trade-in items to look for.
On the right side, you'll see an option to trade in your item like the one listed. You'll choose the option that best fits your item's description based on its condition and Amazon will provide you with a trade-in price.
You send the item to Amazon and, if a quick inspection shows that your item is in the condition you listed, you keep that money, which will be in the form of an electronic gift card.
Best Buy also has recycling and trade-in programs for gently used electronics.
You can earn Best Buy gift cards by trading in your cell phone, television, video game console, audio equipment, and more.
Transfer Prescriptions
Some pharmacies will give you gift cards if you transfer your prescriptions to their pharmacies!
CVS is probably the most well-known for doing this.
It occasionally offers $25 CVS gift cards just by transferring prescriptions.
Right now, CVS is offering a rewards system for transferring prescriptions that can earn you CVS gift cards!
Other pharmacies that participate in this type of program are:
Twitter Parties
If you haven't participated in a Twitter party yet, it's a good time to start!
A Twitter party is like a hangout on the social media platform.
A few hosts will ask questions using a party hashtag.
Then, the guests answer the questions using the hashtag so everyone can easily find all the tweets for that Twitter party with the hashtag.
Bloggers often hold Twitter parties to draw attention to a blog campaign or in partnership with a company they're working with.
Companies also host Twitter parties to draw an audience to a current product campaign.
Often, the hashtags used in large Twitter parties start trending on Twitter, which boosts exposure to the campaign.
To entice people to come to the party, the hosts need to offer something great.
Twitter parties almost always have several prizes given away throughout the party.
But, you'll need to follow the rules and actively participate, rather than just lurk and read other's posts.
Most Twitter parties last about an hour and are divided up into segments.
Each segment, another prize will be given away.
Sometimes, it's free items related to the party, gift cards to a certain company, or even huge prizes worth hundreds of dollars!
At almost every Twitter party I've participated in, I've seen a gift card for at least one of the prizes.
So, how do you find them?
Well, a good place to start is, of course, Twitter! Check out the trending hashtags and see what ones are Twitter party hashtags.
Then, you can get a good idea of the companies or bloggers that host Twitter parties and follow them to learn about future ones.
Doing a quick Google search usually gives you a lot of leads for upcoming Twitter parties and where to find them.
Finally, check Twitter party calendars. Several bloggers are now putting these on their blogs to help organize their parties and keep track of their schedules.
Here are some great Twitter party calendars and resources:
Watch Videos
JingIt and Viggle are legitimate ways to earn gift cards just by watching TV or ads!
With JingIt, you watch advertisements and videos and provide feedback. Each time you do it, you'll earn points that you can redeem for rewards like gift cards.
Viggle is an app that lets you check in while watching your favorite TV shows and movies.
Every few minutes, advertisements will pop up on the app.
When they're over, you earn more points. So, the longer you watch TV, the more you points you earn toward gift cards.
Tips to Earn or Win Free Gift Cards
If you're looking for free gift cards, the last thing you want is to end up in a scam.
Beware of scammy websites that promise you huge gift cards in exchange for your information.
Most of the time, this type of site will take your e-mail address or phone number and sell it to companies who will use your information for profit.
In other words, they'll spam you like crazy!
This is why I can't stress enough to use a separate e-mail account for all your free gift card offers, just in case.
Even if you're safe when giving out your e-mail address, it will still help keep your inbox from getting cluttered with gift card stuff.
Here are a few more tips to keep you safe when you're on the hunt for gift cards:
Don't give your information to websites that promise you a free gift card after completing a quick survey.
They usually take you to tons of other websites, give away your information to each one, and never provide you with the gift card.
It's a scam.
You should never have to pay anything or give credit card information in exchange for a gift card.
If you feel you've fallen victim to an online scam, you can report it with the Federal Bureau of Investigation Internet Crime Complaint Center here.
Use multiple ways of getting free gift cards to maximize your earning potential! No need to stick to just one way if you have some time to put toward a few of them.
Of course, you also don't want to take on more than you have time for. Don't commit to 20 Twitter parties in a week if you can realistically only attend two!
It can be tempting to sign up for everything under the sun, but some of these options do take time to start earning.
So, use your time wisely and get into a routine that works.
But, don't spend your whole day off from work glued to the computer trying to earn free gift cards.
Unless you want to, of course!
Strategies of Getting Free Gift Cards Without Surveys & Offers
Participate in Social Media Contests
Keep an eye on social media accounts of your favorite brands, retailers, and influencers for contests and giveaways.
Engage by liking, sharing, or commenting on their posts to increase your chances of winning free gift cards.
Leverage Referral Programs
Take advantage of referral programs offered by websites and apps.
Share your referral code or link with friends and family, and earn points or credits that can be redeemed for gift cards when they sign up or make purchases.
Engage with Online Communities and Forums
Join online communities, forums, or subreddits focused on sharing freebies, giveaways, and deals.
Actively participate to learn about additional opportunities to obtain gift cards without surveys or offers.
Explore Gift Card Exchanges
Find platforms that facilitate gift card trading or exchanges.
Swap your unused gift cards or offer something in return to acquire gift cards at no cost.
Capitalize on Cashback Rewards
Utilize cashback apps or websites that offer rewards in the form of gift cards when you shop online.
Earn a percentage of your purchase amount as cashback, which can be converted into gift cards.
Participate in Online Surveys and Market Research
Explore legitimate survey platforms that offer gift cards as a redemption option.
Provide your opinions and insights in surveys and market research studies to earn free gift cards.
Join Loyalty Programs
Sign up for loyalty programs offered by your preferred stores or brands.
Enjoy exclusive promotions and rewards, including free gift cards, as a loyal customer.
Utilize Online Giveaway Websites
Visit websites dedicated to hosting giveaways and sweepstakes.
Participate in various giveaways, including those offering gift cards, to increase your chances of winning.
Want to Stick to Surveys and Offers?
Of course, survey and offer websites are still awesome ways to earn gift cards.
So, if you're interested in trying out some of our favorites survey websites that really pay, check out this list of 39 online survey jobs!
All of the websites on that list pay in cash, but many also give you the choice of gift cards.
Again, make sure you use a separate e-mail address when you sign up so you can keep track of your registrations and avoid a cluttered inbox!
Do you know of other legitimate ways to score free gift cards online? Let us know in a comment below!
Related Posts:
Earn Everything… nearly!
Join Ipsos iSay, one of the few Faithful and Honest survey panels and earn prizes, gift cards and donations. Stack your points and redeem them: Simple! No hidden fees and completely free!