21 Ways to Find a Free Lawn Mower Near You or Online in 2023
Updated on: by Amy Kennedy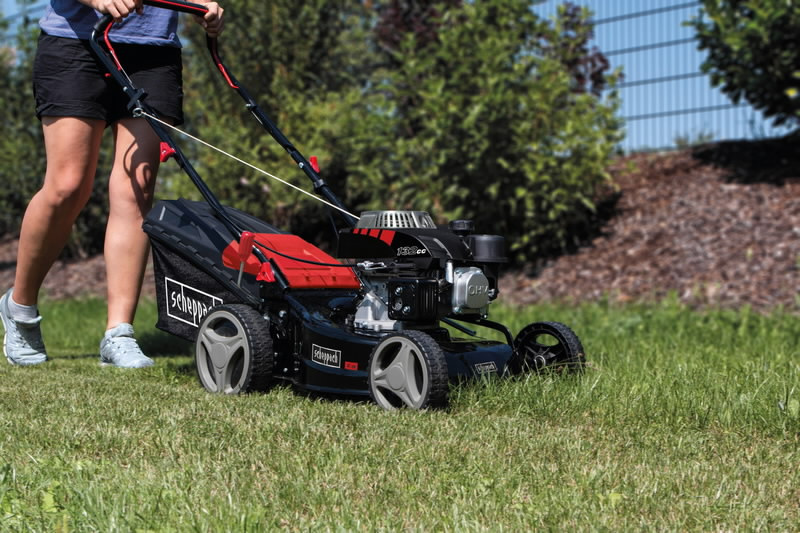 Did your lawnmower break down or is it not working well?
Need Easy Extra $350+/Month For Free?
Or maybe you just moved to a place with a big yard that will need regular mowing and maintenance?
A lawnmower is necessary in this case, but you might not have the money to spare to buy a new one.
It's understandable, as lawnmowers can get pretty expensive. Even the most basic, barebones models usually cost around $150 or more.
But if you live in a neighborhood with lawn mowing and grass height and upkeep requirements, it's super important for you to keep your yard maintained.
You definitely don't want to end up with fees that'll cost you even more than a new lawnmower would have.
If you read this blog frequently, you know that we're all about putting more money in your pocket, either by giving you ideas for making money or tips for saving money.
Today, our focus is on free lawnmowers and free lawn equipment that can help you maintain your beautiful yard.
Every little bit of money saved helps!
How Can I Get a Free Lawn Mower Near Me?
If you need a lawnmower quickly to take care of an unruly yard, you might not have the luxury of waiting a couple of weeks for one to get delivered after ordering it online.
The following ideas are ways you can find a lawnmower near you, quickly and easily.
FreeCycle is a super helpful site if you're looking for anything free in your area (and when you have free stuff to give away).
Look for your local FreeCycle group by entering your location into the site.
Then, you can browse the listings to see if anyone is giving away a free lawn mower or post your own listing to ask for one.
Nextdoor is another location-specific site that lets you communicate and interact with your neighbors, community news, etc.
You can post questions to your neighbors, including asking for things you need in a pinch.
Need Easy Extra Cash?
Pinecone Research, a leading name in online survey panel honesty, absolutely guarantees $3 cash for every survey you complete!
Take advantage of their time limited New Membership drive and register NOW. Join today: 100% free!


It's free to setup an account and post on the site.
You can also receive email notifications (or mobile notifications if you use the mobile app) when someone responds to your posts.
Trash Nothing is a new-ish site that's similar to FreeCycle.
People create local communities where members can look for free goods or give away what they no longer need.
You might find that your community is more active here than on FreeCycle, or vice versa, so it's good to know about both of them.
Trash Nothing is available in the United States, Canada, the UK, and Australia.
I love Craigslist for so many reasons, but one of its best features is its Free section that's literally filled with free stuff from people in your area.
The site is free to use, and you can either browse what's already available or create your own post to let people know what you're looking for.
Craigslist keeps your email private, so when people respond to your post, they get a Craigslist email address, but all messages will go straight to your regular email inbox.
If you're not finding anything in your area, try looking in surrounding cities and towns if you don't mind driving a bit to meet up with the person giving away a mower.
Or Browse Craigslist Alternatives
There are a lot of Craigslist alternatives, too, if you're not finding a free lawnmower there.
ClaZ is one of them, and it's set up very similarly to Craigslist.
Search for your location by zip code to browse lawn mower listings or place an ad for free to let other people know you're looking.
Ask Your Friends on Facebook
Your friends and family can sometimes be the easiest route to go when you need something for free because there's often someone who can and is willing to help, especially if you're really struggling.
Put up a post on your Facebook profile asking if anyone has a lawnmower you can borrow or keep.
Make it shareable so that your Facebook friends can share it to their pages and get your post seen by more people.
Head to Yard Sales
Yard sales are helpful for finding so many things, and you never know what kind of stuff you might be able to walk away with.
I've known plenty of people who have gone to yard sales and haggled their way into getting at least part of their haul for free, including free clothing, appliances, home decor, and more.
If you plan to buy something at a yard sale and see a lawnmower for sale, too, you might negotiate with the yard sale host to see if you can get it for free or at least a lower price.
Trade with Someone
Do you have other lawn equipment or tools that you don't need anymore?
You might be able to find someone you know or a neighbor that wants to trade you a lawnmower for whatever you're giving away.
This could also work as a temporary fix, too, especially with neighbors.
For example, if a neighbor wants to cut down some tree branches but doesn't have shears or a saw and you do, you can offer up your tools in exchange for their lawnmower for a day.
Browse Local Buying and Selling Apps
Use your mobile device to find free lawn mowers near you.
5Miles and OfferUp are two of the best.
They're free to use, and you can simply search for what you need or browse the listings to find a mower. Then, contact the person giving it away via the app and set up your meeting date and time.
You can also use eBay's app.
Listings here are usually paid, but you could find a super cheap lawn mower that someone wants to get rid of.
Be sure to browse local pickup listings rather than shipping to find ones in your area.
Earn Everything… nearly!
Join Opinion Outpost, one of the few faithful and honest survey panels and earn cash and gift cards for your opinion. Stack your points and redeem them: Simple! No hidden fees and completely free!


Rent One
Hardware stores and home department stores often have lawn equipment rentals, including lawnmowers, that you can pay to borrow for a day or so.
However, I've also seen some stores offer promotions that get you a rental day for free, usually when you purchase something else.
So if you need to make a trip to the store to buy something anyway, you might be able to take home a rental lawnmower to take care of your yard.
Ask an associate if they have any similar promotions, as they don't always advertise them.
Check the Mall
You know when you walk around your local shopping mall and you see cars, golf carts, and lawnmowers sitting in the middle of the walking paths with ropes around them?
Those are contests that you can enter to win whatever the item is.
There are usually sign-up forms located near the ropes that you can use to fill out your information and get entered into the contest.
You usually don't need to purchase anything to be entered; just give your name, address, phone number, and other requested information so that you can be contacted if you win.
Contests for lawn mowers usually happen closer to springtime, but you could see them pop up randomly in your local mall.
Check Community Gardens or Allotments
Community gardens or allotments are shared spaces where individuals or groups cultivate plants collectively.
These spaces often have shared tools and equipment, including lawnmowers, that members can borrow.
Reach out to community garden organizations or local allotment associations and inquire if they have lawnmowers available for borrowing or if they know of any members willing to donate one.
Visit Local Recycling Centers or Transfer Stations
Local recycling centers or transfer stations sometimes have areas where people can drop off items they no longer need but are still in usable condition.
Check with your local recycling center or transfer station and inquire if they have a section for free items. You may come across lawnmowers that have been dropped off by others and are available for free.
Find Free Riding Lawn Mowers and Other Mowers Online
When you're not in a total time crunch to get a new lawnmower, these other online options could be helpful ways to snag one.
Get Rewarded from Online Tasks
Are you a member of survey and reward sites, like Swagbucks, InboxDollars, or PrizeRebel?
If so, use the rewards you save up from completing simple online tasks to put toward a free lawnmower.
Some sites even have gift cards for places you can buy lawnmowers from, like Home Depot and Tractor Supply, but other reward sites pay in cash or PayPal.
With the latter, you can use the money to go shopping wherever you find the best lawn mower deals.
Create Wishlists
When you shop at major online retailers, like Lowe's, Home Depot, and Amazon, you can create wishlists of the stuff you want.
Usually, you just need to sign up for a free account to utilize the feature.
You can take advantage of wishlists to add the lawn mower you want.
Share your list with others when it's time for your birthday, a holiday, or another special occasion, and they can buy it right from your wishlist.
Check Deals on Manufacturer or Home Goods Store Sites
You might find a deal for a free lawnmower and other lawn equipment when you're browsing home goods stores if you keep your eyes peeled.
It's not unusual for these online retailers to offer buy something, get something else free deals.
And those deals could get you the free lawnmower you've been needing.
Sign up for retailer email newsletters to be one of the first to know about special promotions.
Use Swapping and Bartering Sites
Try using swapping and bartering websites, like BarterOnly, which can help you find people willing to trade with you to get you a lawnmower.
There's no guarantee you'll be able to find what you need, but it's just another idea to keep in your back pocket.
Read More: 38 Best Barter or Swap Websites That Let You Trade Your Stuff 
Contact Companies for Mower Reviews
Do you have a blog that focuses on home and garden topics?
If so, you might be able to review a brand new lawnmower for free in exchange for writing a review about it.
Many companies do this to get the word out about their products and get real-life feedback for improvements.
You can simply reach out to lawnmower manufacturers with details about your website to see if they'd be interested in sending you a mower as a review product.
Follow Companies on Social Media
Most of today's biggest brands are on social media, and their channels are usually where they post new contests, giveaways, and even promotions that could get free stuff.
Lawnmower brands and the retailers that sell them are no exception, so make sure to become their fans on social media.
Instagram, Twitter, and Facebook are some of the more popular platforms for brands to post exclusive contests and promotions for their fans.
If you can't find their profiles, look for social media icons and links on the brand's website.
Enter Contests and Giveaways
Keep an eye on online contests and giveaways for new lawnmowers that you don't have to pay for.
Some manufacturers, online retailers, and home-focused blogs host these contests and giveaways, so keep their websites bookmarked to check once in a while.
Personally, I save several sweepstake, contest, and giveaway sites that curate these contests from all over the web.
Giveaway Monkey and Giveaway Promote are two examples.
You can use those sites to look specifically for lawn mower giveaways and contests.
Engage Online Community Groups
Explore online community forums, discussion boards, or social media groups specific to your area.
These platforms often have sections or threads dedicated to free items or requests.Post a request explaining your need for a free lawnmower, and you may find community members willing to donate or lend one to you.
Engage actively with the online community to maximize your chances of finding a free lawnmower.
Get a Free Lawn Mower!
We hope the above ideas help you find a lawnmower for free that fits the needs of your yard.
And even if it's not quite what you were hoping for, you just saved a bunch of money by not having to buy a new one.
You can keep saving up to eventually afford the mower you want while using the one you have until then.
We love when our readers pitch in their ideas and tips to add to our articles, too, so be sure to let us know in the comments if you have other helpful pointers for getting a free lawnmower.
Related Posts:
Earn Everything… nearly!
Join Ipsos iSay, one of the few Faithful and Honest survey panels and earn prizes, gift cards and donations. Stack your points and redeem them: Simple! No hidden fees and completely free!