75+ Ways to Get Free Makeup and Beauty Samples by Mail (Plus Current Samples!)
Updated on: by Amy Kennedy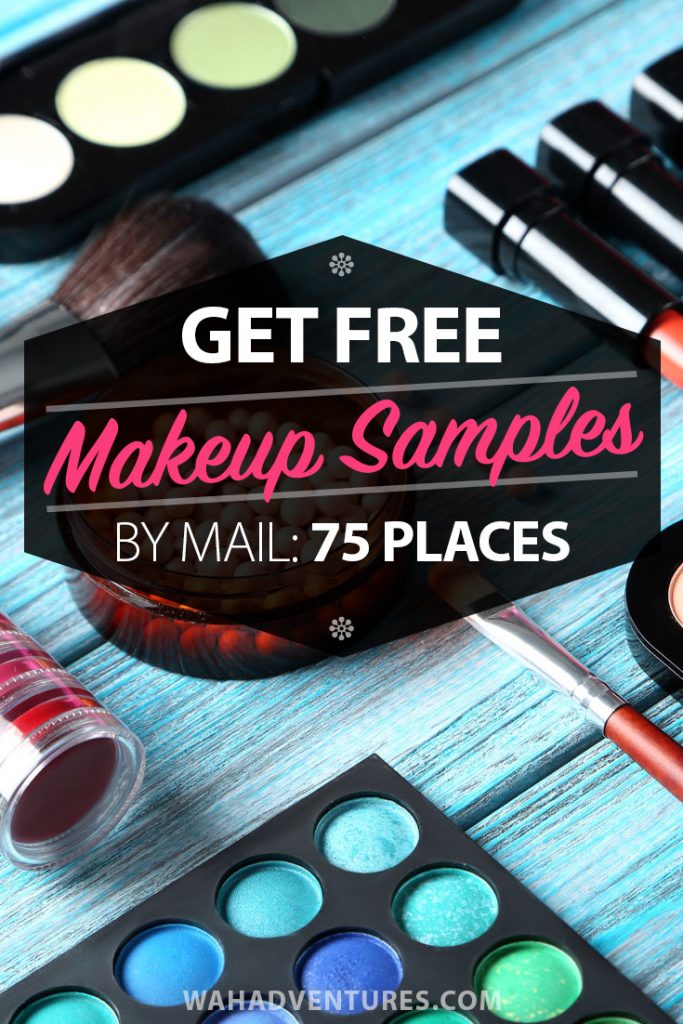 It's always exciting to get free stuff, right?
Need Easy Extra $350+/Month For Free?
But, what if I told you that you could get free cosmetics and beauty products for free, too?
Beauty and cosmetic products are expensive.
Cosmetics are an especially high expense because they have to be swapped out frequently to avoid bacteria.
Women usually spend at least $50 a month on cosmetics and beauty products.
But, you can cut out a good portion of that cost by knowing where to look for these things for free.
Plenty of companies want you to try their products, so they're willing to send out samples for free to make that happen.
Here's How to Get Free Makeup Samples by Mail
It all boils down to knowing where to look for free samples.
There are tons of makeup brands that give free samples, for example, but you'd likely never know it unless you dig around the website or sign up for their e-mails.
Some companies even provide full-size products for you to try out!
Even if you get a sample size, that's a little bit of money you didn't have to spend, right?
Samples are perfect for figuring out what product is best for you, too, so you won't have to spend a big chunk of money up front only to find out you don't like it.
With makeup, samples help you decide on the perfect color for your skin tone.
And, if you have a consistent flow of free samples coming in, you can save a ton of money each month on beauty products and makeup.
Here's how you can get started!
Free Cosmetic Samples from Cosmetic Brands
This is the most sure-fire way to get free cosmetic samples, especially from brands you already know and love!
Need Easy Extra Cash?
Pinecone Research, a leading name in online survey panel honesty, absolutely guarantees $3 cash for every survey you complete!
Take advantage of their time limited New Membership drive and register NOW. Join today: 100% free!


Makeup companies will occasionally have offers for free samples of new products.
Some also offer free products when you make a specific purchase, which can be just as awesome.
If you have to buy something anyway, you might as well get something for free.
Just remember to check the fine print so you can qualify for your free stuff.
Aveda pretty much has consistent free sample and free item offers.
Keep the page bookmarked so you can always stay up to date with its current offers.
Usually, Aveda's free products come with a purchase, but the company makes it worth your while.
Currently, for example, any $30 purchase gives you any four of its essential minis products of your choice.
You can also receive a free welcome gift if you sign up for Aveda newsletters and make your first purchase.
Those who are members of a school, sporting, or other type of group with at least 12 members can sign up to get free samples from BA-STAR, a company focused on creating makeup kits for dancers, gymnastics teams, and more.
Sample kits will only ship within the continental US.
Bobbi Brown Cosmetics has a section of its website dedicated to free samples its customers can request.
You can get five free mini products from this page with any order of $50 or more!
Chanel is known for giving out free fragrance samples and a variety of coupons with most of its online orders.
You can also check Chanel's Facebook Page for periodic offers to sign up for a free sample of a new fragrance.
Clinique is one of those brands that are always happy to let you sample its makeup in-store.
Visit one of its stores and ask an employee to sample the products so you'll know what will work best for you.
It also offers samples online.
When you make an online purchase, you can choose one free deluxe sample. The offer is valid with any order!
Elf Cosmetics has tons of awesome cosmetics products and accessories.
The company almost always has some sort of deal in place for online customers, including free samples and full-size products.
Its current offer, for example, is a free 4-piece gift set when you make a purchase of at least $25.
Bookmark and visit Estee Lauder's sample page to stay up to date with its current offerings.
The company offers some great samples for a variety of its products, from makeup to serums to anti-aging creams.
All you need to do is create an account to have access to the samples.
No purchase is necessary!
Everyday Minerals is known for its custom makeup kits where customers can choose the products they want and need in their kits.
You can order a sample kit for free to make sure you're getting everything you want in the kit you purchase!
Choose two base colors, a primer, a cheek color, and a face color to complete your sample kit.
Earn Everything… nearly!
Join Opinion Outpost, one of the few faithful and honest survey panels and earn cash and gift cards for your opinion. Stack your points and redeem them: Simple! No hidden fees and completely free!


The company also has eyeshadow samples you can request.
Kiehl's focuses on skin and hair care products.
Its sample page is perfect for bookmarking so you can check back for current deals.
Kiehl's almost always has some type of a great deal for customers.
Its current deal, for example, gives you three deluxe samples when you purchase at least $65 worth of items!
And, there are tons of samples to choose from, like anti-aging creams, eye cream, pore cleansers, and more.
This popular skincare, makeup, and fragrance company offers some of its most popular products for free via its samples page!
Currently, you can get free lipsticks, body lotion, radiance cream, eyeliner pencils, and more.
Laura Mercier has samples on a rotating basis of some of its newer items, like a 1-oz. sample of its Foundation Primer Radiance and its Translucent Loose Setting Powder.
Keep the above link bookmarked to stay up-to-date with the latest offers.
This company seems to always have samples and free product with a purchase offers!
Check out the Current Offers section to find them.
Right now, for example, you can get a Shea Butter Intensive Hand Balm and Immortelle Divine Cream for free with any purchase over $115.
L'Oreal is a company that's super generous with handing out freebies for its fans.
The Worth It Rewards program is free to sign up for and gives you points for L'Oreal purchases which you can redeem for L'Oreal products and other gifts.
You'll also have access to free product samplings and a special birthday gift when you sign up!
And then there's its Consumer Participation Program, where you can participate in studies and testing opportunities as a panelist.
Keep this page bookmarked to find other current sample offers from L'Oreal.
MAC Cosmetics almost always has free sample offers when you make a purchase on its website.
Usually, the offer is something like a Buy Two, Get One type of deal, and you can score free, full-size products from the company!
Paula's Choice Skincare doesn't have its own samples page, but the company does frequently offer free samples with certain purchases.
You can periodically check the homepage to view current deals.
REN Clean Skincare sells tons of great skincare products, from body oils to acne treatments.
Keep its samples page bookmarked so you'll know what current offers are available.
The company always offers two free samples of its products with every order, but it occasionally has some even better free product offers available.
Sephora is another brand that welcomes people to try its products in-store.
This helps you out by finding the perfect products, and helps Sephora out by making it more likely that you'll buy something you'll fall in love with!
So, don't hesitate to ask for some samples when you visit.
You can also score some free stuff from the website when you order online.
Sephora offers customers three free samples with every online order, and you get to pick from a large selection of makeup, masks, and more.
Smashbox is a fun place to find a variety of beauty and makeup products, from lip gloss to palette kits.
A section of its site is dedicated to free samples, so it makes it easy to find them!
The page will change according to current samples, so you can keep it bookmarked to check back frequently and see what's new.
Currently, you can get two free products with your purchase.
Add what you want to your cart and you'll be able to choose your product samples!
Not only does The Body Shop sometimes give out free samples in the mail when you purchase products online, but it's also generous in giving out samples to customers who want to try a product in-store before they buy it.
According to its Help section, any customer can visit The Body Shop and ask a store consultant for a free sample of the product they'd like to try.
You can also find other online samples here.
Ulta Beauty is both a store and a brand that offers free beauty samples. It calls them "checkout perks"!
Visit the website, make a purchase, and you can choose a free product from one of three categories: Fragrance, Skincare, or Variety.
Ulta will then surprise you with a free gift when it sends you your order.
Zoya is a brand of gorgeous nail polishes and nail accessories.
It's notorious for sending out free products to customers when they make a purchase.
I've gotten a free sample of a nail polish remover and some free color testing spoons from the company on previous orders.
Zoya also has several sales throughout the year when you can get one or more free nail colors with a purchase!
Free Beauty Products by Mail from Department and Drug Stores
These samples are from actual stores that use free sample and product offers to get people to visit and make purchases.
It's a win-win for everyone!
Some offers are only available for those involved in loyalty programs with the store, but others are available to anyone.
In addition to free products from CVS when you make specific purchases, you can also score free beauty stuff when you make an online purchase.
When you spend at least $15 on CVS.com, you can choose one of the currently offered deluxe samples.
Right now, CVS is offering nail files, a face mask, and cleansing cloths, but the offers change periodically.
CVS does require you to be a member of its loyalty program to qualify for the free deals, but you can sign up easily at your local store or online.
Get some free samples from Nordstrom by visiting one of its in-store beauty counters.
Of course, you can also get some awesome free samples when you make any purchase on its website.
Nordstrom currently allows customers to choose from three different sample products, from fragrances to lotions to eye creams and more.
Like CVS, Rite Aid has weekly savings deals that often include free products with a purchase.
Check the current weekly deals to see what's available.
There are also tons of online deals that can save you tons of money and give you free products.
For most deals, you'll need a Plenti Rewards card, which you can sign up for in-store or online.
Superstore Target used to have a program called Target Sample Spot, which offered tons of free samples to customers, including beauty samples.
Unfortunately, it seems the program no longer exists.
But, Target still puts out weekly deals, sometimes offering two-for-one product deals.
So, it's worth taking a look at the weekly circular to see if you can get your hands on some free products.
Free Cosmetic Samples from Websites
Free sample websites are amazing resources for finding any free sample you could want.
The great thing about these websites is they curate all the deals they can find, basically doing the hard work for you.
And, most even have their deals organized into categories so it's easy for you to find strictly beauty samples!
So, bookmark these sites and check back frequently so you don't miss all the good stuff.
All Free Samples has a whole category for beauty products, including makeup, haircare, facial, skincare, and bath products.
Within each category, the website also lists reward programs you can join from different companies to get more free stuff.
Cashbackbase is a site that works with Amazon to provide members with products they can buy, test out, and then get 100% reimbursed for by the seller.
Basically, you get a free product in the end.
The site has several types of products available, and makeup and beauty products are usually listed.
The Free Samples section of Freebies4Mom is a place you'll want to bookmark to find beauty samples.
The site is updated almost every day, so you can keep checking back for current offers.
This website is updated often and has a huge list of free beauty samples, rewards programs to join, product testing panels, and more.
You can also sign up for the daily newsletter to get the most recent samples.
Free Mania has an awesome Cosmetics page where it lists current free sample offers, brands that give away free samples, and ways to test new beauty products from your favorite companies.
This website updates daily, so be sure to check back frequently.
Free Stuff Finder is another helpful website on which to find freebies.
The newest finds will be on the front page, which is updated several times a day, but you can also search the site using the Search box to find beauty or makeup products and samples.
Get It Free updates daily with freebies in a number of categories, from food to health.
Sign up for the daily newsletter to get new deals in your inbox.
Go Freebies is a great place to find current deals from all over the web.
You can even sign up for a daily newsletter to be the first to hear about current deals. If you do, you're entered to win an Amazon gift card (which could get you even more free stuff!).
Hunt4Freebies is updated daily with sample products in several categories, including beauty products.
Check frequently for the most recent samples, as some of them expire quickly.
Magic Freebies is a site dedicated to UK sample lovers!
This site is similar to the others – and there's a full category dedicated to makeup products for free.
Follow the company on Twitter to get updates.
This frequently updated website includes offers from your favorite makeup and beauty brands.
And, it tells you exactly what you need to do to sign up for the offer!
Check out the beauty and makeup section of My Savings to find some of the latest makeup products that you can get for free.
Pinch Me is a company that lets you sign up for free, fill out a profile with your shopping habits and interests, and get free samples in the mail.
Once you get a chance to try them out, you'll fill out a quick survey with your opinions.
Sign up for Redbook's email newsletter to be the first to know about free sample offers the magazine gives out.
Sweet Free Stuff has a category for health and beauty samples.
It's not as frequently updates as some others, but it's still a good place to keep in mind when you're looking for new samples.
TrySpree is a unique samples website that not only lists current offers updated daily, but also lets members sign up for automatic freebies.
When you do so, the site will automatically send you freebies that line up with the interests you indicate!
WomenFreebies lists frequent new deals for women in categories like perfume, skincare, and hair.
It's updated daily, so check back frequently to get the newest stuff.
Free Samples from Product Review Sites
Joining product review sites is also a great way to score free makeup and beauty samples.
Companies collaborate with these sites to get more exposure for their products.
Beauty products are one of the most common types of products to find on these sites, so you're in luck!
To get free products through most review sites, you'll either need to review products on the company's site, your own blog, or on social media.
Allure Beauty Enthusiasts is Allure Magazine's community for sharing opinions and ideas on the latest products and brands.
As a member, you'll learn about new products first, be eligible for samples, and have access to special events in your area.
Bloggy Moms is a network for – you guessed it! – blogging moms.
So, you do need to have a blog for this one.
You can sign up for Influencer Opportunities, in which brands will connect with members to help promote their products.
You'll usually need to take specific steps to review the product on your blog and promote on social media.
BzzAgent is a popular product review site.
When you sign up, you'll need to fill out a questionnaire so BzzAgent can match you with the right campaigns.
Make it known that you love beauty and makeup products!
The more you participate in the site and complete successful campaigns, the more opportunities you'll have.
When you're matched with a campaign, you'll get an invite via e-mail.
Most campaigns on BzzAgent will require either a blog or social media reviews or promotions.
Influenster is a great place to score free beauty products, because many of its brand campaigns focus on things like lotions, face masks, and makeup.
With Influenster, you can qualify for a "Vox Box", which is basically a box of goodies from one or more companies based on a specific theme.
For example, one of their current ones is for sunscreen and related sun protection products.
Once you get a Vox Box in the mail, you can sign onto Influenster and complete the tasks for the Vox Box.
You get a number of points per task, and points help you unlock the Vox Box badge.
When you unlock a badge, you can score some more free stuff from the companies participating in that Vox Box.
InStyle Trendsetters are an online community of style and beauty-focused people.
As a member, you'll get to participate in surveys and focus groups, plus have a chance to receive free products to test.
The panel also has exclusive contests and giveaways for panelists.
Product Testing USA is a network of testers for various products, from tech to kitchen gadgets.
The company does also have beauty products available, too, that you can get for free when opportunities become available.
She Speaks is a network of women influencers.
You don't need a blog to join, but it can help you get free products to review, as the network does collaborate with brands for product campaigns.
It also helps to be active on social media to qualify for campaigns.
Smiley 360 gives members missions to complete for its campaigns. During these missions, you'll complete specific tasks, like posting a status about the product on Facebook or posting a photo to Instagram.
You earn points on this site the more tasks you complete and the more you interact with the site.
The more points you have, the likelier you'll be to qualify for missions.
Although you don't need a blog, you'll often use social media networks, so it's best to have some active ones with a good number of followers.
Swaggable is another website that matches members with interesting products in exchange for honest reviews.
When you sign up, you can choose what categories you're most interested in, so make sure "Beauty" is one of them!
Once your interests match current product offers, Swaggable will let you know by sending an e-mail and notifying you on your dashboard.
After you test out your products, review them on the site and share your thoughts to Facebook or Twitter.
There's no blog necessary for this platform!
The Pink Panel is a beauty and makeup panel full of women who consider themselves beauty enthusiasts and like to keep up with the latest from their favorite brands.
The panel sends out surveys to members, but also rewards them with free samples, giveaways, and product testing opportunities.
Tomoson is a product review site that lists hundreds of products from companies who want reviews.
Depending on the company's needs, you may need to review the product on Amazon, the company's website, your own blog, or social media.
Not all companies require you to have a blog, but most want at least a couple of social media promotions.
Browse the beauty section to see everything that's available, and take your chance applying for products you want.
A company can choose whether to approve you, and your approval chances are higher once you get more reviews and high ratings under your belt.
Current Sample Offers – UPDATED for 2023!
Want some samples you can get right now? Here are a few of the best current beauty and makeup sample offers!
Biossance is a skincare company that offers two free sample products for anyone who wants to try them.
You'll get two of its most popular oils: Squalene Oil and Squalene + Vitamin C Rose Oil.
You only need to pay $5 for shipping and handling and sales tax where applicable to receive your samples.
You can visit the linked page to download a voucher for a free bottle of Clinique's Beyond Perfecting Foundation that gives 12 hours of full coverage and spot concealing.
Fill out a form for Dove to receive current news and offers from the company, and to receive offers for free samples and products when available.
Gaia EarthWorks has a 100% Bentonite Dermal Face Mask, and you can try a free sample just by adding it to your cart on the website.
Fill out a quick form to get notified when Garnier has free haircare samples available.
You will also be the first to know when the company has other offers or new products.
Generation Uth Skincare is a line focused on healthy, youthful skin. Fill out a form and you can get free samples of the product line to try.
L'Occitane Divine Cream is an anti-aging cream and one of the best-selling products of the company.
Try a sample by filling out a short form.
L'Oreal's liquid moisturizer, Hydra Genius, is its most current product it's offering as a sample.
You need to be a member of the site to qualify, but it's a quick sign-up process.
To stay up to date with other offers from L'Oreal, you can bookmark this page.
Makeup Forever has a page of its website dedicated to current samples.
Right now, it's offering a foundation, primer, and skin-boosting serum for free.
Mineral Hygenics offers a free foundation sample for new customers.
Fill out the form to give the company a better understanding of your skin type so it can match you with the right formula and color.
Olay's Club Olay is a program for fans who want access to exclusive deals and news.
You can visit the website to sign up for the club and get a free sample of new Olay Whips, plus facial cleansing cloths and Deep Hydrating Eye Gel.
Get a free sample of PCA SKIN Broad Spectrum SPF lotion by filling out a quick form.
Get a free primer, BB Cream, and Hi-Def Foundation from RIMIX Cosmetics.
You only need to pay $5 for shipping and handling.
When you order at least $40 worth of products from Smashbox, you can choose three free sample products to get with your order from the Samples page.
Some of the current samples include mascara, lipstick, makeup bags, and eye primer.
Sign up for TRESemme's mailing list and you can have opportunities to get free samples and other great offers from the company.
Miscellaneous Ways to Find Free Beauty Samples
Reach Out to Companies
Writing to companies and asking for free stuff may sound odd, but it works!
Back when I was a teenager, I poured my heart out to a clothing company that I absolutely loved.
I wrote a letter gushing over its newest summer clothing line and bathing suits.
I didn't expect anything – I simply wanted to tell the brand how much of I fan I was!
A couple of weeks later, I got a $10 gift certificate in the mail.
Not a bad exchange for a piece of paper, an envelope, and a stamp, right?
So, write to the brands you love. Don't expect free stuff. Instead, be genuine.
Tell them how much you love their products, and what, specifically, works the best for you.
Make is as unique as you can to stand out.
Chances are, they'll love your heartfelt compliments so much that they'll give you some samples, a gift certificate, or coupons for some free goodies.
It's worth a try!
If you're stuck on what companies to try, here's a list of companies that send free stuff in response to letters.
Social Media
Follow your favorite companies on Twitter and Facebook!
Not only will you stay up to date with the latest news, but you'll also know when the companies are holding contests or giveaways.
Some brands love it when you interact with them on social media, too.
So, retweet some statuses, mention them in your statuses, reply to their posts, or even send a quick message professing how big of a fan you are.
Testing Panels
Some brands have their own product testing panels. They recruit their own fans to test products for genuine feedback.
Some testing panels collaborate with brands to reach a large audience willing to test their products.
Here are a few product testing panels from which you can get some free beauty products in exchange for your opinions:
Buy Magazines
I often read women's magazines, both beauty-focused and general lifestyle, and find card inserts or advertisements for ways to get free samples.
Sometimes you can find them, too, by combing through those several pages in the back with tiny print.
Pay attention as you read through the magazine, especially within features that focus on beauty product roundups, because the pages will often have a small blurb that indicates a website you can visit to sign up for a sample.
Magazines often give away free stuff, too, with huge prize packs filled with makeup and beauty products, so don't forget to enter all those too!
If you don't want to buy magazines just to get free stuff, you can always browse through them at a book store and jot down some notes.
Amazon Review Sites
Amazon review sites are ones that let you sign up for free and then apply for offers from companies who want you to test their products.
Since Amazon changed its terms of service a couple years ago, you can no longer be required to give a review when you're given a product for free or a discounted price.
The way these sites usually go about this is by still offering you the free or discounted product and hoping you'll be kind enough to leave a review.
If you continuously leave reviews, it'll increase your reputation and you'll be likelier to get chosen for future opportunities.
Several of these sites have product categories dedicated to beauty items, so it's easy to find what you're looking for.
Here's our updated list of Amazon review sites to get you started!
Place Orders from Your Favorite Beauty Brands
If you order stuff online frequently, you might notice that you sometimes get free samples of relevant products in your box too.
I've gotten free cards, trial-sized shampoo, conditioner, and dry shampoo, lip gloss, and more, just for buying stuff from my favorite online companies.
Some companies also send out packets of coupons to give you free or discounted items if they're things that aren't as easy to ship or might cost too much in shipping to give out for free.
So, just keep buying stuff online from your favorite brands and see what happens!
It's possible that you'll end up with free stuff just for being a loyal customer.
Sign Up for Beauty Subscription Boxes
Subscription boxes aren't free, I know.
However, they usually cost somewhere between $20 and $50 per box, but feature loads of trial-size or full-size products worth $100, $200, or more.
Essentially, you're paying one price but getting a bunch of stuff that's worth more. It's like several items for free.
There are a lot of beauty-focused subscription boxes available now, so you definitely have your pick of ones to choose from.
One popular one is Birchbox, which you can get monthly for $10 a month.
The box contains five sample beauty products – makeup, hair products, and style-focused items – for such a low price.
Yes, they're sample sizes, but they still can go a long way, and for less money than it would likely cost you for just one full-size item.
Ipsy is a similar subscription that's also about $10 a month and sends makeup and beauty samples to customers monthly.
There are also a lot of great deals for Ipsy customers where they can choose from extra products to add to their shipment, sometimes even for free with a specific purchase amount.
FabFitFun is one of the most popular subscription boxes around right now, and it often includes makeup and beauty products in addition to fun things like workout gear, blankets, mugs, and more.
Boxes come four times a year, plus special editor's boxes, and cost about $50 but contain more than $200 worth of products!
Read More: 12 Easy Ways to Get Free Perfume Samples Online
Join Beauty-Focused Facebook Groups
Search for some beauty-focused groups on Facebook (there are tons of them, so it might take a while to browse them and find the right ones for you!).
These groups are GOLD for makeup lovers because other members are quick to share great deals when they find them, including online and in-store deals.
Some of these groups also have "pods" with a few close members who trade beauty items they have that they no longer need or didn't love.
Either way, these groups will likely help you find the free stuff you're looking for.
Swagbucks is not only a wonderful place to earn money online in your spare time, but it can also help you find makeup samples for free!
Go to Swagbucks and sign up or log in.
Then, browse the current offers.
You can find them by going to Discover.
You'll usually be able to find free offers that invite you to sign up for samples for free.
When you complete them, you'll get the indicated number of SBs (points) into your account!
So, not only are you signing up to get free samples, but you're also making money through Swagbucks.
Once you have enough SBs, you can turn them in for a gift card or PayPal cash.
This is definitely a different way of getting makeup samples delivered to your door, but it can be so much fun for the right person.
Ripple Street (formerly House Party) is a service designed to get you and your friends together to try out new stuff.
It's free to join.
Once you sign up, you'll have access to the company's current programs, which sometimes are makeup-focused.
All you'll need to do is sign up for the project, invite your friends over for a party, and share the stuff Ripple Street sends you from its partnered brands.
It's kind of like an influencer network for groups of people.
The company works with Dove, Burt's Bees, and other beauty and wellness brands!
Conclusion: Free Samples Galore!
Now you know where to look, so start signing up for some free stuff!
You may want to get a dedicated e-mail account for signing up for beauty samples, or you might find yourself bombarded with daily e-mails.
A separate account can keep everything from getting cluttered, and also make it easier to find your beauty deals.
Do you know of other companies, testing panels, or review sites that offer free beauty and makeup samples?
Please let us know in the comments!
Related Posts:
Earn Everything… nearly!
Join Ipsos iSay, one of the few Faithful and Honest survey panels and earn prizes, gift cards and donations. Stack your points and redeem them: Simple! No hidden fees and completely free!