96 Companies That Send Free Stickers: Decorate Your Laptop, Notebooks, and More!
Updated on: by Amy Kennedy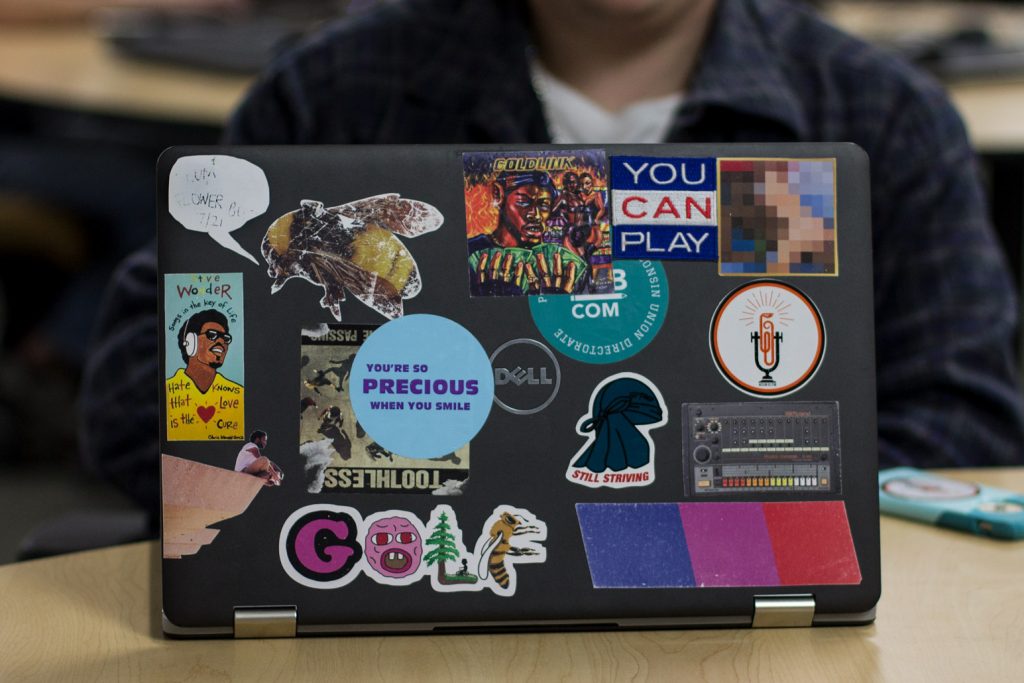 There are so many ways to get free stuff online from your favorite companies, from baby products to beauty samples and more.
Need Easy Extra $350+/Month For Free?
One thing that many people love to get for free is stickers from their favorite brands.
Whether you like to stick them on your laptop cover or snowboard, decorate notebooks with them, or just collect them in a sticker album, they can be a fun way to show off your support for causes, companies, and more.
Not sure how to go about getting those stickers for free?
This guide is going to show you how, plus give you more than 90 companies that are happy to send along stickers to their biggest fans.
How to Get Free Stickers By Mail (and How to Request Them Online!)
Before we get into the list of companies that offer free stickers, lets talk about how you can go about getting these stickers from each brand you love.
This list below isn't a comprehensive list.
It's just one that we put together to make it easier for you to find stickers from places that have been proven to send free stickers to fans.
But you can also venture out on your own to get awesome laptop stickers from brands you love.
How?
Usually, you can look on a company website for a contact form or contact it via social media – like a Twitter DM or Facebook message – to ask about the process.
In most cases, you'll need to send a self-addressed and stamped envelope (SASE) to the company for someone to return free stickers to you.
The company asks you to do this so that it's free for them to send your stickers – they are doing you the favor of sending them, after all!
Sometimes, companies will send your stickers without you needing to send along an SASE.
Send your SASE in another envelope addressed to the company along with a note for your request for stickers.
It's that simple!
Need Easy Extra Cash?
Pinecone Research, a leading name in online survey panel honesty, absolutely guarantees $3 cash for every survey you complete!
Take advantage of their time limited New Membership drive and register NOW. Join today: 100% free!


Many companies also send along free stickers when you make a purchase, so keep that in mind, too, when you're checking out your favorite brands.
Clothing, Shoes, and Accessories Companies
Adidas
Show off your love for Adidas with its logo stamped across your laptop. Reportedly, you can contact the company online to request it.
Backcountry
This outdoorsy clothing brand will give you its logo for free when you fill out the form on the website. You can do that here.
Bayview Prep
Bayview Prep sends along free decals when you fill out a quick form online.
Belong Designs
Belong Designs will send you some decals when you retweet this tweet and email the address listed in it.
Chaco
You can purchase a sticker pack from the shoe brand, Chaco, but it's also known for sending free stickers along with purchases.
Dickies
Purchase stickers from Dickies on its site or get them for free in about two weeks when you send in a SASE.
Fish Hippie
Fish Hippie is a prep wear company for men.
Want some stickies?
You can buy them on the site or send in a request to customer service.
Haley and the Hound
Send your SASE to the address on the Haley and the Hound website to get stickers.
Hook & Tackle
Fishing enthusiasts and fans of Hook & Tackle can score free decals when you fill out the online form.
KEDS
This popular shoe brand lets you get some free sticky logos when you fill out its form. Click here.
LIVSN
This sustainable outdoor clothing brand has a form to sign up for an account, which reportedly will also give you some stickers.
Marsh Wear
Send a SASE to this address to get free sticky logos from Marsh Wear.
Pelican Coast Clothing Company
Choose between two sticker designs from the Pelican Coast Clothing Company – no SASE needed.
Saucony
Show off your love for Saucony shoes when you send in a request for stickers on the website.
Southern Girl Prep
Get free stickers from Southern Girl Prep when you connect with the brand on Instagram or Facebook.
Southern Marsh
Southern Marsh lets you pick from a few different eye-catching stickers to show off how much you love its clothing – and there's no SASE required.
Sperry
Shoe company Sperry reportedly sends stickers to fans who request them with a SASE.
The Lucky Knot
The Lucky Knot is a preppy clothing brand with decals to share when you sign up for an account!
Zumies
This skateboarding and snowboarding apparel store gives you a few branded stickers when you send a SASE to the address listed on the website.
Activity Companies
AFTCO
AFTCO sells fishing gear and clothing, and lets you request free decals here.
Beachgoer
This bodyboarding and beach gear shop will send you some sticky logos when you send a SASE to the address on this page.
Burton
Love Burton Snowboards?
Get some logos here.
Fringe Sport
When you make a purchase with Fringe Sports, you'll automatically get some stickers.
Jr. NBA
Register for a Jr. NBA account that gives you exclusive news, updates, and some free stuff.
Medco Sports Medicine
Are you an athletic trainer?
Earn Everything… nearly!
Join Opinion Outpost, one of the few faithful and honest survey panels and earn cash and gift cards for your opinion. Stack your points and redeem them: Simple! No hidden fees and completely free!


You can get a decal for your car, laptop, or wherever else you want to put it, from Medco Sports Medicine.
MuirSkate
You can either order something or send a SASE to this address to get stickers from MuirSkate.
Park City Mountain Biking
This outdoor gear store gives free stickers to whoever fills out the quick form on Facebook.
Punisher Skateboards
Skateboard lovers can contact Punisher Skateboards to see if they can receive stickers in the mail.
Rehash
Sign up for the Rehash mailing list and get a sticker pack mailed to your door from the company.
Skatelite
You'll need to both fill out a Facebook form and send a SASE to Skatelite to get some of its decals.
Store Your Board
Get a Store Your Board sticker to put on a helmet, your surfboard, or any other gear you love to adventure with.
We Are Yoga
Yoga enthusiasts can get a We Are Yoga sticker when they purchase a mat from the company.
Food and Drink Companies
5-Hour Energy
You can reportedly message 5-Hour Energy to let them know that you'd like some stickers to receive them in the mail.
Annie's
You can choose from one of four stickers that show your love for Annie's – no SASE required.
Arizona
You can purchase a full sticker pack from Arizona on its website, but several fans have said they were able to get a few for free by mailing in a SASE.
Brooks
Some have said that contacting Brooks about decals can get them some free ones in the mail.
Chipotle
Contact Chipotle to find out how you can get some free stickers and swag from the company.
Chobani
Chobani will send along some stickers to those who request them, as reported on a Reddit subreddit.
Claar Cellars
You can get some free wine labels from Claar Cellars when you fill out this online form.
Coca-Cola
Coca-Cola doesn't list how to get logos on its site, but you can always contact the company.
Reportedly, people have gotten some just by using the online contact form.
Dr. Pepper
Contact the Dr. Pepper Snapple Group to request a sticker pack to be mailed to your home.
Fireball Whisky
Fireball Whisky will, reportedly, send decals to its biggest fans who contact them via one of the methods on this page.
Gatorade
You can email Gatorade to request free stickers, but you may need to send in a SASE.
In-N-Out Burger
You can either fill out this form or stop in your local In-N-Out Burger to request free decals!
Jelly Belly
Jelly Belly has a few contact methods you can use to request stickers from the company.
Jones Soda Co.
Jones Soda Co. is known for all kinds of interesting soda flavors.
You can show off your love for the drinks by taking advantage of its free sticker program.
Pepsi
Contact Pepsi to ask for free stickers; Some people on Reddit have had luck doing so!
Places
Cherry Grove Beach
Visiting – or have visited – Cherry Grove Beach?
Edisto Beach
Head here to get a free Edisto Beach sticker for your car, laptop, etc.
Folly Beach
Folly Beach in South Carolina also gives out free stickers!
Long Island
You'll get an attractive bumper sticker for your car to show off your love for Long Island when you fill out the request form.
However, you're only allowed to claim this one if you're a current New York resident.
New York Said
Get 5 free stickers from the popular New York Said digital magazine when you request them online.
Philly Views
Become a member of Philly Views for exclusive content, events, surprises, free stuff, and some stickers.
Take Care of Texas
When you take the pledge to help Take Care of Texas on its mission, you can get a free guide to the state's wildlife and parks and some free stickers.
Telluride
Get a free sticker to show your love for Telluride when you complete the online form.
Woodstock Farm Sanctuary
Visited Woodstock Farm Sanctuary? Let others know about it with this sticker!
Miscellaneous Companies
American Express
If you own a company that allows American Express cards as a form of payment, you can receive free decals to place on your doors, windows, cash registers, etc.
Apple Pay
Apple Pay also gives away free stickers for its merchants!
Bristol Resort and Casino
This casino in Virginia wants its patrons to show their support with their free logos stamped across stuff.
Enfamil
You can sign up for a bunch of free coupons and samples from Enfamil if you're expecting a baby.
The company also sends along free bump stickers for you to take progress photos with!
G Project Gear
G Project Gear is a growing speaker/audio company that gives away free logos on its site.
Google Pay
Doing business with Google Pay as a payment option?
Get your free logos to show customers you accept this form of payment.
GoPro
GoPro reportedly sends free stickers to those who ask for them through the contact form.
Honeybee Gardens
This company sends adorable stickers to those who request them online – but only on Mondays.
Limited quantities are available, so if you're not able to add them to your cart, you'll need to try again the following week.
Lakeshore Veterinary Specialists
Lakeshore Veterinary Specialists sends free magnets and other goodies to other vets!
Michelin
Get your own Michelin stickers by filling out the contact form and requesting them.
Reddit's r/freestickers
If you always want to stay on top of the companies that hand out free stickers, then head to this subreddit on Reddit to find out who's doing it.
Members post their sticker wins every day and let you know how to get some too.
San Diego Sticker
San Diego Sticker is a decal company that offered free samples of stickers to those who requested them.
That program is now over, but you can get free samples when you place a $10 order.
Sticker You
Request a Sticker You catalog and the company will send you that plus some free samples.
Subaru
Do you own a Subaru?
The company will send you an adorable badge for free with your years of Subaru ownership and lifestyle icons that show off what you love.
Sunnyside Gifts
This online gift store has tons of stuff available for free! Some you need to pay shipping for while others are 100% free.
Keep an eye on this page to see when stickers are in stock.
Valvoline
Team Valvoline fan?
Put your love on display with a couple of free decals.
VAPES.com
When you sign up for the VAPES.com email newsletter, you'll get a sticker or two in the mail.
Vinyl Disorder
This custom decal company gives a few samples away on its site.
Check out this page to order some.
VISA
Merchants that use VISA as a payment method can let customers know with free VISA logos.
Whaley Law Firm
This law office generously gives away fire safety stickers that you can place on a window to alert rescue services of how many family and pets are inside your home.
Yeti
Yeti gives away free stickers when you purchase select products – perfect for sticking on your new Yeti cooler!
Your College
Your college likely has some stickers in store that it will send to alumni when they request them.
Visit your college's website and use the contact form or an email address to see if they can send you one.
Your Favorite Radio Stations
Radio stations also usually have stickers in stock!
It's good advertising for them, after all, when you place them on your car.
Your Favorite Sports Teams
You can also visit the websites or social media accounts of your favorite sports teams to ask about free logos and how to get them.
Causes and Charities
Alzheimer's Association
Help raise money and awareness for the Alzheimer's Association by requesting a free sticker.
American Farmland Trust
Support your local farms by grabbing one of these stickers and displaying it proudly.
Christian Coalition
Get a free sticker to support the Christian Coalition.
EveryTown
Advocate for stricter gun laws when you order one of these bumper stickers from EveryTown.
Fight the Fake News
Tired of all the fake news circulating?
Grab a sticker and let everyone know!
Generation Kindness
Generate Kindness is a movement to remind the world to be kinder to one another.
Display your support proudly with this decal.
Litter Project
Litter Project helps spread awareness about the importance of keeping our planet clean.
You can send in a SASE to get a free bumper sticker.
Mighty Well
Show that you're immune-compromised with these free stickers from Mighty Well that can help you stay safe and healthy.
MoveOn
MoveOn is an organization that helps people start campaigns and petitions for things they believe in.
You can find several campaigns giving away free stickers on here when you browse.
For example, you can get one to support your mail carrier and service.
Or, this one to show that you support a cleaner, greener planet.
NextGen America
NextGen America is giving away stickers that support Green Week.
PETA
The animal rights organization offers a bunch of free stickers to those who request them.
They also have a separate, kid-friendly set for your little ones.
Repeal and Replace
Not happy with the current government?
Ask for your free Repeal and Replace sticker here.
Santee Cooper
Remind beachfront property owners to turn their lights off at night to contribute to the natural nesting period of sea turtles.
Shark Love
Show your love of sharks proudly with this free Shark Love sticker.
Skip the Straw
Plastic straws wreak havoc on the environment and its animals.
Spread awareness with this free decal.
Watch for Motorcycles Sticker
Help prevent accidents between motorcycles and vehicles with this bright pink bumper sticker.
Conclusion: Companies That Send Free Stickers
You definitely won't have a shortage of stickers after going through this list!
Remember – this isn't a comprehensive list.
There are so many companies that will gladly send you free stickers; you just have to ask.
Check with your favorite brands to see what they have available.
Chances are, you'll just need to send in a self-addressed and stamped envelope to get your free stickers by mail.
Feel free to drop a note below in the comments to let us know where you've gotten free stickers, logos, and decals from!
Related Posts:
Earn Everything… nearly!
Join Ipsos iSay, one of the few Faithful and Honest survey panels and earn prizes, gift cards and donations. Stack your points and redeem them: Simple! No hidden fees and completely free!