Where Can I Find a Free Toddler Car Seat Near Me? 20 Legit Places
Updated on: by Amy Kennedy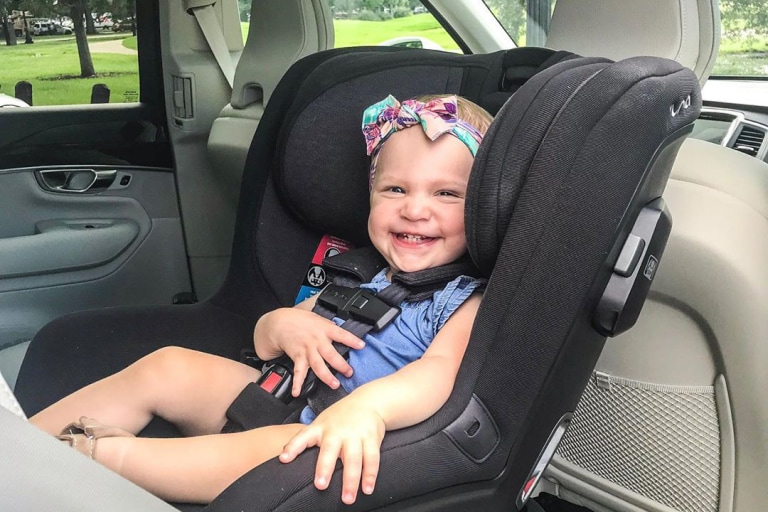 A car seat for your infant or toddler is something you absolutely can't be without as a parent or guardian.
Need Easy Extra $350+/Month For Free?
But a decent car seat can be an extra expense that lower-income families can't pay.
Fortunately, there are various programs that can help you find a free car seat for your little one, and many of them are brand-new.
The best part is that every state has some type of car seat program for eligible families.
Some programs go through local health departments while others are state-funded programs that help people all over your state.
Some programs require you to fall within specific eligibility guidelines or receive services for low-income individuals and families, like Medicaid and WIC.
If you're short on money and need a little extra help, the programs below might be just what you're looking for.
First, Let's Talk Infant and Toddler Seat Safety
There are some places where you can find free car seats in your community, which I'll list below in this article.
Most organizations that give away free car seats usually give brand-new ones.
However, if you respond to an ad from someone who's giving away a free car seat, there's a good chance it's a used one.
And those are the times you want to be really careful.
A new car seat is always your best bet when it comes to getting one for free.
Used car seats carry a lot of risks, including the possibility of them once being in an accident or the potential for it to be expired, which could be dangerous for your baby or toddler.
If you're thinking about taking a car seat that once belonged to another family, you should consider these points first:
Pay Attention to Expiration Dates
All car seats should have an expiration date on them.
It might seem weird for a car seat to expire, but there's a good reason they do, and it boils down to the materials used to make them.
Need Easy Extra Cash?
Pinecone Research, a leading name in online survey panel honesty, absolutely guarantees $3 cash for every survey you complete!
Take advantage of their time limited New Membership drive and register NOW. Join today: 100% free!


The plastic used for car seat bases and frames could wear down over time because of heat, sun damage, and just everyday wear and tear.
Manufacturers list expiration dates for this reason to ensure that you don't use a car seat past the point of it no longer being safe to use.
You can usually find an expiration date on the bottom or side of a car seat.
If it's not there or it's too worn down to read, it's best to be on the safe side and not use it.
Consider Its Condition
Does the car seat look worn out?
Does it have cracks in the base or its frame? Is it warped in any spots?
These can all be signs that the car seat has grown out of its safe lifetime and should be tossed.
Look for Missing Parts
Any used car seat should have a thorough inspection before you agree to take it.
Make sure all safety belts are in place and that it comes with a base to put in your vehicle.
You should also have attachments for a LATCH system and all padding should be in good condition.
If any padding is missing or torn, it could pose risk for scratches, cuts, and bumps.
Understand the Importance of the Manual
Car seat manuals have a lot of helpful information in them for parents and guardians.
They explain how to hook up the car seat correctly in your car and how to position your baby or toddler safely in the seat.
They'll also provide some troubleshooting tips in case anything doesn't work correctly with the seat.
The manual will also explain how to connect the car seat to your vehicle's LATCH system, if applicable.
You can learn about any special features of that specific seat in the manual, too.
You might be able to find a manual for the seat online from the manufacturer's website if the current owner doesn't have it, but you should check first before taking the seat.
Don't Just Take the Owner's Word
The owner of a car seat might tell you that it's never been involved in an accident or anything that could compromise its safety.
But the truth is that, if you're getting the car seat from someone you don't know well, you won't really know if that's the truth.
And if that person got the car seat from someone else, there could be a lot of history neither one of you know.
Unless you're super close to and trusting of the person giving you the car seat, you might want to reconsider getting a used car seat.
How to Get a Free Baby Car Seat or Toddler Seat
The places below are ones known to provide free infant and toddler car seats to families in need.
This list isn't exhaustive, and it's possible that your community or state has other programs for which you might be eligible.
You can always do a Google search for places in your area that might offer car seats, like charity and goodwill organizations.
Read More:
28 Best Ways for New Moms to Get Free Baby Formula Samples
25+ Places To Get Free Baby Stuff for New (And Expecting!) Moms
Check Your Community for Programs with Free Infant Car Seats for Low Income Families
First, you can check with community programs and organizations in your area to see if there's anything available for people who live in your city or county.
Many times, these programs are just run locally, so your state's website may not have information about them.
Earn Everything… nearly!
Join Opinion Outpost, one of the few faithful and honest survey panels and earn cash and gift cards for your opinion. Stack your points and redeem them: Simple! No hidden fees and completely free!


You can speak with people at your local job and family services department, health department, or other charities and organizations with connections to the community.
You might also know some people in your family or group of friends who can connect you to resources close by.
Early Childhood Development Programs
Early childhood development programs like Head Start and preschool programs might not always have programs in place to help get you a car seat, but it's possible that they know of places in your community that can.
Early childhood programs are usually connected to other counties, too, so they might know of a program in another area that can help you.
Call the Local Department of Health
The health department is a great place to call to ask about getting a free car seat.
Many county health departments actually have their own programs to help families in need get new, safe car seats for their infants and toddlers.
If yours doesn't, one close by might, and the health department should be able to connect you to one that does or another program.
Ask Local Churches
Churches try to help people in their community as much as they can, even if those people don't attend their church.
You can call churches in your area to see if they'll be able to help you get a car seat for free or know of other organizations that can.
Buckle Up For Life
Buckle Up For Life is a joint initiative of Toyota and the Cincinnati Children's Hospital Medical Center.
The program helps families learn the importance of car seats and how to buckle their kids up safely at any age.
It has also donated tens of thousands of car seats to families in need all across the country!
Not only can you get free information and training about car seats from this organization, but you may also qualify for a free car seat.
Buckle Up For Life partners with hospitals, YMCA centers, and other organizations, so you can see if there's one in your area.
Everyday Miracles is a Minnesota-based organization that gives free car seats to families on qualifying state health plans, like Medicaid.
You can request a car seat online by filling out the form, after which you'll need to wait about three weeks for the arrival of your car seat.
Special Supplemental Nutrition Program for Women, Infants, and Children (WIC)
WIC is a program designed to make sure that pregnant women, infants, and children get the nutrition they need.
This program is for low-income families, and it provides foods like produce, eggs, milk, and infant formula.
Although the program doesn't typically offer free car seats to families, your local branch might occasionally have community-based programs it connects with.
As a member of WIC, you can also automatically qualify for programs in your state, as it's often a factor in automatic eligibility for these programs.
Check with Your Health Insurance Provider
Health insurance plans often have various benefits you may not even know about unless you ask.
For example, some insurances provide free fitness stipends for their members to visit the gym or free at-home exercise programs for members.
Some also offer free car seats to families in need, or they can connect you to places in your community or nearby to get one.
Ask Your Child's Pediatrician
Your child's pediatrician is also an excellent source for things like this.
If you're in need of a car seat, other baby gear, or even infant formula because you can't afford them, let the pediatrician know.
He or she probably has connections to contact or resources that can help you.
Check with Your Local Hospital
Your pediatrician may also be a part of your local hospital system and knows about its programs and resources.
You can also contact the hospital directly, as many of them have their own infant seat programs or work with the community to get car seats into the hands of needy families.
Some hospitals even give families who have just had a baby at the hospital a free car seat for their trip back home!
United Way Worldwide is an organization that helps people and families in need in many ways.
Its 2-1-1 program is one that you can contact anonymously to ask about any resources you might need, including shelter, baby formula, or a car seat.
United Way will help you in whatever way they can to connect you to local resources that can help you.
Baby2Baby is an organization that collects donations from people and other organizations and donates those baby-focused products to people who need them.
It's possible for you to find a free car seat near you by contacting Baby2Baby.
Check with Your Local Fire or Police Departments
Your local police officers and firefighters will usually install your car seat for free if you ask them!
So it's completely possible that they also know of resources around the community that can help you get a free car seat or they could even have their own programs in place.
This program is all about keeping kids safe, and providing access to safe car seats is one way to do that.
You can look on the site for your state's chapter of Safe Kids to learn more about its programs and how it might be able to help you.
Reach Out to the Salvation Army
Salvation Army is a charity organization that operates in communities all over the country.
It tries to do whatever it can for local families in need, including providing money for shelter, clothing, and food.
You might be able to find a free car seat through the Salvation Army by visiting or contacting your local chapter.
Start a Baby Registry
Your baby registry can be the perfect place to ask others for a new car seat.
If you're having a baby shower, make sure you have a registry in place beforehand that you share with everyone you're inviting to let them know what you need and want.
You can also keep your registry in place after you have your baby to see if anyone is willing to buy you what you need.
Amazon, Target, and Walmart are just a few of the places that let you start a registry for free.
Planned Parenthood offers multiple services for women and women, including STD testing, pregnancy testing, birth control, and patient education.
The organization probably has many resources for anyone who walks in with a problem, so you just might be able to find help locating a car seat for free.
Put an Ad in the Paper
If you're in a pinch, you can put an ad in the newspaper to see if anyone is getting rid of a car seat for free.
Use your best judgement and make sure the seat is in excellent condition, has all its pieces, includes a manual, and is within its expiration date.
Nextdoor is a site that connects you with your neighbors and other people in your town.
You can post a question in your community to see if anyone is getting rid of car seats for free or a low cost.
Keep an Eye on Craigslist and Facebook
As a last resort, you can look on Craigslist and Facebook Marketplace.
Again, I can't stress enough the importance of inspecting a car seat and getting all information for it before using it with your baby.
But as a last resort, these places sometimes have free car seats people are willing to give away.
Always, always check the expiration date. It's even better if you contact the seller to ask them to snap a picture of it before you meet with them to pick it up.
Conclusion: How to Find a Free Toddler Car Seat Near Me
Do you know of other places or organizations that give families in need free infant or toddler car seats?
Have you personally been helped by any on this list or others?
We'd love for you to leave a comment below and let us know – you could help a struggling family find what they're looking for.
If the organization or program is state or locality-specific, please note that in your comment.
Related Posts:
Earn Everything… nearly!
Join Ipsos iSay, one of the few Faithful and Honest survey panels and earn prizes, gift cards and donations. Stack your points and redeem them: Simple! No hidden fees and completely free!