Free Car Vacuum near me: 14 Gas Stations & Car Wash with Free Vacuum 
Updated on: by Amy Kennedy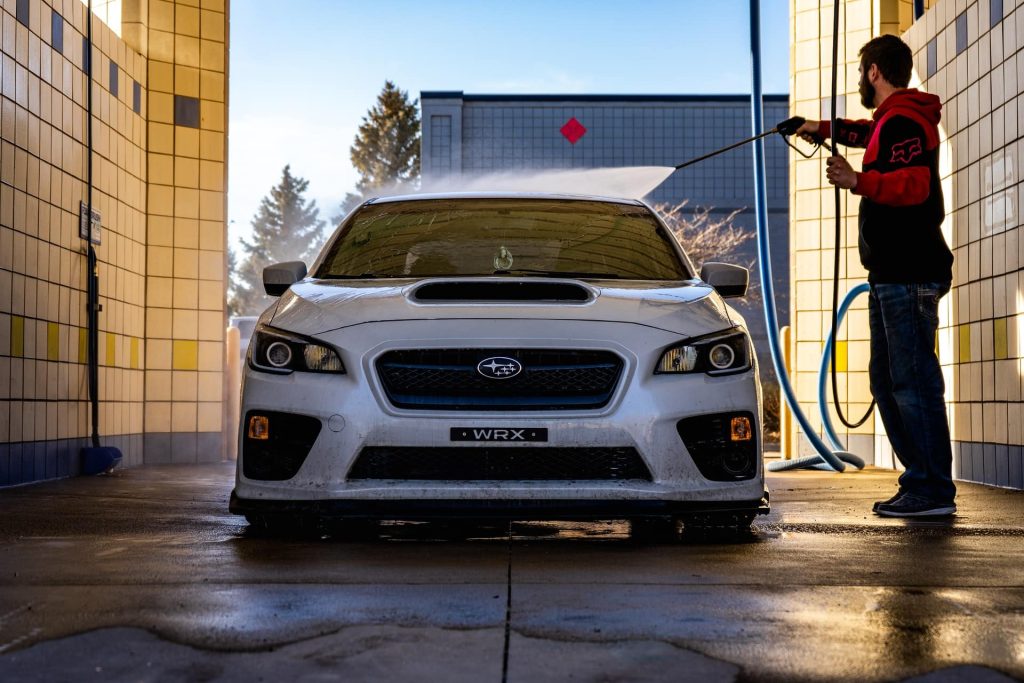 Need Easy Extra $350+/Month For Free?
Owning and operating a car is not cheap. Think of the car payments, licensing, auto insurance, gas, and repairs. Indeed, if the recent AAA statistics are anything to go by, it will cost you an average of $8,558 per year to own and operate a sedan. Yet, there are numerous ways to lower your driving costs. Cut on depreciation by buying an auto that holds its value well over time. Or, opt for a car that is economical in fuel consumption. And stay up to date with the auto maintenance services to avoid unnecessary visits to the mechanic.  
This quick guide illustrates how to cut the costs of operating your car by saving money on your auto maintenance costs. Specifically, we list 14 gas stations and car washes you can visit and use its car vacuum for free. Such freebies are a must-have if you are an outdoors person struggling to keep your car clean, especially when kids or pets ride with you.  
Let's get to it! 
Quick Tips to Finding Car Washes and Gas Stations with Free Car Vacuum Near Me 
First things first, how do you locate a gas station or cash wash with a free car vacuum near me? Here are some pointers to get you started: 
1. Opt for smaller or independently operating gas stations and car washes 
Is there a smaller or independently-run gas station or car wash near you? Call them to find out if they offer free car vacuum services. Indeed, smaller establishments offer free car vacuum as part of their after-sales or add-on service. They do this to maintain a competitive edge in a market with established brands and franchises. For this, plan to fill up your gas, check and buy lubricants, and shop at the convenience store in your local gas station or car wash. That way, you can vacuum your car for free on your way out. 
2. Search on Google and Google Maps 
Use Google to search for car washes and gas stations with free car vacuums near you. Narrow your search by using such phrases as "car wash with free vacuums near me" or "gas stations with car washes near me." Then, take note of the contact details of the gas stations or car washes to confirm on the phone if the free vacuum services exist. Alternatively, pin the location of the gas stations and car washes on Google Maps. 
3. Use Yelp 
Yelp offers a search portal for all types of businesses, including gas stations and car washes in the United States. Use it to locate a car wash or gas station with free vacuum services. Better still, go through the customer reviews, recommendations, and ratings to get an idea of the kind of customer service you can expect.  
4. Follow Discussions on Local Groups and Threads 
Join and tag your car buddy in Reddit threads and Facebook groups by motorists in your neighborhood. Here, you can sample opinions from other car owners regarding local establishments that offer free car vacuum services.  
5. Pay for Membership 
Do you need free car vacuum services but are not willing to swap your favorite gas station or car wash for another? If so, inquire if there are requirements like paying for a membership to access the free services. That way, you can get other freebies like free oils, fluids, and air checks in addition to the vacuum services. 
How Much Can You Save? 
Is a free car vacuum near me worth it? Well, whereas all gas stations are required by law to provide free compressed air, water, and a gauge for checking air pressure, this requirement does not apply to car vacuuming services. Hence, if they have car wash services, these gas stations may offer vacuum facilities at a small fee. For example, ARCO charges $0.75 per 2 minutes, BP charges $1 to $2 per 2 to 3 minutes, and Phillips 66 charges $0.75 per 3 to 5 minutes of vacuuming.  
Then, expect to save between $0.75 and $3 if you opt for a gas station or car wash with free vacuum services. Still, as you decide on the free car vacuum near me that can save you some cash, your best pick should be: 
Near You – Otherwise, you may spend more on fuel as you drive far away to get free vacuuming services. 

Time-Saving – Your opportunity cost also depends on how much extra time you will spend to get to the establishment with free car vacuuming services.  

Offer Additional Freebies/Services – What other freebies does the membership plan at your local gas station or car wash offer? 
The Car Washes with Free Car Vacuum Near Me 
Quick Quack Car Wash vacuum cleans, shines, and dries cars for free in less than 3 minutes. That way, it handles up to 165 autos per hour to offer you a fast and convenient free car vacuum near me. Still, you must buy the car wash package or pay $1 to use the free vacuum services. The car wash is in 140 convenient locations, including Houston, California, Texas, Arizona, and Utah. 
Tommy's Express Car Wash is a renowned car wash franchise with up to 205 outlets in 30 states. It specializes in cleaning the car, inside and out, including underbody flushing, wheel cleaning, and tire gloss. More so, they have dual-hose car vacuums at the exit as an add-on service to its customers who buy the car wash packages. Also, customer can wash their floor mats for free to save on carpet cleaning costs.  
Then, are you in North Carolina, Wisconsin, Maryland, Colorado, Minnesota, Florida, Nevada, Illinois, Georgia, North Dakota, Iowa, Wyoming, Kansas, Pennsylvania, California, South Dakota, Louisiana, South Carolina, Missouri, Delaware, Michigan, Nebraska, Virginia, Texas, Ohio, Arkansas, Idaho, Indiana, Oklahoma, South Dakota, or Tennessee? Use Google Maps to locate a Tommy's Express Car Wash near you.  
If you reside in Rhode Island, Connecticut, Massachusetts, or Florida, wash your car at a Flash Car Wash near you. Flash Car Wash allows its customers to use their self-service car vacuum cleaners for free for up to 10 minutes. Besides, even when you buy one of their car wash packages, you do not need to book the free vacuum service in advance.  
Need Easy Extra Cash?
Pinecone Research, a leading name in online survey panel honesty, absolutely guarantees $3 cash for every survey you complete!
Take advantage of their time limited New Membership drive and register NOW. Join today: 100% free!


When searching for a convenient self-service car wash with free vacuums near me, consider visiting Tidal Wave Auto Spa. There are more than 60 express car washes in Virginia, Georgia, Kansas, South Carolina, North Carolina, Iowa, Florida, South Dakota, North Dakota, Missouri, Alabama, Texas, Mississippi, and Nebraska. Each location offers unlimited car wash to its customers and visitors. Hence, you can still wash your car elsewhere and then pass by Tidal Wave Auto Spa for a free car vacuum in minutes. Still, when you join the Unlimited Wash Club at the Tidal Wave Auto Spa, you can save up to $60 per year on a family plan.  
Breeze Thru Car Wash operates in Colorado and Wyoming, where it has car washes with free-to-use car vacuum cleaners in more than 12 locations. Only you must be a paying customer to access the vacuuming as an after-sales service. Breeze Thru Car Wash charges $12 per month for its Unlimited Wash Pass package. That way, if you wash your car frequently, you save on vacuuming, presoak, and blowing, alongside enjoying professional services. Better still; upgrade to a higher package and enjoy high-pressure cleaning, triple foam polish, sealer wax, weather guard wax, mag chloride remover, and foaming presoak bubble bath.  
Go Car Wash offers wash services with free vacuums in Kansas, Missouri, Nevada, New York, Texas, and Virginia. Here, it operates high-tech express car washes in 13 strategic locations. If you join their unlimited membership plan or bring your company fleet for washing using the business plan, you also use the towels and mat cleaning machines for free.  
Pete's Express Car Wash is a small, independently-owned car wash in Pennsylvania, with five strategic outlets in North Wales, Strafford, Warrington, East Norriton, and West Chester. The express cash wash offers all customers free car vacuuming as an after-sales service. While there, take advantage of their cutting-edge technologies to enjoy a fully automated car wash for $5. Besides, check the establishment's news and updates section for free car washes during public holidays and festivities. Its latest promotion was free car washes for active military members and veterans on November 5, 2021.  
Raceway Car Wash operates more than 40 exterior express car washes with free-to-use vacuum cleaners. These outlets are in strategic locations in Arizona, California, Nevada, and Texas. And it offers a free car wash for first-time customers who buy the membership plan or fleet program. Join the membership plan for $13 per month for unlimited car washes. Besides, there is an RFID technology for quick and seamless identification of cars at the washing booth, allowing you to use the fast club member's express lane. 
Auto Spa La is a Louisiana-based car wash offering express exterior car wash with free vacuum services in four of its seven locations. The locations are listed below: 
637 Grand Caillou, Houma, LA 70363 

1846 Martin Luther King Blvd, Houma, LA 70360 

1600 Canal Blvd, Thibodaux LA 70301 

828 North Canal, Thibodaux, LA 
Here, customers use their Fast Passes to wash their cars in less than 3 minutes. Then, they proceed to the free self-service vacuums as they want. Rates for the car wash starts at $9 to $36.95, depending on the add-on services. 
The Gas Stations with Free Car Vacuum Near Me 
Do you fill up your car with gas at ARCO? If so, find out from the fuel attendants if they have a vacuum cleaner at the location. Indeed, ARCO is an established chain of gas stations with 1,500 outlets scattered in the Southwest, North West, East of the Rockies, and Mexico regions. Most of these locations have car vacuum cleaners available to customers for free. And, for the locations where they charge for the service, expect to pay $0.75 for 2 minutes of car vacuuming. 
17. QuikTrip 
QuikTrip is a privately-owned convenience store chain with car wash and gas stations in more than 430 strategic locations across the United States. Here, customers get free car vacuuming in less than 3 minutes and free air for tires after a full car wash. As an established franchise, QuikTrip offers a guarantee against damage for using the car wash and vacuuming bay or fueling at their gas stations. 
Now, here is a gas station with free car vacuum services in 48 states. Phillips 66 has 7,550 independently-owned gas stations scattered all across the United States. Most of these outlets let customers and visitors use their car vacuuming bays for free. And you can get cash backs, discounts, and rebates when you use the Phillips 66 mobile app or pay using the Phillips 66 Credit Card.  
Citgo operates up to 5,000 gas stations across the United States. Most of these locations offer free car vacuum services to their customers after filling up the gas or using their drive-through car wash service. Only if you prefer to use the vacuuming services only, expect to pay $2 for the service.  
Do you fuel or wash your car at a BP outlet? If so, find out if your local BP location has a car vacuuming bay. Indeed, BP is one of the most convenient chains of service stations, with 18,700 strategic outlets across the United States. Even though this renowned brand charges $2 for its car vacuuming, you get this service for free when you fuel or wash your car at the service station.  
Final Thoughts 
Finally, to get the most out of car washes or gas stations with a free car vacuum near me, move swiftly while at the drive-through bay to maximize the allocated time. Also, have all your car doors and windows open for optimal ventilation. And get rid of rubbish and trash before entering the vacuuming bay. 
Related Posts:
Earn Everything… nearly!
Join Ipsos iSay, one of the few Faithful and Honest survey panels and earn prizes, gift cards and donations. Stack your points and redeem them: Simple! No hidden fees and completely free!