38 Gas Stations that Take Apple Pay & How to Find More Near You! 
Updated on: by Amy Kennedy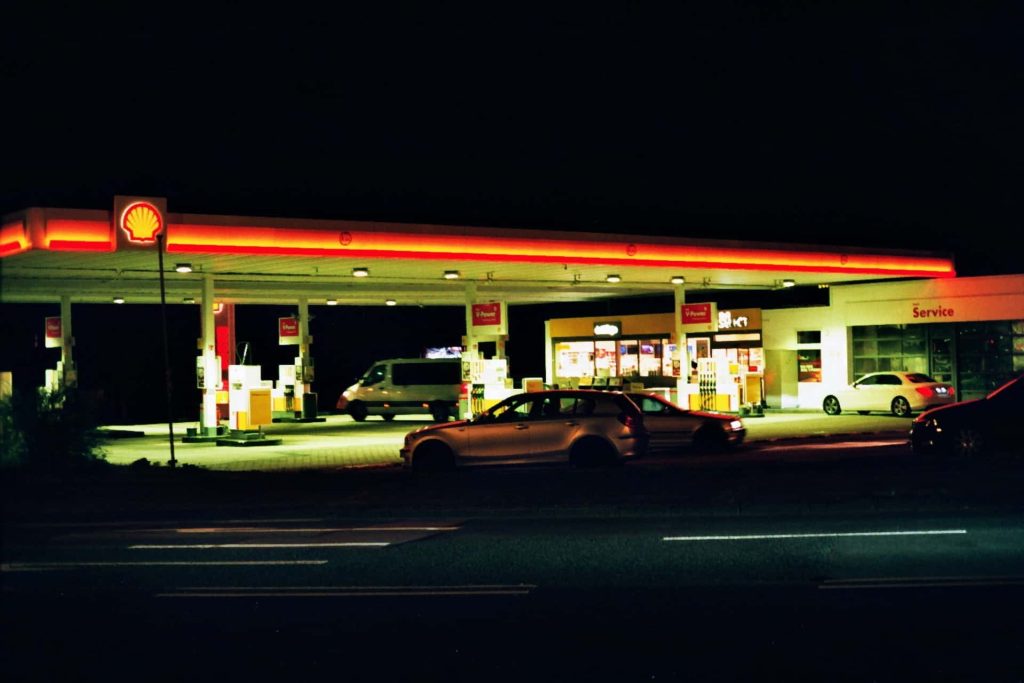 Need Easy Extra $350+/Month For Free?
Gas stations' move to contactless payment has eased the burden of physical wallets. Now Apple smartphone users don't have to carry their credit & debit cards and cash everywhere. A tap on the Apple Pay app instantly initiates the payment process. So far, Apple Pay's market share in the US mobile payment sector stands at 43.9%. That's solid proof that the integration of Apple Pay into gas stations is a worthwhile move.
So Do We Have Gas Stations That Take Apple Pay?
Yes. We have way over 100 gas stations in the US that accept Apple pay. Wondering how to find an apple pay gas station near me? The easiest way to discover a gas station that accepts Apple Pay is by typing "Apple Pay Gas Stations near me" on Google searches. Click on the websites that appear on the top searches. Most gas stations that accept Apple Pay have active websites. Check the websites to find gas stations with lower prices and free gas services.
How Do I Pay Gas With Apple Pay?
Now that you know where to head to refill your gas, it's time you understand the Apple Pay gas refill process. The best thing with Apple Pay is that it keeps your financial data secret and safe. Cybersecurity issues are lower when paying gas with Apple Pay.
Once you're in the gas station, load your wallet app on your Apple device.
Double click on the side button
Use your password, Face ID, or Touch ID to verify your identity.
Place your Apple Watch or Smartphone close to the contactless payment icon
Wait for several seconds to get the "Done" checkmark.
The Best Gas Stations That Take Apple Pay (Top 35 Gas Stations in the US)
Listed here are the 35 time-tested gas stations that take Apple Pay in the US. The gas pricing in different stations varies, with some charging higher than others. Don't just settle for the first gas station nearby your office or home. Check the convenience, efficiency, and affordability aspects when making a choice.
1. 7-Eleven
7-Eleven is a mini-mart chain of convenience stores founded by Joe C. Thompson in 1927. Headquartered in Dallas, Texas, 7-Eleven also doubles as a gas station. Under the CEO-ship of Joseph DePinto, the convenience store has adapted dozens of smart technologies, including contactless payment. It has 71,800 locations globally and hundreds of franchises in the US.
2. ARCO
Arco is a top-rated gasoline station owned and operated by Marathon Petroleum, known for offering top-tier gas at affordable prices. The gas station has locations in fifteen states in the US, all of which accept Apple Pay as payment. They offer premium quality gas at the most affordable market rates.
3. Casey's General Stores
Casey's General Stores is one of the oldest convenience stores in Ankeny, Iowa. Under Darren Rebelez as CEO, the store has introduced contactless payment in all its locations. In other words, you can seamlessly pay with Apple Pay in all 2147 Casey's general stores in 16 states.
4. BP/Amoco
Amoco is a highly-revered fuel station operated in the US but with its origins in Britain. It has 7200 stores in multiple locations in the United States. Although they accept Apple Pay, the payment process is a bit technical. You need to download and install the BPme app and connect it with the Apple Pay app to make contactless payments at the pump.
5. Delta Sonic
Delta Sonic ranks top among the best gas stations in the US, offering low-cost fuels. The convenience store has 29 locations in different states, including Pennsylvania, New York, Illinois, and Chicago. Delta Sonic is a Buffalo, New York-headquartered company that began its operations in Niagara Falls in 1967. They now accept Apple Pay in most of their in-store locations throughout the US.
6. Chevron
Chevron, the multinational convenience store committed to providing clean, reliable, and affordable fuel services, is now accepting Apple Pay in all its locations. Simply walk into your nearest Chevron gas station and pay for your gas with Apple Pay. Chevron has locations in multiple states in the US, including but not limited to Indiana, Arizona, Alaska, Louisiana, West Virginia, Georgia, Ohio, California, Montana, Idaho, Oregon, New Mexico, Wyoming, Utah, etc.
7. ExxonMobil
ExxonMobil is another great gas station that accepts Apple Pay. It has locations in multiple states in the US. In fact, it's among the most sought-after gas stations in the country, with more than 200 franchises. However, most of its gas stations are in New York and California. To pay with Apple Pay at ExxonMobil gas pumps, you need the Rewards +app.
8. Family Express
Family Express is a family-owned and operated convenience store in the US with over 70 locations in central and northern Indiana. It's owned and operated by Greg, Sheila Cobb, and Jennifer, their daughter. They recently introduced Apple Pay, which ensures you can pay for your gas without using credit and debit cards.
9. Circle K
Circle K has stood the test of time as one of the best store-gas stations in the US. You can find Circle K gas stations in 48 states in the US, meaning only two states don't have these gas stations. As a world-renowned brand, Circle K has managed to integrate new and advanced technologies, Apple Pay being one of them. Yet, only a few of the stations actively accepts Apple Pay.
10. Citgo
Citgo petroleum is among America's top-rated refiners, transporters, and marketers of lubricants, fuels, and petrochemicals. The company is owned by PDVSA and has headquarters in Houston, Texas. Citgo has gas station locations in 30 states, most of which accept Apple Pay. They have a station locator feature on their official website that eases how people locate nearby gas stations.
11. Conoco
Conoco has gas stations in 33 out of the 50 American states. This famous American gas store has a total of 1704 gas stations. Most gas stations are available in the Pacific Northwest and Midwest parts of America. Similarly, there are some automated gas stations in New Jersey. Not all gas stations accept Apple Pay, so check with your nearby Conoco store to know if they do.
Need Easy Extra Cash?
Pinecone Research, a leading name in online survey panel honesty, absolutely guarantees $3 cash for every survey you complete!
Take advantage of their time limited New Membership drive and register NOW. Join today: 100% free!


12. Costco
Costco is a renowned American big-box wholesale retailer that doubles as a gas retailer. The wholesaler has multiple gas stations all through America. Costco has 572 gas stations in 48 out of the 50 states in the county. Most of these gas stations accept Apple Pay and credit and debit card payments.
13. Cumberland Farms
Cumberland Farms has gas locations in 8 states, including Vermont, Florida, New Hampshire, Rhode Island, Connecticut, Massachusetts, and Maine. They have 566 gas locations in these states. All these gas locations have integrated contactless payment, so you can pay for gas with Apple Pay.
14. Kum & GO
Kum & Go allows payment via Apple through its official mobile app. It has gas locations in 11 states, yet it's headquartered in Iowa. The company was launched by Tony S. Gentle and William A. Krause and has 400 store locations. They have an online store locator and map that directs the client to the nearest gas location. Browse their map and store locator to discover the best gas locations near your home or office.
15. Kwik Fill/Red Apple
Kwik Fill has a presence in Pennsylvania, New York, and Ohio states. They have a total of 275 store locations in New York alone. The convenience store chain is owned and operated by United Refining Company, a renowned oil company founded in 1902. They are highly reputed in the gas and oil industry with their high capacity of producing 70,000 gasoline barrels per day. Kwik Fill/Red Apple does not accept Apple Pay in all its locations. They have store locators to direct you to the nearest gas stations.
16. Kwik Trip/Kwik Star
Kwik Trip/Kwik Star is a long-established convenience store that has existed since 1965. The store locations in Minnesota and Wisconsin operated under the brand name Kwik Trip. Those in Illinois and Iowa operate under the brand name Kwik Star. They also have stores operating under the brand names Stop-N-Go, Tobacco Outlet Plus, Hearty Platter, and Tobacco Outlet Plus Grocery. They have 800 gas stations in Illinois, Wisconsin, Iowa, and Minnesota. Sadly, only a few of these gas stations accept Apple Pay payments.
17. Love's
Love's is a famous family-owned chain store with over 550 gas stations in the US. Its stores are in 41 states, with its headquarters in Oklahoma City. It ranks 17th among the biggest private companies as per the 2019 rankings by Forbes. The fueling stations accept Apple Pay, but not all stores have enabled this contactless payment option.
18. Maverik
Maverik has gas fueling stations in over 350 locations throughout 11 states in the US. Maverick ranks top among the best private fuel marketers in the intermountain west. You can link your Apple Pay to the Adventure Club card to ease payments at the gas pump.
19. Marathon
Marathon brand gasoline has multiple retail outlets in the US. The gas stations are mostly privately owned and operated. You can find and buy Marathon gasoline in most 7-eleven and Speedway gas stations in the US. Most such gas stations often accept Apple pay.
20. QuikTrip
This American chain of stores headquartered in Tulsa, Oklahoma, has operations in 11 states in the US. Its primary focus areas are Arizona, Midwestern, Southeastern, and Southern parts of the US. QuikTrip accepts payment by credit and debit cards. Some gas stations also accept payment through Apple Pay.
21. Meijer
Meijer has 24-hour gas stations in 10 out of 50 states in the US. Its gas locations are in Wyoming, Arizona, Washington, Montana, Colorado, Oregon, Utah, Idaho, Nebraska, and Nevada. Founded in 1934 by Hendrik Meijer, Meijer has headquarters in Greenville, Michigan. They accept Apple Pay but not in all stores.
22. Phillips 66
Phillips 66 is a Houston, Texas-based multinational energy firm founded by Frank Phillips and L.E. Phillips in 2022. The highly reputable chain stores double as gas stations with locations in multiple parts of the country. It has a total of 2378 gas locations in Texas and the Midwest. Apple Pay is accepted in several of its gas locations.
23. RaceTrac
Founded in 1934, RaceTrac is a private-owned and operated corporation running gas stations in the country. It's the third biggest private-owned firm with headquarters in Atlanta, Georgia. It has 24-hour gas locations in Mississippi, Florida, Tennessee, Texas, and Louisiana. The company has integrated Apple Pay in all of its gas locations.
24. TravelCenters of America
TravelCenters of America is a publicly traded truck and travel center company headquartered in Westlake, Ohio. Founded in 1972, TravelCenters of America has 272 locations in the United States. Its gas stations have integrated the contactless Apple Pay system, but not all of them.
25. RaceWay
Raceway is a go-to hometown corporation operating multiple gasoline service stations in the US. It's the largest privately owned gasoline company in Georgia. It has over 300 gas locations and stores in Virginia, Alabama, North Carolina, Florida, Arkansas, Tennessee, Texas, Kentucky, Mississippi, and Louisiana. You can pay with Apple pay in all RaceWay stations.
26. Valero
Valero is a Fortune 500 fuel and gas marketer and manufacturer based in San Antonio, Texas. The company has established a reputation for providing premium gasoline with contactless payment options. So far, Valero has stores in 38 stores all over the United States. Apple Pay for gas is accepted at Valero gas stations, but not all of them.
27. Sheetz
Founded in 1952 by Bob Sheetz, Sheetz is a privately owned and operated convenience store doubling as a gas station. Steetz is headquartered in Altoona, Pennsylvania, and offers round-the-clock services. Apple Pay is accepted in most established, large town gas stations but not in small, rural locations. They have over 630 gas stations in North Carolina, Pennsylvania, West Virginia, Ohio, Maryland, and Virginia.
28. Wawa
Wawa is a privately-held convenience store with a gas station. It was founded by Grahame Wood in 1964. Its headquarters are in Wawa, Pennsylvania. The self-serve gas stations have Apple Pay integration, which makes buying gas a breeze. It has operations in more than 600 locations in Washington, D.C, Pennsylvania, Florida, New Jersey, Maryland, Delaware, and Virginia.
29. Shell
Shell is a nationwide gas provider with stations in all 50 states. You can find a shell gas station in virtually every location in the United States. The most intriguing part is that almost all Shell gas stations throughout the US accept Apple Pay. There are way over 12575 gas stations throughout the United States.
30. Speedway
Speedway is a credible gasoline company doubling as a convenience store with headquarters in Onon, Ohio. Its core operations are in the East Coast and Midwest parts of the United States. Owned and operated by 7-Eleven, speedway is present in 36 states. All the Speedway gas stations have been integrated with the smart contactless Apple Pay.
31. Sunoco
Sunoco is one of the oldest gasoline distributors in the United States, with headquarters in Dallas, Texas. The company distributes its gasoline to over 7300 Sunoco-branded gas stations in almost all states in the US. They have over 5200 franchises, and Apple Pay is accepted in all Sunoco gas stations.
32. Texaco
Texaco is a 1901 Chevron Corporation brand operating in 16 states. Founded in 1901, Texaco has headquarters in White Plains, New York. Most of its gas stations have Apple Pay integrated. For stations without Apple integration, you can pay with the no-contact Texaco app.
33. Kroger
Kroger is another highly trusted gasoline company in the US that accepts contactless payment. It has over 2000 gas stations found in 37 states. Most of these gas stations are located in convenience stores and supermarkets. Apple Pay is available but not in every gas location.
34. Mobil
Mobil is a renowned oil company in America, which is part of the ExxonMobil Company. Founded in 1911, Mobile has headquarters in Irving, Texas. Mobil has gas stations in virtually all states and locations ExxonMobil is available. You can connect your Exxon Mobile Smart Card with Apple Pay to seamlessly make payments at gas stations with the Apple Pay sign.
35. Smog Center Marin
Smog Center Marin is a certified star station found in San Rafael. They offer premium gasoline and related products. The company has gas locations in Rafael. They have high-end fuel pumps with the latest technology that guarantees convenience and efficiency. One of the best innovative technologies used by Smog Center Marin gas stations is contactless payment. That allows you to pay for gas with Google or Apple pay.
36. Pilot Flying J
Pilot Flying J, is a large chain of truck stops in the United States and Canada. The company has more than 750 retail locations and is headquartered in Knoxville, Tennessee. They offer a variety of services including fuel services, convenience stores, and food options. Pilot Flying J introduced Apple Pay to its locations to provide customers with a quick, secure, and contactless payment option, making it easier for those who prefer not to use cash or cards.
37. Royal Farms
Royal Farms is a popular convenience store and gas station chain mainly in the Mid-Atlantic states. Known for their world-famous chicken, they also offer a variety of food and drink options, along with their gas services. With their focus on convenience, Royal Farms began accepting Apple Pay to streamline their customer checkout process, making transactions faster and easier.
38. Murphy USA
Murphy USA is a nationally recognized gas station and convenience store chain primarily located in the Walmart parking lots. Headquartered in El Dorado, Arkansas, Murphy USA operates more than 1,400 locations across the U.S. They started accepting Apple Pay to provide a safer, contactless payment method for their customers, contributing to the overall experience at their stations.
Conclusion
When next you are driving in your city or town, and it happens you forget your credit or debit card at home, don't hesitate to visit any of these gas stations. They allow you to refill your car gas conveniently and contactless.
Related Posts:
Earn Everything… nearly!
Join Opinion Outpost, one of the few faithful and honest survey panels and earn cash and gift cards for your opinion. Stack your points and redeem them: Simple! No hidden fees and completely free!


Earn Everything… nearly!
Join Ipsos iSay, one of the few Faithful and Honest survey panels and earn prizes, gift cards and donations. Stack your points and redeem them: Simple! No hidden fees and completely free!