Top 8 Ways to Get Cash for Gold by Selling Unwanted Jewelry
Updated on: by Amy Kennedy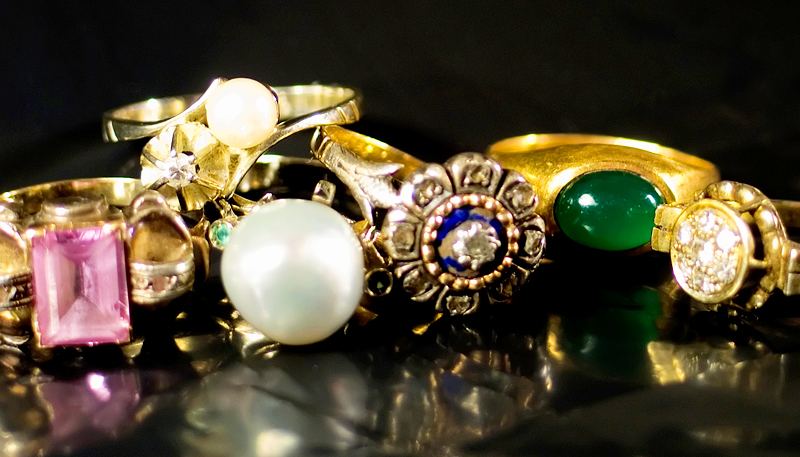 Some women end up with a huge collection of jewelry with more pieces than they could ever wear in a year.
Need Easy Extra $350+/Month For Free?
If that sounds like you and you think it's time to downsize, then this is the article for you.
Or, perhaps you inherited your grandmother's jewelry collection and, although its pieces are lovely, they aren't quite your style.
Instead of hanging onto jewelry you'll never wear, you might want to consider selling it.
Rather than Googling "selling silver jewelry near me" or "where can I sell my gold jewelry," read through this post to give you some actionable tips for getting the best prices for your stuff and avoiding the many scams on the web.
Realistically, the industry of buying gold and silver can be a scammed-filled one, and I don't want you to end up with pennies when you could've received hundreds or thousands for your pieces.
What Kind of Jewelry Can I Sell?
If you (or someone else) spent decent money on your jewelry, then there's a good chance that you can sell it for a decent price, given that you've taken very good care of your collection.
Most jewelry pieces can find a new home somewhere else with someone willing to pay good money for it if they're made from real gold or silver.
Here are a few of the types of jewelry (and other silver or gold items) that you can typically turn in for cash:
Necklaces or bracelets made from real gold
Wedding bands
Engagement rings
Class rings
Watches
Mother's rings
Diamond earrings
Real diamonds removed from their settings
Silverware made from real silver
Silver coins
Gold bars
Silver trays
Scrap metal
How Can I Get the Best Prices?
Before you start selling away, you need to make sure you're doing your collection justice.
That means getting the very best prices (i.e. what your pieces deserve to sell for!) for your jewelry pieces and other silver and gold items.
Here are some helpful tips that will assist you in getting top dollar for your stuff:
Get an Appraisal
First, you should always get an appraisal from a trusted source.
If there's a jewelry store in town that you tend to frequent, that could be your go-to place for an appraisal.
If they work with you often and know you're a good customer, they'll likely be very willing to give you the most accurate appraisal possible.
Many jewelers will give you an appraisal for free, but some will charge for it. It usually depends on how in-depth they go with valuing your jewelry.
Need Easy Extra Cash?
Pinecone Research, a leading name in online survey panel honesty, absolutely guarantees $3 cash for every survey you complete!
Take advantage of their time limited New Membership drive and register NOW. Join today: 100% free!


Some pieces with several diamonds, for example, could take a few hours for an accurate appraisal, so that process could cost you some money.
Still, for pieces that can sell for high prices, it may be worth it for you to spend as much as $200 to get the most accurate appraisal possible, so you know how much your jewelry is worth and don't get duped when selling it.
Weigh Your Gold and Learn About Melt Value
Understanding the melt value of gold jewelry can really come in handy too.
When you have real gold jewelry, you actually have jewelry that's part gold and part some other mixed-in metals.
That's because real gold in its purest form isn't strong enough to turn into jewelry.
It needs some other metals for weight and strength.
Silver is similar. Sometimes, silver jewelry includes some other mixed-in metals in addition to silver.
The melt value refers to the value of the actual gold or silver in your jewelry.
It's called this because if the jewelry ends up getting melted down, the buyer can recover most of that gold or silver and value it accordingly to resell.
This calculator can help you estimate the melt value of your gold or silver based on its weight and karats.
If your jewelry doesn't have the weight already printed on it (sometimes real gold jewelry will), then you can use a kitchen scale to get an accurate measurement before using the calculator.
Make sure the scale will read your jewelry in grams.
The calculator will give you a price based on the weight and type of jewelry you have, so you'll at least know what the melt value of it is worth.
Find Out Today's Prices
Gold prices change constantly, so what you value your jewelry at a month ago may not be the same as it is today.
When you're negotiating with a buyer, you want to be prepared.
That means that you should know what the gold prices are on that specific date, so you know you aren't getting swindled.
If you come prepared with this information, your buyer will also see that you're serious and you're not someone they can try to scam with a lowball offer!
Check out Apmex, which not only provides some helpful information for people valuing gold, but it also has live prices for gold, silver, palladium, and platinum, just in case you also want to value other types of jewelry.
The trend charts of each type of metal can also help you see how the prices have changed over the past several months and may help you predict when the best time to sell might be.
Compare Prices and Experiences
Finally, you should treat your jewelry sales like a business.
You wouldn't blindly take the first offer you were given if you were stocking up on inventory for a t-shirt business.
You also shouldn't take the first offer you're given for your jewelry.
Plain and simple, some people want bigger returns on their investments and, therefore, won't offer you as much as someone else will for the same pieces.
Shop around for the best prices of buyers willing to purchase your jewelry!
I suggest taking your jewelry to at least five different buyers (or obtaining quotes from reputable online jewelry dealers) and narrowing the choice down to two.
Compare their prices, how you felt dealing with them, and any terms that might affect the sale.
Don't let money blind you here.
Sometimes, a slightly lower price may be worth it if the dealer is super easy to work with and made you feel like they appreciated your business.
What's the Best Place to Sell Old Gold Jewelry?
Now you know what to do before you sell your jewelry, so let's talk about some of the best places to try to sell the collection, both locally and online.
Earn Everything… nearly!
Join Opinion Outpost, one of the few faithful and honest survey panels and earn cash and gift cards for your opinion. Stack your points and redeem them: Simple! No hidden fees and completely free!


Locally
Original Jewelry Store of Purchase
First, you may want to try selling back your jewelry to the store at which you purchased it.
In some cases, if you're pieces are very well-kept and still hold a lot of value, the jewelry store might be on board with buying it back for a good price.
You should bring your receipt with you, as well as any documentation you have that proves cleaning, adjustments, and anything else that might have been done to it to alter it or keep it in pristine condition.
This method should work well with places that you've built a rapport with, like shops that you're a repeat customer with.
The jewelry store may only offer you store credit, though, so always ask about this first before they begin appraising your pieces.
Other Jewelers
If your jeweler won't take the piece back, then you can still try other jewelers in your area.
It's possible that one might love your jewelry enough to make you a wonderful offer.
Some jewelers only sell new jewelry, whereas others will have buyers they work with to buy used pieces or even a special area of the shop that resells used jewelry.
So, even though the jewelry store you bought it at doesn't work with used jewelry, that doesn't mean you won't find one that does.
Pawn Shop
Pawn shops get a bad reputation for offering lowball prices on items you want to sell.
That's not always the case.
It really depends on what you're selling, and real gold and silver jewelry remains some of the most desirable products for pawn shops.
That's because they can typically sell the pieces for high returns and, in most cases, they can sell them relatively fast.
So, they may not mind paying close to what the jewelry is worth if they know they can turn around and sell them quickly to someone else.
Thrift Shop
For pieces that aren't quite jewelry store worthy, you might still be able to get decent earnings from them by selling them to thrift shops.
Thrift shops are all about finding vintage stuff for decent prices, so I wouldn't expect a lot from selling jewelry here.
But, maybe you have some pieces leftover that you know you won't get top dollar for, but still want to make a little money from them.
In that case, the thrift shop might be your best option.
There are also several online thrift stores, like ThredUp and TrueFacet, that allow you to consign your old jewelry for some cash.
Although Craigslist can be riddled with scam artists (and, consequently, has suffered a bad reputation for it), it can also be a great place to sell your old jewelry if you're smart about it.
The good thing about Craigslist is, although you use the website to find potential buyers, you don't actually sell over the internet.
You never have to let your jewelry leave your hands until you've met with a buyer and receive payment (it's a good idea to accept only cash, not checks!).
Be sure to communicate to buyers via the anonymous messaging system.
You can then set up a meeting place and time in a public area for safety.
Some neighborhoods even have a dedicated safe place at the sheriff's office or police office for meeting people online.
Take advantage of it if your town has one!
Read More: 24 Websites Like Craigslist: (Most Let You Sell for Free!)
Online
eBay is one of my favorite places for selling things online because you have total control over how you want to create listings.
Jewelry can sell for really good prices here, and you can even set a reserve price.
This will stop people from being able to buy your jewelry with very low bids because your jewelry won't sell unless it's hit the reserve price.
You can also create Buy It Now/fixed price listings to ensure that your items don't sell for any lower than they're worth.
Thanks to eBay's feedback system, you'll also be able to weed out any potential buyers who have bad ratings or no ratings to avoid non-payment and other scams.
And, you never have to ship your item until the buyer's payment has cleared.
Selling through eBay can give you the most control over your sales.
To learn how to have success on eBay, check out our step-by-step eBay guide for sellers.
US Gold Buyers is a BBB accredited business with an A+ rating.
In an industry where scammers are all over the place, this is one gold buying website that we can back.
The website details what you can expect for payment depending on the type of jewelry you have.
Transparency = trust!
The company has some on-site locations you can use if you live by one, but you can also send your jewelry in by mail and expect a payout in about 24 hours after the company receives your pieces.
You can even sell scrap gold and gold dental pieces here!
Call the company to receive your quote based on the type of jewelry, karats, and weight, and you can ship overnight for free.
Worthy is a NYC-based company that also has an A+ BBB rating.
The company lets you sell watches, engagement rings, diamonds, and other jewelry pieces for cash.
You can get a quote from Worthy by calling the number and describing your pieces.
Worthy will check your details against current prices and give you an estimate. It'll also send you free shipping materials to send your package in.
The company will analyze your jewelry and set it up for auction on the site.
You can watch the whole auction unfold!
You're allowed to set a reserve price if you'd like. Once that price has been met, you'll get paid quickly.
You also have the option to have your jewelry sent back if the process doesn't yield the money you were hoping for.
Bonus Online Places
Online Jewelry Marketplaces
Ruby Lane: Ruby Lane is an online marketplace that specializes in vintage and antique jewelry. It attracts collectors and enthusiasts looking for unique and rare pieces. You can set up a shop on Ruby Lane and list your old gold jewelry for sale, reaching a targeted audience of jewelry aficionados.
1stdibs: 1stdibs is a luxury online marketplace that features high-end jewelry, including vintage and estate pieces. It caters to a discerning clientele interested in exquisite designs and exceptional craftsmanship. Listing your old gold jewelry on 1stdibs can help you reach potential buyers with a taste for luxury.
Online Auction Platforms
Sotheby's: Sotheby's is a prestigious auction house that conducts online auctions for various categories, including jewelry. Selling your old gold jewelry through Sotheby's can provide access to a global audience of serious collectors and investors. Their expert appraisers and marketing strategies can help maximize the value of your pieces.
Heritage Auctions: Heritage Auctions is a well-established auction platform that handles a wide range of collectibles, including jewelry. By consigning your old gold jewelry to Heritage Auctions, you can benefit from their extensive marketing efforts, which attract a diverse pool of bidders. Their auction process can create competitive bidding, potentially driving up the final selling price.
Online Gold Buyers
CashforGoldUSA: CashforGoldUSA is a reputable online gold buyer that offers a simple and secure process for selling your old gold jewelry. You can request a free appraisal kit, which includes a prepaid shipping label. Once they receive your jewelry, their experts will evaluate it and provide you with a fair offer. If you accept, they will promptly send you payment.
Express Gold Cash: Express Gold Cash is another trusted online gold buyer that allows you to sell your old gold jewelry conveniently. They provide a straightforward process where you can request a free appraisal kit, ship your items using their prepaid label, and receive an offer. If you accept the offer, they will send you payment promptly.
Conclusion: Get Cash for Gold!
Getting cash for your gold and silver jewelry isn't as tough as you might think if you know where to look and what to look for!
I hope this post pointed you in the right direction so that you can start seeing that money roll in.
Good luck!
Where have you sold jewelry before? 
Do you have any other suggestions and tips? 
Let us know in a comment!
Related Posts:
Earn Everything… nearly!
Join Ipsos iSay, one of the few Faithful and Honest survey panels and earn prizes, gift cards and donations. Stack your points and redeem them: Simple! No hidden fees and completely free!