6 Best Ways to Cut the Cable Cord and Get Free Cable TV Legally!
Updated on: by Amy Kennedy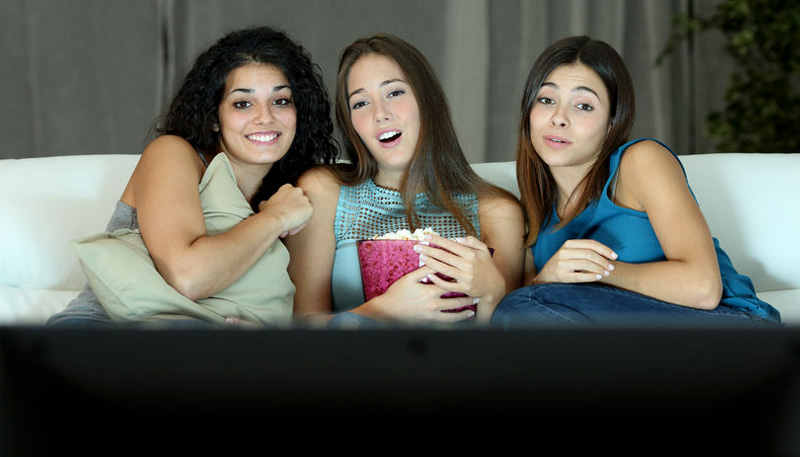 It's time to cut the cord.
The cable cord.
I'm one of a countless number of people who have made the decision to ditch the cable company.
There's just no way to justify paying $90 a month when I don't have to.
Luckily, I really don't have to.
There are so many ways to get free cable TV legally that it's almost silly for people to continue paying for it.
I've compiled a great list of the tips and tools you'll need to cut those cable cords and learn how to get free cable TV legally.
Whether you choose to pick up some hardware or go the streaming route, one of our options for free TV channels is sure put a smile on your face and your favorite shows on your screen.
How to Get Basic Cable for Free
Bring back the antenna!
The HDTV antenna, that is.
While this option costs a little cash up front, the money you save from cutting the cord will more than make up for it.
Over the past decade there has been a steady rise in the number of homes using an antenna to watch television.
And that's for good reason!
Consumers who use an HDTV antenna will have access to dozens of free TV channels, known as Over The Air (OTA) channels, that many people don't know exist.
According to a recent test performed by Consumer Reports, there is little to no correlation between the price of the antenna and its performance.
The biggest factors in antenna performance appear to be location and weather.
Users in densely populated urban areas could access more than 50 channels, for free.
But users in more rural areas appeared to reliably get only four to five channels.
I have used an HDTV antenna to successfully watch football games on FOX and NBC, and I have watched regular programming on ABC and PBS.
All with a $15 indoor antenna.
There are options for indoor antennas and outdoor antennas.
To figure out which is best for you, take the following steps.
First, check out the Federal Communications Commission's website to use their Digital Television (DTV) map.
You'll need to enter your zip code in the search box.
The resulting map will tell you the strength of the air signals in your area for each station.
Based on the results, you can decide whether you need an indoor or outdoor antenna.
Indoor antennas work great in areas with a lot of strong signals, while outdoor antennas will boost the signal for viewers in low-signal areas.
Next, you'll need to acquire an antenna.
Fortunately, there is a nice range of options, online shopping to dropping in to your favorite electronics store.
I'm a big fan of Amazon, where you can sort by average customer review and specify a price range.
Another great option is to shop online at Best Buy, where they have a price match guarantee and a free store pickup option.
If you're going to go local, I recommend checking out this article by The Wirecutter before you head to a store.
They created a list of the best HDTV antennas, so you can be sure to get the best quality for your money.
Finally, you'll need to install the antenna of your choice at your home, and connect it to your television.
The next few options require the internet in order to be successful.
While you could definitely take advantage of these services on your smartphone, you could also check out this list of 9 Totally Legal Ways to Get Your Internet at Home Without Paying for It.
Watch Free TV Channels Online
There many free tv channels available online!
Visit the network of your choice and browse the free content that they have available.
Networks like Lifetime, ABC, CBS, Fox, and NBC will allow you to watch certain episodes of their shows online for free.
There are limitations; very rarely are entire seasons accessible for viewing, and some episodes expire quickly.
PBS allows you to select your local station and watch either local or nationally broadcasted videos online.
This includes specials like The Vietnam War and The Great British Baking Show.
You can also check out TV.com, which is a TV listings website.
Though they have a limited number of full episodes available, you can check out their shows page to see which of your favorite networks have a "Watch It Now" option.
How to Watch Premium Channels Without Cable Online
Don't worry, I know how hard it is to settle for the shows that you can get on basic cable.
There are just so many award-winning shows on premium cable!
Lucky for us, many of them are available online through a network's website.
Some of these channels, like FX/FXX will allow you a "visitor pass" that gives you an hour to 90 minutes of free viewing before you are required to log in.
Others, like the Food Network, have a limited number of episodes available online to watch for free.
Food Network also has some original content shows that are only offered on their website.
As for children's channels, Nickelodeon has full episodes of many of their most popular shows on their website.
Among the notable shows are Spongebob Squarepants, The Loud House, and Power Rangers Ninja Steel.
Get Free Cable TV Legally With These Streaming Sites
If you would rather have access to a larger library of media, there are websites that have a variety of tv shows and movies.
The best part is that some of them are totally free, no strings attached.
Crackle is an incredible free platform to check out.
Though it doesn't have the latest shows and movies, it does have a very large selection of TV shows and movies, including original content.
Another free streaming website is Tubi TV, which provides movies and TV shows at no cost, and no sign up is required.
However, if you do choose to sign up, Tubi makes recommendations based on your TV preferences.
Tubi has some great categories like "Popular TV" and "Not on Netflix" that make it even easier to find free tv shows online.
Other options include Amazon Prime Video, which comes with your Prime membership.
Believe it or not, I had a Prime membership for nearly a year before I realized how many amazing movies and television shows are available on Prime Video!
Amazon has also been a leader in creating high-quality original content over the past few years, and they have several shows that are worth checking out.
Netflix is a household name these days thanks to their practically endless list of streaming tv shows and movies.
While it is a paid service, I do have some great news for you.
If you are a T-Mobile One subscriber, they will pay your Netflix bill for you! I was already on the T-Mobile Unlimited Everything plan, and all I had to do was call T-Mobile to get them to pay my Netflix bill.
I was already on the T-Mobile Unlimited Everything plan, and all I had to do was call T-Mobile to get them to pay my Netflix bill.
Hulu is an Emmy Award-Winning streaming service that has special contracts with many premium cable channels, meaning you can watch new episodes as early as the day after they air.
They also have a 30-day free trial, which allows you to try out their service without committing to their monthly fee.
If you're a movie buff like I am, you should also check out this article for free Redbox codes that always work.
We found guaranteed-to-work Redbox codes, and made a list of 10 ways to find even more!
Use Your Library Card
Did you know your local library is a hidden gem for free digital entertainment?
Beyond books, a library card can also give you access to free video streaming services.
Libraries often subscribe to platforms such as Kanopy or Hoopla, which allow cardholders to stream movies, documentaries, educational content, and TV shows.
Kanopy, for instance, offers a diverse catalog of films and TV series, including classics, world cinema, indie films, and children's programming.
Hoopla, on the other hand, provides a broad selection of movies, music, audiobooks, ebooks, comics, and TV shows.
Both services are commercial-free, though there may be limits on the number of titles you can stream each month, depending on your library's policy.
To access these services, you'll typically need to sign up for an account using your library card number and a PIN.
If your local library doesn't currently offer access to these streaming platforms, it's worth asking if they might consider subscribing in the future.
Share Subscriptions
Many paid streaming services allow account sharing with others within the same household, including Netflix, Hulu, and Amazon Prime Video.
This means you can access cable TV and premium content if a friend or family member is willing to share their login credentials.
Netflix, for instance, lets you create up to five profiles on a single account, depending on your subscription plan.
Hulu also allows you to create multiple profiles and supports streaming on multiple devices simultaneously.
Remember, sharing should only occur with individuals within the same household, and sharing credentials outside of your immediate household can violate the terms of service of these platforms.
Always ensure you're using this feature responsibly and in accordance with the service's rules.
Do you know of any other ways to get free TV channels?
What about free streaming sites online?
We'd love to hear about them in the comments!
Related Posts: