10 Ways to Get a CARFAX Report for Free Before You Buy a Vehicle
Updated on: by Amy Kennedy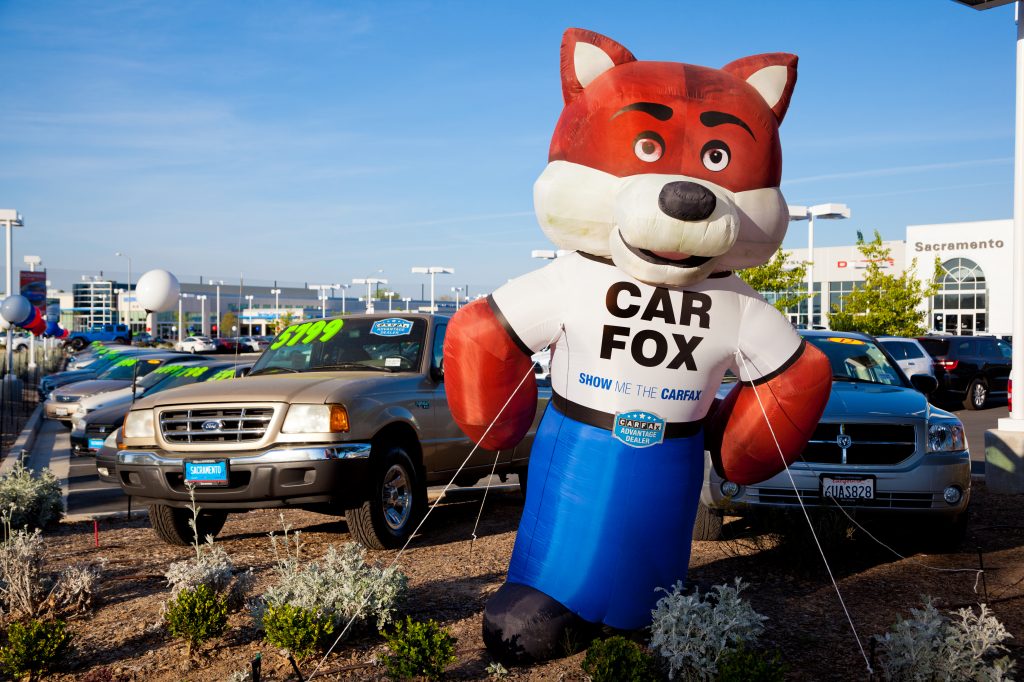 Knowing the history of a car before you buy it can help keep you safe and make sure you're buying a car that's worth your time.
Need Easy Extra $350+/Month For Free?
One of the ways to do that is by getting a CARFAX report that details the history of the car based on data from several different places.
When you're buying a used car, it's incredibly important to know where the car comes from and what it's been through, which is why CARFAX exists.
However, if a dealership or seller doesn't provide a CARFAX report for you, you'll need to buy it yourself.
Although most CARFAX reports are not very expensive, it's still about $40 you may not want to pay on top of buying a vehicle.
Continue reading this guide to learn how you can get a free CARFAX report legitimately (i.e. no hack involved!).
What Is CARFAX?
CARFAX is a detailed report of a vehicle.
Both individuals and dealerships/auto companies can use CARFAX reports to make sure they're getting good deals on cars.
For individuals buying a car, the CARFAX report helps them understand what the vehicle has been through.
The results could make a buyer think twice about buying a car (if it's been through several accidents, for example, it might not be safe) and help them see if they're getting a good price.
Dealerships can also use CARFAX reports to determine whether a car they're thinking of buying for their lot is worth its price tag.
It can also help them value cards for trade-ins.
When you want to learn more about a car with CARFAX, you'll just need to get the VIN (vehicle identification number) for the vehicle.
Give that number to CARFAX, pay for the report, and CARFAX will do its thing.
CARFAX aggregates its information from thousands of sources, including:
United States motor vehicle agencies,
Auto auctions
Car dealerships
Rental agencies
Insurance companies
State inspection agencies
Salvage and recycle yards
Collision repair companies
The data CARFAX collects on the vehicle can tell you a lot about the car, including what it's been through and the kind of condition it could now be in.
Need Easy Extra Cash?
Pinecone Research, a leading name in online survey panel honesty, absolutely guarantees $3 cash for every survey you complete!
Take advantage of their time limited New Membership drive and register NOW. Join today: 100% free!


One of the most important pieces of information you'll find in the CARFAX report is the vehicle's accident history.
However, you'll only see this information if the accident was actually reported to authorities and/or insurance companies.
What Do You Need CARFAX For?
A CARFAX report can give you tons of information on a vehicle you're interested in, including information about odometer readings, any airbag deployments, and whether the warranty has been used, voided, or is still usable.
Here are a few of the most important pieces of information you'll find in the report:
Number of Owners
A CARFAX lists all known owners of the vehicle (without their personal information exposed, of course).
Why is this important?
It's always good to see how many owners your car has been through because the more owners it has, the more possibilities of the car being in not-so-great shape.
This isn't always true, of course.
But in many cases, a car that's only had one owner tends to be in better shape than those with multiple owners.
When a car has only had one owner, it's easier for that owner to keep track of maintenance and repairs because the owner knows its full history, making it easier for you to know what to expect from the car.
Accident History
You'll also learn about a vehicle's accident history, including the type of accident(s) it was involved in and when, and whether there was any structural damage to the car.
CARFAX also lets you know the severity of the damage using a scale that ranges from minor to severe.
The report will also note if the airbags have been deployed on the vehicle and what dates the deployments were recorded.
This is important to note because airbags need to be repaired when deployed.
If a report shows that airbags have already been deployed, then you should be sure to get an inspection to see if they've been repaired before you buy.
Recalls
If a vehicle has been involved in any recalls, the CARFAX report will note the year of the recall.
However, you'll need to get a hold of an authorized dealership for that vehicle's manufacturer to get more details about the type of recall.
Service History
When dealerships or service facilities take note of a vehicle's servicing, that service date gets put into a database that CARFAX can access to add to the report.
In most cases, you'll be able to see what kind of servicing was done, like an oil and filter change, tires changed and rotated, or a new motor put in.
Some servicing details could be left out, though, depending on what a facility reports.
Still, you should get a good overall look as to what's been done to the vehicle, how often owners kept up with basic maintenance, etc.
Branded Titles
Some cars get branded titles, which means that they have been compromised in some way.
A branded title can label a car as a lemon, a salvage, water damaged, rebuilt, junk, and more.
This just means that, at some point, the car had a title with the label(s) mentioned in the CARFAX report.
The car's issues could have been taken care of since then, but a branded title is definitely something you'll want to look into further.
CARFAX Buyback Guarantee Qualifications
The CARFAX Buyback Guarantee program protects car buyers who purchase a car without knowing that it has a DMV branded title.
Sometimes, these titles may not show up on a CARFAX report.
If a buyer buys a car with one of these titles that didn't show up on their CARFAX report, they could become eligible for the program, which buys back the car from the consumer.
If a vehicle isn't eligible for the program because it lists these brands in the report, the report will note this for the buyer.
Earn Everything… nearly!
Join Opinion Outpost, one of the few faithful and honest survey panels and earn cash and gift cards for your opinion. Stack your points and redeem them: Simple! No hidden fees and completely free!


Do All Cars Have a CARFAX Report?
No, not all cars have a CARFAX report.
Although the company has most cars on file, there is a possibility of some cars not being a significant part of the system.
There's also the possibility that a car doesn't have much information on it, depending on what information has been supplied to the agencies from which CARFAX gets its data.
You might also be looking at a car that has been in an accident that isn't showing up on the CARFAX report.
This can happen when the previous owner never reported the accident to the police or their insurance agency.
While a CARFAX report is typically pretty detailed for most cars, not all cars will be the same.
Can I Get a CARFAX for Free?
CARFAX normally charges for its reports if you go through its website and order one.
However, there are ways to get CARFAX reports for free, which can be important to you if you're already short on cash from paying for a car.
CARFAX reports can especially get expensive if you have multiple cars you want to run reports on because you'll need to pay for each one.
Fortunately, CARFAX provides a discount on multiple reports, but you'll still pay about $100 for six of them.
When you're already making a down payment and first payment on a car, that extra cash can add up, so saving money however you can is probably always welcome.
Read More: Where Can I Find a Free Toddler Car Seat Near Me? 20 Legit Places
How to Get a Free CARFAX Report
Want to skip paying $39.99 for one CARFAX report?
Here's how to do it.
Shop with CARFAX
First, you can shop with CARFAX itself.
The website lists used cars for sale near you that you can browse and find a dealer for.
If you use CARFAX for search for and find the car you want to buy, you should be able to get your report for free.
That's because the cars listed on the website come with a CARFAX report for free!
This is definitely the best way to go to ensure that you can get a free report when you're researching cars.
Sign Up for a CARFAX Car Care Account
CARFAX has a free Car Care account that you can sign up for to get information about your car that you own now.
This can be a great way to learn more about your car, its service history, and what services it might be due for now or soon.
You can access all the tools and information right from your Car Care account, including recall information.
Ask the Dealership
Many dealerships are happy to provide you with a free CARFAX report for a vehicle you're interested in.
They probably have one on file anyway that they can print or copy for you.
And if not, they'll usually go ahead and get one for you if it means they can potentially get a new customer.
The least you can do is ask for one!
Ask the Owner to Pay for One
If you're buying from a private seller instead of a dealership, you can ask the seller if they can copy the CARFAX report for you or order one.
Again, most people will be happy to spend $40 if they think you will probably buy their car from them.
Browse Online Car Listing Websites
Some other used car listing websites, like Autotrader, also provide free CARFAX reports for some cars, although they don't list them for all cars like CARFAX does.
But it's still worth a try if you find a car you like on one of them.
Check Vehicle History Report Websites
Apart from CARFAX, there are other websites that provide vehicle history reports.
Some of these websites offer free reports for specific vehicles or a limited number of reports per user. Examples include AutoCheck and VinAudit.
By visiting these websites and inputting the VIN (Vehicle Identification Number) of a car, you may be able to obtain a free vehicle history report.
Utilize Free VIN Decoder Tools
Several online platforms offer free VIN decoder tools that can provide you with certain information about a vehicle, including its history.
While these tools may not provide a comprehensive report like CARFAX, they can give you valuable insights into the car's specifications, manufacturing details, and sometimes limited accident or ownership history.
Popular VIN decoder websites include Decode This! and VinDecoderz.
Look for Dealerships' Free Report Offers
Some dealerships offer promotional deals or incentives that include a free CARFAX report with the purchase of a used car.
Keep an eye out for these special offers when browsing dealership websites or visiting local dealerships.
Taking advantage of such promotions can allow you to obtain a free CARFAX report while shopping for a vehicle.
Ask for a Free Report from Auto Repair Shops
Auto repair shops often conduct inspections and maintenance on used cars.
Some shops may have access to vehicle history reports and could be willing to share the information with you.
If you are considering purchasing a used car, reach out to local repair shops and inquire whether they can provide you with a free report or offer any insights into the vehicle's history.
Join Online Car Enthusiast Forums and Communities
Online car enthusiast forums and communities can be a valuable resource for gathering information about specific vehicle models.
Within these communities, members often share their experiences and knowledge about the vehicles they own or have researched.
By joining relevant forums or communities and posting inquiries about the specific vehicle you are interested in, you may come across individuals who can provide insights into the car's history or share previous CARFAX reports they have obtained.
Free CARFAX Alternative Options
There are some other free providers of car history reports, but they may not be as detailed as CARFAX reports.
VINCheck.info is probably one of the best.
Its reports offer information on impounds, sales histories, vehicle specifications, theft history, and more.
All you need is a VIN for the car to order your report.
Be careful using sites like these, though.
The scam sites will have you fill out a bunch of information to get your "report," and will probably sell that information for marketing purposes.
You can also get cheap reports from approved data providers through the National Motor Vehicle Title Information System.
These reports are usually a fraction of the cost of a CARFAX report, but you also may not get as much information from them.
Be a Smart Car Shopper
Trying to get a CARFAX report for a vehicle you want to buy is a smart step to take before purchasing a used car.
However, it's definitely not the only step you should take.
Some people rely heavily on what the CARFAX report says.
While the report does include a lot of information, it's not the only pertinent piece of information about a car.
After you've viewed the report, you should still take the car for a test drive.
A test drive helps you get a feel for the car, discover any potential problems with how it currently runs, and decide whether you actually like it.
You should also get the vehicle inspected by a mechanic you trust.
A trustworthy car dealership will understand you wanting to make sure the car you're looking at is a good one for you and shouldn't have a problem with an inspection.
Just be prepared to pay for any private inspection you have done on the vehicle, as the dealership won't cover this for you.
When you're armed with information from a CARFAX report, test drive, and inspection, you'll be prepared to make an informed decision about buying the car you're interested in.
Related Posts:
Earn Everything… nearly!
Join Ipsos iSay, one of the few Faithful and Honest survey panels and earn prizes, gift cards and donations. Stack your points and redeem them: Simple! No hidden fees and completely free!