How to Get Free Gas in 15+ Legal Ways
Updated on: by Amy Kennedy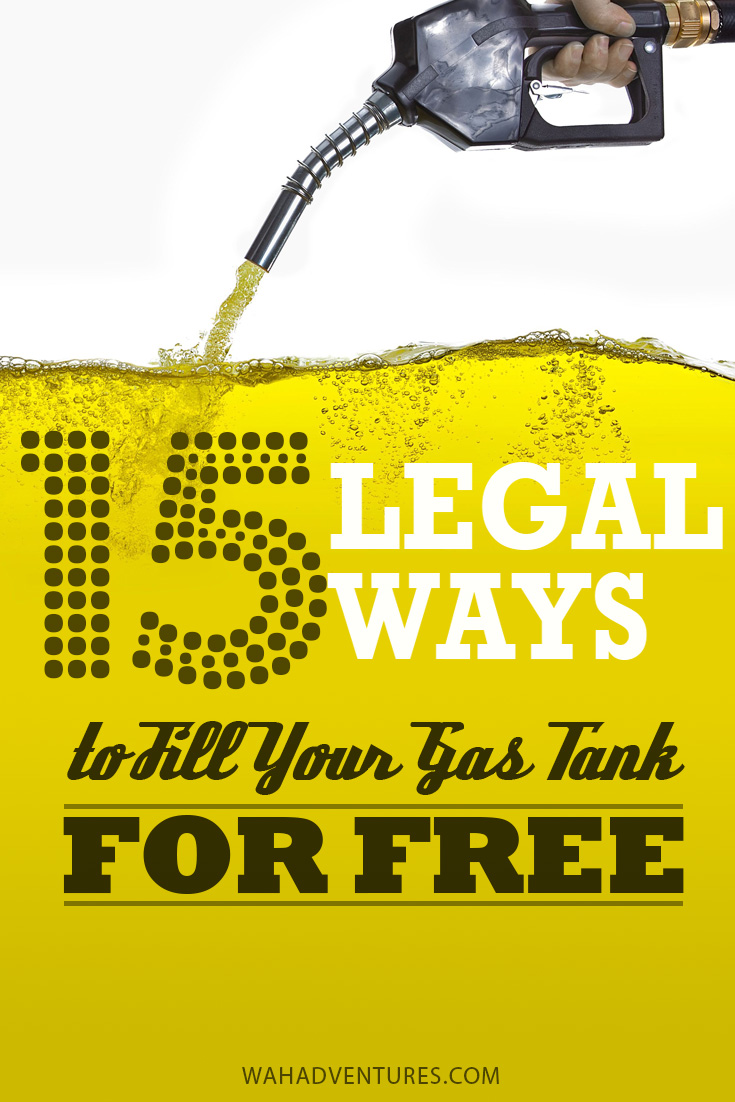 Free gas? Is there really such a thing?
Need Easy Extra $350+/Month For Free?
Yes!
You can save at the gas pump by using local resources if you have a low income, knowing where to find awesome gas promotions, and being savvy about unique ways to earn some money.
Gas is a tough expense to pay, especially if you commute long distances to and from work every day.
I'm going to let you in on a few secrets so you can save some money the next time you go to fuel your vehicle.
First Things First: What About the Free Gas Code?
One of the first things you may come across when looking for ways to save on gas online is a "free gas code".
If you need gas money, it certainly looks like an attractive way to save money at the pump.
Except there's no evidence that this code exists. And, even if it does, it would be illegal to use.
The free gas code was thought to be a product of President Nixon, who put the code in place at certain pumps so law officials could get gas for free when they were monitoring mafia activities.
Supposedly, there are still pumps across the United States that the code works on.
However, there's no real evidence proving the code exists; instead, there's just a lot of hearsay.
Regardless, we know you don't want to do anything illegal like stealing gas meant for law officials using a secret code, right?
So, let's move onto other legal ways to save money at the pump.
How to Get Free Gas!
The following ways to get free gas really work and they're all 100% legal!
Many of these are great for low-income people who have a hard time paying their bills. If that's not you, please don't take advantage of the system!
There are plenty of ways to earn free gas even if you can technically afford it (nothing wrong with wanting to be frugal!), without taking resources from those in need.
Need Easy Extra Cash?
Pinecone Research, a leading name in online survey panel honesty, absolutely guarantees $3 cash for every survey you complete!
Take advantage of their time limited New Membership drive and register NOW. Join today: 100% free!


Advertise on Your Car
Your car is a big expense, right? If you're financing or leasing it, you have a monthly payment added to all the gas you have to fill it with.
If you don't mind your car being a driving advertisement, you can turn it into one for a price that can far exceed what you pay for gas every month.
FreeGasHelp exists solely for the purpose of helping you afford your car's gas by wrapping your car in advertisements and paying you in gas cards for keeping them there.
You must drive at least 1,000 miles per month and you'll get paid $200 per month for a full car wrap.
You'll need to agree to a 1-year contract, but you'll make $2400 in a year to put toward gas!
There's also smaller options, like car magnets or window decals, that range from $5 to $80 per month.
You can also check out Free Car Media, which works similarly but it pays in cash instead of gas cards.
You can receive up to $400 per month for a full car wrap!
Redeem Swagbucks 
Do you use Swagbucks? If not, you should!
Swagbucks gives you points for just about everything you do online: search the web, play games, shop, watch videos, take surveys, and more.
You can turn in your points, or SBs, for real cash and prizes, including gas cards!
Swagbucks frequently offers discounts on its rewards, too, so you may be able to score a gas card for less points than usual!
You can redeem a $10 JiffyLube gas card for as little as 1,000 SBs!
Join Swagbucks now or read our full review to learn all the ways to earn.
Take Surveys
Taking surveys online can seem tedious, but if you get into a consistent habit of taking a few per day, you can quickly rack up enough points to get something worthwhile.
Most survey sites reward you with points that you can exchange for cash or prizes, and many offer gas cards as rewards!
So, if you're looking for ways to save on gas each month, surveys can at least help defray some of the costs.
Here are a few of my favorite survey websites:
And, check out this list of over 30 survey websites that pay cash you can use toward gas!
Ask the Salvation Army
The Salvation Army is an excellent resource for people in need, whether emergency strikes or you're simply going through a rough patch financially.
The organization has several programs to help low-income individuals and families, like its free gas voucher program to help you afford gas. Check out its Transportation Assistance section to learn more about how your local chapter can help.
It's more likely that you'll qualify if you are having trouble paying for gas to get you somewhere important, like your job, school, or medical appointments.
Bank Promotions
One of the best ways to get free money for anything you need it for is to find a bank that gives promotions for opening a new checking or savings account.
More and more banks are offering awesome promotions for $100 or more, just for opening a new account with them.
It's one of the best ways to get new customers in their doors.
Of course, you don't want to keep opening new accounts just to get their free bonuses, but it's a good way to earn some extra money in a time of need.
Before you sign up for an account, do a quick Google search for current bank promotions so you can find the best one.
Promotions usually change monthly, so it's a good way to find the best one for you when you need it.
For example, Key Bank currently offers a $400 bonus for opening up a free checking account and meeting the requirements for deposits.
Earn Everything… nearly!
Join Opinion Outpost, one of the few faithful and honest survey panels and earn cash and gift cards for your opinion. Stack your points and redeem them: Simple! No hidden fees and completely free!


Note that most of these offers won't pay you the bonus until a month or so after opening your account, so read the fine print.
Some offer smaller bonuses, like $50 to $100 immediately after opening.
Carpool
This one may be obvious, but you'd be surprised at how many people forget this option exists.
Set up an office carpool where each participant uses his own vehicle for one of the five days each week.
You'll get free gas on the other four days and less wear and tear on your vehicle!
You can also check out Vride and ShareTheRide to find people in your area to carpool with to other destinations.
iCarpool is a helpful app for both Android and iOS users that can connect you to other people looking to carpool.
Check Out 211.org
211.org is a free service that connects people in North America to available resources: housing, health, disaster assistance, and more.
You can search the website for help in your area by plugging in your ZIP code or city and state and choosing a category.
Alternatively, you can call the hotline to speak to someone who can assist you.
There may be programs that can help you pay for gas right in your hometown that you didn't even know existed.
Check Your Receipt
Have you ever gotten gas at a pump only to realize the price you paid was different than the advertised price, either on the front sign or the pump?
It doesn't happen often, but it does happen – I've seen it myself!
If your receipt isn't matching up to the advertised price per gallon, take your receipt inside to the cashier.
Some gas stations will pay you the difference of what you overpaid, and others may give you your tank for free for the inconvenience and bringing it to their attention!
Contact Your Church
If you're a member of a church and are struggling to pay for gas, it's okay to request help sometimes.
Churches usually are quick to help their members in any way they can.
In fact, they often have parts of a budget set aside specifically for helping church members and the community.
You don't need to announce your financial crisis to the whole church. Instead, just talk to your minister.
Usually, donations can be kept anonymous so you don't have to feel embarrassed.
Department of Health and Human Services
Your local Department of Health and Human Services (if you live in the United States), also known as a "welfare" office, may have free gas vouchers to help you get to school, work, or medical appointments.
The Department of Health and Human services is all about keeping people working, and a free gas voucher can make sure you get to work.
More states are catching on to this type of program, which are income-based and can provide recipients with $50 to $250 of gas per month.
You can find your local DHHS here.
Free Gas Cards
You might notice companies offering free gas cards when gas prices start rising. Their intent is to encourage people to keep traveling and shopping – preferably at their stores – by offering promotions with free gas cards.
CVS, for example, sometimes offers a bonus $10 gas credit to their ExtraCare customers who spend $30 or more. Publix has also offered $10 off a $50 gas card, which is still $10 of free gas!
Always be mindful of printed coupons you receive when you use your loyalty cards at certain businesses, like RiteAid or Kroger. They usually offer some great deals to loyal customers, and may even include some gas savings!
Free Gas USA
Free Gas USA is a religious charity supported by several religious organizations and donors.
Its aim is to provide low-income families and individuals with free gas, so they won't have to worry about getting to doctor appointments or work.
The grants can range from $50 to $1200 in the form of a gas card, and new grants are awarded every month.
You'll have to meet income requirements, which are based off the income limits set by the U.S. Department of Housing and Urban Development.
But, meeting the income requirements doesn't automatically approve you.
There's a certain amount of funds available, and Free Gas USA uses the funds to reach the individuals and families with the highest need first.
Check out the Free Gas USA website to learn more about its requirements and how to apply.
When you apply, have your income and vehicle information handy.
You'll also need a referral letter from your pastor, social services agency, or place of employment to validate your income information and need for a gas card.
GasBuddy.com
GasBuddy.com can help you search for the best gas prices wherever you may be traveling.
Real people like you help update the database by plugging in the current prices you see.
But, you can earn more than just a Good Samaritan title.
By participating in the website and helping update prices, you earn points.
You can exchange your points for entry into the daily free gas sweepstakes!
Every day, GasBuddy.com gives away $100 in free gas to participants.
You even get to choose what gas station you want your card from if you win.
Travel Rebates
If you're going on vacation or traveling for business, you may be able to score some free gas just by being smart about what hotel you book!
Helpful booking websites, like Hotels.com or Choice Hotels, sometimes offer gift cards and gas cards when you meet certain requirements.
For example, you need to book a certain hotel package or a specific number of nights for your stay.
Be mindful of these promotions before you book.
You may only need to make a slight tweak to what you were going to book anyway to qualify for some free cash!
Use Credit Card Rewards
Credit cards: you either love them or hate them. But the best credit cards can save you some money if you use them wisely.
Many credit card companies are offering special bonuses and rewards to encourage new sign-ups.
One of the most popular types of offers is gas rewards.
Several gas stations are even coming out with their own credit cards to offer special gas prices and rebates to their loyal customers!
Walmart, for example, provides 3 to 5 cents off per gallon when you use its credit card at a Murphy USA location.
Additionally, there are special promotions throughout the year where you can save up to 15 cents per gallon (that's huge!).
You can also apply for credit cards with awesome rewards programs.
Some credit cards offer up to 5% cash back on purchases and you can use that cash back for some free gas!
Find out what credit cards currently have the best cash back rewards!
Utilize Gas Station Loyalty Programs
Many gas stations offer loyalty programs that provide rewards and discounts to their frequent customers.
These programs typically involve earning points for every gallon of gas purchased or for making other qualifying purchases at the station's convenience store.
Over time, these points can be redeemed for free gas or discounted fuel prices.
Examples of gas station loyalty programs include:
Shell Fuel Rewards: Shell's loyalty program allows you to earn and redeem Fuel Rewards points to save on gas purchases.
Exxon Mobil Rewards+: Exxon Mobil offers a rewards program where you can earn points and use them for discounts on fuel purchases.
BPme Rewards: BPme Rewards allows you to earn points on BP fuel purchases and redeem them for savings at the pump.
Seek Local Community Assistance Programs
In addition to national and nonprofit organizations, local community assistance programs may also provide support for individuals in need of gas assistance.
These programs can vary by location, so it's worth researching the resources available in your specific community.
Some potential avenues to explore include:
Local charities and non-profit organizations: Contact local charities, churches, or community centers to inquire about any programs they offer to assist individuals with gas expenses.
Utility assistance programs: Some utility assistance programs, designed to help low-income households with energy-related expenses, may also include provisions for transportation needs, including gas.
State or county assistance programs: Check with your state's or county's social services or welfare office to see if they provide any programs or vouchers specifically aimed at helping individuals with gas expenses.
Participate in Carpooling Services and Rideshare Programs
Carpooling services and rideshare programs offer an opportunity to share rides with others and split the cost of gas.
By joining these programs, you can save money on your daily commute or longer trips. Here are a few well-known options:
UberPOOL: UberPOOL is a service provided by Uber that allows you to share your ride with other passengers heading in the same direction. By sharing the cost of the ride, you can reduce your individual expenses.
Lyft Shared: Lyft Shared is a similar service to UberPOOL, offering cost-sharing options by matching riders traveling along similar routes.
Waze Carpool: Waze Carpool is a dedicated carpooling service that connects drivers and passengers who share a similar commute. Drivers can offer rides and receive contributions from passengers to cover the cost of gas.
Looking for More Money?
If you've ever fallen on difficult times, you know how helpful it is to have some assistance.
Free gas is just one of the many ways you can get save some money to put toward bills and other more important things.
You may also want to check out these ways to get free money from the government, including assistance with paying your bills.
It's not always fun having to use these resources, but it's great that they're there when you need them!
If you have any LEGAL tips for getting free gas, let us know in a comment!
Related Posts:
Earn Everything… nearly!
Join Ipsos iSay, one of the few Faithful and Honest survey panels and earn prizes, gift cards and donations. Stack your points and redeem them: Simple! No hidden fees and completely free!