Learn How to Get Free Money from the Government: 16+ Top Ways
Updated on: by Amy Kennedy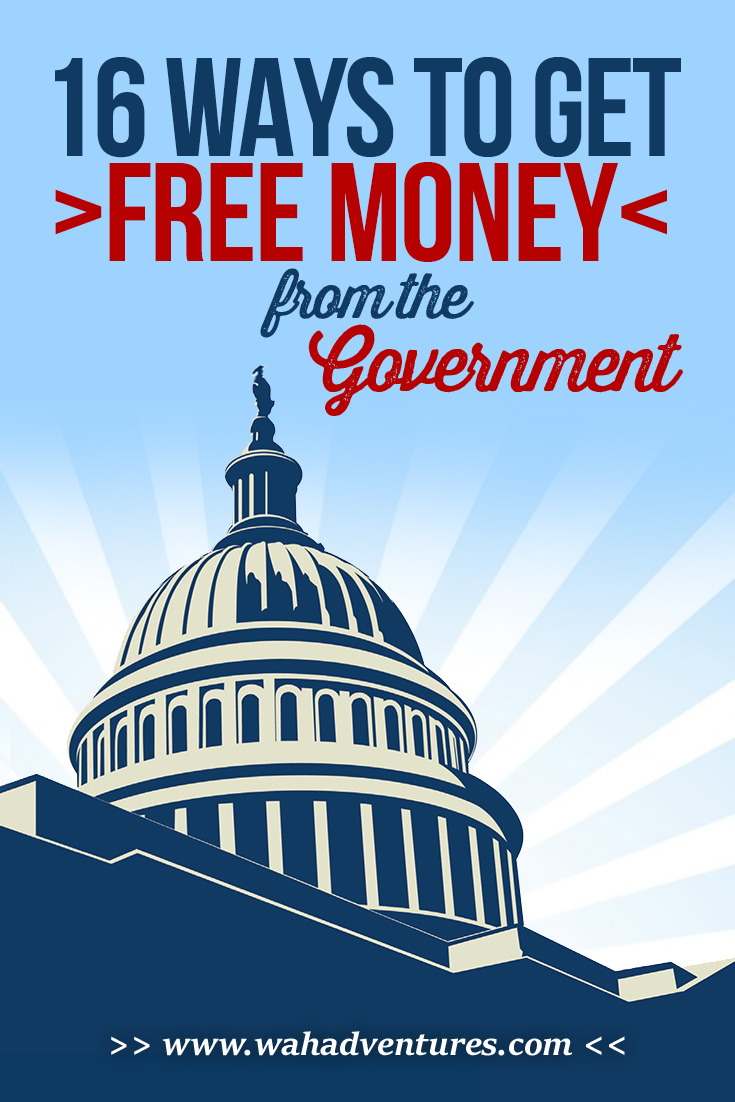 Sure, we complain about having to pay income taxes with every paycheck.
Need Easy Extra $350+/Month For Free?
But, when you think about it, the government is usually there for the public when they need it most.
There are tons of government assistance programs most people don't even know about.
They can help you with everything from buying your first home to affording health care for you and your family.
Plus, there are even some ways you can get money owed to you that you didn't even know you were owed!
Whether you're just starting out your career and trying to make a better life for your family, or you're newly retired, you can likely find some government assistance to help you transition to the newest stage of your life.
Here's How to Get Free Government Money!
The following government programs and websites are proven to help you find free money you're owed, or aid those in need.
Get Your Unclaimed Money
Some people have no idea that the government may have money owed to them, just sitting there waiting for it to get claimed!
There is around $42 billion in unclaimed funds owed to people in the United States alone. Maybe you didn't realize you had a tax refund one year, or you closed a savings account but still had interest you never claimed.
Fortunately, financial institutions hang on to those funds. They rarely contact people about them because it takes a lot of time on their part for something that's not very beneficial to them.
Unclaimed.org is the first place you should go to search for unclaimed funds. Click on your state to go directly to your state's Department of Commerce to search for your unclaimed funds.
If you've lived in more than one state, you can also try MissingMoney.com, which allows you to search for unclaimed funds under your name in any state you've lived in.
If you find anything, all you usually need to do is fill out a form, provided on the website, and wait a few weeks to get your money!
If you think you may have left a tax refund behind, check with the IRS. This commonly happens when people move and forget to submit a change of address form, so their refunds get lost in the mix.
You can also search TreasuryHunt.gov for savings bonds as far back as 1974! These are savings bonds that have been returned as undeliverable, and it's possible you may have some waiting for you.
Finally, if you've had any of your financial institutions close, and you think you may still have had funds there, check with the FDIC.
Need Easy Extra Cash?
Pinecone Research, a leading name in online survey panel honesty, absolutely guarantees $3 cash for every survey you complete!
Take advantage of their time limited New Membership drive and register NOW. Join today: 100% free!


The FDIC takes over for FDIC-insured financial institutions, in the event of a closure. So, if you did have any funds left there, the FDIC should have them waiting for you.
Money from Pensions
If you've ever worked for a company that went out of business, you may have pension funds waiting for you.
If you worked there several years ago, it can be difficult to remember if you had a pension through the employer or not.
You can be on the safe side and check with the Pension Benefit Guarantee Corporation (PGGC), which will hold the pension funds for companies that went out of business or ended certain plans.
You can search by company name, or try the A to Z title search. Refer to the "Search Help" guide if you're having trouble finding a company name.
Damaged Money
Do you have any damaged money, bills or coins, that won't be accepted in stores because it's missing key security features or is otherwise unreadable?
Don't worry; you don't have to take it as a loss. Instead, send it to the Bureau of Engraving and Printing.
All you need to do is submit a Damaged Currency Claim with your personal information, the reason for the money becoming damaged, and the approximate value.
Depending on the condition of your money, it can take anywhere from six to 36 months to receive a replacement.
Buying, Renting, or Repairing a Home
The government is becoming more and more invested in helping its citizens afford a home, especially when buying a home for the first time.
Typically, the better the housing market, the better the economy, so the government wants home purchases to be affordable for the average family.
The Department of Housing and Urban Development (HUD) should be your first stop.
HUD can help you purchase a home with its voucher program, which makes low-income individuals able to afford a home.
HUD also has grant programs for those whose homes need emergency repairs, such as removing lead paint from home.
You may also qualify for rental assistance if you're having trouble paying your monthly rent due to medical emergencies or job loss, or need to find a new place to stay quickly.
The United States Department of Agriculture (USDA) is specifically designed for residents in rural areas.
This department also has programs to help you afford a home, or complete important repairs on a home you own.
If you have ever had an FHA-insured mortgage, you may even have a refund waiting for you.
To check, visit the HUD website and search the database.
Health Care and Insurance
Your health is important, but health insurance premiums can be ridiculously unaffordable.
If you have a family, especially, you may be forced to spend thousands per month for health insurance.
If you fall within certain income levels, though, you may be eligible for more affordable, or free, health care coverage – or at least, get aid for your kids' coverage.
Healthcare.gov is the government's marketplace for applying for, and finding, affordable health care options.
If your income qualifies, you may even be eligible for monthly aid that can cut your premiums significantly. Or, very low incomes may qualify for free health care through Medicaid.
If your income is too high to qualify for assistance, your kids may still get some help.
Visit InsureKidsNow.gov to learn more about the Children's Health Insurance Program (CHIP), which can give your kids free or low-cost health insurance.
If you're in need of assistance paying your medical bills, check with Benefits.gov.
You can use the Benefit Finder tool to search for government programs that can assist you in paying your bills.
Healthfinder.gov has several programs that can also assist you in paying for your prescription medications, doctor co-pays, eye exams, and more.
Earn Everything… nearly!
Join Opinion Outpost, one of the few faithful and honest survey panels and earn cash and gift cards for your opinion. Stack your points and redeem them: Simple! No hidden fees and completely free!


Repairing Your Credit and Finances
Having a good credit score can make or break you financially. Your credit score impacts your ability to open bank accounts, get a new credit card, or even finance a vehicle.
Repairing your credit once it's suffered can take a long time and a lot of work.
It's important to stay on top of your credit report so you can make sure everything on the report is accurate, such as paid-off bills and no signs of identity theft.
The Federal Trade Commission (FTC) provides plenty of resources, such as a credit report and ways to report scam businesses or identity theft, for you to be proactive in managing your credit.
Best of all, these resources are provided for free.
You can also check with the FTC to see if you have a refund waiting for you.
The FTC houses the funds of settlements for companies that have been sued for making false claims to customers over their services or products.
If you've fallen victim to any of the sued business' claims, you may be eligible for a refund.
Starting a Business
Businesses are an important part of the economy, and the government likes to help people break out of debt or financial worry to start their own businesses.
So, if you're looking to create a startup, you may be eligible for government funds.
The Small Business Administration (SBA) offers low-interest loans that can cost you much less over time than traditional loans.
Although it's not free money, it absolutely can help you and your business save a lot of money.
But, the SBA also offers grants to small businesses.
If your business is involved with scientific research and development, it may be eligible for a grant.
Check with the Small Business Innovation Research (SBIR) program to see if your business qualifies.
Grants.gov also allows you to search for other grants your small business may be eligible for, in a variety of categories, like education and health.
Some states also have programs available for those looking to become self-employed through a home business or other small business.
This voluntary self-employment assistance program is currently available in Delaware, Mississippi, New Hampshire, New York, Oregon, and Vermont.
Tax Preparation
Depending on how complex your taxes are, you can pay hundreds of dollars for a tax professional to complete them for you. Even if you use a tax software to help you prepare your taxes, you may have to shell out $50 or more.
The IRS has a program of volunteers, known as Volunteer Income Tax Assistance (VITA), that allows qualified individuals get their taxes completed for free. You may qualify if your income is under the limit of $54,000, you're disabled, or you speak limited English.
No, it doesn't give you any money, necessarily, but it lets you keep your hard-earned money in your pocket.
Help with Bills
You may be in the middle of a job switch, had a medical emergency, or suffered some other type of emergency that left you struggling to pay bills or other expenses.
The government has sympathy for those in need, and has several programs to help you afford everything from child care to phone service.
Here are some of the government programs that can benefit you if you need help with bills:
College Education
Paying for a child's college education is one of the scariest things for parents.
Tuition, alone, is expensive. But then there are the costs of travel, housing, books and supplies, and living expenses to add on top of tuition.
Fortunately, prospective students and their parents can take advantage of government grants and assistance programs designed to get more kids in college, without a large financial burden on parents.
The Federal Pell Grant is the first grant you should consider.
This grant usually does not have to be repaid, and provides a student with up to $5,815 per year.
To apply for the grant, and other assistance you may qualify for, you must fill out the Free Application for Federal Student Aid (FAFSA) each year.
There are other grants available as well, for students who meet certain criteria.
For example, those going into a college teaching program may be eligible for the Teacher Education Assistance for College and Higher Education (TEACH) grant.
The FAFSA will let you know if you're eligible for other grants.
Avoid Foreclosure
The thought of foreclosure on a home has to be one of the scariest things an individual can face. Some homeowners are forced to foreclose on their homes after suffering a financial setback that makes them unable to pay their mortgage.
If you're faced with foreclosure, you have options before it gets to that point. The Homeownership Preservation Foundation helps people faced with foreclosure come up with a plan of action to stay in their homes, and it's all for free.
You can also try the Making Home Affordable program, which offers free counseling services that will help you find assistance in your local area to help you afford your home. This could be by way of negotiation with your bank, or through mortgage assistance options.
Unemployment Help
If you become unemployed for reasons not of your own fault, you can get government assistance to help you afford your bills until you find a new job.
Check with your state's unemployment office to find out if you're eligible and learn the requirements for filing. If you've gotten the full number of weeks of unemployment allowed, you may still be eligible for extended benefits.
Food Assistance
It's unfortunate when individuals or families have such significant financial setbacks that they have to rely on assistance to buy food. But, it's awesome that these programs exist to assist those in need!
The government currently has three main ways to help those who are having trouble affording food. Be advised, though, that unless you have children or disabled individuals in the home, your income must be extremely low to qualify, which keeps the programs available for those most in need.
SNAP – The Supplemental Nutrition Assistance Program, also known as "food stamps", provides funds loaded onto a card each month. You can use the card to purchase qualifying food.
WIC – The Women, Infants, and Children program helps families afford healthy foods for babies, children, and pregnant, or postpartum, women. You'll receive things like dairy products, baby formula, and fresh fruits and vegetables.
Free or Reduced Lunch Programs – Your income may qualify your school-aged children to receive a reduced-price, or free, lunch each day at school. Check the National School Lunch Program (NSLP) for more information.
The Summer Food Service Program also helps ensure that your children, up to age 18, will receive free meals throughout the summer months when school is out.
Military and Veteran Assistance
For those who are serving, or have served, for the United States military, there are additional government programs that can help with bills, housing, medical costs, and more.
Military OneSource provides helpful resources for military personnel or veterans. You may qualify for free or low-cost therapies to deal with post-traumatic stress, assistance with moving costs, educational financial assistance, and more.
The National Resource Directory is similar, in that it offers help for military members or veterans to get financial help in a variety of areas.
Veterans may be eligible for financial assistance from the US Department of Veteran Affairs. A number of reasons can qualify you, such as disability caused by active military service, medical emergency or hospitalization, or surviving spouse benefits.
Disabled Individuals
If you are temporarily or permanently disabled, you may be eligible for government benefits, provided that your disability prevents you from working a regular job.
Social Security pays both Supplemental Security Income (SSI) and Social Security Disability Insurance (SSDI) to disabled individuals.
Supplemental Security Income is income-based to help those who have little to no income.
Social Security Disability Insurance is paid from the amount you paid in through taxes on your income.
You may also qualify for SSI for a dependent child, or other dependent, with a disability.
If you've been injured at your job, either temporarily or permanently, check with the US Department of Labor about your eligibility for Worker's Compensation. You may be eligible for wage replacement benefits, medical bill assistance, and more.
Low-Income Seniors
Retired seniors possibly have it the toughest out of anyone.
Relying on a retirement income alone can be scary, and with higher age typically comes more health problems and higher medical bills.
The government, fortunately, provides quite a few programs to help seniors and make their lives affordable.
The AARP Foundation is designed to help seniors, age 50 or older, afford the things they need most, like housing, food, and prescription medications.
BenefitsCheckup.org is much like the government's Benefits.gov website, only it's designed specifically for seniors to match them up with financial programs that fit their needs.
Check out the FHA reverse mortgage program if you need a more affordable housing option than your current mortgage.
You may be eligible if you're 62 or older, and have enough qualifying equity in your home. A reverse mortgage will give you monthly income using your home equity.
Bonus Options:
17. Medicaid
Medicaid is a government program that provides free or low-cost health coverage to individuals and families with limited income.
It helps cover medical expenses such as doctor visits, hospital stays, prescription medications, and more.
To learn more about Medicaid and determine if you qualify, visit the Medicaid website.
18. Supplemental Security Income (SSI)
Supplemental Security Income (SSI) is a program that provides financial assistance to disabled individuals, including children, who have limited income and resources.
It helps cover basic needs such as food, shelter, and clothing.
To find out more about SSI and eligibility requirements, visit the Social Security Administration's SSI page.
19. National School Breakfast Program (NSBP)
The National School Breakfast Program (NSBP) is a federal assistance program that provides nutritious breakfast meals to school-age children.
The program aims to ensure that children have access to a healthy meal to start their day.
Eligibility for the NSBP is based on income and other factors.
To learn more about the program and how to apply, visit the USDA's NSBP webpage.
20. Low-Income Home Energy Assistance Program (LIHEAP)
The Low-Income Home Energy Assistance Program (LIHEAP) is a federally funded program that helps low-income households with their heating and cooling expenses.
LIHEAP provides financial assistance to eligible individuals and families to help offset the costs of energy bills.
To find out more about LIHEAP and how to apply, visit the LIHEAP Clearinghouse website.
How to Get Free Money from the Government WITHOUT Falling Victim to Scams
Unfortunately, there are several websites that exist to prey on people, like yourself, who are interested in finding free government money.
You may find some other websites in your search that aren't listed in this article.
Take into consideration the following tips before giving your information to "free money" websites:
Is the website transparent? In other words, does the website explain exactly how you will get free money, rather than just saying it will give you free money if you input your info? If not, stay away.
Is there proof? If a website is claiming you can get free money from a certain program, check on government websites to see if the program really If there's no proof, it's best to avoid it.
Is the site secure? If a website wants you to enter your information for "free money", make sure the site is secure. You should see the lock symbol in the address bar if the website is protecting your information.
Is it asking you for money? You should never, ever have to pay money to get free government money or assistance. The biggest sign of a scam is a website asking you for money in exchange for "free money secrets". There are no secrets; the government is very transparent in explaining its programs.
Stick to your local government websites. Check your official federal and state government websites for the most recent information on assistance programs. These should have a .gov ending. Your city or town may even have a website with more information for specific programs in your locality.
If something looks too good to be true, it probably is.
The websites in this article are legit websites proven to find you government cash and assistance.
Good luck in your search!
Related Posts:
Earn Everything… nearly!
Join Ipsos iSay, one of the few Faithful and Honest survey panels and earn prizes, gift cards and donations. Stack your points and redeem them: Simple! No hidden fees and completely free!