25 Legit Ways to Get Free Movie Tickets (100% Legally!)
Updated on: by Amy Kennedy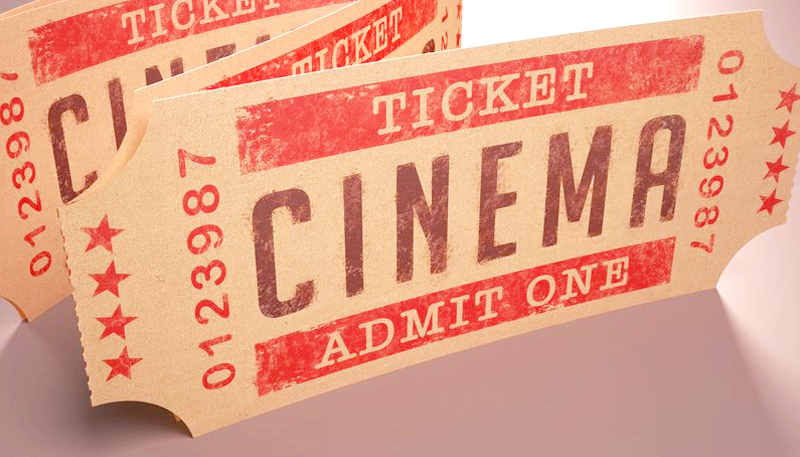 Are you a movie fanatic?
Need Easy Extra $350+/Month For Free?
Good – this post is for you!
If there's one complaint most movie-goers have, it's that attending a movie in the theater can be expensive.
Once you buy the tickets and pay for popcorn and a drink, you're looking at $20 per person, depending on where you live.
For families with kids, especially, the costs for a movie can make it difficult to visit regularly.
Which is why I looked for ways to get movie tickets for free!
This post outlines several ways that you – and the people you attend with – can get tickets to the movies at no cost, and they're 100% legitimate and legal.
Get Free Tickets for Movie Screenings
The following are legit ways to find tickets for free movie screenings near you!
You'll have a chance to watch movies before they release in theaters, which makes it even better.
Use these online sites to find local screenings.
Check for Advance Movie Screening Tickets on AdvanceScreenings.com
This site is the golden ticket when it comes to finding advance movie screenings near you.
Search by city, state, or zip code, or you can just browse by movie to see when its screenings are.
If anyone knows movies, it's Lionsgate.
You can enter your zip code on the website to see if any screenings are available near you.
If not, you can still register your email with the site to be notified when ones are happening in the future.
Find Free Local Screenings with Gofobo
Gofobo is a site that lets users search to find exclusive screenings near their location.
Need Easy Extra Cash?
Pinecone Research, a leading name in online survey panel honesty, absolutely guarantees $3 cash for every survey you complete!
Take advantage of their time limited New Membership drive and register NOW. Join today: 100% free!


You might also find special movie events near you, but these are more likely to occur in large cities.
Warner Bros. Sometimes Offers Free Screenings
Warner Bros. is a leading production company for some of the best movies on the planet, so who wouldn't want to learn when it offers screenings of its newest hits?
Just sign up for a free account with your email address and you'll get registered to find out when there are new screenings and events in your area.
Not only does this site have all the information you ever need about movie release dates for theaters, but you can also find out when screenings are happening for movies you're interested in seeing.
Like its Facebook page to follow news about screenings and events and keep the homepage bookmarked.
This is where Wild About Movies will list updates for movie screenings and releases.
Sony Productions sometimes offers advance screenings of its movies to fans.
Just plug in your zip code and see if anything's happening.
If not, you'll still be able to sign up with your email address to get notified when there's one coming to your area.
Use Backstage OL to Try to Win Free Screening Tickets
This site is like a movie lover's dream.
It lists frequent updates for movie releases and ticket information, but also has consistent giveaways for free movie tickets to screenings.
The site uses Gleam for its giveaways, making it super easy to enter every one you're interested in.
SeeItFirst Hands Out Free Tickets for Screenings!
Registering for SeeItFirst takes just a quick minute and gives you access to complimentary screenings in theaters near you.
Once you're eligible for a screening, you can print your tickets from the website.
Theater and Ticket Reward Programs
Joining the reward program offered by movie theaters you frequent can help you earn points for watching movies.
You can then turn in your points for stuff like free tickets and food at the theater.
Some of them even have an app that lets you check your balance, scan movie tickets, and more!
Fandango is a site where you can purchase movie passes for use at the theater.
Join its VIP program to earn points on all your purchases through the site.
You'll not only get discounts on movie swag and home streaming movies, but you'll also have exclusive access to free movie screenings in your area.
Atom Rewards comes from Atom, a place where you can order movie tickets online.
Joining the Atom Rewards program gets you special movie deals and discounts, plus it lets you connect with your theater rewards accounts to earn more.
When you sign up, you'll also get a free ticket after you see four movies.
AMC Stubs is a free rewards program that lets members make reservations for up to three movies every week.
You can also earn rewards on purchases at the theater to earn free or discounted concessions and tickets.
Regal Theaters gives its Crown Club members points for every purchase at its theaters.
Redeem them for free concessions and movies!
You can also bookmark the Regal Theaters Promotions page for more chances to get free stuff.
Members of the Regal Crown Club are eligible for these promotions that might include things like free tickets, advance screenings, and free swag for your favorite movies.
Earn Everything… nearly!
Join Opinion Outpost, one of the few faithful and honest survey panels and earn cash and gift cards for your opinion. Stack your points and redeem them: Simple! No hidden fees and completely free!


Magical Movie Rewards from Marcus Theaters gives members a point for every dollar they spend in the theater.
Get 100 points and get $5 in rewards that you can use to go to the movies for free.
Frequent Cinemark movie-goers won't want to pass up Cinemark Connections, a rewards program that can help you earn free movies, concessions, prizes, and even a chance to attend exclusive events.
Members can also enter sweepstakes for cash and prizes.
Other Ways to Score Free Movie Tickets
Believe it or not, there are a lot of ways to do it!
Swagbucks is one of my personal favorite ways to earn free gift cards of any kind, including for movies.
In fact, I've used my Swagbucks points (also known as SBs) to cash out gift cards to movie theaters for my movie-loving friends for Christmas and birthdays (and also for myself!).
Swagbucks is a rewards site that pays you to do things like take surveys, shop online, and check emails.
It has so many ways to earn that it's very easy to rack up points quickly and then exchange them for a gift card.
You can even opt for PayPal cash, which you can use to purchase movie tickets.
Swagbucks offers AMC Theater gift cards in denominations of $10, $15, $25, and $50.
The thing I love about Swagbucks is that it also discounts its rewards frequently, requiring you to spend less points to get your reward.
For example, right now the $25 AMC gift card is discounted by 12%, so it only costs 2,200 instead of 2,500.
You can sometimes earn that many points just from one cash back shopping trip!
Use Swagbucks daily for your online shopping and other tasks and you'll never have to spend money on movie tickets again.
Also, be sure to check out Swag IQ, Swagbucks' live trivia game app.
With daily trivia games, you can win even more SBs for your Swagbucks account to help you rack up points faster.
Read More: Swagbucks Review: The #1 Survey Site to Earn Real Rewards
MoviePass won't directly give you free tickets to see a movie, but it'll sure help you save a lot of money if you go there a lot.
This is a monthly subscription for one fee that lets you see movies a specific number of times each month, depending on your plan.
So, you'll pay for the service, but if you go the number of times you're allowed, you'll save money on tickets. It's like getting one or more visits for free!
IMDb
IMDb (Internet Movie Database) is a popular online database for movies, TV shows, and celebrities.
While IMDb primarily focuses on providing information about films, it often includes details about advance screenings and special events related to movies.
You can visit the IMDb website here to explore movie-related information and check for any upcoming screenings or events.
Meetup
Meetup is a platform that allows individuals to create and join groups based on shared interests.
There are often movie meetup groups on Meetup where movie enthusiasts organize screenings, discussions, and other related events.
By visiting the Meetup website here, you can search for movie-related groups in your area and find out about upcoming screenings or events organized by these groups.
Eventbrite
Eventbrite is a popular online platform for discovering, promoting, and purchasing tickets for various events. This includes movie screenings, premieres, and film festivals.
By visiting the Eventbrite website here, you can search for local movie screenings and events.
Event organizers often list free or discounted screenings on Eventbrite, making it a convenient platform to find and secure tickets for movie-related events.
Facebook Events
Facebook Events is a feature within the social media platform that allows users to create, discover, and RSVP to events.
Many movie-related events, including screenings, are often organized and promoted on Facebook Events.
By visiting the Facebook Events page here, you can search for movie events in your area. You can filter the results based on location, date, and event type, and find out if there are any free or discounted screenings available.
Listen to the Radio
Most radio stations have some type of daily giveaway, at least throughout the weekdays.
One of my local stations gives away pizzas, concert tickets, sports tickets, and movie passes for a daily trivia game that listeners can call in and play.
You can always check out the websites of some of your local stations to see if any participate in these types of giveaways and when, so you'll know exactly when to tune in for your chance to win!
ATT Free Movie Tickets
Are you an AT&T customer?
If so, you can get your hands on free tickets to movies that the company hands out as a benefit to its customers.
It's part of the AT&T Thanks program.
You and a friend can go to the movies every Tuesday and get complimentary tickets from the company!
Just enter your mobile number (so AT&T can validate it) and you'll get a link to movietickets.com with a promo code for free tickets.
Enter Blog Giveaways
Blog giveaways are usually quick and fun to enter and can help you score tons of awesome stuff for free.
I've often seen blogs giving away movie tickets, especially with review posts that review a specific movie in the theater or on DVD.
PR companies like to offer free stuff in the form of a giveaway for readers of the blogs they work with to get more interest in the blog post.
Usually, you'll just need to do a few tasks to enter, like comment on the post or like specific social media accounts.
Here are a few giveaway directories that you can browse to find blogs currently giving away movie tickets or movie theater gift cards:
Keep an Eye on Your Food
When I go to the grocery store, I keep an eye on food packaging.
Some brands will put special offers on or inside their packaging that's worth a slightly higher cost to get.
I've seen free movie ticket offers on things like popcorn, soda, chips, candy, and other snacks you'd usually have when you watch a movie.
Just be sure to check the fine print because some offers will be more hassle than they're worth, like paying for tickets and having to send in your stubs for a rebate instead of just getting a promo code for a free ticket.
Check Your Credit Card Rewards
Credit cards aren't just for financing items you can't, or don't want to, pay for all at once.
They're also excellent for getting rewarded for purchases!
Some credit cards offer travel rewards, others are great for gas discounts, and others help those who like to go out save on stuff like meals at restaurants and movie tickets.
Check with your credit card companies to see what rewards it offers, if any, and what you need to do to get them.
Most operate on a points system that lets you redeem your points for gift cards and products.
Look at Movie Inserts
You know those mounds of papers that some DVDs and Blu-Rays have tucked inside them?
Well, they can sometimes get you free tickets to the movie theater.
I used to just throw them all away immediately until I realized that they sometimes have some good offers inside.
Double check them before you toss them!
Go to the Library
No, you probably won't get free tickets to movies at your local library (although some do have fun contests and giveaways for families, so it's possible).
But you likely can take advantage of ongoing family and children's programs that let you watch movies for free.
My local library, for example, hosts several activities for families throughout the year.
One of them is a monthly movie night where you can come in your pajamas and watch a family-friendly movie – even the snacks are provided!
Read More: Top 5 Simple Ways to Learn How to Get Paid to Review Movies
Treat Yourself: Get Free Movie Tickets!
Now you have a bunch of ways to impress your friends with your ability to get you and them free tickets to go see a movie!
Signing up for the rewards programs for the theaters you frequent is definitely one of the best ways to get rewarded for going to the movies.
But these other fun ways can help you earn more tickets in addition to those programs.
If you're successful with them, you may never have to pay for a movie again!
What other ways do you know to get free movie tickets?
Let us know in the comments!
Related Posts:
Earn Everything… nearly!
Join Ipsos iSay, one of the few Faithful and Honest survey panels and earn prizes, gift cards and donations. Stack your points and redeem them: Simple! No hidden fees and completely free!