How To Get Free Product Samples Online: 11+ Easy Ways
Updated on: by Amy Kennedy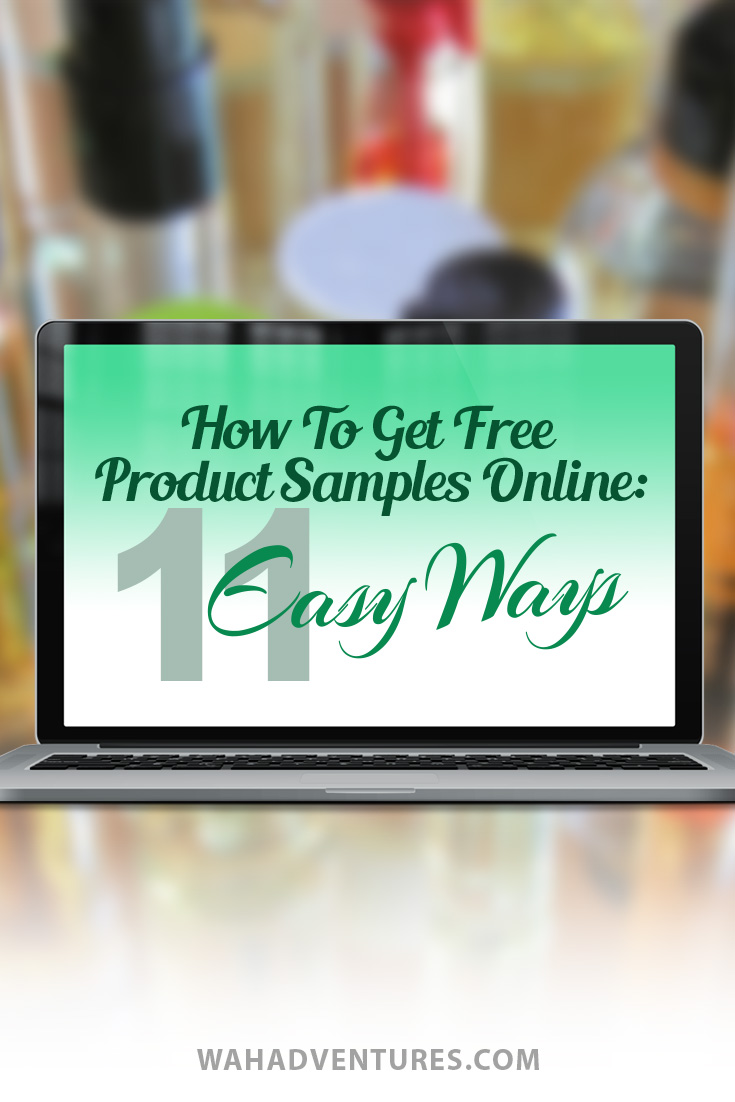 Are you interested in getting totally free crap without having to go through lots of hoops to do this?
Need Easy Extra $350+/Month For Free?
Well, who doesn't?
If anything, it is not all that hard to learn how to get free product samples online.
These options for getting free samples are easy to follow and use.
Best of all, these options for how to get free products work with no strings attached in any way.
These don't require you to go to any stores or other physical spots either.
You can get all the samples of products you want online.
A Few Notes
There are a few points to see when looking at these sites:
Most places that offer free samples without surveys often require you to sign up for emails to get information on what's new. I recommend that you establish your own dedicated email address so you can get emails from such a place sent to a spot separate from where you normally get emails at.
An average free product sample site typically leads you to third party sites where you would have to register to get some of the free products. Still, the information that you send is always protected and you will still get free items without having to fill out surveys or all that stuff.
Each site should have its own special sections dedicated to certain kinds of products. There are also a few places that focus on extremely specific types of products.
Many sites are regularly updated with new samples. Be sure to look at how often a site is updated as samples of certain products are only available for a very specific period of time.
Don't forget to watch for any costs. Make sure when looking around that the sites are actually free and that you don't have to spend anything in shipping or handling to get certain samples sent to your home.
The Best Websites to Get Free Product Samples Without Surveys
Start by checking out Scam Free Samples, a website that offers details on how to get samples of products sent right to your home.
This option gives you access to beauty and food products for the most part.
You can also find a variety of baby products.
All of these options will provide you with great ways to get the most out of what many companies offer.
Send out an email address to get regular updates on the different samples that are listed here.
You will get daily updates on different types of products for all things in your life.
Again, be certain t9o set up your own email account to get those emails just to keep them organized.
I must admit that Sample a Day is very distinctive when it comes to offering free samples.
Need Easy Extra Cash?
Pinecone Research, a leading name in online survey panel honesty, absolutely guarantees $3 cash for every survey you complete!
Take advantage of their time limited New Membership drive and register NOW. Join today: 100% free!


It has a bit of a sense of humor attached to it but it always gives you detailed points on how you can find great samples.
I like that this place has a better variety of sections for different kinds of samples.
You'll find baby products, feminine items, hair and health products and even drink and food samples all around.
And yes, this site does actually update each day.
I checked for a few days in a row just to be sure and they do indeed update regularly.
There isn't really much of a pattern in terms of which sections get the most updates or when they are updated but I at least like how the site does well with informing people about the many things that are offered here.
Swaggable is a place that provides you with details on free samples that you can get online.
It helps you to search for products that are being given away and to get information on each of them so you can choose only the specific samples you want.
This place seems to have a real focus on health-related items.
These include nutritional supplements for the most part.
The samples you get often last for about a week so you can take these regularly for a week to get an idea of how well your body can respond to them.
This is great as it gives you an incentive to see if certain products are worth checking out well into the future.
The site also has sections dedicated to technology items, automotive materials and pet products.
These are organized in their own individual spaces and are regularly updated so you'll have details on all the hottest freebies all the time.
Be advised that this site does have some offers that require you to take surveys.
Fortunately, a majority of the offers you will come across here do not actually require you to take in or even complete surveys.
Do check the information attached to any free offer you see on this site just to be certain that you're coming across something easy to handle.
I Love Free Things has been around for a little more than ten years.
It has been highlighted on national television as well.
I know that there are loads of third party ads all around the place but those ads are not going to impact your overall experience with getting great deals.
If anything, you will see when on this site that there are lots of products to check out.
You will find beauty, food and baby products as well as pet care items on the site.
It also has coupons that can be printed out and used at stores all around where you are.
Best of all, this place is supported with free offers and coupons from actual big name brands.
These include Kraft, Proctor and Gamble, Gillette and Purina to name a few.
My Free Product Samples has a full section that lists details on all the free things you can get right now.
This site has samples dedicated to healthcare and cleaning among other items.
You just go to the proper menu, check on the right section and see what you can do to get samples for free.
The place does understand that you might have reservations over whether or not certain offers are scams.
Earn Everything… nearly!
Join Opinion Outpost, one of the few faithful and honest survey panels and earn cash and gift cards for your opinion. Stack your points and redeem them: Simple! No hidden fees and completely free!


Fortunately, the place has information all around that helps you identify free product scams so you can know what to avoid.
The site does ensure that every free product offer it gets is thoroughly reviewed to ensure that you don't get into any trouble.
Check out Free Stuff Times when you are looking for quality details on the latest freebies and contests as well as coupons.
The top part of the site lists details on everything you can come across here.
The site is updated regularly but you can always go to individual sections at the top to find specific products based on certain sections of a grocery store.
You can find special cash offers for shopping at very specific places.
You can even learn about free screenings in your local area.
These refer to free screenings of movies or other things that might be coming where you are.
Websites That Offer Free Stuff For Very Specific Fields
Pretty Thrifty is a place that focuses on beauty products.
It offers reviews of many great beauty items but one popular feature of the place comes from how it includes many great giveaways.
This is a place where you can get attractive samples of a variety of products.
As you look around, you will find information on free spa services, free samples of beauty items and much more.
If you're a mother who needs stuff for taking care of your family then Freebies 4 Mom will be a great place for you to check out.
This place focuses heavily on free samples of baby care products and items for children.
Promo codes for various baby products that are available online can be found on the site too.
There are even a few contests on the site.
These relate to specific kinds of contests where you can enter into items to get free things or rewards.
The thing I like the most about this section is that it lists information on how to enter into various contests with no purchase necessary.
They give you all the details on where you can mail in to enter various contests.
Remember, actually paying money for some products is not actually going to increase your odds of winning a prize.
Influenster is a popular platform that connects consumers with product samples, reviews, and recommendations.
Users can sign up, participate in surveys and social media activities, and qualify to receive free product samples in various categories such as beauty, skincare, food, and household items.
In exchange, users are encouraged to provide honest reviews and share their experiences on social media.
Smiley360 is a community-driven platform that offers free product samples to its members for testing and sharing their feedback.
Members can qualify for various product missions based on their demographics and interests.
Once selected for a mission, they receive free samples of the featured products and are encouraged to share their experiences through social media posts, online reviews, and word-of-mouth recommendations.
PinchMe is a website that provides free samples from major brands in exchange for honest feedback.
Users can create an account, fill out their profile, and choose from a selection of available samples.
Once the samples are received, users try them out and provide feedback on the PinchMe platform.
The available samples cover various categories, including beauty, personal care, pet care, home, and food products.
Vocalpoint is a community-based platform that offers free samples, coupons, and exclusive offers to its members.
The website focuses on empowering women and provides samples and offers tailored to their needs and interests.
Members receive product samples, coupons, and discounts to try new products and share their opinions through reviews, surveys, and social media engagement.
Forums For Info
SlickDeals.net is a place that lets people know all about the many great deals that are available online.
It is a large forum that has information on massive savings for a variety of products.
But what makes this place so popular is the Freebies section.
This lets you in on many great free samples that you can get today.
The forum here lets you find information on many free samples being given out.
Each listing is for a unique product in a variety of fields although I can't tell what angle the place bends towards.
The site and the community are very strong in terms of finding information on free stuff.
It always gives you updates on what's new and interesting.
You won't have to sign up for anything that requires surveys or other complicated things either as the Freebies section heavily reviews each post to see if what is offered is actually for free with no strings attached in any way.
Another forum to look at is the FatWallet.com Free Stuff forum.
Check out this forum to get information on free giveaways from many services plus samples.
This section focuses heavily on free giveaways from many major entities.
You will see information on free Kellogg's Family Rewards Program codes and the Pampers Gifts to Grow Points program.
These details will help you learn about how to find special rewards in these programs and more without having to purchase anything.
You can even get information on free Redbox rentals with many of the special deals requiring no purchase necessary.
This forum also has details on fake free offers.
This helps you with identifying anything that might be questionable.
This is another place where the community of users is active and knows what to do when finding different products of value for sale.
There's yet another forum to see in the Spoofee.com Freebies and Giveaways forum.
This place already has a number of forums dedicated to different free offers of value but this one is an especially great spot for how it offers regular updates on all kinds of special items.
It especially focuses on seasonal promotions as well as technology offers. You can find information on free software programs throughout this page.
Again, everything is regularly updated but it does help to be cautious so you don't run into anything questionable.
Still, the site works to ensure that all the giveaways being highlighted are ones that have no strings attached.
My Overall Summary For How to Get Free Product Samples Online
No matter what types of free samples you are interested in, it helps to look around carefully to see what is available.
You will be surprised at the extensive variety of places you can visit to get the samples that you want.
I especially like how the world of free samples is vast with so many companies offering stuff to people.
But do make sure you look around and that you have your own separate email address for taking in samples.
Remember to look at the different sections of each page and see what the deals are in terms of how you can get free stuff.
Don't forget to watch for the quality of these deals as you don't want to get into something that might be fraudulent or questionable in nature.
Related Posts:
Earn Everything… nearly!
Join Ipsos iSay, one of the few Faithful and Honest survey panels and earn prizes, gift cards and donations. Stack your points and redeem them: Simple! No hidden fees and completely free!