45 Ways to Get a New Mattress FREE (Online or Near You)
Updated on: by Amy Kennedy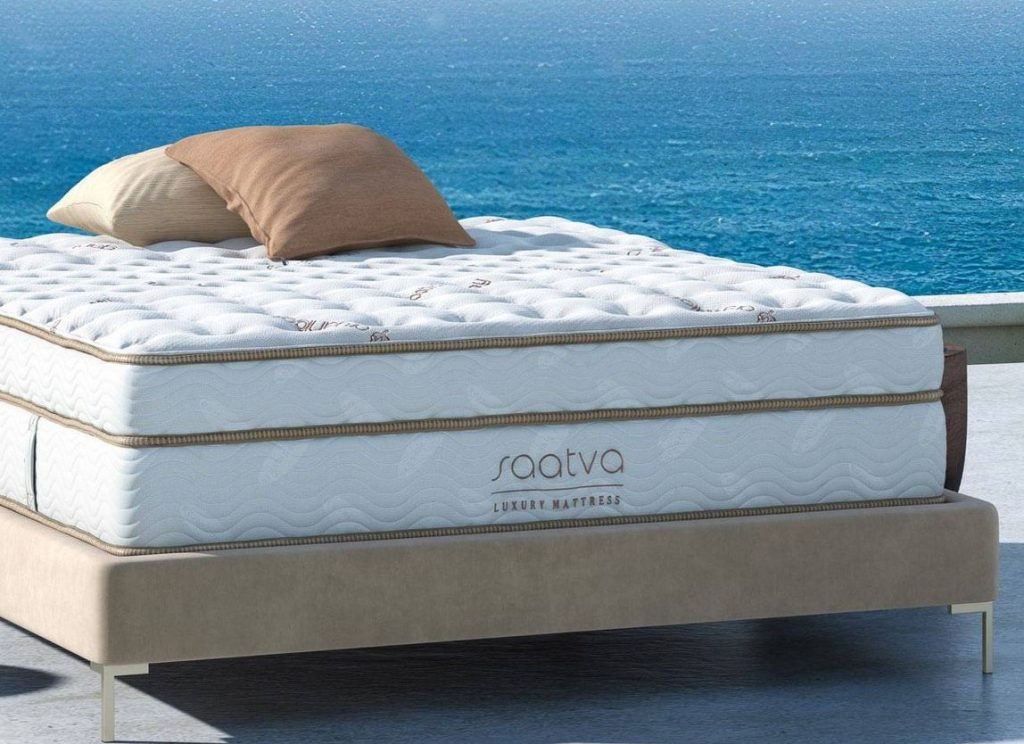 Mattresses are usually expensive purchases for your home, but they're absolute necessities for a good night's rest.
Need Easy Extra $350+/Month For Free?
While most mattress companies have ongoing sales for their mattresses, they can still be pretty expensive to buy.
It's natural to want to look for free beds and mattresses to save some money!
That's why I've rounded up a list with over 40 ways to get a completely free mattress for the rooms in your home.
It's time to start sleeping comfortably without putting a hold in your wallet.
How to Get a Free Mattress Online
Many of the ways I'm going to talk about getting a free mattress online focus on free trials that mattress companies offer.
Some people abuse this privilege by getting a free trial and asking for a refund before it ends (this article talks about it), but I don't suggest doing that.
Think about it: If enough people did this, then mattress companies will keep losing money.
If they lose money, they'll probably pull the plug on their free trials altogether and/or boost prices, which only harms mattress buyers in the end.
Instead, use these free trials to try out your mattress for several weeks or months and make sure it's the right fit for you.
If it's not, you always have the option of contacting the company and getting a different mattress that might work better.
I also list several other ways to get a free mattress that don't involve trials, so keep reading!
Buy Furniture Sets
Sometimes, furniture stores will give you a free mattress when you buy other furniture from them, especially bedroom sets.
For example, you might buy a bed frame, dresser, and night stand, and the company will gift you a free mattress to go with your new bed.
Royal Furniture does this sometimes, as does Modloft.
Try One for 18 Months from Idle Mattress
Idle Mattress is the only company that I know of that lets you try a mattress for free for longer than one year!
Need Easy Extra Cash?
Pinecone Research, a leading name in online survey panel honesty, absolutely guarantees $3 cash for every survey you complete!
Take advantage of their time limited New Membership drive and register NOW. Join today: 100% free!


This one is for 18 months, which is an exceptional amount of time to try a mattress and make sure it's perfect for you.
These mattresses also include a lifetime warranty, so if anything ever goes wrong with the mattress, you can get your money back.
Nectar Mattress allows you to email the company within one year of purchasing a mattress if it fails to meet your expectations to get your money back.
You'll get a full 365 nights to test it out.
Get a Mattress for One Year from Brentwood Home
Try a Brentwood Home luxury mattress for a full year while having the benefit of getting your money back if you're not 100% satisfied.
Shop with Avocado for a One-Year Trial
Avocado's organic mattresses offer free shipping and a trial for a full year.
Get One Year of Free Sleep from DreamCloud
You can try a DreamCloud mattress for one year from the date of purchase for free.
You'll also get a free mattress protector, pillows, and sheets when you choose a bed bundle!
Benefit from a One-Year Sleep Trial from Spindle
Spindle is yet another company that offers a 365-night free trial for your mattress.
Mattress Warehouse is a popular mattress store that seems to always have some awesome deals on mattresses.
One of the deals you can find sometimes is a buy one get one free promotion, where you can get a brand-new mattress free with your purchase of one.
This is an excellent deal when you need to upgrade multiple mattresses in your home.
If you don't love your Nolah Mattress within your 120-night trial, someone will pick it up for free and donate it to charity.
Plus, you get your money back.
Layla is another company that gifts buyers a 120-night trial for their mattresses.
Use the WinkBeds 120-Night Trial
Try a WinkBeds mattress for 120 nights before you decide whether you want to keep it.
GhostBed Has a 101-Night Trial
GhostBed offers 101 free nights for its mattress trial.
The offer is available for all its mattresses, including the adjustable ones.
YogaSleep Also Has a 101-Night Trial
Don't love your YogaSleep mattress?
Return it within your 101-night free trial and get your money back.
Nest Bedding offers a 100-night risk-free trial and a lifetime warranty to protect your large purchase.
Buy from Purple and Get 100 Nights Free
Purple is an award-winning company that allows customers to test out its mattresses for 100 nights before deciding to keep them.
Order from Casper and Get 100 Nights Free
You'll get a 10-year limited warranty and 100 nights of sleep free when you buy a mattress from Casper.
Become a Mattress Tester
Some companies have programs for consumers to test out their mattresses for free.
These usually aren't heavily advertised, so you may need to dig around a website or contact support to ask about them.
Usually, these programs will allow you to test a new mattress that has just been released or will be soon to provide your honest feedback.
You'll get to keep the mattress since it can't be resold to someone else, and as part of the tester program, you don't have to pay for it.
Become a Sleep Blogger
Sleep, mattress, or home bloggers sometimes partner with mattress companies for reviews of their products, including mattresses that they get for free in exchange for the review.
If you have a large following on your blog and good social media numbers, you'll likely appeal to mattress companies looking to work with bloggers.
Earn Everything… nearly!
Join Opinion Outpost, one of the few faithful and honest survey panels and earn cash and gift cards for your opinion. Stack your points and redeem them: Simple! No hidden fees and completely free!


You can check if a mattress company has an ambassador program by browsing its website or contact the company directly to ask.
Enter Sweepstakes and Giveaways
Keep your eye on online sweepstakes and giveaways to know when there are new ones you can enter for a free mattress.
Some blogs have mattress giveaways when they partner with mattress companies, but you can also follow giveaway-specific sites, like SweepstakesAdvantage.
Follow Mattress Companies on Reddit
Some mattress companies are known for gifting people on Reddit a free mattress and other awesome coupons to shop with them!
For example, Purple's subreddit had a contest for Redditors to create a sleep shirt design. The top three winners received a free Purple Mattress and other goodies from the company.
You never know what'll come along when you're on Reddit.
Follow Them on Social Media Too
The same can happen when you follow your favorite mattress brands on social media.
They sometimes host contest and giveaways exclusively for followers, so it helps to have them on your follow list.
If you can't find a brand on social media, go to their website and look for links to their social media pages.
Take Advantage of Free Trials
Many mattress companies offer free trials, allowing you to test their mattress for a certain period of time before deciding whether to keep it or return it.
Examples of companies that offer free trials include Idle Mattress (18 months trial), Nectar Mattress (365 nights trial), Brentwood Home (1-year trial), Avocado (1-year trial), DreamCloud (1-year trial), and Spindle (365-night trial).
These trials give you the opportunity to ensure the mattress is the right fit for you.
Look for Promotions and Deals
Some furniture stores or mattress companies offer promotions where you can get a free mattress when you purchase other furniture or bedding items.
For example, you may find offers for free mattresses when buying bedroom sets or during buy-one-get-one-free promotions.
Keep an eye out for such deals, especially from retailers like Royal Furniture, Modloft, and Mattress Warehouse.
Participate in Mattress Tester Programs
Some mattress companies have programs that allow consumers to test their mattresses and provide feedback.
These programs may offer the opportunity to receive a free mattress that is either newly released or soon to be released.
Look for information on the company's website or contact their customer support to inquire about such programs.
Enter Sweepstakes and Giveaways
Keep an eye out for online sweepstakes and giveaways that offer a chance to win a free mattress. These giveaways may be hosted by mattress companies themselves or in collaboration with bloggers or other platforms.
Websites like SweepstakesAdvantage can help you find mattress giveaways.
Additionally, following mattress companies on social media platforms like Facebook and Twitter or subscribing to their newsletters can provide you with information on contests, giveaways, and promotions.
And Subscribe to Their Newsletters!
Finally, subscribe to mattress company newsletters, which you can usually do through their websites.
Companies regularly send out emails letting subscribers know about company news, sales, and contests or giveaways, so you can be one of the first ones to find out if there are any mattress giveaways available.
Bonus: Make a Purchase from Leesa to Donate a Bed
If you don't need a mattress for yourself but would love to give one to someone else, shop with Leesa.
Leesa donates one mattress to a child in need for every 10 it sells.
If you make a purchase, you count toward one of those 10, so you're essentially helping a child in need get a brand new mattress to sleep on.
Cool, right?
Get a Free Mattress Near Me
Now, here are some ways you can get a free mattress near you.
Many of them will get you a used mattress, which could be helpful for an affordable bedroom makeover or filling in a guest room.
But some ideas could also give you a brand new mattress for free.
Ask Family and Friends
First, you can always ask people you know, like your family or friends.
If you're in desperate need of a mattress, they might be able to help you out by giving you a used one or helping you pay for a new one.
Facebook
Put a post on Facebook to see if anyone you know has a mattress they're willing to give away.
You can also browse the Marketplace to find one there for free or cheap.
Craigslist
Check the "Free" section on your local Craigslist page to see if any mattresses are available.
You might also be able to find one for cheap in the for sale sections if there aren't any free ones listed.
Local Department of Health or Job and Family Services
Your local health department or Job and Family Services department might be able to help you get a new mattress if you fall within income guidelines.
These departments have connections to other community services and can point you in the right direction.
Churches
If you belong to a church and need a mattress, you might be able to ask the church for help.
Churches usually have funds set aside to help their members in need, and a mattress is a necessity yours might be willing to help pay for.
Yard Sales
A yard sale might have a cheap mattress available, and you could try to talk the yard sale owner down to giving it away for free or for a few dollar, especially if you have something to trade.
Thrift Stores
Thrift stores are known for cheap stuff, but you can sometimes find free stuff too, especially if they're still in a donation pile and haven't made their way inside the store yet.
You can always ask a worker if you can have a donated mattress for free if you see one.
Buying and Selling Apps
Use local buying and selling apps like OfferUp and 5miles to see if anyone has a mattress for free or cheap near you.
American Red Cross
The American Red Cross helps people who have been affected by some type of disaster, and it could help you out if you meet its qualifications.
Go here to find your local chapter and ask for help.
Freecycle is a site with local groups in which you can find free stuff people are giving away or post something free that you need.
Once you find your local group, create a post asking for a free mattress.
This is a New Mexico organization that helps families get free beds for their children that come from donations of others.
Ask Hotels and Apartments
Hotels and apartment complexes have to upgrade their mattresses every so often.
You can ask the ones in your area if they'll be getting rid of old ones any time soon and, if so, if you can grab one from them.
This organization gets free furniture for families in specific California areas.
If you want to get a mattress from Furniture for Families, you'll need to have your caseworker contact them.
Cribs for Kids is based in Pittsburgh, PA, and it helps families in need get cribs for their babies.
You can request a crib if you meet the requirements.
Furniture Banks
Furniture banks are available across the United States to help families in need get the furniture they need for their homes, including mattresses.
You can usually find out what's available in your area by contacting your local Job and Family Services.
Hope to Dream comes from Ashley HomeStores and gifts children in need a free bed.
You can find participating stores here.
Furniture Stores
Furniture stores that are updating their inventory might be willing to get rid of old inventory or at least sell stuff for cheaper.
It doesn't hurt to ask.
If you're a senior, you can head to this website to find helpful resources in your area.
Some localities may have furniture and mattress programs for seniors.
Can You Get a Free Mattress from Amazon?
When I dug into this topic, I found a lot of questions about getting a free mattress from Amazon.
Is it possible?
Well, like the free mattress trial scam that some people participate in, there's a similar scam through Amazon that others use to get a mattress for free.
What they do is order a mattress from Amazon and then ask for a refund.
You can't return a mattress because they aren't able to be reused.
So Amazon will refund you and you get to keep the mattress.
Again, this isn't a legitimate or moral way to get a free mattress from anywhere, including Amazon, so it's best to skip this method.
Long story short: Amazon does not give out free mattresses.
Things to Consider When Getting a Used Mattress
There are a few problems that can come from a used mattress, unfortunately, and they could become big problems.
First: bed bugs.
Yes, it's gross to think about, but they're all too common with used mattresses.
Bed bugs like to hide in mattresses, so if the home or place you're getting the mattress from has bed bugs, they're probably hiding in the mattress.
You'll know if they're there if you see streaks of red or brown on the mattress.
If you look closely enough, you might even spot some of the little critters.
Do a thorough check of the mattress – no matter who or where you get it from – to look for bed bugs before bringing it home.
Next, look for mold, mildew, and overall cleanliness of the mattress.
If you spot any mold or mildew areas, you might want to reconsider bringing the mattress home, as these could have severe consequences for your health.
You should also check the mattress tags to see how old it is.
Most mattresses last between 5 and 10 years, and the tag should have the manufacturer date on it.
A mattress that's older than 10 years shouldn't be used in most cases, as it may not provide you with the support you need for a cozy night of sleep.
Conclusion: Upgrade Your Mattress FREE
So, we're all in agreement that free trials are amazing, right?
Most companies nowadays have 100-day free trials or longer for their mattresses.
Some still give 30-day or 60-day trials, which is still an excellent amount of time to try a mattress and make sure you like it.
But I do want to take a moment to remind everyone that these trials are given in good faith by companies that really want to make sure you have the right mattress for your needs.
It's tough buying a mattress online.
And even one you buy in-store can feel amazing in the store but not work for you night after night.
That's why these trials exist; not for people to take advantage of them by "testing" the mattress and returning it.
In conclusion: Think of the morality behind it.
Yes, there are some people who use a trial to continue to get free mattresses.
But there are plenty of others who are honest and use the trial the way it was intended.
With that said, I'd love to learn about any other ways to get free mattresses (legitimately and morally) that have worked for you, like charity organizations or local places you've been able to get them from.
Drop your ideas in the comments!
Related Posts:
Earn Everything… nearly!
Join Ipsos iSay, one of the few Faithful and Honest survey panels and earn prizes, gift cards and donations. Stack your points and redeem them: Simple! No hidden fees and completely free!