Can I Get Paid to Be an Audience Member of My Favorite TV Shows?
Updated on: by Amy Kennedy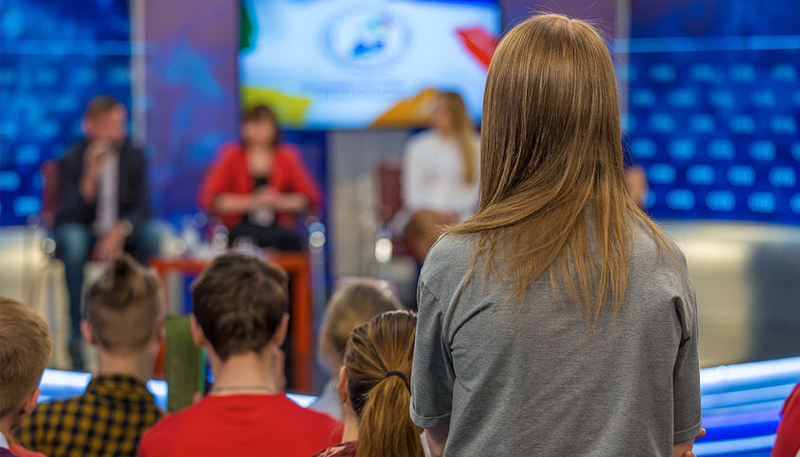 Did you know that you might be able to get paid to watch your favorite TV shows live?
Need Easy Extra $350+/Month For Free?
Although not all shows pay their audience members, some do.
Some people even scope out the paying gigs and become paid audience members for a living!
If you're looking for audience work in Los Angeles or NYC, this article is for you.
It's not typical to be able to turn this type of work into full-time work, but it could at least give you some extra cash in your pocket.
Plus, you get to be entertained while making some money.
What could be better than that?
Read on to learn more about this interesting money-making opportunity.
Can I Really Get Paid to Be an Audience Member?
You know those talk shows and courtroom shows where you wonder why some people would willingly sit through them?
Many of those shows pay their audience members to be there.
So, yes, it's a totally legit opportunity.
Some shows may not have as much interest from people to participate in the live tapings as they do from people who want to watch them on TV.
So, to entice people to come to the tapings, they pay their audience members.
If you're spot in the audience doesn't seem genuine, well, it may not be.
That's something you'll have to figure out if your comfortable with yourself.
If not, this may not be the right opportunity for you.
Need Easy Extra Cash?
Pinecone Research, a leading name in online survey panel honesty, absolutely guarantees $3 cash for every survey you complete!
Take advantage of their time limited New Membership drive and register NOW. Join today: 100% free!


But, you're not really doing anything dishonest.
Instead, you can think of yourself like a paid extra on a TV or movie set.
It's really no different than acting.
The best part is that you don't typically have to fit any sort of mold to get paid as an audience member.
Producers tend to look for a good mix of people, so whether you're old or young doesn't really matter, so long as the content of the show is kid-friendly.
Just about anyone can do this type of work if they find the right show.
What Do I Do as an Audience Member?
You won't need any special skills, either.
Unlike paid actors who need to look and act a certain way and do specific things for their role, your role won't require any technical skills.
You may have certain things you'll need to do, like laugh or clap when you're cued to.
Other than that, most producers just want you to be yourself.
You'll be acting the part of a regular, unpaid audience member.
Act natural, and you're good to go.
Aside from that, you may have a few requirements.
For example, the show might want the audience to wear certain types of clothing, like dressed up or casual wear.
The show will let you know all this ahead of time, though.
Just be sure to adhere to all rules, or you may risk not getting paid at all.
Why Would I Want to Do This?
Honestly, this is just about the easiest way possible to make money!
And, you get to be entertained while doing it.
Even if you're not a huge fan of the show, you can probably still get some enjoyment out of the experience.
It can be thrilling to watch a live taping, regardless of what show it is.
Paid audience members sometimes get some fun perks thrown it that could make it even more worth your while.
In addition to getting paid, you might even get free transportation to and from the studio.
Usually, airfare isn't included, which is why this type of gig is best for people who live in New York City or Los Angeles, where most tapings occur.
But, you might get an offer to meet at a spot within the city for a bus to pick up you and the other paid audience members and transport you to the studio.
Then, you'll get a ride back to your vehicle, too.
Some shows also have free meals before the show for the audience members.
They'll sometimes let you know in advance if this is the case, but other times you won't know until you get there.
Still, it's a welcome surprise for most people!
And, finally, as an audience member of a live taping, you could even score some awesome audience prizes!
Earn Everything… nearly!
Join Opinion Outpost, one of the few faithful and honest survey panels and earn cash and gift cards for your opinion. Stack your points and redeem them: Simple! No hidden fees and completely free!


Some shows hand out swag like show t-shirts and other memorabilia to all audience members, even if they're paid.
Some live shows also have random drawings and giveaways of great prizes for the audience.
So, on top of getting paid, you'll also stand a chance to bring home some great free stuff from the show.
Oh, and in case you needed a reminder – you get paid just for sitting in the audience for an hour or so of taping!
How Much Can I Make?
These types of gigs all pay differently, depending on how much of a need there is for audience members.
Some shows get most of their audience members based on interest alone.
These gigs likely won't pay as much for audience members when there are only a few spots to fill.
But, other shows that need some major help filling up the seats could pay more.
You can expect anywhere from $40 to $70 per taping, just for sitting for about two hours total.
As a bonus, you can almost always expect to get paid that day, in cash, so you won't need to be waiting around for a check or wondering when you'll get your money.
Where to Find Paid Audience Member Jobs
Audience-sitting jobs aren't available everywhere, unfortunately.
Those who live on either coast of the United States, as close to LA or NYC as possible, will have an easier time finding these gigs.
But, if you're going to be traveling to either one of those areas, you can always try to get paid tickets for the time you'll be there.
Here are some websites where you can find shows willing to pay their audience members!
Auditions Free is mostly for finding acting gigs for all types of TV shows and movies, but you might also be able to find some paid audience member gigs.
You can check the "Extras" section to find these gigs, or use the "Search Auditions" function.
The feature uses search engines to find paid audience gigs when you type in "paid audience."
Craigslist may also be a good way to find this type of work.
Search the New York or Los Angeles listings in the "gigs," "TV," or "talent" sections.
Or, simply use the search feature to look up "paid audience member."
Check back every couple of days so that you can have first dibs on the newest listings.
Mandy is a site for actors, musicians, extras, and other people in show business to find jobs.
Sometimes, you'll find some gigs for paid audience members.
You can create a profile on the site, and casting directors can also search for you.
Be sure to note that you're specifically looking for paid audience member gigs.
New York Show Tickets is the best place for you to find TV shows taping in NYC that will pay you to be a part of the audience.
This website lists the upcoming live tapings of shows you can get tickets for.
Look in the column labeled "You Get Paid" to find out if it's a show that pays audience members.
If it's blank, there's no payment.
If you do get paid, you'll see the amount in this column.
Beat Bobby Flay, for example, pays audience members $65, but The Chew doesn't pay its audience anything.
The table is also helpful for finding out how far in advance you should reserve your tickets, the likelihood of standby ticket availability, and where you can purchase tickets.
Onset Productions is a company that focuses on audience and specialty casting for a variety of shows.
The company focuses on the New York, Los Angeles, New Orleans, and Stanford areas, so those in those cities will have the best luck finding gigs.
You can create a profile for casting directors to find on the site.
Then, you can apply for the shows you're interested in.
A casting director will look over your profile and approve you if you fit what they're looking for.
Your ticket information will be emailed to you, so be sure to check spam folders if you were approved but can't find them.
You'll need to print the tickets once you receive them, and then you're in!
Note that some of the tickets on this site are free instead of paid, so be sure to look for this information if you want only paid tickets.
Standing Room Only is a company that helps connect casting teams with paid extras and audience members.
You can register a profile on the site for people to find you.
Like Onset Productions, some of the tickets are free, so you'll have to note that you're specifically interested in paid tickets.
This company also pays an hourly rate instead of a flat fee, which could be a good thing if you're expected to be there for longer than the show.
TVTickets.com is a popular platform that offers free tickets to TV show tapings.
However, they also have opportunities for paid audience member roles for select shows.
While payment availability may vary, it's worth checking their website regularly and exploring their listings for any paid audience gigs. Keep in mind that they primarily focus on shows in the Los Angeles area.
Audience Associates is a company that provides audience coordination services for TV shows and live events.
They occasionally have paid audience member opportunities available.
You can visit their website and navigate to their "Audience Information" or "Join Our Audience" sections to find out more about current paid gigs and how to apply.
Audiences Unlimited is another platform that offers free tickets to TV show tapings.
However, they also feature paid audience member opportunities for specific shows.
While the availability of paid gigs may vary, you can keep an eye on their website and search for any paid audience roles in their listings.
Backstage is a well-known platform for actors and performers to find casting calls and auditions.
While their main focus is on acting jobs, they occasionally list paid audience member opportunities as well.
You can search their website using relevant keywords like "paid audience member" or browse through their casting notices to see if any paid audience gigs are available.
Conclusion: Getting Paid to Be in the Audience
This type of gig is a very unique way to make money.
It's definitely best for those who live in large cities where TV show tapings typically take place, like New York City or Los Angeles.
But, if you're looking for some extra cash, you can't do much better than becoming a paid audience member.
It's quick, easy work, and you get some entertainment in the process!
Would you consider this type of gig for some money?
Have you been a paid audience member?
Tell us all about it in a comment!
Related Posts:
Earn Everything… nearly!
Join Ipsos iSay, one of the few Faithful and Honest survey panels and earn prizes, gift cards and donations. Stack your points and redeem them: Simple! No hidden fees and completely free!