Best Way to Get Paid to be Someone's Friend or Companion
Updated on: by Amy Kennedy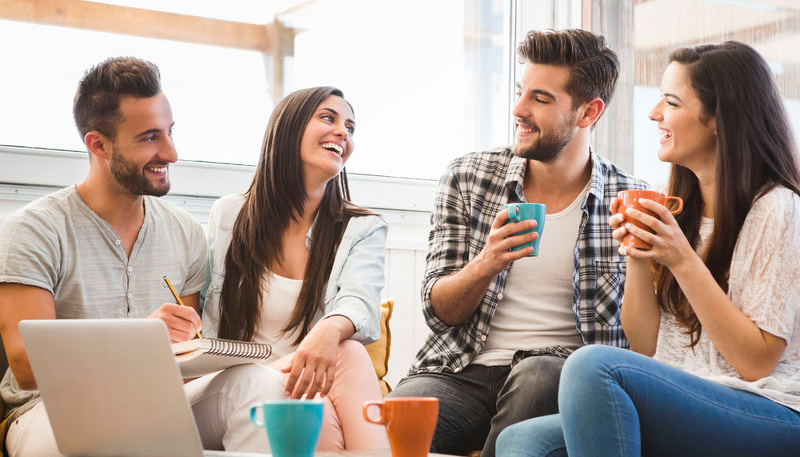 Are you looking for another quick, simple, and fun way to make some extra money on the side?
Need Easy Extra $350+/Month For Free?
Are your bills piling up or do you have huge college loans to pay back?
If so, you'd be surprised to learn that you could actually get paid to be someone's friend and enjoy a fun night out with a pal!
It's important to note that this is NOT an escort service or anything of the like.
This is meant to be solely a friendship where one person pays you to attend an event or a dinner with him or her.
All you'll need to do is to entertain and spend a few hours with someone who is looking for more company.
You may need to go with him or her to a party, wedding, or a movie and a dinner.
You'll both enjoy going out and you will actually make money for being a friend!
There's a ton of places you can go to entertain and accompany your new friend.
The company that created this program is called RentAFriend.
You can check out the site by going to rentafriend.com.
The company connects those who are looking for some extra cash to anyone that is seeking companionship or someone to accompany him or her to an event.
Get Paid to be a Friend
From this description, do you think RentAFriend is a dating website?
It's not!
It's vital to position the website apart from dating sites or escort services.
This is solely about creating platonic friendships.
Need Easy Extra Cash?
Pinecone Research, a leading name in online survey panel honesty, absolutely guarantees $3 cash for every survey you complete!
Take advantage of their time limited New Membership drive and register NOW. Join today: 100% free!


At most, if you work for the RentAFriend company, you will be a platonic escort to a wedding or another event.
So if you need more money and you join this website, you'll get paid to literally be a friend to someone else.
Why Would Someone Pay for a Friend?
There are tons of reasons why someone may need to rent a friend and pay for some company.
The website itself offered a number of reasons why someone would hire a neighbor or friend to spend time with them.
For example, people who have moved to a new city or are merely traveling in a new place can hire local people to show them around the area.
Everybody would be happy to learn about a new city from a local and find out the best spots to hang out in or which places to avoid.
Often, people who travel for work need a friend to grab dinner with, have some drinks at a bar, or watch a sports game.
You may also find that there are people who would love to go out to a restaurant or go out to see a movie but don't have a friend or family member to go with.
Everyone they know might be out of town for a weekend.
These same people could rent a friend and go to the movies or a restaurant with him or her.
Additionally, lots of people working for RentAFriend tend to have special skills or impressive talents.
These platonic friends could show somebody an interesting hobby, teach new languages, teach painting or drawing, or even go out dancing with a new friend.
If you have another unique skill, mention it when signing up through the RentAFriend website!
Sometimes people may have had a date cancel on them a few days before an event.
If they have an extra ticket to a sports game or a concert, they likely don't want to go alone and instead rent a friend to go with them!
Often, people like to exercise with someone else as well.
You can rent a workout partner through this program as well.
The program can help set a man or woman up with a workout partner that can spot them and help speed up their training.
This can also be a lot less pricey than hiring a personal trainer.
How a Companionship for Money Program Functions
The RentAFriend company entails using a website and setting up profiles detailing everyone's personality and abilities.
Anyone looking to rent a friend can browse the website and look through the multiple accounts.
Users can spend as long as they want browsing on the site until they find someone they like.
When potential customers first log into the website, they begin browsing by entering in their location including their country, state, and zip code.
Customers can enter in the name of their city as well.
Using this information, customers can easily find new friends in their neighborhood.
This is a very simple way to find someone to hang out with locally.
If you sign up to be paid for providing companionship, your profile will need to stand out and be relatively interesting.
If you have a good profile, you'll find people reaching out to you.
Customers on RentAFriend will touch base and let you know what they'd like to do for fun.
Earn Everything… nearly!
Join Opinion Outpost, one of the few faithful and honest survey panels and earn cash and gift cards for your opinion. Stack your points and redeem them: Simple! No hidden fees and completely free!


Once you have people reaching out to you, you can work with them to set a rate for how much you'll get paid.
You can make plans for the day, time, and place where you'll meet and what activity the both of you can partake in.
The customers of the site will pay you directly.
If there's something you would prefer not to take part in and are uncomfortable with, feel free to decline.
There are no requirements before money is passed between the two of you.
You may end up working out with someone at the gym.
People might ask you to go bike riding or take part in indoor rock climbing.
You could also come across people who need someone to go with them to a concert, a casino, an art gallery, and even a gala or ball.
It could be an elegant affair like a wedding or a more casual outing like biking.
See also:
How You Can Begin Working on RentAFriend
Do you want to work through the RentAFriend website and make some extra money to help pay your bills?
If so, you'll just need to send in an application.
That's the first step to begin earning money through RentAFriend.
It will take you no more than five or ten minutes to fill out an application and send it in.
On a regular day, your application should be approved in less than one hour.
Once you're approved, you're done!
Your profile is then set up and goes live.
Now other people looking for a companion can get in touch with you.
When someone contacts you, you can figure out the rate you'd like to get paid as well as the activity the customer wants to take part in.
Make sure to figure out a day and time that works well for both of you.
When you've figured out this part of the event, all you need to do is show up, have a fun outing with your new friend, and get paid for your companionship.
Why the RentAFriend.com Website is Trustworthy
This website is completely free so it is a trustworthy place to make some extra cash.
Since it is free for platonic escorts, you know that there's no financial scam that could cause problems in your life.
Other websites often have you pay some money upfront in order to earn cash afterward.
Since this site is completely free, it tends to be more trustworthy, more beneficial and much easier to use.
Instead of spending more money to take part in the companionship program, all you need to do is post your profile.
The absolute best part of this site is that you get to keep 100 percent of the money that you earn!
There are no commission fees or membership fees so it's a much simpler and better platform than other sites.
Another important point to remember is that you will not be required to take part in any activity that you are uncomfortable with.
If anyone you talk to sounds even a little too strange or potentially dangerous to you, you don't have to go forward with going to any event.
You can always say, "no, thank you" and move forward with other customers.
And remember: you get to decide how much you want to get paid and what days or times you're available to go out on the town.
Another way to know that the website is trustworthy and the customers are safe is the qualifications for the customers.
These customers have to pay a membership fee to even access the website and contact you.
The users are pre-qualified by the company to seek out friends.
These individuals are real and serious about making new acquaintances in their neighborhood.
You will not be wasting your time by creating an account and trying to make money through RentAFriend.
How to Get Paid and How Much You'll Make
Through the RentAFriend.com website, you can make money through several means.
You can get paid through PayPal or ask to receive a check or cash.
You might be wondering how much money you can actually earn by acting as someone's friend for an afternoon.
Amazingly, you can make as much as $300 working on a few weekends or even up to $8,000 per month when you take up this job on a full-time basis.
The amount of money you get depends on the amount of customers that seek you out and how much time you put into this program.
RentAFriend.com is a real website with real people looking for friends.
If you want a fun and exciting way to make money, be sure to check out this site and post your profile.
Common FAQs About RentAFriend.com
1. What is RentAFriend.com?
RentAFriend.com is an online platform that allows individuals to rent the companionship of friendly people for various social activities.
It serves as a unique platform where users can find someone to accompany them to events, parties, movies, dinners, or simply engage in conversations.
RentAFriend.com emphasizes platonic relationships and strictly prohibits any form of romantic or intimate activities.
2. How does RentAFriend.com work?
To use RentAFriend.com, individuals seeking companionship can browse profiles of available friends in their area based on their interests, hobbies, and availability.
Once a suitable friend is found, users can send a message to arrange the details of the activity, including time, location, and any specific requirements.
Friends set their own hourly rates, and users pay the agreed-upon rate directly to the friend for their time and companionship.
3. Is RentAFriend.com safe?
RentAFriend.com prioritizes safety by implementing various measures to ensure a secure platform.
All friends on the site undergo a strict approval process, including identity verification, to maintain the trust and safety of users.
Additionally, the platform allows users to leave reviews and ratings after each interaction, helping others make informed decisions when selecting a friend.
However, it's important for users to exercise caution and use their judgment when meeting new people from any online platform.
4. Can I use RentAFriend.com for dating or romantic purposes?
No, RentAFriend.com strictly prohibits any form of romantic or intimate activities.
The platform is designed for platonic companionship only. Engaging in any romantic or inappropriate behavior is strictly against the website's policies.
The focus of RentAFriend.com is on providing friendly companionship for social activities, events, and conversations.
5. How much does RentAFriend.com cost?
RentAFriend.com is free to join and create a profile.
However, when renting a friend's companionship, users are required to pay the friend's hourly rate, which is set by the friend themselves.
The rates can vary depending on factors such as the friend's location, availability, and the nature of the activity.
Users are responsible for covering any expenses incurred during the activity, such as meals, tickets, or transportation, in addition to the friend's hourly rate.
Have you ever taken part in the RentAFriend website or a program like this?
If so, what did you learn?
Let me know in the comments below!
Related Posts:
Earn Everything… nearly!
Join Ipsos iSay, one of the few Faithful and Honest survey panels and earn prizes, gift cards and donations. Stack your points and redeem them: Simple! No hidden fees and completely free!