Top 27 Sites Where You Actually Get Paid to Do Homework
Updated on: by Amy Kennedy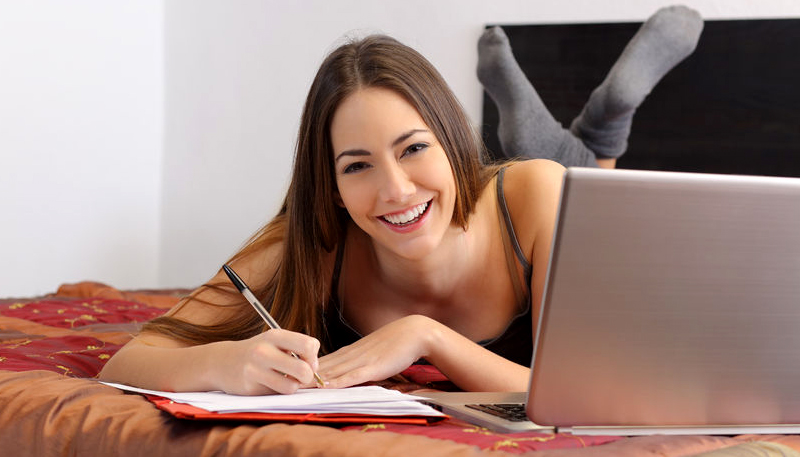 Remember when you were in school and you would have given anything to have someone do your homework?
Well, thanks to the wonder that is the internet, that day has finally come.
You might be out of school now, but that doesn't mean you can't take advantage of paid homework help in a totally new way: by making some serious dough.
Get Paid to do Homework
It's true!
There are quite a few sites out there dedicated to this very idea.
Now, we wouldn't want you participating in any academic dishonesty; so you'll find that most of the suggestions on this list are for tutoring sites.
Don't be dismayed, many tutors can make excellent money from the comfort of their own homes.
Keep on reading if you like the idea of earning money solving math problems online with students who desperately need your help.
Read more: 100 Best Legitimate Companies Offering Online Jobs for College Students
Wait! Is This Legal?
I know a lot of you will be wondering whether doing someone's homework for them is legal.
Remember that there's a big difference between legal and ethical.
Yes, doing someone's homework for them is legal.
There's no law stating that completing a homework assignment for someone else isn't okay.
However, it can definitely be deemed unethical, especially when you're completing assignments for college students looking to obtain a degree.
In some ways, it can definitely be looked at as cheating – but not really on the part of the person completing the assignment.
It's up to a student whether he or she wants to do everything themselves or have help with their assignments.
They're the ones who will pay the consequences of not understanding the material or getting in trouble with their school if they're caught.
You, on the other hand, will be providing a service that someone else paid for.
It's not up to you to decide whether it's good or bad.
If you feel like you're doing a disservice to students by completing their homework assignments for them, then you might want to go the tutoring route instead (there are some of both types of companies listed below).
However, if you're just looking to get paid from your help, then you can get started with any of the companies we list here.
Tutor.com is one of the most popular tutoring sites on the internet.
Tutor positions range from kindergarten- to college-level coursework.
Subjects like calculus, physics, accounting, and computer science are always in demand.
Pay varies based on subject level, and there are incentives given for consistent high-quality tutoring.
The process for applying is simple!
Check your skills against their concept list to see how you measure up, then complete the application online.
Tutor.com also requires its tutors to complete skills tests for each subject area they're interested in tutoring.
OneClass offers a different way for you to get paid for homework help.
Instead of directly answering questions from students, you can provide your own detailed notes for other students to learn from.
This is a great opportunity for students to make some money off taking notes, which is something they have to do for their own classes anyway.
You can also write shorter answers or essays or longer study guides for cash.
Others can also go to you directly if you're an expert in a subject to ask a question for help, so there is still some opportunity to earn with the question-and-answer model here.
It seems that notetaking is the way to go, though.
The site says that people can make an average of $470 per course as a note taker.
TutorMe is very similar to Tutor.com in name and function.
There are a few notable differences, however.
TutorMe has a base pay of $18 per hour, unlike Tutor.com which has a sliding scale.
Also, TutorMe has a wider variety of subjects, including Python and Piano lessons!
Read more: 59 of the Best Online Tutoring Jobs to Make Money from Home
Another one of those sites like Tutor.com, Chegg is already well-known for their textbook buyback and sales program.
They are also known for paying their tutors excellent rates, starting at $20 per hour!
They offer thousands of unique subjects for tutors to work with at various levels, from middle school to professionals.
You can simply log in whenever you have availability and Chegg will search through its database of students waiting for a tutor's help to match you with someone.
Chegg pays weekly.
This site is a little bit tricky to join, as PaperCoach finds their writers exclusively through specialized groups on LinkedIn.
But writers can bid on a paper, meaning that you will only get paid amounts that you choose for yourself.
Visit their website to learn more.
EduBoard is different than the above websites in that they utilize an "interactive whiteboard" style tutoring platform.
You can give homework help or test prep assistance to students using this platform with the benefit of having students come to you when you're available.
While you can choose your own compensation, EduBoard does take a 20% commission.
You'll need to pass an English test after completing an application to join the tutoring team.
First of all, GeeklyLab has an amazing name and high academic standards.
They pay their "Geeks" up to $20 per hour to tutor students.
Second, their devotion to academic honesty means that there will be no underhanded "complete me paper for me" requests from your students.
Only straightforward tutoring here!
Course Hero tutors don't just answer questions for their students, they work with them to explain the process.
Your rating (and thus your rate) increases with every question you answer and study resource you upload.
The Princeton Review is so much more than just another tutoring website.
They are the leading tutoring and college admission services company.
They have a strict application process before you can tutor online, but they provide a 2-to-5 week training program depending on the subjects you have applied to tutor in.
If you've found that you enjoy answering questions for other people online, you should see out incredible list of 21 Websites and Apps that will pay you to answer questions!
Studypool is known as a micro tutoring company.
Basically, that means that it's meant for quick tutoring projects and homework help.
I've spent some time on Studypool as a tutor and, although it's marketed as a tutoring company, it is a bit more helpful in the homework completion area.
It seems that most students here do expect completed assignments, like essays or answers to questions, rather than guided explanations that help them with their assignments.
Most tasks are relatively quick, though, and you can pick what you want to help with by bidding on questions posted by students.
If the student accepts your bid, you can get started working on it and get paid.
Studypool lets you sign in to work whenever you have availability, so it's great for people who need flexibility.
Upwork isn't a tutoring company, but you can definitely find gigs on this freelancing marketplace that are geared toward tutoring and academic help.
There are a lot of requests here for online tutors, but I've also seen several assignments geared more toward writers who don't mind helping out with writing an essay or two for students.
You can search Upwork yourself to find gigs related to homework help.
When you find something interesting, just use your bids, known as Connects, to apply.
Make sure your profile matches the kind of work you're interested in and explain in your cover letter why you're a good fit for the job.
Upwork's escrow system helps make sure freelancers get paid for every assignment.
Fiverr is another site where freelancers go to offer their services with a variety of skill sets.
One service a lot of Fiverr users offer is homework help, whether that's actually coaching students on their assignments or doing assignments for them.
Every service on Fiverr can start at just $5, but sellers have the option of adding more services for others to buy for more money.
If you want to complete quick 10-minute assignments, for example, you might charge $5.
Or, choose to write more in-depth answers and papers for more money.
Be very clear in the services you'll offer for each price so you can avoid having angry students come back with negative reviews, which can seriously affect your success on the platform.
When students ask homework questions online, expert tutors like you can answer them and get paid on SchoolSolver.
The only problem with this site is that students can pay only what they can afford, so they might only offer a few cents for you to answer their questions.
The good news is that you can choose what questions to help with, but just remember that good offers might be few and far between here.
Just Answer is one of the best sites to go to get paid to answer questions.
Here, you can sign up as an expert in a range of industries, from tax and accounting to electronics.
This site is designed more for professionals in each field, so it helps to have professional experience, a degree, and/or certifications in the subjects you apply for.
Most of the questions will also be higher level than grade school questions, too; it's likelier that you'll help mostly college students and adults.
Still, it can be a great way to work on your own schedule and provide help to others in your areas of interest.
Your pay will vary depending on the subject areas you help with and how active you are on the platform.
This site is a marketplace where students and experts can connect for help with their assignments.
There's no clear instructions on the site as to how to get signed up as an expert, but there's a full page of experts you can browse to get an idea of the type of people the site allows to help.
You can fill out the online contact form to inquire about becoming a contributor.
The title of Pay Me to Do Your Homework! says it all!
This place is all about connecting students with people who are available to do their homework, whether it's guiding them toward a solution or writing a paper for them.
You can use the live chat feature or online contact form to ask about the process for signing on as a tutor in your area of expertise.
Although AllHomework.net focuses on helping students with a range of subject areas, they are currently looking for people who are skilled in the English language and English writing and those who have excellent computer programming knowledge.
When you get accepted, you'll be able to access the database of available assignments and pick those to complete that interest you.
You'll need a valid PayPal account to receive payment.
TutorEye lets you teach the subjects you love online with a one-on-one tutoring model.
Since this site focuses only on one-on-one tutoring, you can provide more individualized instruction to your students for more personalized help with their homework.
TutorEye also offers flexibility, as tutors can log in whenever they want to earn some cash and get connected with students.
This online tutoring company offers instant homework help from available tutors.
Once you help a student, you can remain with that student to continue helping them with personalized instruction.
There's an online form you can use to apply, and you'll need to send in a resume.
MaxHomework offers high school to PhD-level help for students, mostly with writing their papers.
You can contact the email address or live chat on the website for more information about coming on board as a writer.
This homework company offers full-service paper writing from ideation to final editing for students.
Some of the subjects include Applied Sciences, Programming, and Natural Sciences.
Contact the company to find out how to apply for a position as an expert.
This company prides itself on its extensive network of tutors that are available to answer questions for students through college age quickly and accurately.
Tutors can choose from tons of categories to answer questions in.
Students can post their homework questions directly to the website for you to answer (you can choose what ones you want to help with).
You'll need to upload your transcripts to become a tutor.
Tutors get paid once per month via PayPal, bank transfer, and other payment methods.
23. StudyDaddy
StudyDaddy is an online platform where students can ask questions and get help from tutors.
As a tutor, you can earn money by providing answers, explanations, or solutions to the questions posted by students.
The site covers a wide range of subjects and academic levels, including math, science, languages, and more.
Tutors can set their own prices for answering questions and receive payment for their services. StudyDaddy provides a user-friendly interface for interaction between tutors and students.
24. HomeworkMarket
HomeworkMarket is a platform where students can seek help with their homework and assignments.
As a tutor, you can join HomeworkMarket and offer your expertise in various subjects. Students post their questions or assignments, and tutors can browse through the available tasks and choose the ones they want to work on.
The platform facilitates direct communication between tutors and students, allowing for personalized assistance.
Tutors set their own prices for completing assignments, and payment is made upon successful completion.
25. Assignment Expert
Assignment Expert is a website that connects students with experts who can assist them with their assignments.
It covers a wide range of subjects, including math, physics, programming, and more. As an expert, you can register on the site and browse through the available assignments.
Students provide details about their assignments, and you can submit your bid to complete the task.
If your bid is accepted, you can start working on the assignment and receive payment upon completion. Assignment Expert offers a flexible platform for experts to monetize their skills.
26. EssayShark
EssayShark is a platform that focuses on academic writing assistance.
Students can request help with essays, research papers, dissertations, and other writing projects. As a writer, you can join EssayShark and bid on available writing tasks.
The site allows you to communicate directly with the students to understand their requirements and provide high-quality written content.
Payment varies depending on the complexity and length of the assignments.
EssayShark offers a convenient platform for writers to earn money by helping students with their writing needs.
27. HomeworkHelp
HomeworkHelp is an online tutoring platform where students can seek help with their homework and assignments.
As a tutor, you can register on the site and offer your expertise in subjects such as math, science, English, and more.
The platform provides various tools for real-time communication, including a virtual whiteboard and chat functionality.
Tutors can set their own hourly rates and schedule sessions with students. HomeworkHelp offers a flexible and interactive environment for tutors to assist students and earn money.
Doing Assignments Online
There are a few things you should know before you jump into freelance homework tutoring.
The following tips can help you become an expert homework helper who might even be able to make this your full-time job.
Find Your Expertise
The first thing you should do is determine where your expertise lies.
Every company will ask you what topic areas you're skilled in, and you might have to prove it with your transcripts or certifications.
If you have an advanced degree, then this step will be pretty easy for you.
But for those of us with a less focused degree, that could be a bit more difficult.
Take a step back and think about the areas where you might call yourself an expert, whether that's your career or a passionate interest you have.
Many of these websites have a concept list or other testing tool to determine whether you meet the minimum necessary requirements to be a tutor in that subject.
You might have to complete some skills tests just to make sure you're a good fit.
This is good for you, too, because you might realize during the process that you're not as interested in a subject as you thought you were.
On some sites, professional experience also counts, even if you don't have a degree in an area.
Say, for example, you've spent the last few years as an accountant's assistant. Your experience on the job alone might qualify you to help students with their math homework, even if you don't have a degree in math.
It all depends on the tutoring company and their requirements.
Whatever you do, just make sure you're only picking a few key areas you have a deep interest in.
This will make it likelier for you to do your job well and will ensure that you won't get bored with the work.
If you have a bachelor's degree, another way to make money could be teaching English to foreign-language speaking students online.
With a degree, you should have plenty of opportunities when it comes to homework help and tutoring, so don't feel like you need to squeeze in one mold.
Keep Track of Assignments
Meeting deadlines is incredibly important in this line of work since students depend on you to get things completed on time so they can send it in on time.
Keep a planner or have some type of tracking system that helps you remember when each assignment is due.
Also, don't pick up too many assignments at once.
Most of them will only have a couple of days turnaround time, at most, and having three or four quick-turnaround assignments can put a lot of pressure on you and make your job quality suffer.
Don't Seek Clients Directly
In most cases, contacting your students directly outside of the private messaging system the company provides is against the rules and can get you banned immediately.
If you have a question, use the built-in messaging system.
If the student doesn't answer, you can always contact the company for a resolution.
It's never okay to ask a student for personal contact information so that you can contact him or her off the platform for more work directly without the company taking its cut.
Avoiding Scams
This industry, unfortunately, is littered with scams just around the corner.
Most often, these scams target you, the person who's willing to help customers pump out their homework assignments.
Scammers might have legit looking sites but don't operate in a legitimate way.
Usually, the company will fulfill customer orders by hiring you to help fulfill assignments but then won't pay you for your work.
Although this is most common, there are other sites that might pay homework helpers but then never deliver the promised materials to the customer who already paid.
The worst scams will do a little of both: Take customer cash, promise help from you, and then not pay you or deliver the completed materials to them.
The first thing you should do when you come across a new homework helping site is check that the site you are considering is legitimate.
The websites on our list have been researched, but there are dozens of others that might sound tempting (a quick Google search will show you several!).
Make sure that you read reviews by both homework helpers and clients.
Also, take a look around their website.
If you find several typos or glaring errors, you might want to consider why the company owner didn't hire a tutor themselves.
You should also be able to easily find information about that company, such as where it's located and its contact information.
Finally, protect yourself.
Never give out your bank information online if you aren't positive that you are working for a reputable company.
You should also never hand over your bank account information unless you've already gone through the company's onboarding process.
If possible, stick to only using your PayPal email address as your account for payment.
What do you think about getting paid to do homework online? Have you ever used these services as a student?
Let us know in the comments!
Related Posts: