Get Paid to Do Nothing: 20 Legit Passive Income Ideas
Updated on: by Amy Kennedy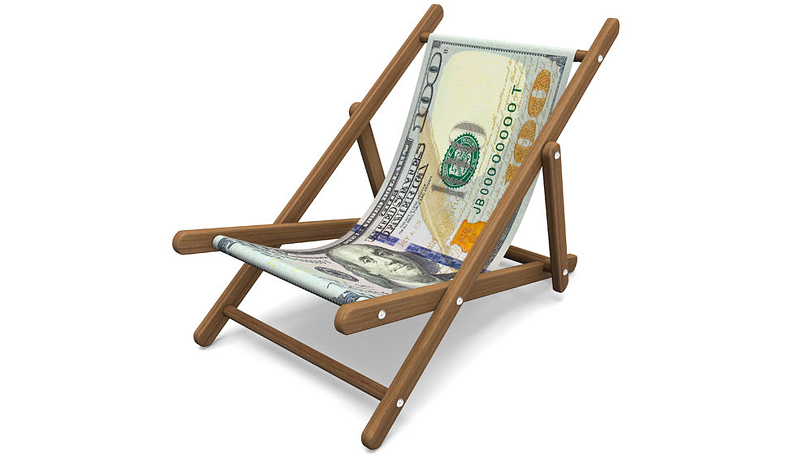 Unless you live under a rock, you've probably heard of people who make money passively.
Need Easy Extra $350+/Month For Free?
Online business owners talk about passive income a lot.
Why?
Because it's one of the many forms of revenue that they use to build their businesses.
Passive income and active income are different in that the latter requires you to actively do something to keep the money coming in.
Passive income, on the other hand, lets you earn money even when you aren't doing anything.
It sounds too good to be true, but it's not.
The catch is that you will have to do some work to spark your earnings from passive income.
But, once you get into the rhythm, it becomes a hands-off approach to earning money.
This beginner's guide is all you'll need to learn what passive income is, how it can benefit you, and how to get started earning your own.
What is Passive Income?
Most people tend to think of passive income as income that comes in with no work necessary.
That's not quite the case, so I wanted to clear up some misunderstandings about it.
Passive income is money that you can make anywhere, at any time.
However, there's initial setup required for you to make that money.
A lot of people talk about passive income in relation to blogging.
They also might make it seem as simple as setting up a blog, writing a few posts, and watching the money roll in.
Need Easy Extra Cash?
Pinecone Research, a leading name in online survey panel honesty, absolutely guarantees $3 cash for every survey you complete!
Take advantage of their time limited New Membership drive and register NOW. Join today: 100% free!


It's definitely not that simple!
In most cases, passive income requires effort and dedication to create something sustainable that generates income on its own eventually.
You'll need to put in at least some work to see that benefit.
Think of it like a gap in time between the work you do and the money you start seeing from it.
So, you may see nothing upfront when you do the work, but later start to see earnings after you're done working.
Why is Passive Income Beneficial?
I know, it sounds a little strange.
Why would you want to essentially do some work for free and have to wait to get paid for it?
That's not quite the whole story.
The benefit of passive income is that it can continue to make you money over time without you putting much work in, if any at all, after your initial effort.
For example, let's look at affiliate links.
Bloggers use affiliate links to link to products and services they want to promote.
When people use those links to make a purchase, the blogger gets a commission.
The blogger would have initially spent time writing a blog post around that product, promoting it on social media, etc.
But, once that blog posts gets ranked in Google and receives more traffic, the blogger could start to see affiliate sales.
Those sales can last months to years, depending on the contract the blogger has with the affiliate program!
So, aside from creating and promoting the post, the blogger doesn't necessarily have to spend any more time doing anything to generate income from that affiliate link.
As people come to the blog and purchase the product, the blogger's income can grow in her sleep.
That, my friends, is the beauty of passive income!
The idea behind it is to create less work with a better chance for more income that can continue for weeks, months, or years to come.
Passive Income Guide for Beginners: Earn Money While You Sleep
So, just how can you create this passive income thing for yourself?
There are so many ways to do it, online and offline.
It would be virtually impossible to list them all here.
Everything from investing in peer to peer loans to dabbling in real estate can be considered forms of passive income!
But, I'm going to talk about some of the most popular online and offline methods to generate passive income.
These are ones that just about anyone can do.
They're generally quick and simple to start and don't require high-level expertise like investing and real estate do.
Good luck!
Advertise on Your Car
One of the best things about passive income is that most methods take little to no upfront investment besides some time.
Car advertising is one that won't require you to fork over any cash to get started.
Earn Everything… nearly!
Join Opinion Outpost, one of the few faithful and honest survey panels and earn cash and gift cards for your opinion. Stack your points and redeem them: Simple! No hidden fees and completely free!


Check out Carvertise, a business that matches advertisers with people who don't mind advertising for them on their car.
You'll get your car wrapped in brand advertising at no cost to you – the advertiser covers the costs for this.
Then, depending on how much you drive every month (and where – those in big cities tend to get higher rates), you'll get a monthly paycheck for being a driving billboard.
This is a form of passive income because you don't need to do anything other than bring your car to an approved dealer to get the ad placed and drive your car, which you do anyway.
Those who drive for ridesharing companies like Uber or Lyft, or people who have long daily commutes, can likely make a decent monthly income from this.
Read More: All About Car Wrap Advertising: Earn Up To $1,000 Per Month To Drive!
Become an Affiliate
I used affiliate marketing as my example for passive income because it's one of the most popular methods to earn passively.
It takes a little bit of time to get used to because you'll have to figure out what types of products and services work best for your audience.
And, traffic to your website can play a huge role in your success.
If you don't have anyone viewing your blog or following you on social media, then your affiliate links have less opportunities to be seen.
Fortunately, even small blogs can benefit from affiliate sales if they have an engaged fan base.
So, don't rule this method out if you think your blog isn't big enough.
Sign up for some affiliate networks and check out their programs to see what ones the best fit for you and your audience might be:
Read More: The Best Way to Make Money with ClickBank Without a Website in 2018
Create a Website
Affiliate marketing also falls in this category.
You can absolutely make money with affiliate links on your website or blog.
Websites and blogs offer so many other money-making opportunities, though, and many of them can become passive income opportunities with some work.
For example, ad revenue.
It will take time, in most cases, for bloggers to see income from ads, especially until their traffic grows.
But, once they start getting consistent traffic, the income opportunities from ads are virtually endless.
Some bloggers have paid sections of their websites, too, where members can only receive access to valuable resources and information when they pay a monthly subscription or one-time fee.
After creating the paid section, there's little you'll need to do besides manage subscriptions and periodically update your information.
Read More: 3 Best Ways to Earn Money by Placing Ads on Your Website
Create Digital Courses
A lot of bloggers also create digital courses for various things, like growing your Instagram account or creating your first eBook.
You can sell digital courses directly on your website or create them on Udemy, which can handle the marketing aspect for you.
Either way, after the course creation, there's little work involved.
You should be available to answer questions from course students and make sure that your information is up-to-date.
But, it's possible to continue making money on your courses for years if they're considered valuable enough.
Design Greeting Cards
Several companies pay you to write or design greeting cards, but they don't all offer passive income opportunities.
Instead, it's a one-time payment for your writing or design.
CardGnome, however, lets you create your own brand of greeting cards on the site.
Others can purchase them and you'll get a royalty payment every time they do!
You'll get 10% of the price of each card, for a minimum of 10 cents every time one sells.
Then, when you reach $10 in your account, you can cash out.
You even get to keep all copyright to your designs and can add or remove them at any time.
Eat at Your Favorite Restaurants
Ever think you could get paid to eat at your favorite restaurants?
Well, you can using the Seated app.
This app works best for people who live in or near large cities who are interested in discovering some of the best dining spots around.
When you book and keep a reservation using the app, you can earn between $10 and $50 in rewards, which will be sent to you via an Amazon or Starbucks gift card.
Essentially, all you have to do is show up at the restaurant, confirm your reservation, and eat to get paid.
What could be better than that?
Read More: Top 22 Companies That Pay You For Food Testing
Monetize Your YouTube Channel
Since YouTube started letting users monetize their channels with ads, it's been pretty amazing how much money people have made by uploading their videos.
Daniel Middleton, a YouTuber known for his Minecraft videos, made the most money on YouTube in 2017 – about $16.5 million!
Creating and editing videos can be a lot of work.
But, once you have them published, you have the chance to start earning money with them as your subscribers and number of views grow.
YouTube has recently changed some of its requirements for the YouTube Partner Program, which is what you'll need to join to start running ads and making money.
They're stricter than they were, but if you have at least 1,000 followers and more than 4,000 hours of view time in the last year, you may be eligible.
Open a High-Yield Checking or Savings Account
This passive income method won't take you more than about ten minutes to set up!
Some checking and savings accounts are high-yield.
That is, they yield more interest than others.
If you tend to keep money sitting in your checking or savings accounts for a while, then a high-yield account could be perfect for you.
You won't necessarily make tons of money doing this, but every little bit helps.
And, it's all money you didn't have to do a thing to get besides sign up for the account and transfer your money in.
Check out NerdWallet's list of high-yield checking accounts that will grow your money in your sleep.
Rent Extra Space
If you have extra space in your home, don't let it go to waste.
Rent it!
Airbnb lets you rent space in your home (or your whole house!) so that you can get some money out of it instead of leaving it empty.
You can also use Spacer to rent out your parking space, or JustPark to rent extra garage space!
Rent Stuff You Don't Use
Have a car you don't use much, or maybe you have a few days per week that you don't need it?
Turo and HyreCar are just some of the companies that will let you rent your car to others who need it.
You can sit at home catching up on your favorite Netflix shows while your car makes money for you!
Or, see what you have collecting dust in the basement.
Do you have old baby gear that you no longer use?
You can also list just about anything for rent on PeerRenters.
Sell Lesson Plans
Teachers and homeschooling parents can list some of their favorite original resources for sale on Teachers Pay Teachers.
This incredible site helps teachers earn some extra cash (we all know they're not paid nearly what they're worth!) by selling their creative lesson plans, projects, and more to other teachers who need them.
They're all digital, so others can print whatever they need from the site.
You can set your prices and you'll get paid via PayPal when someone downloads a resource from you.
Teachers Pay Teachers pays once per month, usually by the 21st.
Sell Photos
Selling your photos to stock photography sites, of course, will take some time.
There's taking the photos, uploading them, and then waiting to get your first sale.
But, if you choose to upload your photos to a few stock photo sites (ensuring that they allow the sales of non-exclusive photos), you could see a bigger return more quickly.
Either way, you won't have to do much after you upload your pictures, other than doing some promotion.
Try the following sites and apps that allow users to sell their photos:
Read More:
21 Best Sites That Let You Make Money Online with Your Photography
Top 10 Ways to Make Money from Your Beautiful Instagram Photos
Shop Online
Cashback shopping is a great way to earn some passive income if you shop online already.
Through these rebate sites, you can find your favorite retailers, click their links, shop and make a purchase, and then receive a percentage of your purchase as a rebate.
Yes, you have to shop to get the money, but if it's something that you're doing anyway, then there's absolutely no extra work involved for you!
Ebates (review) and Swagbucks (review) are my two favorite cash back shopping sites.
Sign-Up Bonuses for Credit Cards
If you want to open a credit card account, then do yourself a favor.
Get one with an excellent sign-up bonus!
You can receive $300 or more, depending on the card you choose, just to sign up and use your new card.
Offers change all the time, so be sure to check out current offers and see what company is offering the best cash bonus for their cards.
US News has an up-to-date listing that you can see here.
Use Drop Shipping to Sell
Having an online e-commerce business can be an awesome and fun way to make money when you're not even working.
People visit your store, make a purchase, and you get paid!
However, when you're responsible for housing inventory and taking care of packaging and shipping, you'll find that there's a lot more work involved than you think.
That's when drop shipping can be the perfect option.
Drop shipping means that you sell something, but another company takes care of the behind-the-scenes stuff.
Fulfillment By Amazon (FBA) is one of those programs.
Sellers can ship their things to Amazon and the company will take care of the customer service, shipping, etc. when a customer buys it.
That's about as passive as it comes!
You can also design things like t-shirts or mugs on Zazzle and the company will print them and ship them for you!
Or, set up your own shop on Shopify.
This incredible online store creator lets you partner with other companies that can take care of printing, shipping, and anything else to make your job easier, depending on what you want to sell.
Write eBooks
Last but not least – eBooks!
When you create and sell eBooks with Amazon Kindle Direct Publishing, most of the hard work is done for you.
Well, besides writing the book, of course!
But once you have that part out of the way, it's smooth sailing.
Upload your book to the site and you can literally start selling it within a few minutes.
You can earn up to 70% royalties for every book you sell, which won't take much effort from you since you'll have it in front of the millions of people who use Amazon every day!
Invest in Dividend Stocks
Investing in dividend stocks is a classic method of generating passive income.
Companies that have achieved a certain level of stability and profitability often share their profits with shareholders in the form of dividends.
By owning stocks of such companies, you can receive a regular income stream without selling your investment.
While this method requires some understanding of the stock market and careful selection of stocks, it can be a reliable source of passive income.
Peer-to-Peer Lending
Peer-to-peer (P2P) lending is a form of direct lending of money to individuals or businesses without an official financial institution participating as an intermediary.
Platforms such as Prosper and Lending Club provide you the opportunity to fund loans for individuals and earn a return on that money.
However, the risk is higher as compared to a high-yield savings account, as the chance of borrower defaulting is a real possibility.
Renting Out a Room on Airbnb
Renting out a room or an entire property on platforms like Airbnb can provide a significant source of passive income.
Depending on the demand in your area and the quality of your space, you could potentially earn substantial income from short-term rentals.
It's important to remember that you'll need to account for the costs of cleaning, maintenance, and any regulations in your city or town.
Creating and Selling Online Courses
If you have expertise in a particular area, creating and selling online courses can be an excellent source of passive income.
Platforms like Udemy or Teachable allow you to create courses on a wide variety of subjects.
Once you have created and published the course, students can enroll in it, providing you with a source of income that can continue to generate revenue with minimal additional work.
Conclusion
Now, you shouldn't feel like a beginner to passive income anymore.
There are so many ways that you can achieve success in your passive income efforts, but the ways I listed above are some of the best tried-and-true methods to start with.
Good luck!
How do you earn a passive income?
Have any of the above methods worked well for you?
Leave us a comment and let us know!
Related Posts:
Earn Everything… nearly!
Join Ipsos iSay, one of the few Faithful and Honest survey panels and earn prizes, gift cards and donations. Stack your points and redeem them: Simple! No hidden fees and completely free!