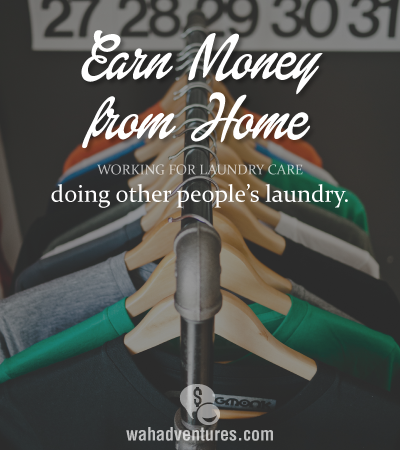 Are you the rare breed of person who, contrary to the rest of the population, loves doing the laundry? There's a world of individuals and families in desperate need of the laundry services of companies such as Laundry Care. Lend a hand and get the perks of a flexible schedule and the ability to work as much, or as little, as your schedule allows as a Laundry Care Associate.
Need Easy Extra $350+/Month For Free?
What is Laundry Care?
Laundry Care services offers a quick solution to all your laundry woes! A Laundry Care Associate picks up and drops off your laundry within 48 hours, returning your clothing clean and folded. They also provide additional services, such as ironing or dry-cleaning courier.
What is involved as a Laundry Care Associate?
As a Laundry Care Associate, you are responsible for procuring clients and delivering the best laundry care in a timely fashion. This involves picking up and delivering the laundry to your clients as well as the proper cleaning, folding, or hanging of the items. Other perks you bring to clients are ironing services, dry clean courier, and the ability to place a rush order for even faster delivery.
Is it an employee or contract position?
Laundry Care Associates are hired as a 1099 contract position. This means you are not an employee of Laundry Care but rather a contractor hiring out your services.
What are the job requirements?
In order to do this job, one must own both a washer and dryer in good working condition and dependable transportation to get the laundry to and from client residences. Afternoon availability is also required. As this position is mostly self-guided, a motivated individual able to keep themselves on track with minimal supervision is a must.
What is needed to begin working?
If you are hired by Laundry Care, you must first purchase the Laundry Care Branch kit for the one-time fee of $150. This kit equips you with the essentials to operate a successful laundry service in your neighborhood. It includes a handbook, business cards, a webpage, car signs, garment bags and covers, and much more to get you started.
What is the compensation?
The potential income to be generated from this position varies based on the demand in your community and the amount of time you are willing to dedicate to your business. The average associate is said to provide services to 5 – 15 clients a week.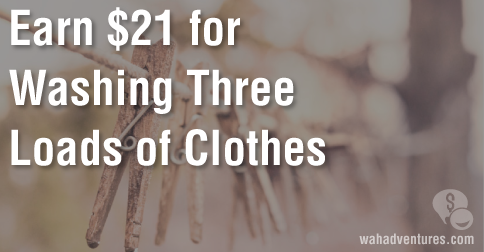 Laundry Care offers two levels – a Regular bag, which holds approximately 3 loads of laundry for $35, and an Extra-Large bag, which fits 6 loads of laundry and will run you $65. Laundry Care Associates are entitled to 60% of the earnings of every sale they complete. Extras such as ironing and acting as a dry clean courier bring in additional income.
As an example, if you service 10 clients who each need a regular bag of laundry cared for, you would gross $350 for the week and net $140 after Laundry Care's fee of 60%.
The beauty of this position is that you are able to begin making money right away, and will be paid on a weekly basis via direct bank deposit.
Is this an opportunity for international workers?
No, currently Laundry Care only operates in the United States.
Earn Everything… nearly!

Join e-Poll, one of the oldest survey panels and earn cash - paid via PayPal - gift cards for Amazon, Best Buy, iTunes, Starbucks, and Walmart, plus Retail e-vouchers.
The surveys are aimed at entertainment-related research, covering such things as personal TV watching habits, give feedback on new TV commercials or to review DVDs that are sent to your home.
For USA residents aged 13+. No hidden fees and completely free!


What are the advantages of working with Laundry Care?
This unique work-at-home opportunity comes with a number of advantages uncommon to remote positions. To start your laundry care business, there is little to no cost involved nor is there lengthy training or skill-building sessions required. You are able to choose your own hours and take on as many or as few clients as you so choose. Though this is generally a solo enterprise, Laundry Care Associates are paired with a Mentor who imparts ongoing support as needed.
How do you apply?
To apply, visit this webpage and fill in the required information. The application is somewhat lengthy and asks about your experience with laundry care and previous work history. If your application is approved, you will have an informal phone call with a Mentor who will determine if you are the right fit for a Laundry Care Associate.
Related Posts:
Want more money?

Easy Extra Cash! Join the famed Vindale Research site and earn rewards by doing nothing more than sharing your experience of using the internet. Guaranteed 100% free membership.