Top 5 Simple Ways to Learn How to Get Paid to Review Movies
Updated on: by Amy Kennedy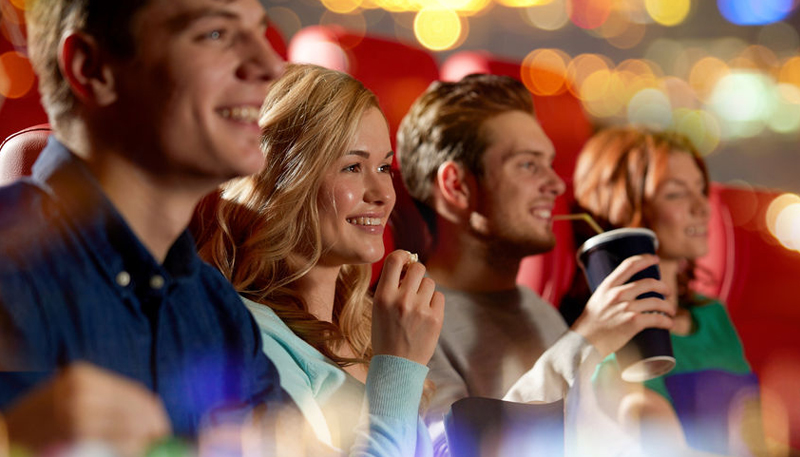 Do you love to watch movies?
Need Easy Extra $350+/Month For Free?
Are you a film buff who spends his or her weeknights watching comedies, documentaries, sci-fi movies, or a nice rom-com?
Whatever you enjoy watching, you may be interested in learning that you can make some extra cash on the side for your hobby.
Everyone could use some more money to cover their bills or their rent.
A side gig could also give you more cash to pay for a nice vacation or some much-needed furniture for your home.
Consider writing movie reviews to make some extra cash.
Writing film reviews can be a really fun and enjoyable way to earn some money especially if you're a film buff.
Best of all, you don't need to be the best writer out there or have superior writing skills.
There are several methods for beginners without much experience as a movie critic to get paid for reviewing films.
Keep reading to learn about several ways you can make money as a film critic!
How to Get Paid to Review Movies
There are multiple ways to earn some cash for reviewing films such as through online websites and blogs.
Take a look below to learn how you can become a movie critic.
1. Revenue Sharing Websites Need Film Reviews
There are websites online meant specifically for earning cash.
The way these sites make money is through publishing short articles and stories and getting paid due to the traffic the publications garner.
There are plenty of sites that let you publish your work.
You will need to specifically seek out web pages that let you create and publish movie reviews quickly and easily.
Need Easy Extra Cash?
Pinecone Research, a leading name in online survey panel honesty, absolutely guarantees $3 cash for every survey you complete!
Take advantage of their time limited New Membership drive and register NOW. Join today: 100% free!


Take a look at the following websites to learn where you can write some film reviews.
HubPages
You can seek out HubPages where you will earn royalty fees for publishing movie reviews.
You can put more cash in your pocket at HubPages!
Check it out by clicking here.
When creating your own stories through HubPages, you will get royalty fees due to the advertisement and traffic you generate to that movie review page.
One tool called SquidFlix can be used through the site to review movies.
This type of tool lets you type in the information you want to add to your film critique in different boxes including title, headings, and the rest of your content.
HubPages takes care of the rest and quickly creates your website page for all to view.
This is similar to the way blogging works.
HubPages includes a large community of readers that love to follow the latest movies.
This would be an enjoyable place for you to publish film reviews and interact with others.
Once your review is published, other users and readers can leave comments on your work and let you know what they think.
Every single month you will get money for each of your reviews in royalty payments.
The cash comes directly from the user traffic you generate on the site.
You should be aware that the amount you make may not be very high since you don't get a flat fee for every movie review you publish.
This is still better than writing for free and is a great place for beginners to get some writing samples to advance their career.
SharedReviews
You can also make some extra cash using the well-known website SharedReviews.com to publish your film critiques.
Check it out by clicking here.
While this website is mainly meant to write reviews for appliances and household products, you can also create and publish reviews for films that are out on DVD.
If you publish through this site, you'll get some extra pocket money, but don't expect to get a substantial income from SharedReviews.com.
However, if you keep going and write lots of movie reviews for this website, the amount of cash you earn will also go up quickly.
After publishing your posts, you can receive your earnings from your account every month.
The more visitors and ads you get for every review you write, the higher your earnings will be.
The site is based on traffic numbers generating revenue.
So if the site keeps having visitors, you'll keep getting paid.
ScreenRant is a popular entertainment website that covers movies, TV shows, and other media.
They have a contributor program that allows you to submit film reviews and get paid for your work.
If your review is accepted, you'll receive compensation based on the quality and engagement of your content.
ScreenRant also offers opportunities to write articles on various entertainment topics, providing additional earning potential.
Earn Everything… nearly!
Join Opinion Outpost, one of the few faithful and honest survey panels and earn cash and gift cards for your opinion. Stack your points and redeem them: Simple! No hidden fees and completely free!


Cineaste Magazine focuses on in-depth analysis and criticism of films and cinema.
They accept film reviews from contributors and pay for published reviews.
If you have a passion for film analysis and can provide thoughtful and well-written reviews, Cineaste Magazine can be a great platform to showcase your work and earn money.
The Movie Waffler is a website dedicated to film reviews and features.
They accept film reviews from contributors and compensate for published reviews.
You can submit your reviews and, if approved, receive payment for your work.
The Movie Waffler covers a wide range of movies, so it's an excellent platform for sharing your opinions and earning money for your film reviews.
2. Begin a Blog Reviewing Films
Being a blog writer can get you many different jobs online.
If you start your own blog, you can make money by watching television and reviewing movies.
One of the best ways to become a movie critic is to create your own blog and develop ways to make revenue through the blog.
You could make money by selling advertising space on your site to other companies.
You will need a bit of money to buy a domain name and a hosting account.
There are some basic tools and techniques you will need to learn.
You might even need to know some basic HTML or coding.
However, because of user-friendly tools through WordPress and similar platforms, it's easy and straightforward for most people to start their own blog.
If you have spent an hour looking through research and written an article, it will then take you only five more minutes to upload and publish the blog through WordPress or other backend format.
In order to create quality content for the blog, you'll need to pay attention to the film, do some research on the time period and thought process of the movie director, and put your critique into words.
Once you finished typing out your work, be sure to reread and edit every paragraph.
WordPress often has information on the amount of search engine traffic your blog will see.
You can also use Google Analytics for a more detailed assessment of your traffic numbers.
You will need to write multiple high-quality and well-written movie reviews.
Once those are published and you get more visitors to your website, you can start developing a revenue stream for your blog.
There are multiple ways you can make money through your own blog.
When you are ready to make some cash, take a look at the following to determine how you can monetize your blog.
Amazon Associate Program
An excellent way to make money off of people visiting your website or your blog pages is to change your readers into customers.
This is a common way to make money for things like book reviews.
Many of the reviews for books are often linked to Amazon pages displaying those novels.
This allows the reviewer to make money or commission on the books sold by the author.
The same exact method can be used for movie reviews.
You can create a blog or website dedicated to reviewing films and link to Amazon pages selling the movies on DVD or VHS video.
You will need to reach out to the sellers of the DVDs to see if they would want to work with you and give you a commission for reviewing the films.
You can check out the Amazon Associate Program by clicking here.
If you write positive reviews, your readers can click on the links and buy the DVDs.
That would lead you to earn commission on the DVD sales.
It's a great way to make some extra pocket money.
Commission Junction
Another great affiliate association that you can use to make revenue from your blog is Commission Junction.
This organization offers a huge list of advertisers.
These advertisers are looking to offer you favorable commission rates and other deals by having a good number of readers.
You'll need to advertise their products to your readers through your site.
Some relevant companies offering commission through Commission Junction is Disney, Blockbuster, and CinemaNow.
If you're writing movie reviews, these are great companies to work with.
If you write movie reviews that bring in good traffic numbers, you can get paid well through these commission sales.
3. Review Films for Money By Becoming a Freelance Movie Critic
Another great strategy is to become a freelance movie critic.
You'll make money on the side by taking on these new gigs.
There are lots of popular blogs and websites out there that seek movie reviewers.
Some website owners may not have enough time or don't have great writing skills to create their own content.
These website owners often hire other freelance writers to manage the content production for the site.
A great example of a place to find movie review freelance gigs is through the website Freelancer.
You can also check out FreelanceWritingGigs.com.
There are lots of sites online offering freelance gigs to critics whether you review books, food, restaurants, video games, or movies.
4. Create Reviews for Individual Websites
Your last option for finding movie reviewing jobs is to visit individual websites that have film critiques and to find out whether they are looking to hire more freelance writers.
Any website owners who have content about movies could use a film buff to write some reviews for their blog.
There are lots of great sites looking for freelance writers who can put together some movie reviews.
If you want to see if there are any websites out there looking to hire a freelance movie critic, try using Google to conduct a search.
You could find more places that are looking to hire blog writers.
There are various search items you can use such as "seeking freelance writers" or "get paid for writing movie reviews."
Be sure to add info about the type of writing you're interested in such as film reviews.
One website you could use is called AnimationArena.
This website has plenty of reviews you could write.
You can get money for writing reviews about video games, comic books, and movies at AnimationArena.
Here's the best part: you can actually get at least $15 for every review you write!
If you write about six reviews per week, you can make as much as $360 per month!
This is definitely a great way to make some extra money on the side.
As you keep researching for jobs, you'll find that lots of blog and website owners are looking for quality content and seek out freelance writers.
They're looking to hire great writers and will pay you well for your content.
This means that you'll have lots of options coming your way as you invest in looking for writing jobs online.
The only limit you'll see could be the amount of time you can invest in writing your reviews and blogs.
Otherwise, you'll get plenty of jobs and money coming your way!
5. Become a Film Critic Through Your Local Newspaper or Radio Station
Another way you can start your career as a film critic is taking a much more traditional route.
Often, your local community is likely to need movie critics at your neighborhood newspaper or radio station.
It is often preferable for you to get a bachelor's degree first, according to Study.com.
You can get a degree in film studies or journalism.
You'll need classes in film theory, history of film, and screenwriting.
Then you'll need to watch lots of movies and learn more about directors, cinematography, and plot development.
Once you have the educational background, you can start getting internships at your local newspaper or radio station.
You may get other small jobs at a newspaper which will help you develop your writing skills.
Over time, you can be promoted and gain work as a film critic.
This is a more traditional route for becoming a film critic, but you can also work part-time writing movie reviews online.
Conclusion: You can Make an Income as a Movie Reviewer
I hope that this post has helped you learn how to become a movie critic and earn cash.
If you want to create a real long-term business as a movie critic, you may want to start your own blog.
Creating a revenue stream through your blog may be one of the best ways to make money as a reviewer.
You can make cash by selling space on your website for advertisements.
You can also work through Amazon and add links to movies or DVDs throughout your reviews.
Whatever method you choose, writing movie reviews is a fun way to make more money.
Usually, you can find plenty of readers for such topics as well.
Everyone needs to know if the movie they want to buy will be worth their time.
If you can write a high-quality movie review, there is plenty of jobs out there for you.
Have you ever written a movie review?
Are you a film critic?
Where have you published your work?
Do you have any tips for those starting out in the business?
Let me know in the comments below!
Related Posts:
Earn Everything… nearly!
Join Ipsos iSay, one of the few Faithful and Honest survey panels and earn prizes, gift cards and donations. Stack your points and redeem them: Simple! No hidden fees and completely free!