Best Way to Get Paid for Studying and Finishing Your Homework
Updated on: by Amy Kennedy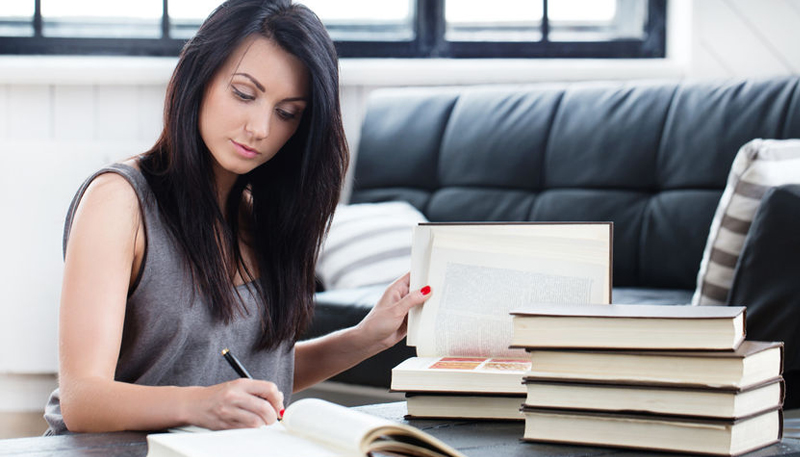 Are you a student in college trying to get a degree and have a successful career in the future?
Need Easy Extra $350+/Month For Free?
It's not easy to study and attend classes at a top school especially if you're in an environment filled with friends and fun outings.
You may need more of an incentive to study late into the night and get your homework done.
Luckily, you can actually get paid for studying using the mobile app StudyPact.
College students are often trying to scrimp and save in order to get by.
Expenses in college are very high.
Tuition costs and the hundreds of dollars spent on books can tap out a family completely.
Often, parents expect their children in college to pay for their own living expenses if the parents take on the costs of tuition and textbooks.
Room and board, meal plans, and an outing or two to some local restaurants can definitely add up for any student.
Many young adults struggle to make enough money to get by.
Their diet may consist mostly of ramen noodles!
Go to any dorm room and you'll find many students consuming cheap junk food in order to save money.
According to Collegedata.com, the average cost of college tuition and fees for the 2016-2017 year was $33,480 at private schools, $9,650 for state residents at public schools, and $24,930 for out-of-state students attending state colleges.
In fact, student debt is now higher than mortgage debt for the first time in the United States.
There are some jobs out there for college students such as work-study gigs, part-time jobs at fast food joints, and internships.
However, the difficulty of running from a job to class to studying can get very difficult for students.
Need Easy Extra Cash?
Pinecone Research, a leading name in online survey panel honesty, absolutely guarantees $3 cash for every survey you complete!
Take advantage of their time limited New Membership drive and register NOW. Join today: 100% free!


A complex schedule filled with classes, homework, studying, and a part-time job can be too much for any young adult.
Spending 15 to 20 hours per week working can also make you fall behind in your schoolwork.
While you may want to succeed in school, there may not be enough time in the day to handle such a busy schedule.
This is why it's so great if you can get paid for studying.
How to Earn Cash by Learning and Studying
You might be wondering how you can get paid by doing your homework and studying for your final or midterm exam.
The StudyPact mobile app can make sure you earn money while sitting in a library, dorm room, or even a café studying for your next test.
This likely sounds like a dream come true for many students around the country.
StudyPact is an innovative mobile app that incentivizes you to study by promising some extra cash in your pocket.
This will be a very different and enjoyable way to study.
You will compete with your schoolmates and earn more money.
How StudyPact Helps You Get Paid for Studying
The way StudyPact works is by having you and your friends and other classmates compete in finishing your homework.
You will compete in the number of hours you decide to study and whether or not you achieve your goal.
All you need to do is pick the amount of hours you want to study each week and how much cash you're willing to stake in meeting or failing your goal.
For example, you can pick studying for two hours in a week at $5 per hour.
Or you can take a bigger risk and commit to studying for 10 hours at $30 per hour in one week.
These can be high stakes if you fail to meet your goals.
For every hour you didn't meet, you'd lose money from your account.
Once you've made your pact for a specific number of hours, you can start studying using multiple mobile apps that are accepted through the program.
What is the Payment Method for StudyPact?
Payment through StudyPact is based on meeting your studying goals.
If you don't meet your goal for, say, 8 hours of studying, you'll be charged a fine for every hour that you miss.
If you do meet your goal, you'll get paid for every hour.
The money would come from a classmate that did not meet their goal that week.
You'll get paid on a weekly basis.
The funds come every Wednesday through the platform bankcard.
The more hours you put into studying for school, the more money you'll be able to learn through this mobile app.
The Features of the StudyPact Mobile App
The way this unique mobile app works is by connecting to other different apps in the arena of learning and education.
You might be wondering exactly what to study to make money through the StudyPact app.
The type of apps that StudyPact is linked to include language class, brain teaser games, and electronic textbook platforms.
StudyPact will be tracking and analyzing your use of these connected apps as well as your success in completing test questions through the programs.
Earn Everything… nearly!
Join Opinion Outpost, one of the few faithful and honest survey panels and earn cash and gift cards for your opinion. Stack your points and redeem them: Simple! No hidden fees and completely free!


It's important to note that this app can be used on both a mobile phone as well as a laptop computer or tablet.
Students across all sectors have praised this mobile app and left glowing reviews in favor of its benefits and incentives.
College students have found this mobile app as a great strategy for making money while studying.
The best part is that you as a student can choose exactly what you want to learn through this app, according to the publication Tech in Asia.
A few of the apps linked to StudyPact are Duolingo, Coursera, and Udemy.
You can choose whatever you want to learn due to the large number of different education apps connected to this platform.
It's possible that this type of monetary incentive for learning may be the future for education especially among college students.
This application was founded by Tobias Hoenisch who has since partnered with tech experts Paul Kitti and Evan Grossman.
"I know Paul and Evan now for nearly 2 years, when we won the Kyoto Startup Weekend and have been working together on different ideas ever since," Hoenisch told the news source. "StudyPact is my passion and I will make it a success."
The Extra Benefits of the StudyPact Mobile App
The publication TechNode reported that language learning is the most popular type of education sought from the StudyPact app.
Learning a language requires a longer period of time for students to meet their goals, so this app fits in well with the topic.
Language learners are likely to gain the biggest benefits because they could achieve their goals of communicating in a new language faster while earning cash for studying.
App users tend to enjoy the benefits of this platform.
StudyPact ensures students stay on track with their education while also making money as an added bonus.
Are you a student who is taking online courses or completing an Internet-based certification program?
Lots of people in this situation tend to not finish this type of course because there is less accountability and incentive to continue.
Many people could get tired or bored from an online class.
You may also become distracted when working on the computer due to social media, news sites, or viral videos.
For instance, out of three hours of studying, you may end up spending only an hour and a half actually reading through your textbook because of the distractions on the Internet.
However, the StudyPact app can solve these problems.
If you take online classes, the StudyPact app will keep you on track by setting goals, tracking your progress, and incentivizing your learning by paying you.
And nobody wants to lose money so you'll be more likely to meet your weekly goal of studying for, say, five to ten hours.
Some Disadvantages of the StudyPact App
The StudyPact app is an excellent way to incentivize college students to learn and get good grades in school.
However, it doesn't come without its share of disadvantages.
For example, at this point in time, this application is only available for Android phones and devices.
This alone limits the amount of people that can purchase this mobile app since many students are iPhone users and the amount of Apple devices continues to expand.
The founders of this mobile app do claim that they will be attempting to get this application available on all platforms.
While the startup continues to work on expanding their features to other type of smartphones, iPhone users will have to wait until the StudyPact app is available on their devices.
If you do use Apple devices, you can join an email list under the StudyPact startup to learn when the mobile app will be available for you to use on iPhones and more.
Another potential negative of the StudyPact app is the lack of payment options.
Some users are unhappy that payment is only done through debit or credit cards.
Many college students using this app have requested that a new payment option like PayPal is added to the financing capabilities.
Adding an extra payment capability could help this startup reach more users and satisfy the needs of current app users.
The company executives have said that they are attempting to integrate PayPal into their payment system so that app users will soon see this financing opportunity when studying through StudyPact.
Another great idea that the company executives have announced is the potential of offering free gift cards and rewards for students that meet specific studying goals.
Alternatives to StudyPact
1. Forest
Forest is a popular productivity app that uses gamification to help users focus and stay away from their smartphones while studying or working.
When you start a study session, you plant a virtual tree, and as long as you resist the temptation to leave the app and use your phone, the tree continues to grow.
If you exit the app prematurely, the tree withers.
By staying focused, users can grow a virtual forest and earn rewards.
2. Beeminder
Beeminder combines goal-setting with financial incentives to help users stay on track with their study commitments.
Users set specific goals and pledge a certain amount of money to stay accountable.
If they fail to meet their goals, Beeminder charges them the pledged amount.
The app allows users to define their goals, track progress, and provides reminders to keep them on track.
3. Habitica
Habitica is a habit-building and productivity app that turns daily tasks and goals into a role-playing game.
Users create a virtual character and earn rewards, experience points, and in-game items by completing tasks and achieving their study goals.
The app provides a fun and interactive way to motivate users and track their progress.
4. Pact
Pact, previously known as GymPact, is an app that allows users to set fitness and study goals while placing a monetary wager on their commitment.
Users commit to a specific number of study hours or completion of certain tasks, and if they meet their commitments, they earn money from a pool of funds contributed by users who failed to meet their goals.
The app encourages accountability and provides financial rewards for successful completion of study tasks.
Conclusion: The Monetary Incentive Helps You Reach Your Goals
For a startup company that wants to help students learn more and get better grades in college, StudyPact is definitely achieving its goals.
Best of all, students can earn some money as a bonus for keeping on track with their college coursework.
Nonetheless, this company is still in its early stages and it will take more time before it can truly meet all the needs of its users.
The use of an incentive-based system for accomplishing goals is definitely becoming a more popular tool in the world of mobile apps.
You can see this with the mobile app GymPact, which is an app that offers prizes for exercising.
GymPact has also grown in popularity because of its incentive-based platform.
When the founders of StudyPact improve the app to more fully meet needs of its users, this could be a major change in the way college students interact with their coursework and meet their goals.
Along with education, apps and tools like this could also incentivize users to stick to their diet or improve their fitness.
This could be a beneficial platform for both the users and the app developers.
While right now only Android users have access to the StudyPact application, the developers are planning on expanding the app to more platforms soon.
Soon enough you'll be able to get money while studying for that anatomy exam or finishing your physics homework.
Best of all, you can improve your grades and study in the comfort of your home, library, or the local coffee shop.
Related Posts:
Earn Everything… nearly!
Join Ipsos iSay, one of the few Faithful and Honest survey panels and earn prizes, gift cards and donations. Stack your points and redeem them: Simple! No hidden fees and completely free!