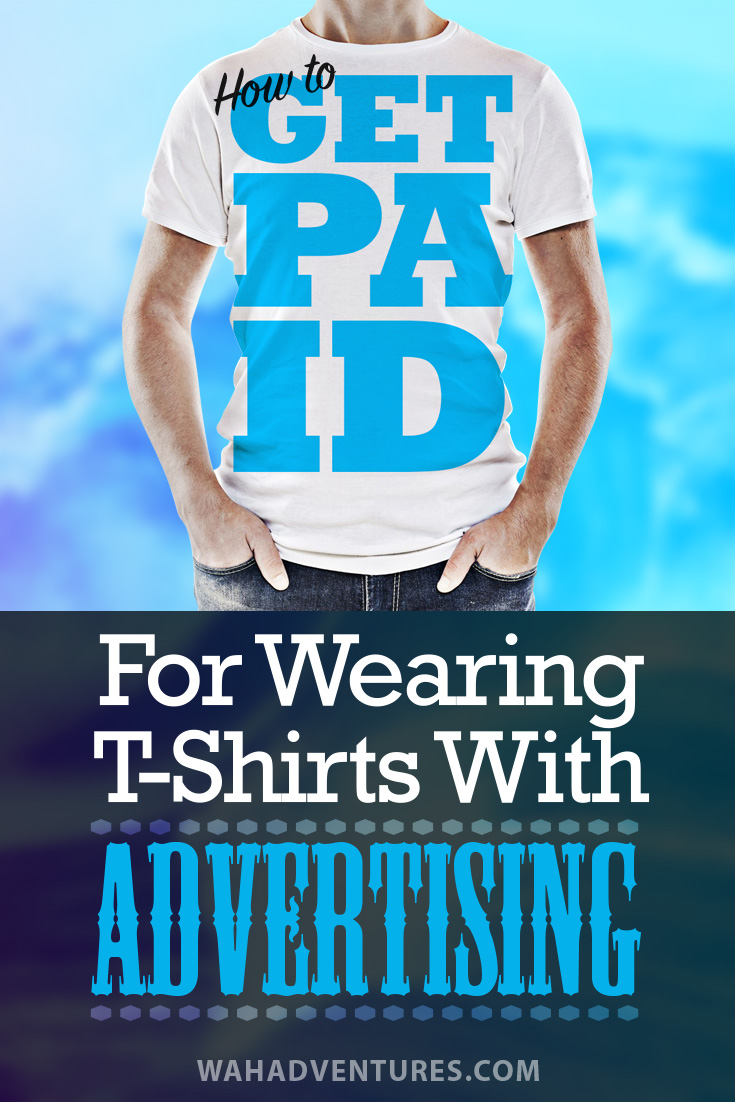 Companies willingly spend billions of dollars on advertising every year.
Need Easy Extra $350+/Month For Free?
You see ads everywhere, from local business ads on your restaurant menu to the in-app advertisements on the games you play on your phone.
Every time you read a magazine or watch a TV show, there are more advertisements to see. To say we're bombarded with them is putting it mildly.
People get annoyed when it seems like everything they do and watch is interrupted by ads every few minutes.
Eventually, they start to tune out the ads, making them less effective.
So, companies are finding more creative ways to display advertisements without making it seem like they're overloading us with them.
That's where you can come in! You can get paid to post ads for your favorite companies.
You can become a walking (or driving) advertisement for companies you love. You can even advertise on your blog or social media accounts to bring attention to your favorite brands – and get paid for it!
Here's how you can cash in on some of the advertising profits from companies who use out-of-the-box advertising methods.
Get Paid to Wear Clothes, Drive Your Car, and More!
Let me start by saying that some of these methods are very non-traditional, and they might not be right for everyone.
If you're more of an introvert who doesn't like a lot of extra attention, the offline methods of advertising I'm going to talk about probably won't work well for you.
But, there are a couple of ways to use your internet skills to advertise for companies, too, so check them out below.
Get Paid to Advertise with Tattoos
This is definitely one of the more creative ways to advertise for companies, but it's not for everyone!
Yes, you can use your own body as a walking billboard for companies you love.
Some companies opt for this method as a completely unique way to bring some attention to their brand.
All you have to do is sport a tattoo the company creates – usually, its logo!
LeaseYourBody matches advertisers with willing participants who don't mind showing off a company logo or design.
But, don't worry if you're not into getting a real tattoo. These tattoos are only temporary.
The downside is that you'll have to sport the tattoo in a very obvious place, like your forehead, cheek, or neck. After all, what's the point of advertising if no one can ever see it?
But, it seems that you can get paid up to $5,000 to place a temporary tattoo on your forehead. So, if you don't mind people asking a lot of questions, it might be worth the embarrassment!
Earn Everything… nearly!

Join e-Poll, one of the oldest survey panels and earn cash - paid via PayPal - gift cards for Amazon, Best Buy, iTunes, Starbucks, and Walmart, plus Retail e-vouchers.
The surveys are aimed at entertainment-related research, covering such things as personal TV watching habits, give feedback on new TV commercials or to review DVDs that are sent to your home.
For USA residents aged 13+. No hidden fees and completely free!


To become a "Participant" of the site, LeaseYourBody charges a one-time fee of $19.99. This helps with the cost of running the site and matching advertisers to your profile.
Once you sign up, make sure you fill out your profile completely to have a better chance of getting matched with advertisers.
It seems that participating in the online chat and forums can help you get noticed more, so it pays to be active here.
You can be in control of where you want to advertise, so if the forehead is off-limits, make it clear when you pick your preferred tattoo areas.
You can also choose your fees for each body part. LeaseYourBody gets 30% of your selling price, so keep that in mind when you set your fees.
If you'd rather bypass the middle man, you can always contact local businesses to see if they'd be interested in paying you to sport a temporary tattoo. You never know!
Make Money Wearing T-Shirts and Clothing
If putting tattoos on your body doesn't sound like your cup of tea, then you can go for something a little less strange.
People can also wear branded t-shirts as a form of advertising and get paid by the company to do so.
A lot of people already purchase and wear clearly branded clothing anyway, so this isn't much different than the norm!
Although a lot of companies give out free t-shirts at events or as a giveaway with a purchase, you aren't normally paid to wear them.
But, apparently, it's possible.
One man named Jason Zook made over $1 million in a few years from wearing company t-shirts as a walking advertisement. He literally made a living from wearing clothes.
Zook created IWearYourShirt.com, which is no longer online, to chronicle is a money-making business. As the site gained popularity, more and more companies wanted to hire him to wear their shirts.
Although there doesn't seem to be any actual companies that match advertisers to those who want to get paid to wear their shirts, you can always start up a business like Zook did.
Take matters into your own hands by contacting your favorite companies and see if they'd be willing to sponsor you to wear their shirts.
Make your offer appealing by offering to take quality photos of yourself in the shirt and upload them to social media, especially Instagram, if you have a good following.
You can also let companies know the places you'll go with your shirt, like busy events where a lot of people will see it.
The more you can offer, the more likely it is that businesses will take you up on your offer.
Advertise by Driving Your Car
Did you know that you can even get paid to drive your car?
You know how some companies place large advertisements on company vehicles as a way to advertise their business to everyone on the road?
Well, some companies will also pay you to do the same thing. It's a pretty cheap form of advertisement for a business because you can reach a large amount of people in a small amount of time, especially if you travel a lot.
If you use your vehicle for long distances, either for work or personal use, you have a good chance at qualifying for car wrap advertising.
This form of advertising turns your vehicle into a mobile billboard.
Here are a few companies that you can sign up for that will help match you and your car to the perfect advertiser:
You can make up to $1,000 per month, depending on the size of advertisements you choose to have on your car and how much you drive.
Car wrapping does come with several requirements, though.
In most cases, you'll need:
To be at least 18 years old
A valid driver's license and proper car insurance and registration
A somewhat new vehicle, usually no more than 5 years old
A well-maintained, nice-looking vehicle
To drive at least 800 to 1,000 miles per month
To sign a legal contract that ensures you stick to your word about how much you drive and that you'll keep the advertisement on your car for the necessary amount of time
You will usually end up in a contract for anywhere from 3 to 12 months, so make sure you're willing and ready to make the commitment.
For those who don't mind having their car covered in ads, this can be a great way for you to at least make enough money each month to cover your car payment!
But, most websites offer smaller advertisements, too, like rear window covers or bumper stickers, which are a better choice for people who aren't ready to wrap their whole car.
Use Your Blog
The almighty blog! There are so many ways to get paid to advertise for companies on your blog that it's impossible for me to list them all.
So, I'll go over the most popular, high-earning methods.
First, sponsored posts.
These are blog posts that you write up that includes information about a company and its product or service that it wants to advertise.
Companies usually send you a free product in exchange for a mention on your blog. But, since it takes you time to craft the post, take photos, and actually use the product, you can also get paid cash for your time.
Most bloggers now require a payment in addition to a free product because of everything that goes into the post, and blog networks are doing the same.
Next, affiliate links.
These are links to a product or service that you can place in your blog posts.
You can earn a commission when people click on your link to purchase.
Through affiliate links, you drive traffic to a company's product or service in the hope of making more sales for that company (much like advertisements do), so you earn cash for your help.
Finally, you can also earn money from actual advertisements on your blog.
There are tons of blog advertising networks on the web, but one of the most popular is Google Adsense.
You can create ad blocks through Google Adsense to fit within your blog and place the codes where you want them.
Usually, bloggers put ads in the sidebar, toward the top of the website, and throughout blog posts for maximum viewing.
Most bloggers don't earn a ton of money from advertisements alone, but it's one way to earn a little extra cash from no extra work.
Click here for more tips to make money with your blog.
Promote Using Social Media
Most companies know the importance of social media. If a company isn't yet on Facebook or Twitter, it's missing out on a lot of potential opportunities to reach a larger audience.
Social media is also one of the best ways for companies to advertise their businesses.
Anything on social media has the chance to go "viral." That is, it gets naturally shared, liked, and commented on because people love it.
Of course, things on social media have a better chance of going viral if they have a bigger audience to start with.
That's why you see your favorite celebrities promoting makeup and skincare products, the latest weight loss fads, and clothing from new designer lines.
Companies pay them simply to promote their products on social media because they know celebs have huge followings.
That means more eyes on their products and more chances of something going viral to reach an even larger audience.
You don't have to be a celebrity to cash in on the action, though. But, you should work on having a large social media following on whatever channel you plan to advertise on.
But, engagement is even more important than how many followers you have.
Your followers should be engaging with your posts through likes, comments, and shares.
If you have all that in place, share some of the stuff you love to social media and tag the companies.
Businesses love to see people naturally sharing how much they love their stuff, and they may be more willing to contact you for further promotion.
You can also reach out to companies you love to see if they'd be willing to sponsor some social media posts.
If you have enough followers and are very interactive with your posts, you might just score a deal.
You can also try out SharePop, a network that matches social media influencers with brands looking to promote their business apps.
You must have at least 10,000 followers on your channels – Instagram, Twitter, Facebook, YouTube, Tumblr, Snapchat, and Pinterest are all acceptable – to join.
Conclusion: How to Get Paid to Advertise for Companies
If you want to spread the word about great companies, I hope this article helped you find some unique ways to do it!
I know that advertising on your car, clothing, or even your body, isn't for everyone.
But, these are just some ideas to get you thinking about potential ways to earn money from advertising your favorite brands.
You can always visit some of your favorite local businesses and see if they'd be interested in paying you for advertising in a non-traditional way.
If you have an idea, pitch it to them! If not, see if they have anything in mind.
Your enthusiasm for the company may be just what they needed to choose you to partner with them!
Do you know of other ways to advertise for companies that we missed?
Let us know in a comment below!
Related Posts:
Want more money?

Easy Extra Cash! Join the famed Vindale Research site and earn rewards by doing nothing more than sharing your experience of using the internet. Guaranteed 100% free membership.