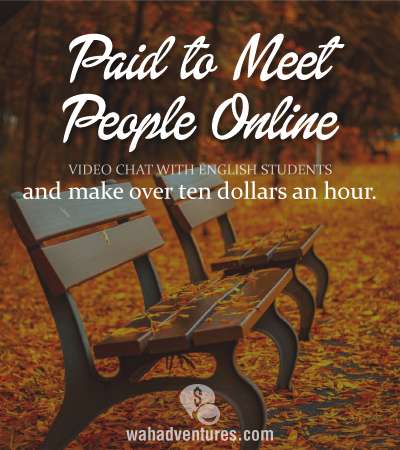 If you are looking for a way to make some extra cash doing work that many would say is fun and enjoyable, then Cambly is something you should consider. Cambly hires English speaking people to video chat with English students from all over the world. Cambly seriously pays you to meet new people, have a conversation and be overall helpful and patient with people who are learning to speak English.
Need Easy Extra $350+/Month For Free?
Do you teach English?
No you are not expected to teach English. You are expected, however, to help English students use what they have been learning. The point of Cambly is to allow English students the ability to have conversations in English. It is a great benefit. You can talk about anything you may have in common or simply learn about each other and maybe their culture.
Is experience or a degree necessary?
Absolutely not. You simply need to speak English, be patient and friendly.
Is there a set schedule?
No. You can work for Cambly whenever and wherever you want. It appears you simply just login to the dashboard when you are available. When a student is looking for a tutor, you will be alerted. You are then given the option to take the video chat or not. Very flexible with chats coming in at all times of the day and night since it is global.
There is also the option of choosing to grab shifts, where you are dedicating yourself to the shifts you grab, in one-hour increments. You are guaranteed to be paid for at least 15 minutes of the hour, even if you are not able to pick up a chat. If you scheduled yourself at Cambly, you are given priority chats. Meaning, the chats will first become available to dedicated shift workers before the tutors who are logged in unscheduled. Working a shift is entirely optional.
Reserve time with regular students.
There may be times when a student and a tutor work really well together. In those cases, you can encourage your student to reserve time specifically with you. This can really help your students take a step further in their learning, even providing you the ability to create assignments and lessons.
Cambly's reservation system allows students to reserve time up to 2 hours with you.
How much does Cambly pay?
Cambly pays their tutors per talk minute at a rate of 17 cents. If you talk for a solid hour, you would earn 10.20 per hour. Pay is through PayPal.
Payments are made every other Friday to tutors who have at least $20.
What is the application process like?
First step is filling out a basic form that includes your name, email and timezone. Then  you will be asked to create a video explaining why you want to join Cambly as a video chat ESL tutor.
Cambly suggests being casual in your video, not following a script. You are, however, able to re-record your video as needed.
After you submit a video, you will receive an email once you are approved.
In the meantime, you are offered the opportunity to set up your user profile.
What type of equipment will I need to Video Chat?
There is no set minimum requirements. High Speed Internet and a computer with a mic and webcam are the obvious requirements.
What type of people can I expect to see on video chat?
Apparently there are a lot of users of Cambly who "are looking for eye candy to chat up".  You may never know what to expect from the users, they could use offensive language, be completely naked or even practicing lewd behavior. Cambly says they have a strict policy against rude and offensive behavior. Tutors who run across unacceptable behavior are encouraged to ban users who are not within the acceptable guidelines.
Because of this, I would never suggest working Cambly as a video chat English tutor if you have children  within ear-shot.
Where do I go to register for Cambly?
To become a video chat tutor for Cambly, visit the tutor registration page and sign up.
Need Easy Extra Cash?

Easy Extra Cash! Join PointClub and get access to the best paid online survey opportunities. Take Online Surveys, Make Money, It's That Easy! No hidden fees and completely free!


Related Posts:
Want more money?

Join Surveyo 24 #1 paid survey site. It's easy - complete a survey and receive payment. No hidden fees and completely free!