Top 20+ Methods to Get Paid to Watch Videos Online
Updated on: by Amy Kennedy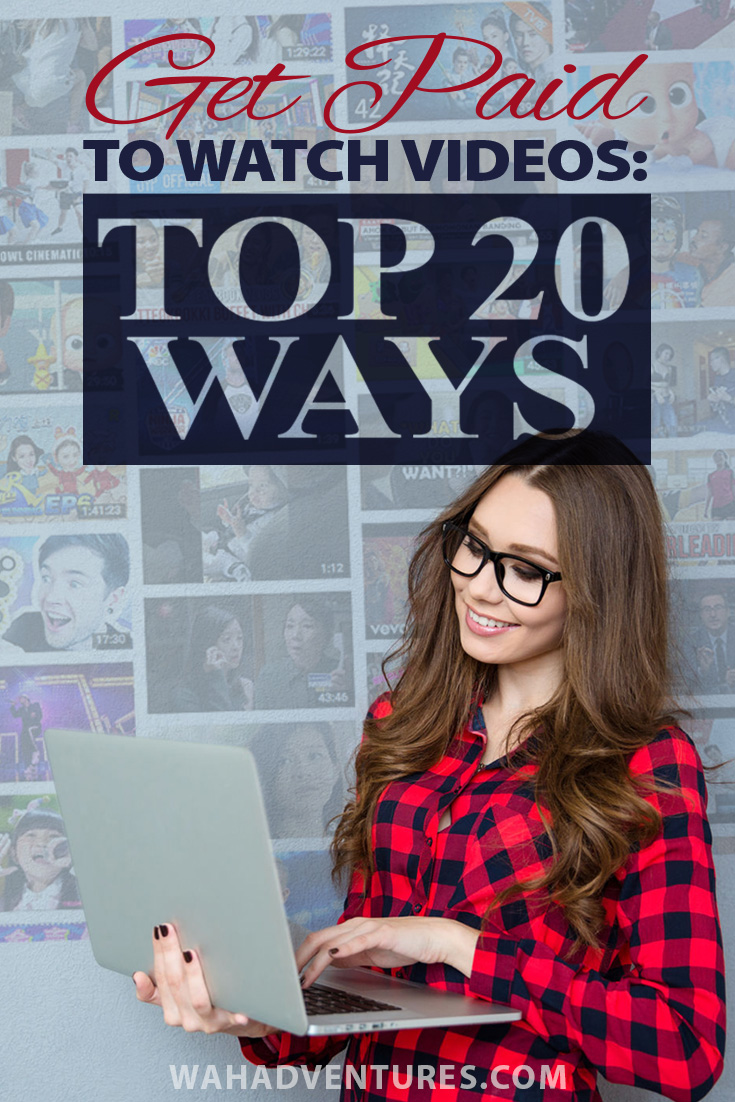 What if I told you that you can get paid for one of your favorite activities?
Need Easy Extra $350+/Month For Free?
It's true – if you like to watch TV, that is!
Who doesn't?
Although these methods won't likely earn you a full-time income (although a couple of them could!), it's still worth your time to make some extra money.
Most methods of earning money from watching TV have to do with advertising.
So, you'll help out the market research industry and specific companies while doing something you enjoy.
It's a win-win, right?
Let's get started!
Make Money by Watching Videos
Make Money Watching Videos on Swagbucks
You can make money in just about any way you can think of with Swagbucks, including watching videos.
In addition to taking surveys, browsing the web, shopping online, playing games, and more, Swagbucks offers paid TV.
When you sign up, look on the left side of the screen. You'll see a menu with various cash-earning tasks.
Click on "Watch" and you'll be taken to tons of paid videos.
Most of the time, you'll need to watch a certain number of videos to qualify for the number of Swagbucks listed on the video task.
You'll usually get somewhere around 1 Swagbuck for each 6 videos you watch.
Since the videos are only a few seconds to a couple of minutes, you could make at least a few Swagbucks if you have an hour to spare.
Swagbucks makes earning Swagbucks even easier with its mobile app.
Need Easy Extra Cash?
Pinecone Research, a leading name in online survey panel honesty, absolutely guarantees $3 cash for every survey you complete!
Take advantage of their time limited New Membership drive and register NOW. Join today: 100% free!


Download the app and watch videos when you have some downtime wherever you go.
Learning how to maximize your time using Swagbucks is the best way to maximize your earnings!
Paid videos are a great way to stay entertained while making a little extra cash.
Read more: Swagbucks Review: The #1 Site to Earn Real Rewards
Earn Money by Watching TV on InboxDollars
Like Swagbucks, InboxDollars has paid videos that can give you a little extra cash for doing something fun – and something you likely do anyway!
InboxDollars' paid videos work a little differently, though.
You'll get actual cash instead of points added to your account.
Most tasks require you to watch three short videos to earn $0.01 (one cent), which isn't bad, considering the videos won't take much time to watch.
InboxDollars also has its own app for Android and iOS devices that you can use to watch paid videos on the go!
Do this in addition to the other great ways to earn on InboxDollars, like free offers, paid searches, and surveys.
You can cash out once you reach $30 in your account.
Read more: InboxDollars Review – Why It Is One Of The Best GPT Sites?
Nielsen has long been a leader in market research for various TV programs.
It also has a program called Nielsen Digital Voice. Through this program, you have a chance to help out the cause.
Basically, Nielsen will track your TV activity – what you watch, how often you watch, the times you watch TV the most, how long you watch a program, etc.
It uses this information to help inform the TV industry of what people watch and when. This helps experts tailor TV programming to meet the needs and interests of more viewers.
Since you're helping Nielsen with its market research, the program pays you for your time.
You can earn entries into huge cash sweepstakes, and bonus cash rewards are possible when you're invited to participate in special surveys.
Read more: Nielsen Digital Voice Review – A Safe Way to Win Rewards?
Earn Money with Market Research Companies
Aside from getting cash to watch TV and movies, you can also watch advertisements and videos for market research companies.
The general idea is that the short videos you're shown will help give advertisers feedback on their products, services, or ads.
You'll provide your opinions after you watch them, almost like a video-based survey.
Several survey sites participate in these types of surveys.
If you're more of a visual person who loves sharing your opinions to help make companies and their products better, this could be perfect for you.
Here are a few survey sites and market research companies that offer surveys that involve videos and advertisements in their surveys:
Read more: 39 Legitimate Online Survey Sites That Actually Pay Cash
E-Poll is a market research panel that pays you for your opinions to help out its clients.
It's one of the first survey websites, starting up in 1997, and continues to be a leader in market research.
This site focuses a lot on the entertainment industry, so many of its clients pay E-Poll to conduct surveys about their products, advertisements, etc.
Earn Everything… nearly!
Join Opinion Outpost, one of the few faithful and honest survey panels and earn cash and gift cards for your opinion. Stack your points and redeem them: Simple! No hidden fees and completely free!


So, many of the surveys you can participate in on E-Poll will involve videos, advertisements, and even reviews of movies or television shows.
E-Poll also has a monthly $1,000 drawing that would be great to win! You just have to be an active member.
You'll earn points for surveys, which you can redeem for prizes and cash, including PayPal deposits.
Read more: E-Poll Review – Earn Money While Watching Television
Become a Professional TV Watcher
An interesting way to earn money for watching TV is to become a part of the industry as a professional TV watcher!
This is an actual job that requires you to watch certain programs to pick out clips that can be used in other programs or roundups.
These jobs come few and far between and they don't typically pay a full-time income, but it's possible to snag a good one if you're lucky.
According to Fox News, Jimmy Kimmel's show once offered up to $600 per week for professional TV watchers to scan through clips of the show.
Play TV Trivia Games
Here's a way to combine a love for gaming with a love for TV and movies!
Perk Pop Quiz is an app brought to you by Perk TV, another way to earn cash for watching TV that I'll get to in a moment.
With this app, you can share your knowledge of TV trivia (and other categories!) to try to earn some cash.
You can choose your categories in which to compete, so if you want to keep it strictly to TV and movies, choose those categories.
There are even specific categories for popular shows and movies, like The Walking Dead and Harry Potter.
Each day you play, you automatically get entered into a $50 drawing.
Earn more points by getting top scores for your categories. You can exchange your points for a variety of gift cards or cash.
Perk Pop Quiz! is available for iOS and Android.
Get a Scholarship
Interestingly, you can even get a scholarship to college for watching TV!
CableTV.com is a website that helps you find the best cable and internet providers in your area.
You can quickly find a list of companies and compare their details to find the perfect one.
The website creators also give out an annual scholarship up to $1,000 for high school seniors or college students based in the United States.
To apply, all you need to do is take a photo of yourself watching TV in your favorite place. Then, write an essay describing your photo, like what you chose to watch and why you chose that spot.
Easy, right? If you have at least a 2.5 GPA and are college-bound or in college, you're welcome to apply.
AdFun is an app available for both Android and iOS devices.
It's almost like a social network and shopping experience in one, but it offers several ways to earn some extra cash.
You and your friends can search for items you want to bid on. Throughout your shopping experience, you'll see ads from companies.
The more ads you watch, the more chances you have to win the prizes you want.
There are even auctions for cash prizes, so you can score some real cash.
The app makes money via the ads you watch, which is why it rewards you with more chances to win an auction the more you watch the ads.
You can also rack up points that you can transfer to a gift card or cash. And, the more friends you have that use the app, the more chances you have to win!
App Nana is another app for iOS and Android devices.
This one gives you a lot of opportunities to earn some money, like referring friends, downloading apps, and viewing advertisements.
So, if you love downloading new apps to try and watching ads for the newest apps, App Nana is for you.
You get points just for logging into the app each day, and you'll earn more as you watch ads and download apps.
You can then turn in your points for a variety of gift cards and cash prizes.
Creations Rewards is a little-known Get Paid To (GPT) site similar to InboxDollars and Swagbucks. But, it's been around since 2000, so it knows what it's doing!
And, it can be just as good for earning you some side money.
This website pays you to shop online, participate in free and paid offers, take surveys, browse the web, refer your friends, and, of course, watch videos.
Creations Rewards regularly adds new paid videos to the site so you'll have new ones to watch to keep earning cash.
Make sure you follow the instructions for each video to make sure your account is properly credited. For most videos, you'll get credited in 24 hours or less.
To keep your account active, you just have to earn 100 points in a 6-month period, which you should be able to do easily by logging in a couple of times per week and participating.
You'll need 1,000 points to redeem for a prize – including gift cards and cash – which equals $5 in rewards.
HitBliss is a website where you can earn rewards for watching TV and movies. More specifically, you earn rewards when you watch the commercials that appear during your TV and movie binges!
Much like other forms of cash-earning television, HitBliss makes money through advertisements. The more you watch, the more it makes from advertisements, and therefore, the more you earn.
HitBliss doesn't pay you in actual cash, though, which is important to note.
Instead, you'll get credits toward the HitBliss store, which has movies and TV shows you can purchase with them.
So, you're basically getting more entertainment for free, so it's less cash you need to spend. That's a deal almost as good as getting cash!
Netflix
Who doesn't love Netflix?
You might love it even more once you find out that you can make money using Netflix!
One way to do this is by becoming a video tagger.
Netflix occasionally seeks people for tagging positions to ensure that movies and shows are in the correct categories and set for the proper age restrictions.
For example, you might need to sift through the "Children & Family" section, watch some of the shows and movies, and indicate if they should be in that category or not.
So, you'll basically get paid to watch shows and movies and give them the proper tags.
You can always keep a close eye on the Netflix Careers page, too, because new opportunities could always arise.
Perk TV is similar to HitBliss in that you earn rewards for watching TV.
However, with Perk TV, you can earn real cash. You earn points for watching videos, which you can turn in for a variety of gift cards and PayPal cash.
It takes 1,000 points to earn a dollar, but it's possible to earn a few dollars per day, depending on how much time you spend on Perk TV.
Most of Perk TV's videos are trailers for new movies or TV shows, but there are also other categories, like celebrity, athletic, and political videos.
QuickRewards is another Get Paid To site that functions much the same as others.
Get paid to surf the web, complete offers, play games, take surveys, and more.
You can also use the paid videos to earn some cash while being entertained.
The videos are also similar to the ones you'll find on other GPT sites, like app and movie trailers or short advertisements.
You earn a cash balance for most things, which you can redeem for several different gift cards, like Walmart or Amazon, or transfer it to PayPal.
For videos, you'll earn points. It takes 100 points to transfer to cash.
The good thing about QuickRewards is it reportedly pays fast, within 72 hours of cashing out.
QuickRewards videos won't make you a lot of money, but it's another avenue you can go to earn some extra cash.
SlideJoy is an app for iOS and Android devices that pays you PayPal money for watching ads.
All you have to do is download the app and SlideJoy places ads on your lock screen.
You can either slide right to ignore the app, or you can engage with the app by sliding left.
When you slide left, SlideJoy will take you to the advertiser's landing page, which could be its website, a sign-up form, a YouTube video, or whatever else the advertiser decides.
Whether or not you engage with the ad doesn't affect your earnings. You'll make the same amount regardless.
But, it does help SlideJoy understand your preferences so it can better target ads for you in the future.
In other words, you'll see more of what you want and less of what you don't when you engage with, or ignore, the ads.
Your earnings are in the form of Carats, SlideJoy's version of points.
You can cash out your earnings one month after you earn it for gift cards or PayPal cash.
Success Bux is a Get Paid To site that focuses on rewarding you for watching advertisements and taking surveys.
But, you can earn some extra by referring friends, participating in offers, listening to music, and more.
There are a lot of advertisement rewards here, though, so if you don't mind watching short advertising videos, this site may be a good one for you.
Plus, you can cash out with only $1 in your account, which is a lot lower than other similar sites.
Viggle makes it possible to watch the TV shows you love and get paid for it. The Viggle app is available for iOS and Android users.
On the app, check in when you watch your favorite shows. They can be live or streaming!
Viggle will show sponsored advertisements through the show. When you remain on the app through the advertisements, you'll earn Perk Points
So, the longer you watch TV with Viggle, the more you make!
Your Perk Points can be exchanged for prizes, gift cards, or you can load your cash to a Perk Plastik card, which is basically a prepaid debit card.
You Cubez pays you to interact with advertisements by clicking on them to visit websites or watching video ads.
The website helps match advertisers with people interested in engaging with their websites and businesses through the ads.
You make money for doing so, as well as taking surveys and referring your friends.
You can cash out your earnings to your PayPal account or Payza account.
YouTube
If you make your own YouTube videos, you know that YouTube ads can help monetize them.
But, is there a way to make money from watching YouTube videos?
Yes!
Pay2YouTube will pay you to watch videos promoted by YouTube video creators.
They'll pay the site to promote their videos for more views and fans.
You help make that happen by watching the videos and getting paid a small chunk.
Yes, the pay is really low here – currently, the site shows that you can make up to 3 cents per day if you have 35 referrals in your downline.
The FAQ section lists the current pay per video as $0.005, $0.10 for each comment on a video, $0.01 for each rating you give, and $0.15 for subscribing to a channel.
So, it won't make you much money, but it's a good way to earn if you're going to spend your time watching YouTube videos anyway!
Toluna is an online community where users can earn rewards by participating in surveys and mini-polls, but they can also make money by watching sponsored video content.
Much like the platforms mentioned above, advertisers pay Toluna to showcase their content to its users.
Users will earn points for each video they watch and provide feedback on.
These points can then be redeemed for various rewards, including gift cards and cash.
It's important to know that the amount you can make on Toluna depends on the number of videos you watch and the time you spend on the platform.
So, while it's not likely to replace a full-time job, it can certainly help you earn a bit of extra cash in your spare time.
UserTesting is a platform that allows businesses to gather feedback on their websites, apps, and products from real users.
As a tester, your job will be to navigate through a particular website or app, complete specific tasks, and then provide feedback about your experience.
Many of these tests also include watching and providing feedback on video content.
The payout for each test varies but generally ranges from $10 to $60, depending on the complexity of the test.
It's an excellent platform for anyone who enjoys giving feedback and helping companies improve their user experience.
It also pays relatively well compared to many other online money-making opportunities.
SlideJoy is an app that pays you to watch ads and content on your lock screen.
Once you've installed the app, you'll start seeing ads and content on your lock screen.
You can choose to interact with the content or just swipe right to go to your home screen.
SlideJoy shares a part of their ad revenue with users.
The amount you earn is not very high, but considering it requires little to no effort on your part, it's a pretty easy way to make a bit of extra money.
You get paid in 'Carats' which can be exchanged for cash or gift cards.
Tips for Choosing the Best Methods to Get Paid to Watch Videos Online
Choosing the best methods to get paid for watching videos online can be both fun and financially rewarding.
However, making the right choice depends on understanding the platforms, the payment methods, and the potential earnings.
1. Research the Platform
There are various platforms that offer opportunities to get paid for watching videos.
These may include online market research firms, survey companies, or even platforms specifically designed for this purpose like Swagbucks or InboxDollars.
Be sure to research and compare different platforms to find the most reputable and high-paying ones.
Check reviews and feedback to understand user experiences and to determine the legitimacy of the platform.
2. Consider the Payment Method
Different platforms offer different payment methods.
Some may pay in cash, while others may provide gift cards or redeemable points.
Choose a platform that offers a payment method that best suits your needs.
For instance, if you prefer cash, platforms that pay via PayPal or direct bank transfer may be your best option.
3. Evaluate the Time Commitment
Some platforms may require you to watch videos for a certain length of time before you can earn.
Make sure to understand the time commitment required and assess if it's worth your effort.
Choose platforms that balance well between the time you invest and the returns you get.
4. Diversify Your Options
Relying on a single platform may limit your earnings.
Consider diversifying your options by joining multiple platforms.
This way, you can maximize your earning potential and have a constant stream of videos to watch.
5. Check the Type of Content
Make sure to choose platforms that offer videos you are interested in.
It can quickly become tedious if you are forced to watch content that doesn't appeal to you.
Some platforms offer a variety of content, while others may focus on specific niches like product reviews, movie trailers, or news.
6. Understand the Terms and Conditions
Always read and understand the terms and conditions of any platform before you sign up.
These will provide crucial details about how and when you get paid, any penalties for non-compliance, and what happens to your data.
Avoid platforms with sketchy terms or those that fail to provide clear and comprehensive information.
Conclusion: How to Get Paid to Watch Videos Online
It's likely that you won't earn a lot from watching TV unless you get a job in the entertainment industry.
But, you may as well take what you can get from these easy ways to earn a little cash doing something fun, right?
Try out a few and stick with the ones you like the most to maximize your earnings.
Have you tried any of the above methods for earning cash?
Let us know your experiences and thoughts in a comment!
Related Posts:
Earn Everything… nearly!
Join Ipsos iSay, one of the few Faithful and Honest survey panels and earn prizes, gift cards and donations. Stack your points and redeem them: Simple! No hidden fees and completely free!