How to Get Walmart Free Samples & Free Stuff: Top 11+ Ways
Updated on: by Amy Kennedy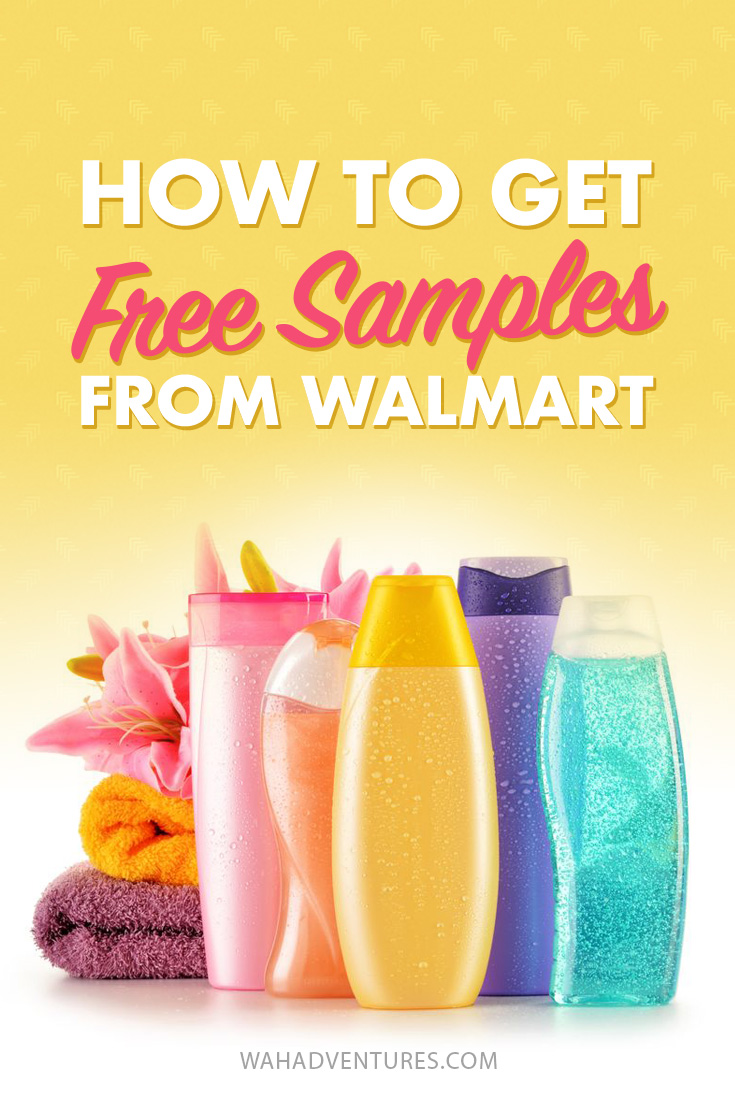 Who doesn't love Walmart? The massive, worldwide retailer is also America's biggest retailer, with the majority of the country living within 15 minutes of their local Walmart!
Need Easy Extra $350+/Month For Free?
If you can't find what you need at Walmart, you likely won't find it anywhere.
The store carries everything, it seems: food, alcohol, bicycles, home décor, clothing, birthday supplies, and more.
Walmart even has some serious shoppers who go out of their way to search for deals, coupons, and even freebies.
Yes, you can get free items at Walmart, both samples and full products!
If you didn't think your day could get any better, keep reading!
Get Free Samples at Walmart!
First, let's start with free samples from Walmart.
The retailer has a free samples program for its stores and online store that lets you test out baby, beauty, food, makeup, and other products before you buy.
Get Free Samples from Walmart Stores
Many Walmart stores are taking advantage of the "free sample" craze, which was made famous in part by Walmart's partner store, Sam's Club.
Sample vendors are set up throughout the store, mostly in the food areas, to give free samples for you to try.
This, of course, is to give shoppers something to try that they might be overlooking on the shelves. Companies partner with Walmart to gain some extra exposure to their products, which are usually new products or an improved version of a current product.
In my local store, there's usually at least two or three food or drink samplers set up any time I go, and I've even occasionally been greeted by samplers giving away free beauty and makeup products.
I've also gotten packs of awesome coupons, including some free coupons for baby items, laundry detergent, makeup, and more.
So, when you're strolling through Walmart, be aware! There likely are a few samplers in the store ready to give you some free stuff.
If you don't see any, you could always head to Customer Service and ask someone when samplers will be at your store. It's possible that they have certain times of the day or week for samplers to be there (maybe I just get lucky!).
Get Free Samples from Walmart.com Website
A couple of years ago, Walmart.com was known for its free samples.
Need Easy Extra Cash?
Pinecone Research, a leading name in online survey panel honesty, absolutely guarantees $3 cash for every survey you complete!
Take advantage of their time limited New Membership drive and register NOW. Join today: 100% free!


You could go to the website, type 'free samples' in the search box, and a page for free samples the company was currently giving away would come up.
Now, it's not so simple.
There is no longer a page dedicated to free samples on the website, probably because so many people caught wind of how awesome it was and Walmart couldn't keep up!
But, you can still get free samples from the website!
It's just a matter of timing.
Occasionally, I'll see some samples pop up as I'm shopping for things on the website.
Sometimes, if you buy a certain product, you'll be eligible for a sample of another product.
The website will tell you what you need to do to qualify.
I've also been randomly sent free samples for products almost every time I order from Walmart.com and have it shipped to my house!
I've gotten samples of granola bars, shampoo and conditioner, body wash, diapers, lotion, and more.
So, free samples on Walmart.com depend on what you're shopping for, but definitely keep your eye out as you browse.
And, you may just get lucky and score some free stuff in your shipped box.
FREE Sample Boxes from Walmart!
Additionally, Walmart.com has free sample boxes that you can get shipped to your home four times per year!
You can choose from:
Beauty Box. The Beauty Box sampler will include some of Walmart's favorite beauty products, like makeup, lotions, hair care, and body wash. Sometimes you even get full-size products, like nail polish and deodorants!
Baby Box. Test out the latest baby products from trusted brands. You can choose the Pregnancy box, Newborn/Infant box, or Toddler box. You'll receive curated items for your stage, plus be automatically bumped to the next box when it's time.
The only catch is you pay $5 for shipping and handling for each box, so $20 per year. If you ask me, that's a small price to pay for some awesome free stuff!
The value of samples in the boxes range anywhere from $10 to $20, on average, so you're still getting plenty for free.
Get Free Stuff at Walmart!
This is where the fun really starts. Not only can you get free samples from Walmart, but you can also score free full-size products with these little-known tricks!
Attend a Walmart Event
Go to Walmart.com and plug in your zip code to find your local store. On the right side of the screen you should see a section for local events.
Scroll through there and see what's happening!
Sometimes, Walmart has sampling events in certain areas. You may get to sample a bunch of foods, health and beauty products, or even toys.
These events usually include some type of handout for people who show up, like a goodie bag of free samples or coupons for free products. I've even heard of some giving away full-size products to lucky winners!
So, it's worth it to take a look at what's in your area. If you live in a smaller town, find the closest city near you and take a drive. The Walmarts in larger areas usually have more going on for events.
Look for Expirations
No, you're not going to be able to get expired products from Walmart for free. But, if you do find expired products on shelves, you can use it to your advantage.
Like some other stores, Walmart has a 'fresh or free' policy for its food products. If you find some chicken breasts that expired last night, for example, you can bring them to customer service and get a similar package for free.
Of course, they won't give you the expired product for free since that could easily turn into a lawsuit. But getting a non-expired for free is even better.
Walmart is a huge store, so it has to be hard for employees to not miss anything when rotating stock. It happens.
But, this policy is Walmart's way of saying "Thank you for bringing it to our attention!". It's a win-win for everyone.
Search the Web for Freebies & Coupons
This is one of the best ways to get Walmart products for free! Of course, it takes some time and strategic planning, but fortunately, tons of bloggers do most of the tough work for you.
If you frequent any freebie or couponing sites, definitely check there first. If not, search the web – there are hundreds of them ready to save you money!
Earn Everything… nearly!
Join Opinion Outpost, one of the few faithful and honest survey panels and earn cash and gift cards for your opinion. Stack your points and redeem them: Simple! No hidden fees and completely free!


My favorites for finding Walmart deals are FreeStuffFinder and How to Shop for Free.
They both have categories dedicated to Walmart and they're updated weekly. These bloggers literally do it all for you.
They detail products that are already on sale at Walmart that week and provide links to coupons you can use to make the products cost pennies or nothing at all. Some even will give you money back!
For example, as I write this and browse FreeStuffFinder, I see a final price of +$0.18 on Bic Disposable Razors. They're marked down to $2.82 at Walmart, and you can use the provided coupon for $3 off a pack, so Walmart will pay you money!
It's so easy to find deals like this. You just have to put in the work of printing coupons and organizing your list so you don't miss any deals.
Use a Walmart Credit Card
Do you have a Walmart MasterCard? I do, and it's pretty awesome!
The Walmart MasterCard has a cash back structure that can help you earn cash toward purchases:
3% back on purchases made on Walmart.com
2% back on fuel purchases at Murphy USA or Walmart gas stations
1% back on in-store purchases and anywhere else the Walmart MasterCard is accepted (which is most places!)
You should be aware that Walmart also has another credit card that can be used only in Walmart stores and its affiliates, like Sam's Club. This one also comes with cash back options, but can't be used at any store out of Walmart's realm.
You can use your cash back to put toward a credit on your statement or redeem it for a Walmart gift card for free Walmart stuff!
You also get 3 to 5 cents off gas at Walmart and Murphy USA gas stations with the Walmart credit cards! Extra savings all around!
Use Walmart's Savings Catcher
The Walmart Savings Catcher app is my go-to app whenever I make a Walmart purchase.
I usually visit my local Walmart one or two times per week. Each time, I scan the barcode of my receipt into the app. Not only can you save all your receipts for future reference, if needed, but you can upload it to the Savings Catcher (the best part!).
The Savings Catcher is a price match tool that does all the work for you. It compares the prices you paid to prices in other stores, like Target, Family Dollar, etc.
If you paid more than what other stores offer on any item, Walmart pays you the difference! On one of my receipts last week with only 10 items, I got $2.47 back. In just two weeks, I'm up over $8. I call that a win!
I know Walmart usually has awesome prices, but every once in a while, somewhere else puts something on sale and you reap the benefits.
You can trade in your earnings for a Walmart gift card and visit the store for some more free stuff!
Apply for Walmart Funds
I'm putting this tip at the end because it's a little different and not everyone will qualify. But, if you're a part of an organization or a community in need, you can apply for Walmart grants.
Walmart's Community Grant program gives funds between $250 to $2500 to communities and individuals in need of assistance to help those in their areas.
In particular, Walmart likes to focus on the giving spirits of its own associates that give back to their communities by volunteering in some way.
The program will provide cash or items of equal value that can help a particular program. School supplies, for example, for children in need.
If you or someone you know thinks they might be eligible for Walmart funds from the program, you can apply here.
Join Walmart's Product Testing Panels
Walmart occasionally conducts product testing programs where they distribute free samples of new or upcoming products to a select group of customers for feedback.
These programs allow you to try out the products before they hit the shelves and provide your opinions, helping Walmart gather valuable insights.
To participate, you can sign up to become a member of their product testing panels.
If selected, you may receive free products to test and share your feedback with Walmart.
Follow Walmart's Social Media Channels
Walmart often runs promotional campaigns and giveaways on their social media platforms, including Facebook, Twitter, and Instagram.
By following their official accounts and staying engaged, you can stay updated on any freebies, contests, or special offers they announce.
Walmart may occasionally run social media giveaways where you can participate for a chance to win free products or receive exclusive offers.
Keep an eye on their social media posts and participate in the required actions, such as liking, sharing, or commenting, to increase your chances of getting free items.
Sign up for Walmart's Email Newsletter
Walmart sends out regular newsletters to their subscribers, providing updates on new products, promotions, and discounts.
By signing up for their email newsletter, you can stay informed about any upcoming freebies or special promotions happening at Walmart.
These newsletters often include exclusive deals and occasionally feature free sample offers.
Make sure to check your email regularly and take advantage of any opportunities mentioned in the newsletter to claim your free items or samples.
Participate in Walmart In-Store Events or Demos
Walmart frequently organizes in-store events, demonstrations, or workshops on various topics like cooking, health, or crafts.
These events aim to engage customers and provide valuable experiences. Sometimes, these events feature free samples, giveaways, or product demonstrations.
By participating in these in-store events, you can have the chance to enjoy complimentary items, such as samples of food or beverages, or learn about new products firsthand.
Keep an eye out for event announcements in your local Walmart store or check their website for event schedules.
Now That You Know How to Get Walmart Free Samples and Free Stuff…
How else can you save money at Walmart? Let us count the ways!
Price match. Walmart is known for its Price Match guarantee. If you show your cashier a flyer from another store with a lower price on an item you're buying, Walmart gives you the item for the other store's price.
Search for coupons and mailers. Keep an eye on Walmart mailers to check out the current deals for the week and search the web for coupons that can make them super cheap or free!
Pay attention to your credit card offers. Sometimes Walmart will offer special deals or extra cash back for certain purchases. Plus, it occasionally ups the amount you can take off each gallon of gas with your credit card, sometimes up to 10 cents!
Utilize free shipping and in-store pickup.com offers free shipping on tons of big items, plus for certain purchase amounts. You can also use in-store pickup for free shipping on other items and you don't even have to worry about long lines in the store.
Search for refurbished items.com sells refurbished electronics, like TVs and computers. These are gently used products that have been made like new, and you can save a good chunk of money buying them.
In fact, the laptop I'm currently using to write this is a refurbished one from Walmart and I've had it for about four years with no issues (and saved about $300!).
Take advantage of bundles. com often bundles like items together for cheaper prices. I've seen it with clothing and furniture, especially, but even with toys, games, and electronics. Always pay attention to them when you shop so you can score extra stuff for lower prices.
Shop in the morning. If you're shopping in-store, shop in the early morning. Overnight is when Walmart does most of its rotating and restocking, so you can usually find the newest clearance items in the early hours.
Definitely take a look at the meat department, too. First thing in the morning is when the close-to-expiring meats are marked down, saving you anywhere from $0.50 to $1.00 per pound!
Use rebate apps. In addition to Walmart Savings Catcher, download some rebate apps that you can check before you shop.
Ibotta (review) is among my favorites. Use it to get cash back on items you shop for. Just scan your receipt after you're done shopping and the app will credit your earnings!
Keep up with experts. If you're really serious about saving as much at Walmart as possible, I suggest making a bookmark folder in your web browser specifically for Walmart blogs and couponing sites!
This will keep all the experts handy so you can check them daily, weekly, or whenever you go on a Walmart trip.
One of my favorites is IHeartTheMart. It's like the gold standard for anyone who loves Walmart!
There's also great Amazon deals, but it's mostly focused on Walmart freebies and money-saving tips.
Grocery Shop for Free at the Mart is another one you need to bookmark!
This one is all about Walmart, from ad matching to $1 deals and more.
Feel free to share your freebie-finding, money-saving tips for Walmart in a comment below!
Related Posts:
Earn Everything… nearly!
Join Ipsos iSay, one of the few Faithful and Honest survey panels and earn prizes, gift cards and donations. Stack your points and redeem them: Simple! No hidden fees and completely free!