Getting Started Working From Home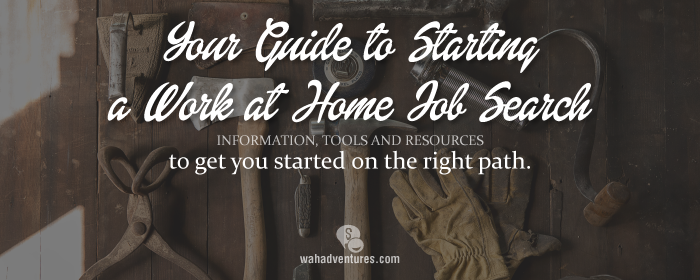 Welcome to Work at Home Adventures, or WAHA for short. This page is dedicated to helping you get started on your path to finding a flexible work at home job. The links and information found here will serve as a guide to navigate you through understanding the platform of home based jobs, what is generally required, how to avoid scams and getting your first virtual job from home.
Need Easy Extra $350+/Month For Free?
Index: What You Will Find on This Page
2. Understanding Scams and Avoiding Them
3. Researching Work at Home Companies
4. Help With Obtaining Internet, Computer and Training
5. Where to Begin your Job Search
1. Work at Home Job Types
Freelancing / Independent Contractor / Employee
As you begin looking for ways to make money online, you will come across a lot of different job types. Understanding the differences between these is important so you know the best job type to fit you and your family.
* Freelancing
Being a work at home freelancer means you work for yourself. There are many freelancing opportunities online from writing, virtual assisting, transcription, consulting and more. Regardless of the line of freelancing work, it is good to understand the pros and cons.
Pros: Freelancers work on their own time table. They also find their own clients and have the option of being choosy about what kind of work they accept. Freelancers often choose their own rates and have a lot of control over their work life.
Cons: Being self employed means there are no  benefits available such as sick time, vacation pay or insurance. Freelancers also rarely have a steady income as gigs come and go. Many freelancers feel they spend just as much time looking for their next freelance project as they do actually working. Additionally, taxes are not withheld from their pay. Many self employed people find setting aside 30% of their income is a good measure to ensure they do not come up short-handed in April.
If you have a specialty in a subject and you need a flexible schedule, Freelancing could be the right choice for you. However, if you need a work at home job that is reliable and steady, then you may want to look at other options.
* Independent Contractor
Being an independent contractor is much like being a Freelancer. However, in the work at home industry, Independent Contractors often work for a few steady companies, rather than individual clients. Independent Contractors are still self employed and have control over their schedule, but many will find themselves working within the limitations of the companies they are contracted under.
For example, a contractor may work as a virtual call center agent for 3 different companies. Each company may have their own minimum number of hours required to work to remain an active agent. Independent Contractors find the best way to balance their needs with their company's needs.
Being an Independent Contractor versus a Freelancer can mean a more stable income as many of the companies they contract under offer steady pay dates. However, a lot of Independent Contractors do not choose their own hourly rate. Again, because contractors are considered self employed, they do not have common benefit options and taxes are not withheld from their pay.
* Employee
If you are in need of a steady work at home job with a consistent paycheck, then working as an employee will often be your best option. Taxes are withheld from your paycheck, just as a typical job outside of the home. You are generally offered benefits like health insurance and retirement options. However, scheduling is not usually flexible. Most often, companies that hire employees, require a fixed schedule.
Need Easy Extra Cash?
Pinecone Research, a leading name in online survey panel honesty, absolutely guarantees $3 cash for every survey you complete!
Take advantage of their time limited New Membership drive and register NOW. Join today: 100% free!


2. Understanding Scams and Avoiding Them
Scams are one of the biggest deterrents newbie work at home job seekers face. It may be difficult to spot initially but here are some common things to avoid when seeking a legitimate work at home job.
What to Avoid
*Get Rich Quick Schemes. They are often enticing and many times you think, what harm can be done. Trust me, scammers are out to get free work, your information and sometimes your money. Drop the idea of earning a lot of money quickly for very little work. Expect that a legitimate work at home job will require you to do a fair amount of work and the pay will be reasonable. Anything beyond that needs to be ignored. Don't be tempted.
*Paying Money. The only time you should pay any money to work from home is if you are investing into your own business. Buying a headset to use as a virtual call center agent or paying for a background check are examples of reasonable expenses. Do not ever pay for training material. There should not be a cost to get started for most legitimate work at home companies. This rule is not a one size fits all though. If you are unsure what you are being asked to pay for is reasonable or legit – follow the next section on how to research the work at home company.
3. Researching Work at Home Companies
Avoiding scams is best done by knowing how to research work at home companies. Here are a few ways we do our best to find out if a company offering work at home jobs is legitimate.
*Google the company name plus the word scam (example: CircumNews Scam). This will show you if there is any online chatter of people complaining about being scammed.
*Visit online forums. There are two major online forums where experienced work at home agents hang out virtually. These are great resources for finding out if a company is legit and what other, experienced, opinions are.
*Visit Glassdoor.com. This is a great website to learn more about legitimate companies. Current and previous workers rate the companies and give feedback that you will find extremely helpful on your work at home job search.
*Search on WAHAdventures.com. There is a search bar in the top right corner of this site. Try searching the company name to see if we have a review with our feedback written on the site.
4. Help With Obtaining Internet, Computer and Training
Having reliable internet as well as an  up-to-date computer is necessary to beginning a work at home job. It is also important to have basic computer skills. Visit http://everyoneon.org/ to see if there are any programs in your area for discounts or possibly free internet, computers and training.
5. Where to Begin your Job Search
Visit our job board here at WAHA to find current remote job opportunities.
Additional resources:
Earn Everything… nearly!
Join Ipsos iSay, one of the few Faithful and Honest survey panels and earn prizes, gift cards and donations. Stack your points and redeem them: Simple! No hidden fees and completely free!