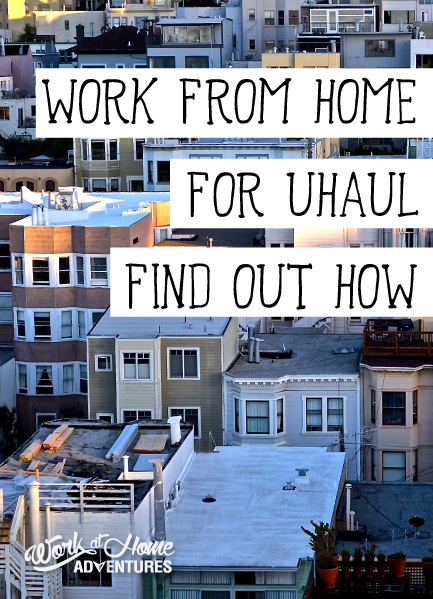 U-Haul hires employees from all over North America for part-time and seasonal Work-at-Home positions. These positions may be based in U-Haul's sales, emergency hotline, or reservation departments.  Some employees hired as seasonal workers may be offered permanent positions, or have the opportunity to pick up extra shifts during busy times.
Need Easy Extra $350+/Month For Free?
Application Process
Positions are available in most areas. Applying online will take between 15 and 45 minutes. You will need a cover letter, resume and 1-3 references. U-Haul may run a background/credit check, and may request that you submit to a drug screening.  Those looking to work from home should apply online.
Training to Work From Home
Training is offered online over the course of 4 weeks. The first week is 15 hours of online training followed by 2 weeks of 25 hours and a fourth week in which you work while being shadowed.  Once training is finished, agents are shadowed once per week to make sure they are handling calls correctly. Training is paid by the hour and is based on the minimum wage of your state.
Employee Benefits
Part-time employees are offered benefits including a Dental plan, Limited-care medical Plan, Travel Insurance, 401 (k), Stock Ownership, U-Haul Discounts, and Credit Union. Full-time employees receive additional benefits.  *Please note that only permanent employees are eligible for benefits.
Scheduling
Scheduling is said to be flexible. We have found online that agents are able to express their availability to U-Haul, U-Haul then bases the schedule on the needs and availability of its employees. Many shifts are available as certain departments, such as Roadside Services, are open 24/7.
Compensation at U-Haul
Employees of U-Haul receive competitive wages that vary depending on the position.  Agents reportedly make between $12-14 per hour. This number is based on minimum wage and bonuses. U-Haul hires people as employees and therefore taxes will be withheld.
How to See Home Based Job Openings
Visit the Jobs.Uhaul site to view the current job openings.
Related Posts:
Want more money?

Easy Extra Cash! Join the famed Nielsen Computer and Mobile Panel site, install the app and earn rewards just for using the Internet as you do today! Nielsen gives away $10,000 each month.
Guaranteed 100% free membership.