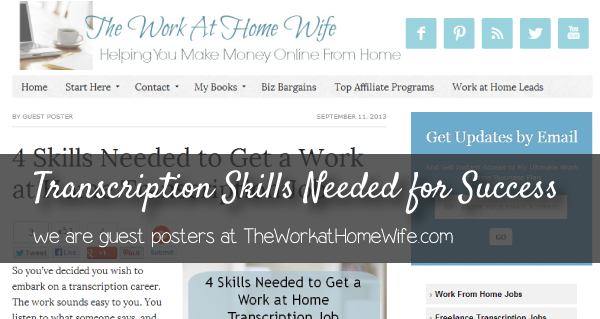 Need Easy Extra $350+/Month For Free?
I have been branching out to other bloggers as a guest poster. I have been honored to appear at The Work at Home Wife blog where I discussed the skills needed, and often overlooked, to land a work at home job in transcription. Many of the WAH job seekers are interested in transcription work- which is viable and a great way to make an online income. However, it is also a highly misunderstood line of work.
Generally transcription work is thought of as being a simple task that can be done with ease while the kids are busy around the house. The truth however is very different.
Read the 4 Skills needed to be successful as a Work at Home Transcriptionist.
Related Posts:
Want more money?

Easy Extra Cash! Join the famed Nielsen Computer and Mobile Panel site, install the app and earn rewards just for using the Internet as you do today! Nielsen gives away $10,000 each month.
Guaranteed 100% free membership.