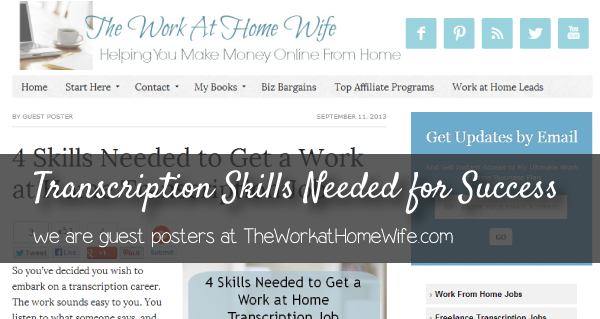 Need Easy Extra $250+/Month For Free?
I have been branching out to other bloggers as a guest poster. I have been honored to appear at The Work at Home Wife blog where I discussed the skills needed, and often overlooked, to land a work at home job in transcription. Many of the WAH job seekers are interested in transcription work- which is viable and a great way to make an online income. However, it is also a highly misunderstood line of work.
Generally transcription work is thought of as being a simple task that can be done with ease while the kids are busy around the house. The truth however is very different.
Read the 4 Skills needed to be successful as a Work at Home Transcriptionist.
Related Posts:
Earn Everything… nearly!

The internet's Best Paid Surveys are here. Make up to $100 per survey completed.