20 Easy Halloween Crafts You Can Make to Sell
Updated on: by Amy Kennedy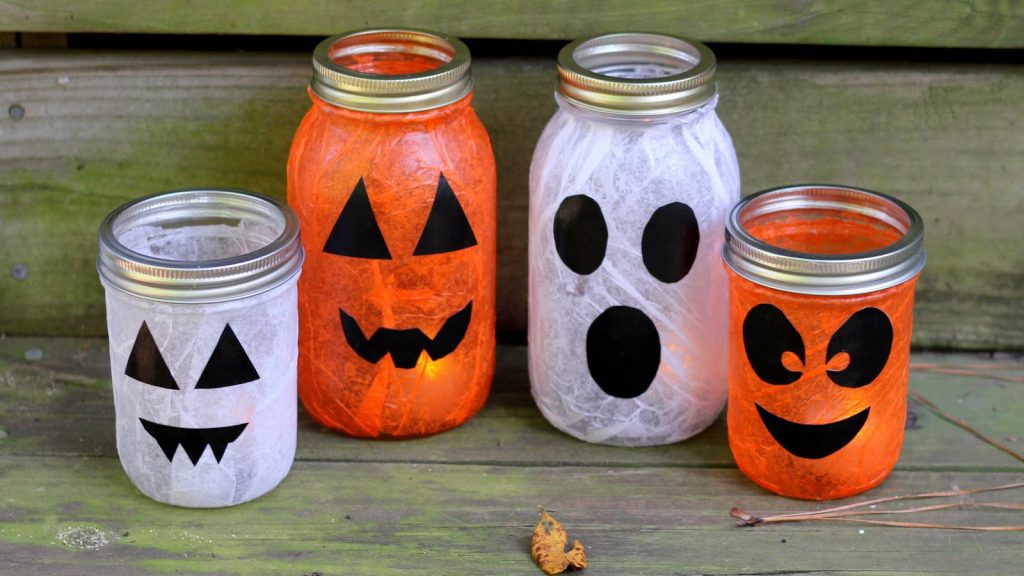 Halloween is a period of fun and enjoyment where we can try out awesome costumes and have fun together with friends and family. Amidst the fun and pomp associated with Halloween, there is a chance to make lots of money while selling crafts for Halloween.
Need Easy Extra $350+/Month For Free?
Halloween happens once a year on 31st October, with households in the USA spending over $8 billion on candies, costumes, and some crafts. It is, therefore, clear that there is a lot of potentials to turn Halloween into a cash cow.
This holiday presents huge opportunities to make profits as everyone is looking for crafts that will make their home beautiful and create a rewarding experience as they play trick or treat on Halloween.
All you need is a creative scary idea and an interest in marketing your crafts. If you do not know what to create or where and how to sell, do not worry; we've got you covered.
Hang on tight as we go on a rollercoaster of making creative to some spooky creation out of the ordinary at home to dazzle and scare your customers, as well as send you smiling to the bank. The crafts you make can be used all over the home as decor to decorate the porch, living room, door, and even windows because nothing is off the table.
There are projects for both kids and adults, and are sure to make the day memorable.
Easy Halloween Crafts To Make and Sell
We have all tried to make different crafts at some point in life, and I bet the most challenging thing is settling on what works for your particular situation. We have looked for the easiest to make crafts from the comfort of your home to start earning some cash.
1.      Crochet Ghosts Doll
You can manage to be cute and spooky at the same time with the crochet. All you need is a crocheting needle, yarn, and cotton. You can use yarns of different colors to make a rainbow-colored doll, though a white doll stays truer to the theme of a Halloween ghost.
The doll can make for a perfect gift for kids. You can try some safety eyes that look a bit ghostly, but it's also possible to improvise with felt.  Crotchet ghosts can be used for decorating kid's rooms.
2.      Wood Trick or Treat blocks
Use wood, paint, scrapbook paper, or stamps to make woodblock with some Halloween themes and clever wordplays such as "Trick or Treat." Try to use simple colors add some ghost or spidery designs. The woodblocks can be added to any shelf, fireplace mantel, or table, increasing the potential number of buyers.
Try to keep each wooden piece in a different color and tone them down with a small wooden crate.  Keep the overall dimension small as a 6" H x 14" W x 1.25" would be perfect.
3.      Painted Pumpkins
Pumpkins have been an honored Halloween tradition. There are endless painting ideas that can get your customers hooked. All you need is a bit of creativity to get your idea out.
Vary the base color with some paint and glitter to produce unparalleled masterpieces. Try to customize your customer's experience by adding their names or adding some spooky designs such as spiders.
4.      Homemade Canvas Art
Do you have any painting skills? Well, it is time to put them to good use on a canvas. Just visit a local store for some canvas boards and do what you do best. Remember to keep the art Halloween-themed.
A simple addition of some creepy spiders, some pumpkin, and the word "Happy Halloween" can be a perfect treat to get customers swarming for your art.
5.      Crochet Troll Hat
Crochet patterns can help you create marvels one such marvel that can be brought to life is the troll from the marvel movie trolls. Since trolls come in multiple colors, it is possible to create many trolls that can transform anyone into a troll.
Need Easy Extra Cash?
Pinecone Research, a leading name in online survey panel honesty, absolutely guarantees $3 cash for every survey you complete!
Take advantage of their time limited New Membership drive and register NOW. Join today: 100% free!


All you need is for this craft is some colorful yarn; crocheting needs some crocheting skills. You can even create a Halloween crochet pumpkin at the tip of the crochet troll hat. The troll hats are suitable for kids.
6.      Painted Pumpkin Jars
At times you do not need an actual pumpkin to create a realistic-looking pumpkin. Create beautiful painted pumpkin jars that your customers can place votive candles and use at the fireplace, front steps, or dining table.
All you need are some votive candles, orange acrylic paint, and black electrical tape, and a pair of scissors. Paint the jar using acrylic paint and allow the jar to dry completely. Cut out the eyes from the tape and tape the cutout designs at the front of the jar.
The votive candles are a welcome edition for customers searching for decorative pumpkins and can be used as a treat holder or used to serve apple cider.
7.      Halloween candy Hangers
Everyone loves candy at Halloween; you can make the experience more enjoyable by crafting. The DIY Halloween candy door hanger gives you the flexibility to greet your guest with a handful of candy. The hanger can make a good trick-or-treat toy.
Here we combine pumpkin decoration skills with a few hammering skills. It would be best to have a chalkboard, half pumpkin, wood-burning tool, black and white paint, and a razor blade attachment. Cut the mouth, paint the pumpkin white and the eyes black, then hammer it to the blackboard, and it is ready to be hung at the door and stuff candy.
8.      Halloween Frame
Creating a Halloween frame is much simpler than any other craft you'll sell this holiday. All you got to do is buy a basic picture frame and paint in Halloween-themed color, and you are all set.
You can also paint white spider webs on the frame or add haunted pumpkins. Customers can buy this frame to hang pictures. You are also at liberty to download a great print from some spooky monogram.
9.      Halloween wreaths
Wreaths are used virtually every holiday. You make wreaths from fabrics or some flowers around the hood. If you choose to go natural, be careful to ensure the color you choose matches the occasion and style.
You can even buy foam wreaths and decorate them around using attractive fabric or scrapbooks and bold letters. You can never go wrong when it is just beautifying a home wreath. You can include black and orange in coloring wreaths.
10.  Candy Corn Treat Bags
Candy plays a huge role in Halloween, and you ensure you keep the experience crisp with treats and trick candy corn-shaped bags. You can get ideas from Pinterest so you can create the artifacts for your loyal customers.
11.  Mason Jar Candy Holders
Crafts do not have to be only designed for the individual but also schools. One craft that can work with school's daycare is a mason jar candy holder to help distribute candy. Create a candy jar similar to the painted pumpkin jars.
Just keep in mind that this one should be pint-sized jars, and all you need is electrical tape to create triangular shaper eyes, nose, and mouth. Rake the lead off of the jars add some scrapbook paper pained in Halloween shapes and colors.
12.  Soda Bottle Wraps
Add soda wraps to soda bottles and sell sod to your customer. The more services you can combine, the better. Soda wraps can also be sold on their own.
Start making soda wraps by taking scrapbook paper or create some good design with photoshop. Cut out the soda bottle-sized pieces and cover the print in the soda bottle.
13.  Bat Straws
Do you know of a Halloween party in your neighborhood? Create beautiful bat straws and sell the straws to those having parties: colored straw shiny black ribbon and small peek-and-googly eyes.
Cut a zig-zag ribbon pattern, and tie the ribbon around the straw. Spread the knot so it is wide enough, and glue the eyes on the knot. It is possible to write names on the ribbon, making it a welcome gift to any party.
14.  Cake Toppers
Using scrapbook paper, it is easy to craft a cupcake topper. You can make the cupcake topper slightly 3 inches by three inches and add some glitter, paper cut out, or foam pumpkin. And allow some room for names.
15.  DIY Jack-O-Lantern Art
If you cannot create a jack lantern for all your customers, you can then create a jack-O-Lantern Art from a piece of wood or cardboard. There is no limit to the type of material you can use. You can use string, polystyrene.
16.  Halloween Mummy Dolls
There is nothing as gory and cute as a mummy to scare kids and just increase the fun on Halloween. Making Mummies can be easy all you need is some yarn, paper, gauze, or tape to create an impressive mummy. You can take a roll of tissue paper and attach it to the inner core of the tissue paper and add some googly eyes to complete it. Or take yarn and roll it with some gauze and the craft is great for sale.
17.  Bat Crafts
Bats are cute when used in Halloween art. You can create Bat crafts from clay, or canvas, or even string. The dark bat color world well with the good Halloween theme. You can choose an orange background and add the batt color on the canvas or pottery.
18. Spooky Candle Holders
Spooky candle holders can be a hit during Halloween. You can use regular glass jars and paint them in black or orange to suit the Halloween theme. Once the paint has dried, you can stencil or freehand Halloween designs like cats, witches, or bats on them.
Inside the jars, you can place battery-operated tea light candles to avoid any risk associated with open flames. These can be used as spooky centerpieces or decoration items around the house, providing both functional and aesthetic appeal.
19. Halloween Lanterns
Craft paper lanterns can be a fun and creative project that also aligns well with the Halloween theme. Choose paper in Halloween-associated colors like black, orange, and white. Cut out silhouettes of bats, pumpkins, or spiders and paste them onto the lanterns.
These lanterns can be hung outside the house or used as indoor decorations to create a Halloween ambiance. You can also add LED lights inside the lanterns to provide a soft, haunting glow that enhances the overall effect.
20. Ghost Windsocks
Ghost windsocks are excellent for outdoor decorations. Using white construction or crepe paper, create the body of the ghost. Add black circles for eyes and an oval for a mouth. Attach streamers at the bottom and hang the windsocks outdoors where the wind can catch them.
This creates a flying ghost effect which is very fitting for Halloween. It's an easy, cost-effective craft that can add a playful yet spooky touch to the exterior of any home.
How to Sell After You Make Halloween Arts and Crafts at Home
The motivation for visiting this blog is to understand how you can create and monetize your creation, and therefore we won't disappoint you. Let jump into how you can market your craft after spending hours, days, or weeks on them to turn a profit.
·       Advertise your Products Online
Everyone has some presence online. There is a vast market space to be capitalized online.
Earn Everything… nearly!
Join Opinion Outpost, one of the few faithful and honest survey panels and earn cash and gift cards for your opinion. Stack your points and redeem them: Simple! No hidden fees and completely free!


You can use the largest marketplaces, such as Facebook, that offer a free listing to anyone to get in touch with thousands of willing buyers in your locality. All you have got to do is give as much detail and embellish the listing with clear photos of your craft, and soon, your inbox will be swarming with potential buyers.
You can even share the links to your listing on your Facebook timeline so your followers have a chance to see you never know some can actively market your post.
Do you feel that your item can sell for more if you put it in an auction? Why not list your craft on eBay. There is potential even to sell your craft to foreign nationals making unbelievable bids on your arts.
There are many other market places such as Etsy that you can meet other potential art buyers. You can even market on your WhatsApp or Instagram status update; depending on your audience, you can exhaust your entire inventory in a day and smile your way to the bank. Keep your eyes peeled; there is always an opportunity online to showcase your art and skills.
You are at liberty to create a whole website to help retail your goods online. Adding a buy button and a checkout system will have many rewarding experiences if you intend to keep trading in crafts as a full-scale business or supplement other online products you retail.
·       Try Local Advertisements
It is possible to get many clients from cyberspace but do not shy away from getting clients from your neighborhood. People from your hood are much more like to support your business. The better your skill, the more cash you can rake in from your locality.
Try to make your presence felt in the locality. Contact local craft stores for bulletin boards that support advertisements.
Use word of mouth and let your message spread to the rest of the world. Feel free to talk to the local school or the teachers to find out if they are interested in some of your crafts. School may often need treat crafts to hand out to the kids.
Make flyers and banners advertising your products all over the neighborhood, showcase your products at the local fair to get the word out.
·       Let your friends and family Do the Marketing
You do not have to do all the heavy lifting when you have your friends and family at your side. Tell your friends and family about your artifacts share pictures with them. You can request your family members to share your crafts on their social media account.
·       Give out free Samples
If you have so many DIY crafts and you are sure to make a kill you craft, you can capitalize on the word of mouth of your first customers by handing out free gifts to your first customers. Once you give out your sample to a few customers, it is your sample to do the marketing for you.
·       Send out Proposals
Integrate your Halloween ideas for adults with services such as decoration where you can use some of your crafts. Send in proposals to local offices and stores to help them decorate their premises on Halloween.
There is a lot of money to be earned from Halloween. While your customer wants to spend money provide crafts and earn money for a more enjoyable holiday. Start small and try out the market for different crafts and adjust accordingly.
Related Posts:
Earn Everything… nearly!
Join Ipsos iSay, one of the few Faithful and Honest survey panels and earn prizes, gift cards and donations. Stack your points and redeem them: Simple! No hidden fees and completely free!