Health Insurance Options for People Who Work From Home
Updated on: by Erica Martin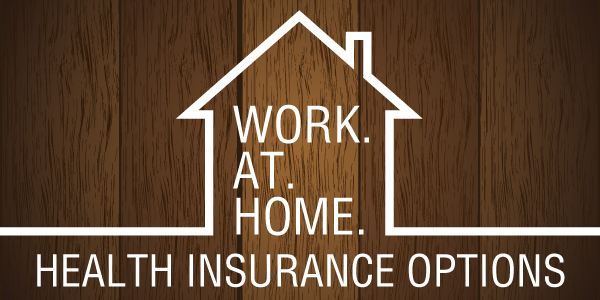 Need Easy Extra $350+/Month For Free?
One important benefit that many people give up when they decide to work from home is health insurance.  However if you work from home and aren't married to someone who has a job that provides good health insurance, and you need health insurance because of medications you take and/or because you have to see the doctor often to keep certain health problems under control, there are several options available to you.  This blog post will provide some information on those options.
COBRA
If you're leaving a job outside the home to work from home as a freelancer, check and see if this option is available to you.   The COBRA premiums will cost a lot more than what you paid as an employee, but if you need health insurance, especially if you have to see the doctor frequently to  manage certain health problems, and/or you take medications that would be very expensive without health insurance, it's better than nothing, at least until you can find a work from home job that has good benefits, or until you find a cheaper health insurance option.  There are work from home jobs that provide benefits, check out the "Benefits Included" section under "Phone Jobs."  There are also other health insurance options that may be cheaper.
Low Income or Pre-existing Condition Insurance plans
Every state must offer options for people who have low incomes or pre-existing conditions that make it difficult for them to get insurance.  There are certain conditions you have to meet in order to qualify for this insurance however – the best place to start to find out about these plans is your state insurance commissioner's website.
Your local Chamber of Commerce
If you are a member of your local Chamber of Commerce, they may offer insurance plans to their members.  If you're not a member, it may be worth checking into – keep in mind that if you're a freelancer, you may be able to write off chamber of commerce membership dues, as well as the cost of any insurance premiums you pay out of your pocket.
MediaBistro
MediaBistro is a site where freelance writers can find jobs – membership to this site is free, however if you join AvantGuild, you can take advantage of the health insurance that they offer.  AvantGuild membership costs $55 a year, and you get access to different discounts, as well as access to How to Pitch guides for different publications in addition to getting access to health insurance plans you can apply for.  You can find out more about MediaBistro and AvantGuild benefits and sign up by clicking here.
National Writers Union
The National Writers Union offers dental and vision group plans, however it also helps its members find individual health coverage in their state.  Membership in the National Writers Union is not free, however – membership rates vary based on how much you make per year from writing, and whether you want to join for a full year or half a year – for example, if your annual income is less than $5,000 a year, you would pay $60 if you want to join for half a year, or $120 if you want to join for a full year – If you make more, the rates will go up accordingly.  There are 15 National Writers Union chapters, however if there is not a chapter in your area, you can still join the National Writers Union Online.  Check this link for more information on the National Writers Union.
The  Freelancer's Union
This site is open to all freelancers, no matter what field they're in, and offers group health insurance and life insurance, as well as a retirement plan.  The site is free to join and offers a lot of other great information for freelancers as well.  Find out more about the Freelancer's Union by clicking here.
Costco
In addition to providing great deals on food and clothing, Costco also provides several business services, including health and dental insurance.  Please note, however that these plans are only available in certain states at the moment – currently personal health insurance is only offered in Arizona, California, Connecticut, Georgia, Illinois, Michigan, Nevada, Pennsylvania, Texas and Virginia.  In addition,  business health and dental insurance  plans are available in California, Oregon, and Washington, and group dental plans for individuals are available in California.  If you live in one of these states and are interested in finding out more, click here – if you don't live in one of these states, Costco may add more states in the future, so be sure to keep an eye on the site for updates.
Small Business Plans
The amount of employees that a company has to have in order to be considered a small business varies – Aetna provides insurance to small businesses that have between 2-50 employees – but some insurance companies also offer small business health insurance to companies that only employ 1 or 2 people.  A good place to start to find small business plan is ehealthinsurance.
Need Easy Extra Cash?
Pinecone Research, a leading name in online survey panel honesty, absolutely guarantees $3 cash for every survey you complete!
Take advantage of their time limited New Membership drive and register NOW. Join today: 100% free!


Individual Plans
if you don't have a small business, you  may be able to find an individual plan that's cheaper than a small business group plan.  To find out if an individual health insurance plan is right for you, do a search for indivudal health plans in your state on ehealthinsurance and check out the health plans that come back.
No Insurance
If you and your family are reasonably healthy and don't take any expensive medications, going without insurance may be an option. You might also look into purchasing coverage just for specific situations, such as if you sustain injuries playing certain sports.  Auto insurance also contains some medical coverage for injuries that you sustain in an accident.  If you do decide to go with no insurance, at least consider getting a small policy for catastrophic illness and injury in case the worst should happen – that way you won't been in a mountain of debt if you should be diagnosed with a serious illness or you're in a bad accident that causes serious injury.
Move Overseas
This is the last option you want to consider, especially if you're married and/or have children.  Many countries, such as Canada, Mexico and Australia, offer more affordable healthcare options, so if you've checked all your other options and not found any that offer affordable coverage, and it's feasible for you to do so, moving overseas may be something you want to consider.  Be sure to do research on the country you're considering moving to though, because moving to another country will mean you'll have to learn their customs, as well as possibly learn a new language.  You can check out blogs such as Move Me Abroad and Expat Intelligence for more information.
These are some of the many options available for providing affordable healthcare to people who work from home.   With healthcare costs rising, having health insurance is so important, especially if you have children and/or you have health conditions that require medications that would be expensive without health insurance and/or you need to see the doctor frequently to manage those health conditions.
Related Posts:
Earn Everything… nearly!
Join Ipsos iSay, one of the few Faithful and Honest survey panels and earn prizes, gift cards and donations. Stack your points and redeem them: Simple! No hidden fees and completely free!