48+ Hobbies That Make Money Online and Offline
Updated on: by Amy Kennedy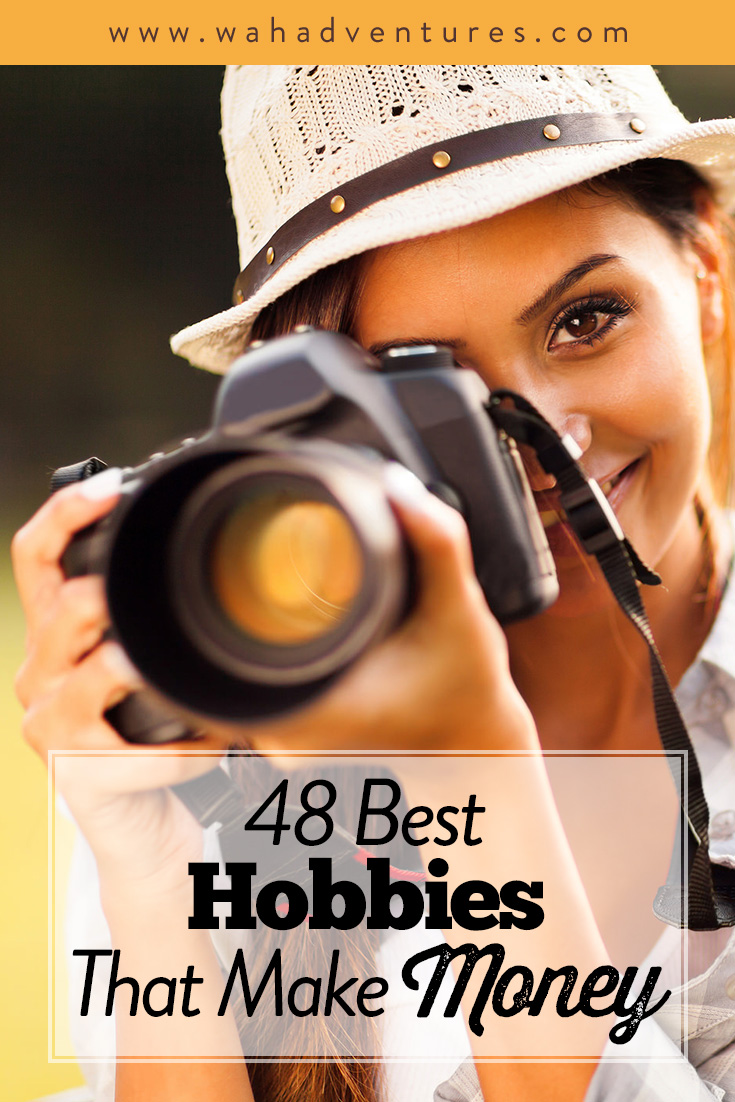 If you're looking to make money the easy way, why not do it with something you love?
Need Easy Extra $350+/Month For Free?
After all, it doesn't feel like a job if you love doing it!
Some of the best ways to make money actually lie in your hobbies, whether you realize it or not.
Love to blog?
There are tons of ways to make money with blogging!
Do you like taking photos of all the places you visit?
Sell them to stock photo companies or set up a small, local photography business and start earning money.
There are virtually endless ways to turn your favorite hobbies into money-makers, but this article will detail some of the most popular cash-earning hobbies.
Are There Really Hobbies That Make Money?
Absolutely! In fact, if you're crafty enough, almost every hobby can turn into hobbies that pay.
It all comes down to what you're willing to do to turn your hobby into a business.
The good thing is, if you're already doing it for a hobby, you already have the skills needed to do what you love to do.
So, there won't be any need to learn anything, except for maybe the business end of things, if you want to make your hobby as profitable as possible.
Usually, the best way to earn the most money is through online hobbies, since they require very little costs to get up and running.
A blog, for example, is something you can set up for free, or very little money, and takes little money to continue running if you publish your own content and do all the work of promoting.
And, since you'll love what you do, you have even more chance of becoming super profitable!
The passion is already there. You just have to figure out how to turn it into cash.
Need Easy Extra Cash?
Pinecone Research, a leading name in online survey panel honesty, absolutely guarantees $3 cash for every survey you complete!
Take advantage of their time limited New Membership drive and register NOW. Join today: 100% free!


The following list of hobbies includes both online and offline hobbies, with ways to turn them all into online money-makers!
Huge List of Profitable Hobbies
 Taking Paid Surveys
Some people actually really love providing their opinions through online surveys. If you're one of those people, you probably already know that you can make some side money doing it. But, there may be an opportunity for you to cash in even more.
Are you aware of how many paid survey sites are out there? Probably hundreds. No, they aren't all created equal, but if you join the right ones and are consistent in responding to survey offers in your inbox daily, you may be able to significantly increase your earnings.
If you're not a member of these sites yet, you should be:
You can also check out this list of the best sites. Join several, and watch your earnings add up quickly!
App Development
If you already have the skills to make fun or useful apps for smartphones or other devices, it's time to start cashing in!
You'll find a lot of job openings for app developers on freelance marketplaces, like Upwork, by clients who need app developers to turn their concepts into the real thing. There's no telling how much money you can make, especially if a client decides to pay you commission based on how well the app sells or makes with in-app purchases!
Babysitting
No, you can't technically babysit kids online, but you can definitely use the internet to help market yourself to people in need of your services.
You can use Care.com, for example, to create a profile and search for people in your area who need a babysitter. Or, join Facebook groups for your specific city or county to advertise your openings for more children.
Marketing your babysitting services online can open yourself to more people, allowing you to fill up your spots quickly and earn more money!
Baking
Baking can be a super profitable hobby both offline and online. If you truly have the passion for it, you won't mind making hundreds of cookies, cupcakes, or pastries for local bake sales. Check your local schools and keep your eyes peeled for local events where your baking may come in handy.
You can also earn money online with baking by starting a baking blog, creating an eBook of your most popular baking recipes, or even starting a YouTube channel where you show off your goods.
Or, use the internet to help you market a baking business! Upload your best cake designs to your business Facebook page and start giveaways or contests to help promote your page and grow your audience.
Bargain Hunting
Do you love searching for low-priced treasures at yard sales or flea markets? Especially if you have an eye for finding things that may be worth a lot of money, you can score a large profit by reselling them.
Using Amazon's Fulfillment by Amazon (FBA) service, people are doing just that and turning it into a full-time business. Amazon FBA makes Amazon take care of the packing and shipping of your items, leaving a ton of work off you.
Amazon FBA helps you keep track of your inventory, and you can use its pay-as-you-go service to help you keep track of your finances. Plus, with Amazon fulfilling your orders, you don't even have to stress about returns.
Blogging
Blogging started many years ago as a way for people to spill their thoughts to the public via the internet, hence the shortened form of "web log". Since then, it's become one of the best ways to make money online.
So if you blog but aren't yet monetizing it, you're missing out on what can be some serious cash. If you do a quick Google search about "making money blogging", you'll find tons of tips and tricks to get you started.
It all comes down to finding a good niche for you, something that is popular, yet unique enough to stand out. Then, create awesome content that helps your visitors in some way. This is how your content gets shared on other blogs and on social media, effectively giving you a bigger audience.
Placing advertisements and affiliate links is how most bloggers make money. But, there's also sponsored posts, where you get paid to promote brands or products, course creation, eBooks, and more. The possibilities are virtually endless once you find your niche.
ProBlogger is an excellent resource for all things blogging, including monetizing your blog.
Buying Antiques and Collectibles
You may already be buying antiques and collectibles for the purpose of reselling them for a profit, but you also could be losing out on money by not turning it into the kind of business it could be.
This is one of those hobbies where the internet can play a huge role in your success. Using social networks, buying and selling groups and forums, and e-commerce sites, like eBay and Amazon, are perfect ways to reach a bigger audience and make more money from your finds. You can also use Craigslist to find people interested in your products.
Don't forget to use the internet for research! Search prices of the items you're interested in so you can know if you're scoring a good deal and so you can learn what the item might be worth when you resell it.
Once you get an established business going, you might consider creating a blog full of helpful tips for those looking to break into the business. This can result in some excellent passive income through advertisements, selling eBooks, and affiliate income.
Carpentry
Some people are carpenters because it can make a good living. Others do it because they enjoy it. Fortunately, with this hobby, you can have both.
There's a lot of money to make if you're a skilled carpenter. Custom furniture is highly sought after by people looking for unique designs in their homes. You can start your own business by marketing yourself locally. Place ads in the newspaper, get your name spread by family and friends, and show off your skills in local community business fairs and events.
Use social networking to help grow your audience. Facebook, especially, is a good way to get photos of your custom designs to go viral. Create contests for followers to win a free custom piece of furniture and watch your fans grow rapidly!
Cars
Almost any skill having to do with cars can turn into a lucrative business. Mechanics, detailers, or classic car flippers can all create businesses based on what they love to do with cars.
Earn Everything… nearly!
Join Opinion Outpost, one of the few faithful and honest survey panels and earn cash and gift cards for your opinion. Stack your points and redeem them: Simple! No hidden fees and completely free!


If you're thinking about turning your skills into a business, the best way to get started is by finding a customer base locally. Turn to your friends and family to spread the word about your talent to find new customers. Or, advertise your services in your local newspaper.
To reach a larger audience, though, consider turning to the internet. Video tutorials could be an excellent way to show off your skills and make some money doing it. Think of how many people would love to see a video of you doing a custom paint job?
You might even consider creating an online forum for people to share auto tips and information. Forums can be monetized with advertisements, sponsored content, affiliate links, and more.
Collecting
You may not want to part with your vast collection of Pokemon cards, and that's okay. But if you think you're ready to, you can probably make a good profit, especially if you take time to find the perfect place to sell them.
For some things, and auction website like eBay works well. For others, not so much. It's good to understand your collection and where the buyers are for it. If you need to, search around on the internet and see what others are saying about your particular collection.
Searching for a specific group of people interested in your collection is probably your best bet. Maybe a Facebook group or online forum will turn up a person willing to pay big bucks for your collection, or at least some of your rarest pieces?
 Comedy
Telling jokes can be fun, but there's also money to be made in it. Some comedians get discovered through their YouTube channels by posting routines they do at home.
You can also sign up to write for greeting card companies online, many of which look for humorous people like yourself to write funny phrases for their cards. Some companies even let you sell your own cards through the site, which lets you have your own greeting card business.
Crafting
If you hang out on Pinterest at all, you know crafting is all the rage. If you enjoy doing it, you should try to make some money from it.
Etsy is the perfect place to sell your crafts, whether you make custom photo frames, handmade candles, or doll clothing. Set up an account, post photos of what you make, and start selling.
You can also write long-form tutorials explaining your crafts on your blog and make money from it. Top bloggers do this by targeting traffic using Pinterest to gain a lot of visits to a tutorial post.
On the post, they may display advertisements, which makes them money whenever someone clicks on them, or even as their pageviews rise. They also add in affiliate links to products that can help people make the craft, so they earn money every time someone purchases the products they recommend.
Or, simply use your social networks to market your crafts in local buying/selling groups.
Credit Card Collecting
Having a bunch of credit cards may not seem like the best financial move, but if you are strategic about it, it can be. This will likely only work if you have good to excellent credit, though.
Search for the best credit card offers that advertise sign up bonuses or excellent cash back rewards. A Google search will bring up top credit card offers in a number of different categories so you can find what you're looking for.
As long as you use your cards wisely, like paying off your balance each month, you can earn some serious cash from sign up offers or cash back on your purchases.
Dancing
If dancing is your passion, of course you can open up your own studio and teach others to dance. But, that route can cost a lot of time and money.
Instead, consider turning it into a money-making online business. You can create viral-worthy dance videos to post on YouTube. The more views you get, the more money you can make through advertising.
Get creative. Make a dance tutorial showing others some of your favorite moves, or you can even consider charging people for live, online dance classes!
Drawing
Have you ever thought about turning your drawing hobby into an illustrating business? Most freelance marketplaces have a special category just for illustrators to find work. You could be making cash by drawing for books, magazines, online publications, or even greeting cards.
You may even be able to create illustrations for advertising purposes, which can bring in even more money. Bloggers often search for talented illustrators, too, to design their branding or logo. Consider creating a profile on Fiverr so people can order custom drawings.
If you want to stick with tangible drawings and products instead of digital products, sell your talents on Etsy. Offer a variety of products to put your drawings on, like t-shirts, mugs, or canvases.
Eating Healthy
Eating healthy can be way more than just something you enjoy. It can make you a lot of money, especially online. Healthy food bloggers are making it big by promoting their healthy recipes, tips, and tricks on their blogs and social media networks.
Pinterest, especially, is an important marketing tool for this particular niche. If you learn to create Pinworthy images that make people want to learn more about what you offer on your blog, you can grow an audience quickly.
As your blog and audience grow, consider eBooks or courses to further market yourself and make some more money.
Editing
Editing may not technically be a hobby, but some people really enjoy words and grammar. If that's you, editing could be the thing that makes you money, especially if you've taken college writing or English courses.
Freelance marketplaces are good places to find editing jobs. Many writers seek editors to make sure their articles are perfect before pitching to their chosen publications.
You can also keep an eye out on places like FlexJobs or Indeed, which often have new job listings for remote editors or proofreaders. Wherever writers are needed, usually editors are too!
Fitness
Exercise is great for your health, but if you love staying fit, you can also make some money doing it. The best part is, it doesn't really matter how you get fit. You can make money whether you love Crossfit, dancing, aerobics, martial arts, weight lifting, or yoga.
Instagram has been becoming a popular way for fitness gurus to get noticed. Amanda Bisk, for example, is a former pole vaulter who is now an athletic coach sharing her fitness photos on Instagram – to over 650,000 followers. Her followers all have access to her brand through her blog, whose link is displayed on her profile.
Fitness experts get noticed on social media, and it's a good way to market yourself if you want to become a personal trainer, health coach, or any other type of fitness mogul.
Gaming
If you're into gaming, it's time to cash in on your favorite hobby. There are several websites that pay you to play games online, but you can also play your favorite games and make cash that way, too!
If you don't know much about putting your gameplay on YouTube, it's time to start learning. This is where tons of gamers make money, simply by taking videos of their gameplay with a screen recording software and uploading it to YouTube.
Thanks to YouTube's advertising model, you can earn cash as your videos become more popular.
You can also sell virtual property for some games, like Second Life, which lets you sell everything from furniture to real estate for REAL money.
Swimming
Swimming offers opportunities to generate income through coaching and training.
By leveraging your expertise and skills in swimming, you can provide valuable guidance and instruction to individuals or groups looking to enhance their techniques and performance in the water.
Additionally, lifeguarding is another avenue where you can earn money while ensuring the safety of swimmers at swimming pools, beaches, or water parks.
Furthermore, becoming an aquatic fitness instructor allows you to combine your passion for swimming with fitness knowledge, leading water-based exercise classes like water aerobics or aqua Zumba.
Skating
Skating opens up avenues for income through coaching and performance.
As a skating coach or instructor, you can share your skating prowess by providing lessons and guidance to beginners or those aiming for competitive success.
You can also showcase your skating skills by participating in professional ice shows, exhibitions, or corporate events, captivating audiences with your performances.
Additionally, offering choreography and routine development services allows you to leverage your skating expertise and creativity to create captivating routines for skaters in various settings.
Gardening
You might be surprised to learn that your gardening hobby can bring you some money! If you search YouTube for gardening advice, you'll find thousands of videos teaching you how to sow certain seeds, harvest vegetables, and store your herbs. You can be doing the same thing to make money for something you love.
Gardening blogs are also hugely popular, as more and more people want to learn how to create their own gardens for sustainability. There's so much information to provide that you'll never run out of content to share.
If you have a huge garden with more produce than you need, you can sell it at local farmer's markets or to local businesses, like stores or restaurants. Or, harvest seeds to sell to buyers online through Amazon or eBay!
Giving Advice or Opinions
Are you the person your friends and family turn to for an honest opinion or good advice? Did you know you can get paid to answer questions, or give advice, online?
Several websites look for people who are knowledgeable in specific areas to provide help to those who need it. If you're good at fixing just about anything broken, try FixYa. Or, join Needle to provide online shoppers with your advice about what products might be perfect for what they're looking for.
If you have psychic abilities, Keen will pay you to provide psychic advice to others online, and you'll get to set your own rates to make what you want!
Gossip
If you love to spread the latest news, maybe you should consider turning it into a career through journalism! Of course, you'll need some excellent writing and research skills, too. If not, it's possible to learn them.
Journalism puts your love for trending gossip to good use, writing articles to share with the world. You can become a freelance journalist and pitch your story ideas to online news publications.
Or, if you want to start a little smaller, pitch stories to your local newspaper or a small local magazine. This is a good way to get your feet wet, get your name out there, and gain some experience before hitting the big leagues.
Graphic Design
Graphic designers are more and more in-demand as more people and businesses are starting blogs. Bloggers need graphics for their logos, branding, and social media posts, and don't always have the skills necessary to do it themselves.
If you're a whiz with Photoshop or other design tools, set yourself up with a Fiverr account, your own blog, and profiles on freelance marketplaces, like Upwork.
Use your blog as your portfolio so potential clients can see your work. Gain some experience with smaller jobs, and work your way up to charging what you're worth.
 Interior Design
Creating designs in your own home can be fun, but it's not giving you any money. If you have a true eye for interior design, you should try your hand at using 3D interior design programs. Realtors, homeowners, and businesses may need your skills to create designs for them that you can deliver digitally with the program.
The cool thing about this is you don't even have to step foot into a home. Upload a photo of the room to the program, and start designing.
Upwork even has a category specifically for interior designers, so you can easily find jobs you can do online to earn money with your hobby.
Investing
Investing obviously is supposed to make you money anyway. But if you enjoy doing it and really understand how to do it properly, you may be able to take it up a notch for more money.
Individuals and businesses, for example, may be in need of your knowledge. It's possible that you can create webinars or e-courses for others to learn some of your tips and tricks.
Join investing forums, Facebook groups, or anywhere else you think those interested in investing may lurk. Build a name for yourself by freely sharing your expertise, and you may be lucky enough to wind up with some paying clients.
Magic
Magic tricks don't have to just be a childhood hobby anymore. Some magicians are going viral with their card tricks and other mesmerizing tricks.
Magic tricks are one of those things that catches people's attention. They have all the makings of something that would go viral, so putting your best tricks online could have you gain internet fame in no time.
With magic, you could go one of two ways online. Either create videos to post on YouTube, leaving people amazed at your tricks and wanting more, or share tutorials on a blog for doing your favorite tricks.
Make-Up
Surely you've seen makeup tutorial videos on Facebook and YouTube, right? That's because there is a big market for learning new makeup techniques, and one that can make expert makeup artists a lot of money.
If you know some cool tricks with makeup that haven't already been shown online, you can set up a whole new fan base. Costume makeup designs, especially, are popular because they're so unique with each artist.
Makeup bloggers and YouTubers, once they gain a fan base, often get makeup products for free in exchange for mentioning them in their posts and videos! Plus, they earn money by monetizing their blogs and videos or creating affiliate links to the products they use and recommend.
Music
To turn your love for music into a money maker, you'll need to either be skilled in singing, playing an instrument, writing music, or some other skilled hobby relating to music.
Use your talents to teach others online, or to promote your talent to social media followers. Tons of unknown singers get discovered on YouTube, for example. Justin Bieber is one of the best examples. He got discovered at age 14 when he covered hit songs on his YouTube channel.
You can also make videos teaching songs on your keyboard or write your song lyrics on your blog. Don't forget to sign up with affiliate networks so you can cash in on any music products or instruments you recommend to your viewers.
Pets
Your love for pets can be a good business, both online and offline. Offline, find people in your neighborhood in need of dog walkers or pet sitters. Rover is a good place to find people who you can pet sit for!
Online, you can turn your love for pets into a blog, providing helpful pet product reviews, health information, and more. Place affiliate links to your favorite pet products and services to cash in on the things you recommend.
If you're crafty, maybe you can make pet toys or beds, or turn people's favorite pet photos into custom photo products on Etsy.
You may even be able to market a pet grooming business online using a blog and social media networks.
Photography
Photography is an awesome skill to market online. Through social media, you can share your work easily – especially on Instagram – and find potential customers interested in your work. It's all about learning to market your product, but photography is an easy sell online!
If you're not quite ready to market a photography business, you can still make money online from your photos. Sell them to stock photo websites, like Shutterstock and iStockPhoto.
Depending on the websites, you'll earn a certain commission every time someone purchases your photo. It can be an excellent way to continue earning a passive income by doing hardly any work.
Playing Sports
Regardless of the sport you enjoy playing, there's money to be made in online sports coaching and instruction. Create a blog or YouTube channel that focuses on some of your favorite drills or tips to succeed in your sport.
You might even video professional games and use your own commentary to discuss things plays that could've been better. Or, gear your expertise toward kids who are just learning a sport and need extra tips for practice.
Podcasting
Podcasting may not bring you money in a straightforward way, but if you enjoy doing it, you can generate an income through podcasting. Think of it more as a way to market yourself and your brand, in whatever it is that you do.
If you have a blog showcasing your freelance writing portfolio, for example, you can start a podcast with tips that mirror some of the helpful information you put on your blog. Talk about finding the best clients, setting up the perfect freelance marketplace portfolio, etc.
But, some big podcasters are making some money directly with their podcasts, through sponsorships and other forms of advertisements through their podcasts. Or, recommend products in your podcast that you can then link to with affiliate links.
Some entrepreneurs also make their podcasts part of a paid subscription or one-time fee for their training courses.
Poker
Poker takes a lot of skill to be good at, but if you have the skill, you can earn a lot of money. If you play poker offline, consider turning it into an online hobby, too.
The Global Poker Index has a huge list of online poker tournaments and events where you can earn some serious money going head to head with people all over the world. The list includes recurring tournaments to enter, as well as the earnings of some of the top players!
If you'd rather stick to playing offline, check out PokerAtlas, which lets you search for poker games in your area using your city or zip code.
Programming
Do you love creating computer apps or programs? This skill has some real earnings potential because it's so technical. The key to becoming a leader in the industry is to keep learning new skills all the time.
If you do that, you'll ensure that you stay on top of the newest tricks in coding, making you even more helpful to those needing your skills.
You might want to searching for jobs as part of a coding team with different skill sets that works together to create one awesome project. It can give you a good step into the industry, while getting your skills recognized for future projects.
If you'd rather go solo, you can find plenty of coding and programming jobs on freelance marketing or job search websites.
Public Speaking
Not everyone loves public speaking, but some thrive on being the center of attention and are great at delivering their messages this way. If that's you, you could be missing out on money-making opportunities.
Businesses seek out public speakers to act as spokespersons for the company, explaining its services, holding conferences, etc. Keep an eye out on local businesses that you think may need someone like you to be their speaker.
You can get your name out there by speaking on things you're passionate about in your local community. Find local events, like a charity race, and offer yourself as a guest speaker. You'll often be doing this for no pay, but it gets you some local exposure and could open some paying doors for the future.
Public speakers are also some of the best people to hold webinars or create YouTube videos. Find something you love speaking about and turn it into your online niche to make some money.
Reading
Reading is just for relaxing, right? Wrong! Turn your reading hobby into a money-making job by reviewing books online. Not only will can you snag the books for free, but you can also get paid for your in-depth review.
If you have a blog, consider joining paid blogging networks, like Blogdash or Social Fabric, and keep your eyes open for book review campaigns. Other websites, like Kirkus, are strictly for paid book reviews!
You can also set yourself up with an Amazon Associates account, which pays you commission for affiliate links on your website. So, if you really love a book you read and you blog about it, stick the link in the post and get paid when people click your link and buy the book.
Recipe Creation
Some people like to create recipes to share with others. If this is you, you may be able to cash in on your talent and hobby.
A food and recipe blog may be right up your alley. The good thing is, for this type of blog, you don't necessarily have to be a good writer. But, you should have some mouth-watering recipes paired with some gorgeous photos.
If blogging isn't your thing, try making a recipe eBook to sell on Amazon or create fun cooking videos on YouTube. Both can be good forms of generating passive income. Once you find something that works well for you, do more of it!
Reviewing Things
Bloggers often get products to review for free, in exchange for them talking about the products on their blog. It gives the company exposure while giving the blogger more content and a free product. Sometimes, companies will pay bloggers, in addition to the product, for the time spent on their reviews.
You can also create a blog or YouTube channel specifically for reviewing things. Start off small by reviewing things you already use, and eventually, as your audience grows, you'll find yourself eligible for free products with sponsored reviews.
Sewing
There is a huge online market for sewing tutorials and crafts. People who love to sew love to learn new tips and tricks, and get ideas for new things to make. This is where big sewing blogs become so popular. SewCanShe, for example, provides new sewing crafts almost daily.
You can monetize a sewing blog with affiliate sales and advertisements, just like you would most other blogs. But, if you really want to create a next-level business, consider taking it a step further with video tutorials, social media promotions, or eBooks.
You can even create your own Etsy shop to sell some of your most popular creations or sewing templates. Some sewing blogs even put downloadable templates on their websites and charge a small fee per download.
Shopping
You don't always have to pay money to shop. You can also make money to shop by becoming a mystery shopper!
There are tons of websites that will pay mystery shoppers to provide feedback to businesses on their shopping experiences. They may not pay enough to create a full-time income, but you definitely can earn some side cash.
You can also blog about your experiences on a shopping blog. Review your favorite stores and products. Just don't forget to monetize your blog through advertising networks and affiliate links.
Social Networking
Social networking isn't just about fun. Businesses use social networks to find their perfect audience and continue to target that audience to grow it, leading to more exposure.
If you understand the ins and outs of top social networks, like Facebook and Twitter, you may be able to use your skills to earn money. Why not look for businesses who need social media moderators? You'll earn money by posting statuses and engaging with customers on social media.
You can also use your own channels with high numbers of followers to cash in. Use your networks to promote referral programs you're a part of, or affiliate links to products and services you love. Just be careful not to make them spammy, or you'll like lose a lot of followers.
Surfing the Web
We all love using the internet. Little do people know that you can also get paid for using the internet.
Several websites will pay you just to surf the web, because their clients want to learn what you're doing on the internet. In other words, market research. Learning when, and how, you surf the web gives companies insights into what they need to do to improve.
Nielsen Digital Voice, for example, pays you for downloading and installing its app, which runs seamlessly in the background of your browser. It tracks what you do, and you get paid for it.
You can also sign up for companies like Appen (review) and Leapforce (review), which pay you to evaluate search engine results on the web.
Traveling
Once again, a blog comes into play with this hobby! Are you noticing a pattern yet? Travel blogs are outrageously popular, since they showcase new places you may never have thought to go, paired with gorgeous photos.
Travel blogs geared toward a specific location, especially, are very popular, since tourists will want to see what awesome sights there are.
Once you get a good flow of traffic to your blog, bank on it by referring people to travel sites, like Hotels.com or Expedia. You may even be able to score awesome paid trips for yourself, in exchange for exposure on your blog!
Tutoring/Teaching
Sure, it can be rewarding to tutor or teach children in local schools or after-school programs, but it probably doesn't pay you much money, if anything at all.
But, you can make some money doing it online if you really enjoy it. Some websites and apps will pay you to tutor, teach, or answer questions related to assignments or papers.
Studypool is a good place to start. You can bid on students' questions, essentially taking control of how much you earn. The more you work and get rated well, the more work you can get at higher rates.
Or, try NiceTalk or Palfish, which both let you teach English to English language learners through your smartphone!
Video Creation
If you spend your time crafting humorous, inspirational, or just plain silly videos, then turn it into a business instead of a hobby.
YouTube is ridiculously popular, and video creators are making big bucks once they find out what to do to make their videos go viral.
With YouTube ads, you get paid as you get more viewers to your videos. If you're lucky enough to get even one video to go viral, you may have a lot of earning potential from ads!
You can also create videos for others – food blogs, weddings, and businesses, for example, are good places to start. Seek out those in need of your skills on freelance marketplaces, many of which have a specific category for video creation and editing.
Video Editing
Videos are one of the best ways to reach out to audiences quickly. Think about all the videos you see on your social media networks. You're likely seeing them because they've caught the attention of thousands, or even millions, of people.
Businesses and entrepreneurs are turning to videos as a form of marketing, and it's working. But, they need experts to edit videos and piece them together in a way that will get some attention.
So, get your video editing skills ready and go into business for yourself, targeting those who need your services. Try freelance marketplaces, or even Fiverr (review), to get some experience under your belt. Then, work on your own portfolio to show to potential clients.
Web Design
If you have skills in web design, you are absolutely in luck. Web design is one of the most profitable online businesses as more and more individuals and businesses are gaining the need for a website. Yet, very few know how to make one themselves. That's where you come in.
Not only are your skills needed, but they're also easily marketable online!
Show off your work by creating your own online portfolio, share your designs on your Facebook page, and create profiles on freelance marketplaces, like Upwork or Freelancer. The ways to find clients for a web design business are practically endless.
The high end of the scale for what freelance web designers charge hovers around $75 per hour! So, let's say a basic website takes you about 10 hours to build and design, split between two days.
You've just earned yourself $750 for 2 days of work, with no costs on your end. Think about all the earning potential!
Writing
Have you noticed that most of these hobbies turned money-makers require creating a blog? That's because content creation is so critical in marketing businesses, especially those online.
Who creates winning content? Writers, of course! If you have writing skills, put them to use by becoming a freelance writer. There are so many places online to find writing jobs, like ProBlogger and BloggingPro.
Read More: These 28 Freelance Online Writing Jobs are Perfect for Beginners
If you're going this route, make sure you set up your own blog, which can act as live proof of your writing skills.
You can also sign up for freelance marketplaces, like Guru and Upwork, which are excellent for finding writing jobs within your niche.
Do you have a hobby that makes you money that wasn't added to this list? Please let us know in a comment!
Related Posts:
Earn Everything… nearly!
Join Ipsos iSay, one of the few Faithful and Honest survey panels and earn prizes, gift cards and donations. Stack your points and redeem them: Simple! No hidden fees and completely free!