The Ultimate 2023 Guide for Home Based Business Ideas
Updated on: by Amy Kennedy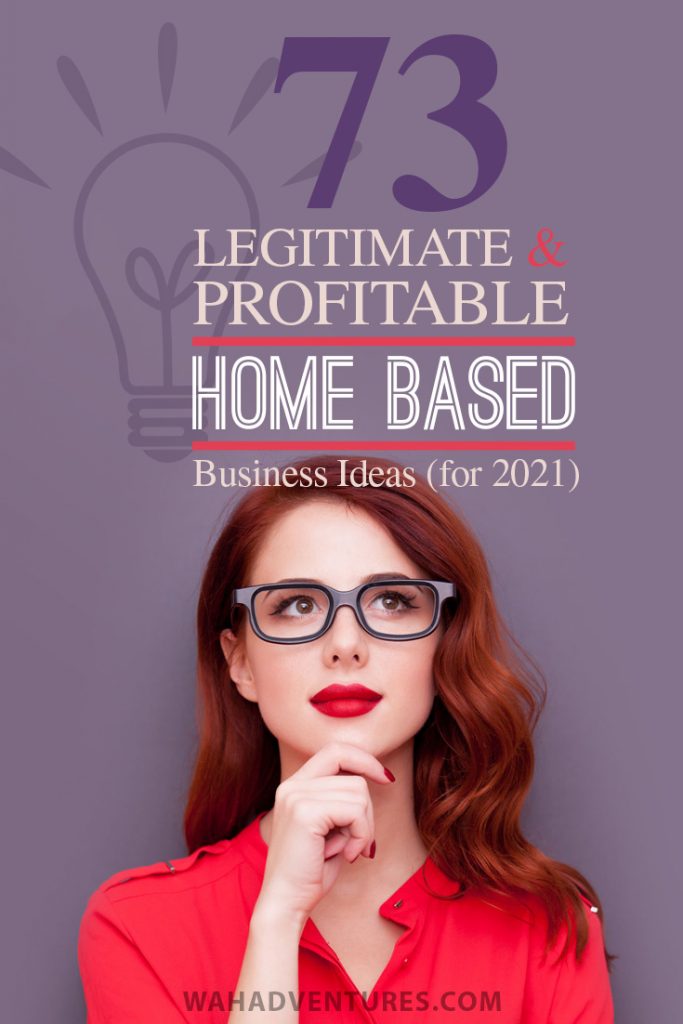 Each year it seems there's new home based business ideas popping up.
Need Easy Extra $350+/Month For Free?
Our world is changing, becoming more digitized than ever.
Work from home jobs are more plentiful than ever before and people are making the switch from the 9 to 5 grind to starting up their own businesses in their homes.
It's no wonder – who wouldn't want to roll out of bed in the morning and not have to drive to work?
Instead, you can get started in your pajamas and make money on your own terms, in your own time.
Of course, it's not all fun and games.
As a home business owner, I know how much work it takes to stay motivated when working from your comfort zone.
It takes some getting used to and a lot of dedication, but if your goal is to own a business that operates from your home, the end result will be worth the effort.
First, set yourself up with a home office.
It doesn't have to be a full room in your home, but it should be a designated space free from distractions.
Also, make sure you have a reliable internet connection and computer.
As a business owner, you should consider having a website, dedicated e-mail address, and social media channels so you can keep your customers in the loop.
Then, make it happen! Here are some of the top home based business ideas for 2017.
Legitimate Home Based Business Ideas
Quick Startup Business Ideas
These are easy small business ideas to get you up and running from home fast.
Survey/Get Paid To Sites
This one isn't the best option for a long-term business, but don't count it out as a money-maker.
You can make legitimate cash that can earn you enough money to get a business off the ground if you have any startup costs. Plus, surveys and Get Paid To (GPT) sites are great sources of extra income.
Need Easy Extra Cash?
Pinecone Research, a leading name in online survey panel honesty, absolutely guarantees $3 cash for every survey you complete!
Take advantage of their time limited New Membership drive and register NOW. Join today: 100% free!


Once you make the choice to work from home, set yourself up with an account on Swagbucks. This is my #1 recommendation for some extra cash from doing stuff on the internet, like playing games, shopping, or searching the web.
As long as I'm consistent with checking in and doing things on the site, I earn extra cash each week.
Here are a few other GPT and survey sites that will help you earn money as you build your business:

Use Your Car
You've probably heard about Uber a lot in your search for a home based business idea.
But, that's because it works for a lot of people!
You can make about $25 an hour driving for Uber, depending on your vehicle and operation expenses and your area.
I'm including this in the "fast" opportunities because it's fairly simple to get started.
You'll need to complete the driver paperwork, show a copy of your license, and have a background check.
Other than that, you can usually get started in a couple of days.
Freelancer
Freelancing is the way I got my start in the home-based business world.
I had been writing for my own blog for years, then started writing for a few other blogs. Soon, I was getting offers from website owners who wanted me to write their content.
It happened quickly and not quite on purpose, but I'm happy it did!
I know freelancing doesn't bring in the money as fast for everyone, but you can get started quickly if you know what to do.
The great thing about freelancing is there are so many ways to do it. Writing, programming, designing – you name it. Whatever your digital skills, you can likely use them as a freelancer.
Once I started getting noticed as a freelance writer, I began marketing myself on Upwork and other freelance sites like Guru and Freelancer.
If you make a winning profile that includes how you can help your ideal client and some stellar references and samples, you can gain more clients quickly.
These are just a few of things you can do as a freelancer:
Write articles or content for websites
Take photos
Design graphics or websites
Translate/tutor/teach
Create or edit videos
Project manager
Customer service
Data entry
Online Gigs
These internet based business ideas are best for people who are great with computers and know their way around the internet.
Micro Jobs
Micro jobs are much like they sound – small jobs that usually only take a few minutes.
Of course, they pay a lot less than your typical hourly job, but you'll make a few cents to a few dollars per job that only takes a few minutes.
So, stay consistent and figure out what jobs are the most efficient money-makers, and you can work your way to a decent hourly wage.
Try Fiverr to create your own quick "gigs" using your skills. You can price your jobs at $5 or more.
Amazon Mechanical Turk is another micro job site that has virtually endless tasks available.
Social Media
People with big social media followings can earn money through tweeting, sharing photos, or advertising products.
Some of your favorite celebrities probably already do this.
You might see them posing with a weight loss tea or using a specific brand's fitness equipment and giving the company a shout-out on social media.
But, you don't need to be a celebrity to get paid.
You just need a lot of followers and an engaged audience.
Stay in touch and engaged with your favorite brands on social media, and they may approach you for some paid deals!
Earn Everything… nearly!
Join Opinion Outpost, one of the few faithful and honest survey panels and earn cash and gift cards for your opinion. Stack your points and redeem them: Simple! No hidden fees and completely free!


Sell on eBay
It's not much of a learning curve to start selling on the huge internet auction site.
I had zero experience with eBay before I started selling and I've been successful on it ever since.
Sell a few things around your house to become familiar with the process.
Once you start making a profit, you can buy more products at low prices for re-selling.
Sell on Amazon
Amazon is also another great place to sell stuff online, but it can be a little more confusing to get used to.
One of the ways people are making it easier to turn their Amazon selling into a business is by using Fulfillment by Amazon.
This super-helpful service lets you ship items to Amazon for the company to store in its warehouses and take care of shipping and customer service.
Basically, all you have to do is ship your items to Amazon and get paid when they sell.
It takes a lot of time and effort off your back and lets you get your business running quickly.
Digital Media Conversion
Not-so-tech-savvy people look to tech-savvy people to convert files to different types of media.
Now that VHS tapes are a thing of the past, people might want their old tapes converted to digital media files, for example.
Digital media is the new media, so this skill is a good one to profit from.
Helpful Services That Pay
So many ideas, so little time!
Whatever your skills are, you can likely start up a helpful service business for people in your area.
Lawn Care
Everyone needs their lawns mowed, leaves raked, or even snow cleared at one point or another.
If there aren't many lawn service businesses in your area, you may be able to swoop in and start one of your own.
Doula
You don't need medical training to become a doula, which is more of a support coach for women in labor.
A doula can help calm a mother and offer emotional support, but not provide medical help.
Doulas can make a living offering their services, with the average salary around $45,000.
Several organizations will certify doulas, although a license isn't required in every state.
But, it can definitely help birthing mothers gain your trust.
Visit CAPPA or DONA to learn more about the certification process.
Interior Design
If you love picking out colors and themes and placing furniture, interior design may be your calling.
This business doesn't require special skills other than being super creative and having a great eye for design.
In the United States, interior designers make about $46,000 per year.
In-Home Daycare
Many parents prefer to send their kids to a home daycare rather than a daycare facility, simply because there tends to be more one-on-one care for their children.
If you love children and don't have a packed schedule that requires you to leave home a lot, a home daycare can be a perfect business opportunity. Providers make about $29,000 annually.
You can earn even more if you choose to operate your daycare outside of normal business hours.
Many parents need to work evenings and weekends, and you can charge a little extra for off-peak hours.
Just be sure to check your state's licensing requirements before you get started.
Pet Sitter
Not a big kid person but love animals? Why not start a pet sitting business!
PetSitter.com even lets you market yourself so others in your area can find you.
Your earnings will depend on how desirable the service is in your area, and will likely work best for those in larger cities and towns.
House Sitter
HouseSitter.com lets you find people who will pay you to take care of their home while they're away.
You can also charge for things like lawn care, collecting mail, feeding pets, and other small tasks that homeowners might need you to do.
Elder Care
Assist the elderly by making house calls to help them take their medications, bathe, cook, and other daily tasks that are difficult for them to do alone.
Caregivers for the elderly make an average salary of $22,000.
Of course, if you go into business for yourself, you can find your own clients, charge your desired rates, and work as much as you want to raise your salary.
Tax Preparation
I would gladly pay for someone to do my taxes for me!
Individuals and business would often rather hand over their tax paperwork to a trusted tax preparer instead of doing it themselves.
It's best to have experience and certification in this area before attempting to set up a business.
Check out the IRS guidelines for tax preparer certification.
Massage Therapist
Massage therapists earn an average of $19 per hour!
Not bad for a pretty stress-free business, right?
You can set up an extra room in your home as a message therapy oasis and start bringing in clients by advertising it in your newspaper or local Facebook groups.
Check out NCBTMB to learn more about certification.
Bookkeeping
If you're not a certified accountant, you can still do some freelance bookkeeping, but it may be a little more difficult to land clients.
Certified bookkeepers earn an average salary of almost $41,000.
But, even as a freelance bookkeeper, you may be able to earn some high-paying clients if you prove your worth.
Home Inspection
Home inspection can be an added, but necessary, expense that those looking to buy homes don't want to pay.
You may be able to take on several paying customers by offering competitive prices over high-cost home inspection companies.
Check your area to learn the rules and licensing requirements.
The average home inspector can earn about $18 per hour, according to PayScale.com.
House Cleaner
Cleaning houses may not be the most fun job, but it can be lucrative. In fact, my mom started her own part-time house cleaning business when I was a kid and earned enough to pay most of the bills for just a few hours a week.
And, she actually grew to love it! It's a flexible job that pays well.
If you're ready to grab clients, set up an ad in the newspaper, call local businesses, or check with the neighbors for potential leads.
Appraiser
Are you knowledgeable about antiques and vintage items?
You could set up an appraisal business.
Appraising houses can also be a money-making business, but you'll need to grab some licensing to get started.
Both options will require a degree and high amount of expertise the area, but they'll also make you some good money.
Tutoring
You can tutor kids or adults online or in person.
Check your local schools to see if you can send out a flyer to advertise your business, or put an ad in the paper or on Craigslist.
If you'd rather tutor online, here's a list of online tutoring companies for people with or without degrees!
Teaching English
Those with an English degree or special English language tutoring training can help teach English language learners.
iTalki.com even lets you set up a profile so others can find you and hire you to teach them.
You'll earn credits which you can transfer to PayPal cash.
You choose your hours and set your own prices!
Holiday Decorating
People love holiday decorations, but not necessarily the decorating part.
You can cash in on this by offering to do it for them! It's not a widely thought-of business, so there's plenty of room for you to make a move.
On off-seasons between holidays, you can offer regular home decorating, landscaping, painting, and other home services that work with the seasons.
Child-Proofing Homes
Some parents would love to pay someone to look at their home and provide ideas for child-proofing their home – and then get it done.
There won't be much startup costs for this type of business, since you can charge your customers for the supplies and labor.
Personal Trainer
If you love hitting the gym and have words of wisdom to share with others, you could make a career out of fitness.
Ask your local gyms if there's any openings for you to host some classes.
You can quickly get your name out there and start building clients on your own.
On average, personal trainers earn about $36,000 per year, but the possibilities are virtually limitless if you make a name for yourself in the business.
Voice Acting
If you have a unique or captivating voice, consider pursuing a career in voice acting.
Voice actors are in demand for various industries, including animation, video games, commercials, audiobooks, and more. You can create a professional voice acting demo showcasing your vocal range and skills, and then promote it to talent agencies, production companies, and online platforms.
With dedication and practice, you can land voice acting gigs and earn income by lending your voice to different projects.
Virtual Reality (VR) Content Creation
With the growing popularity of virtual reality, there is a demand for VR content creators.
If you have a passion for technology and a creative mind, you can explore the world of VR and develop immersive experiences.
This can involve creating VR games, simulations, 360-degree videos, virtual tours, or even designing virtual environments for training or educational purposes.
As the VR industry continues to expand, there are opportunities to monetize your VR content through licensing, selling on platforms, or offering custom VR solutions to businesses.
Real Estate Agent
Yes, you'll need licensure to become a real estate agent. But, once you go into business, you can make an excellent salary.
Of course, your location and current housing market affect your earnings. Still, the average real estate agent in the United States makes $40,000 per year, according to Salary.com.
Check your state's licensing requirements before starting your business.
Event/Party Planning
Do you throw the best parties and events?
If so, have your friends and family spread the word about your skills to people they know, and you could soon be planning events for others.
This is a good business to promote on Instagram, Facebook, and other forms of social media.
Get your stuff shared and you could wind up with a steady client base.
Travel Planning
Planning a vacation can be confusing, which is why people turn to travel planners to help them figure out the details of their next vacation.
You can help them navigate airfare, book the best restaurants, and point them toward the best activities at their destination.
Most travel agents earn a flat fee from their customers for the plan, plus commissions from hotels, airlines, and attractions.
Patient Advocacy
If you're knowledgeable in health practices or medical billing, you could become a patient advocate.
You'll help individuals and families figure out the best route to take for their, or a loved one's, health.
You may need to call medical providers, insurance companies, or other health-related practices to aid patients.
It's not always required to have certification for this job, but it can help.
Check out the Patient Advocate Certification Board for more information.
Window Cleaning
Ask neighbors or businesses if they're in need of window cleaning.
Many businesses may prefer to use a budget-friendly service to clean their windows professionally instead of leaving the job to their own employees.
Junk Removal
A junk removal business can have almost limitless possibilities.
Clean out trash from an abandoned home, haul off bulk furniture, or take scrap metals to a scrap yard.
Family members may even need your service to help clean out a home when a loved one passes away.
Alternatively, you can start a litter-cleaning business to remove litter from streets, sidewalks, parks, and more.
Check out CleanLots.com for more information.
Handyman Service
Who doesn't need a handyman at some point?
You don't need any special education to provide basic handyman services for homeowners and businesses.
You can do everything from appliance repair to painting, depending on your skills.
Car Repair
Likewise, car repair is an always-needed service.
This is a good option, especially, if you have a large garage to use for a workspace.
But, check your local laws first, because some places don't allow this type of service on residential lots, as it can be bothersome to neighbors.
To get around that, you'll likely need to rent a commercial space for your car repair business.
Repair Electronics
Repairing electronics, like smartphones or computers, doesn't require much startup costs, but you definitely need skills!
If you have a lot of techie knowledge, this is a great business to start in your home.
Advertise your services in local Facebook groups to seek potential customers.
These Hobbies Make Money!
Turn your passion into a legitimate home business this year!
Reading Books
Several websites will pay to review books!
They likely don't pay enough for you to live off, but they can be a good start to get some income rolling in.
You can also start a blog for book reviews and monetize it through affiliate links to the books you recommend.
Writing
There's so much opportunity for writers to make money.
Gone are the days of the "starving writer"!
The internet has opened up a lot of doors for writers, from self-publishing books on Amazon to writing books and marketing on blogs or special media.
You can even get paid to write blog posts or other content for websites.
As a business, you can offer several other types of writing people need all the time, like copywriting, resume writing, and medical writing.
You can always get started on a freelance marketplace to get your feet wet and find some paying clients.
From there, get yourself set up with a writer's website detailing your skills, services, and samples.
Woodworking
Woodworking and other forms of crafting are in demand. People love unique pieces that they can't find anywhere else.
You can set up a shop for free on Etsy to sell homemade items, crafts, and more. Or, check out other sites to sell crafts!
Hair Styling
I've had a few friends over the years who are super-talented with hair styling set up their own businesses.
All of them have been successful immediately.
As long as you have skills and people have seen some samples of your work, you'll likely get clients quickly.
Word of mouth spreads fast in this business!
The best part is it doesn't take up a lot of space.
You can operate out of your home using a spare bedroom.
Make Furniture
Handmade furniture sells! Have you ever visited an Amish furniture store?
The furniture is usually on the pricey side, but it's amazing – and it has no problem selling.
People love unique, well-built furniture for their homes.
Set up a custom furniture business taking orders from people.
You'll never have to make more than you need, and custom furniture can command an excellent price tag!
Furniture Makeover
Maybe you enjoy refinishing old furniture rather than creating it yourself?
You can turn old items into repurposed pieces with new upholstery, paint, or stain.
This business doesn't take much to start, since you can find cheap furniture at local Goodwill stores, flea markets, yard sales, and consignment shops and resell it for a large profit.
Stage Homes
Staging homes to sell is best for those who are into interior design. You don't need special certification and can get started once you find some clients.
You can charge for consults in addition to the actual staging to bring in some more money.
Landscaping
Do you have the best yard on the block?
Spread your skills to those in your neighborhood with a landscaping business!
When you work on a yard, set a small sign out front so others who pass can learn who is doing the awesome job.
Your name may spread quickly and get you some more business.
Bargain Hunting
Visit local thrift stores, yard sales, and flea markets for cheap items that you can resell for a profit.
This type of business takes some skills.
You need to have a keen eye for things that could potentially bring you a profit, or you'll end up spending more than you make.
Sell your items on eBay or Amazon for a steady income.
If you love bargains, you should also consider creating a blog sharing coupons or money-saving tips.
These types of blogs are popular because people love saving money!
Monetize your blog with advertisements and partnerships with money-saving websites.
Personal Shopper
Turn your love for shopping into a business!
Depending on where you live, you may find profit in a personal shopper business.
This type of business is probably best for large cities with high-salary earners.
You can easily run this out of your home office by marketing yourself online and consulting with clients in their homes.
Organize
Those who love organization can seek out businesses or individuals who aren't so organized.
Offer to create organization solutions in homes, offices, day cares, and anywhere else in your area that you think you can help.
Make sure you have sample photos of spaces you've organized to show potential clients.
Touring
Do you love traveling or sight-seeing? Start a tour guide business!
You could help show people from outside of your local area what you love about your town.
ToursByLocals was made specifically for this task, so you can market your new business there and find people who'll be visiting your area.
Photography
If you're skilled with the camera, don't just take free photos. Make your passion work for you!
I have three friends from high school who have been photographers for years now and work from home, thanks to their businesses.
They set up a small studio using a space in their homes and charge anywhere from $100 to $500 per session, plus more for weddings and other events.
The biggest cost (other than a camera and equipment) they run into is props and backgrounds, but they usually only change them out occasionally.
And they seem to be great bargain hunters who find awesome props at yard sales and flea markets!
You can also sell photos straight from your smartphone using Foap, which can give you some extra cash if business slows down.
App Developing
App development is a good choice for freelancers who have tech skills and want something flexible that they can do from home.
The good thing about this business is you can get residual income from the apps you develop. So, something you created a year ago could still give you money.
As long as you continue to create awesome apps, you'll enjoy some passive income as long as the app remains popular.
Sew
I know a lady who sews for a living by selling her creations on Etsy. She's made a full business by sewing and crocheting things like blankets, stuffed animals, clothing, and more.
How did she make it big? Someone who loved an item she bought from her shared a photo of it in a Facebook group. Soon, everyone was asking for the shop name of the person who made it.
Soon came an influx of custom orders, and years later, she's still sewing away and making enough to work from home.
Baking and Cooking
You don't have to be a food blogger to put your baking and cooking skills to good use (although they can definitely help in the money department!).
Why not bake cakes or goodies for parties and events?
Or, you can start a business as a personal chef. Write a cookbook. Sell recipes to food bloggers or to cookbooks. Sell specialty breads at local fairs or flea markets.
These are hobbies that can open a number of opportunities for you, so get those wheels turning in your head!
Catering
Of course, there's always a catering business too!
You can even start small by catering your friends' and families' parties or events, and grow from there.
Caterers can get a lot of business through word of mouth, so make sure people tell their friends how much they loved your service.
Mystery Shop
Here's another one for shopping fanatics: mystery shopping.
Legit mystery shopping companies need people to visit stores or call them on the phone acting as a regular customer.
Then, you grade your experience with a quick follow-up survey.
This helps companies tweak their customer experiences, if needed.
Here are some mystery shopping tips that can help you get started!
Gardening
If you have time to devote to gardening, you can always sell your produce for a profit. But, there's more money to be made from gardening too!
Gardeners can profit from blogging about their best tips and tricks, especially since more people are turning to home-grown food for sustainability and health.
You can also take professional photos of your produce to sell to stock photo websites, provide gardening consulting to others, or even teach gardening classes.
This is one of those businesses that you can utilize several different talents with to become successful!
Best Work at Home Business Ideas for Bloggers
These ideas deserve a section all their own since blogging is becoming the new way to work from home and earn money.
Of course, it takes a lot of time and patience to work your way to a money-making blog, but once you get the hang of it, it can provide you with steady – and passive! – income.
Blogging
Let's start with blogging itself. I'm sure you've heard of people turning their blogs into businesses – but how?
Well, it takes time. Money-making bloggers take time to build their content, gain new followers, and engage their audiences.
And, most bloggers will tell you that it's difficult to make money solely from blogging. They usually have other forms of making money, like selling eBooks or affiliate marketing, that coincide with their blog.
You can't expect to just write blog posts and stick a few advertisements on your blog and hope to earn a living.
So, I'm going to get into a few of the avenues that bloggers use to earn a living.
But first, you need to set up your blog.
If you haven't done that yet, I suggest taking a look at our Blogging 101 series, which basically covers everything you need to know to get your blog on the 'net.
Affiliate Marketing
Affiliate marketing is something you really should learn about if you don't already have some experience with it.
Bloggers earn money by becoming an affiliate for brands, products, or services they use and love.
They talk about them on their blog posts or social media posts and earn money when people make a purchase.
If you add an affiliate link to a blog post, you could still earn money from that blog post for days, weeks, months, and even years later, as long as people are still clicking on your affiliate links. Cool, right?
I always recommend Amazon Associates as a first stop for those interested in affiliate marketing.
Amazon has just about any product you can think of, so it's a great place to find products to add into your posts to earn money.
Here are a few more affiliate marketing networks to consider.
I suggest choosing only your favorite one or two so you don't get overwhelmed by choices.
Sell Something
Do you notice that most of the big blogs you visit sell courses, eBooks, or some other type of product or service?
Some bloggers even offer consulting services to help their readers turn their own blogs into money-makers.
The most successful bloggers insist that selling something is necessary if you want to earn a living from your blog. In most cases, they're correct (but some make it big without doing this!).
Once you build a following and start getting a steady stream of readers, it's a good time to consider creating a digital product or service for extra money.
Since you already love writing on your blog, an eBook is a good one to consider!
Language Tutoring
If you're fluent in a second language or have strong language skills, you can monetize your expertise by offering language tutoring services.
Many people are eager to learn new languages for personal or professional reasons. You can provide language lessons either in person or through online platforms.
You can cater to individual learners or offer group classes.
Advertise your services locally or on language learning websites to attract students who are interested in improving their language skills.
Freelance Writing
Tons of bloggers also make money writing for other blogs!
Not only does it help them become an authority figure in their niche by getting their name out there as much as possible, but they also get paid to contribute to other blogs.
Here's a list of blogs that pay you to write for them.
Remote Jobs for Businesses
Did you know that many businesses now outsource several jobs to people who can work from home (or the beach, or the backyard, or wherever their heart desires!)?
It helps reduce overhead for the business, and it's cheaper for them to use freelancers over employees.
These jobs are some of the most common that businesses are starting to outsource as remote positions.
You can create your own business providing these services to others!
Virtual Assistant
Indeed.com states that the average hourly rate of a virtual assistant is just over $16, and they get to work entirely from home.
Virtual assistants provide a variety of tasks to their clients, like data entry, customer service, appointment setting, and more.
You don't need special training, but you should definitely be a self-starter with excellent attention to detail and multi-tasking abilities.
These virtual assistant companies can help you get started.
Many of them allow you to create your own business but help match you with clients!
Customer Service Representative
According to PayScale.com, the average customer service call center agent earns almost $34,000 per year.
With a dedicated home office space, a separate phone line, and high speed internet, you can start a call center out of your home.
Check out some companies that hire virtual call center agents to get started, but you can eventually contact businesses to find your own clients.
Copywriting
You know the advertisements you see in the newspaper or sales content on a website?
Much of that is usually contracted to a skilled copywriter who knows how to write content that sells.
Freelance copywriters earn an average of $47,000 per year, and some are commanding a whopping $150 per hour on Upwork.
It's helpful to have a degree in English, Marketing, Communication, or a similar field, but not necessary. Some people are naturally awesome at creating winning copy.
Editing
Editing is another great skill to have that you can start a business with.
Edit books, website articles, magazine articles, and any other print or digital writing.
You can even focus on academic writing.
It's good to have some writing background before becoming an editor, but it's not required.
Debt Collection
Businesses can turn over customer debts to your business for you to collect on them.
It may not be a fun business to get into, but it can pay the bills. Most states will require you to have licensure for this business, though, so make sure you check the requirements first.
Eco-friendly Consultation
Do you know all about going green?
You can start up a consultation business that helps individuals and businesses learn what they could be doing better to become eco-friendlier.
Transcription and Captioning
For the right person, transcription and captioning can be the perfect at-home business.
It takes a lot of practice to become a fast transcriber, but once you do, you could transcribe for live TV.
Closed caption specialists can earn about $60,000 per year or more!
If you don't have much experience, check out some general transcription jobs first to get your foot in the door.
Marketing
Get into the marketing business and you could earn anywhere from $40,000 to $100,000 or more annually.
The reason this business ranges so much is because there are several avenues you can direct it, from social media marketing to blog marketing and beyond.
The highest earners typically have at least a Bachelor's degree.
Grant Writing
Several types of businesses need grant writers to write proposals for them for helpful funds for their businesses.
Schools and hospitals often need this service.
If you have experience with grant writing, you can set up an office out of your home and find clients through freelance marketplaces, or by contacting local businesses directly.
Web Design
Almost every business in today's world can benefit from having its own website.
If you have skills creating and designing websites, you can absolutely turn it into a business.
For a single website setup, you can charge $1,000 or more to create the website from start to finish, so it can quickly turn into a lucrative career.
Social Media
Managing social media accounts for a business can turn into your own business!
Keep their audience engaged with helpful and entertaining posts, monitor comments, and answer questions through a variety of social media channels.
You don't need a degree for this job, but higher earners typically do have a degree in Marketing, Communications, or a similar field. According to PayScale.com, Social Media Managers can earn about $47,000 per year.
Internet Security
You can consult small businesses without huge budgets for in-depth security training or consulting.
Provide help with virus protection, data encryption, and more, to help keep their information, and their customers', secure.
Video Production
Handy with a video camera and editing videos to make them useful and entertaining?
Consider using your skills for businesses or individuals.
You can edit videos of weddings, help create advertisement, and more.
If you know a lot about making videos on YouTube, you can even work as a consultant for people who want to gain a following on their channels.
Translation
Bilingual? Use your language skills to translate or interpret documents, audio, or video for people or companies.
Sure, there's translation software available, but it's certainly not as fool-proof as a human being when it comes to interpreting another language.
Courier Service
Act as the local delivery person by grabbing newspapers or morning coffee for people in your neighborhood, or delivering meals from restaurants that don't currently have a delivery service.
You might be surprised how many people would willingly spend some money for the convenience of having things delivered right to their door (or office).
Whew! That's a lot of business ideas. Let me know what other ideas you have, or what currently works for you, in a comment below!
Related Posts:
Earn Everything… nearly!
Join Ipsos iSay, one of the few Faithful and Honest survey panels and earn prizes, gift cards and donations. Stack your points and redeem them: Simple! No hidden fees and completely free!