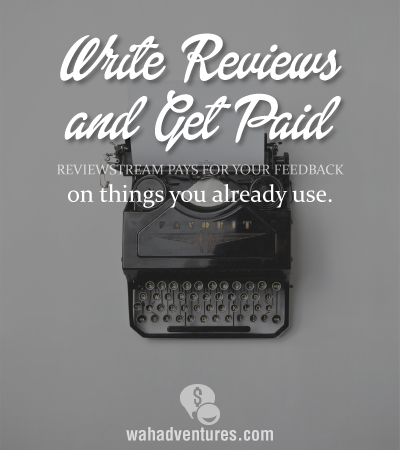 Have you ever hoped you could get paid for doing something simple? Review Stream may be a hidden gem that neither you nor I knew much about previously. However, with a little research I've been able to learn a little more information about ReviewStream.com. I will be the first to admit that this website does seem rather confusing and it does take a little clicking around to understand what's going on. Here's what I've gathered:
Need Easy Extra $350+/Month For Free?
Basic Concept of ReviewStream.com
As you probably guessed, Review Stream is a website that pays you to write reviews. They don't accept fake, poorly written, or obnoxious reviews. They actually only want reviews on products that you have actually used in the past. After all, their motto states "real consumers real experience."
Pay of Writing Reviews
Honestly, this was the trickiest part for me. I had to dig pretty deep to find this answer. The FAQ section on ReviewStream.com states that the rate is subject to change at any time. So, you could write a review on two different days of the month and get paid different amounts. When I signed up to write a review, you can see what the pay was via my screen shot. Just keep in mind that the FAQ says that it's clearly subject to change.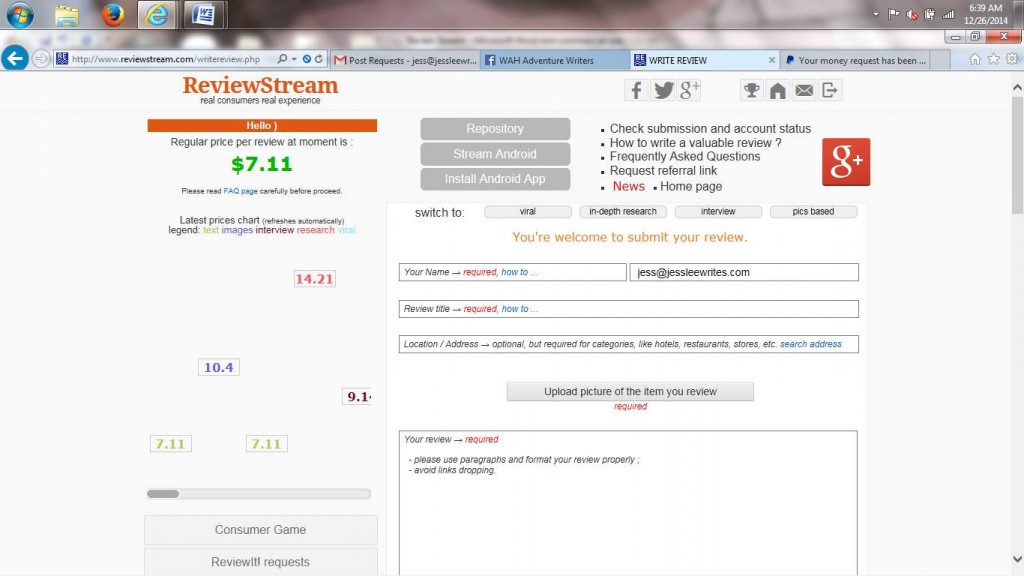 Type of Reviews that Need Written
There are multiple products listed on the Review Stream website. I saw quite a few baby items that needed reviewed, all the way to electronics. There are CDs, movies, and even canned goods that need reviewed.
Other Ways to Make Money with Review Stream
I noticed that there were a few other ways to make money with Review Stream, although they seemed a bit confusing to me. You can get paid through "votes" which means a Review Stream reader can vote for your review. Currently Review Stream is paying 10 cents per vote and you have to reach a minimum of $5 to be paid via PayPal this way.
Another way to be paid through Review Stream is by something known as bulk rate. In my opinion, this doesn't pay nearly as well as writing a regular, well thought out review on Review Stream. This next part is straight from the Review Stream website explaining how bulk rates work:
"Sometimes we receive reviews that don't match some of our criteria. In these cases we are still ready to buy it, but we'll pay you the bulk rate for it. After you have written your review on the Write Review page, you'll have to decide, if you're ready to get paid at the bulk rate for your review. If yes, check the bulk price box. If not, don't check it. "
Review Stream Pays Via PayPal
Review Stream states that you will be paid to the same website in which you submitted a review from. Please make sure your email is signed up for PayPal or else this could affect you getting paid. You can see the amount you've earned through the control panel in your account on Review Stream. Keep in mind that your account has to reach a minimum in order to be paid, and according to Review Stream that minimum is based off of what they paid you, by 10. (If they paid you $5 for a review, times that by ten, and $50 is the minimum you need in order to be paid.
What do I think?
Review Stream is not very clear. If I was trying to earn money quickly, this would not be the best avenue. While the pay of a single review seems to be great, the overall process of waiting to get paid sounds a bit obnoxious. Call me old fashioned, but I don't like to beat around the bush when it comes to getting paid. Tell me what you will pay me upfront and then I can decide whether or not that price works for me.
Need Easy Extra Cash?

Pinecone Research, a leading name in online survey panel honesty, absolutely guarantees $3 cash for every survey you complete!
Take advantage of their time limited New Membership drive and register NOW. Join today: 100% free!


I'd love to hear your opinion of ReviewStream.com and if this website has played a role in your success as a work at home professional.
Related Posts:
Want more money?

Easy Extra Cash! Join the famed Nielsen Computer and Mobile Panel site, install the app and earn rewards just for using the Internet as you do today! Nielsen gives away $10,000 each month.
Guaranteed 100% free membership.