How Much Does CSL Plasma Pay ($1000 a Month)?
Updated on: by Amy Kennedy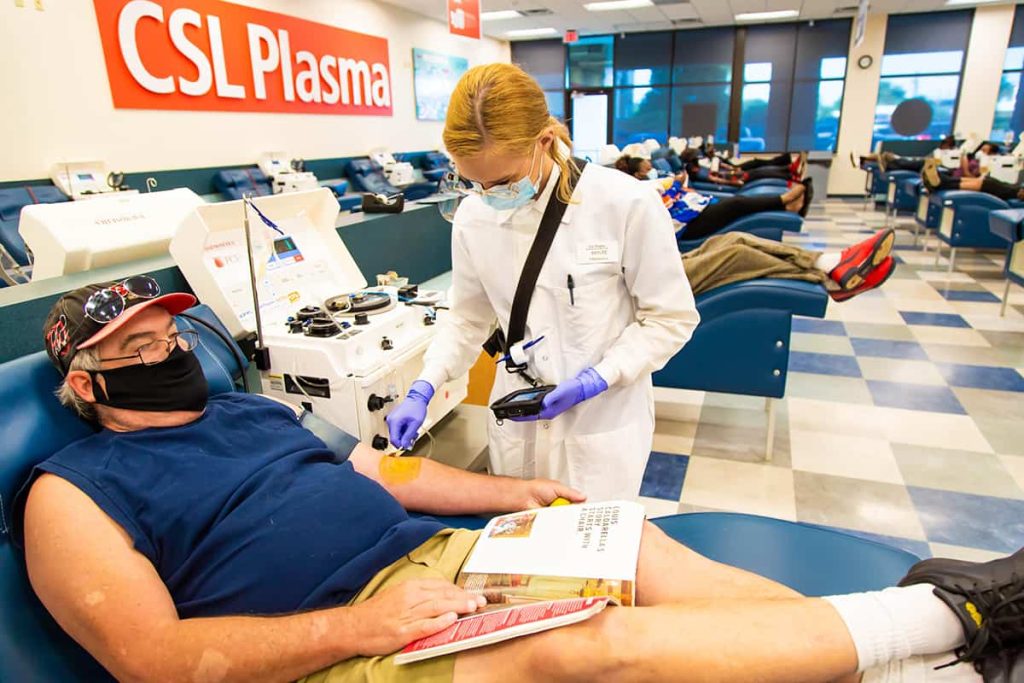 With the rising cost of living across the country, many people are exploring better ways to earn some cash on the side. And one of these options involves donating plasma. 
Big companies like CSL Plasma are willing to compensate you well for your plasma. It's because plasma forms a large part of the blood and helps treat traumatic injuries, shock, or severe burns. Donating it can help save a life. 
Before signing up as a donor, you should learn more about the reward. CSL Plasma operates hundreds of plasma collection centers across the US, China, and Europe. Each of these centers compensates donors, as discussed in this guide. 
Who is Eligible to Donate and Earn Money? 
CSL Plasma has a list of requirements that donors must meet before getting considered. Here's an overview of these requirements: 
Be between the age range of 18 years and 75 years

 

Weight of not less than 110 pounds

 

Be healthy

 

Meet CSL Plasma's screening requirements

 

Have a valid permeation address and ID

 

Not have any piercings or tattoos done in the last 4 months

 
The company will only shortlist you as a donor after meeting these requirements. And if you need more details about these conditions, contact a plasma center in your location run by CSL. Medical staff from the company will respond with a solution to your issue. 
Your health history, and that of your ancestors and immediate family members, are important in the vetting process. It's because plasma is a medium for diseases. So, if a person gets an infected transfusion, they will likely carry the disease the donor had. 
A Breakdown of the Earnings
In the first month of donating plasma, donors can expect to earn up to $1,000 according to the CSL Plasma pay chart 2023. The fees may vary after the first month.  
CSL Plasma doesn't disclose monthly earnings for repeat donors. The company only gives an estimate of what new donors can earn. It also doesn't share the exact earnings per donation for both repeat and new donors. 
CSL Plasma offers new donors bonuses to encourage them to keep donating. These bonuses are within the $700 to $1,000 range. If you are new to the program, they may compel you to stay loyal and increase your earnings. 
Is Time a Crucial Factor in the Earnings?
The donations are usually time sensitive. In this case, CSL Plasma issues payments after each session. You can donate continuously and reap the rewards if you are healthy enough.  
Donors must stick to the rest periods between donations for their bodies to replenish the plasma lost. If CSL clears you to donate, you can grow your earnings within the time limits.  
How to Earn from the Donation?
CSL Plasma pays donors instantly. The company will load your funds to a reliable card once you donate plasma. Though these fees vary by eligibility, qualification, and location, you can get up to $1,000 for donating. 
Reach out to your local CSL Plasma collocation center for more details on earnings. Also, check if there are any special promotions you can redeem to enjoy more benefits. 
The company rolled out a prepaid card (Paysign) for its members to support the transactions. PaySign operates like a credit card and contains your compensation amount. 
How Does the CSL Plasma Prepaid Card Work?
Once CSL Plasma issues the prepaid card, you must set up a personal PIN number. You'll only receive your earnings from the donation if the card is secure. 
The company encourages donors to safeguard their PINs. And if they lose it, they can always ask for a new one to protect their account details. There's a number at the back of the card that you can call for assistance. 
Checking Your Account Balance on the Prepaid Card
The prepaid card's website features a portal where donors can sign in and get their account information. Alternatively, installing the Paysign app on your device and entering your PIN can reveal the account balance. 
Other ways to check the balance include signing up for text alerts (SMS number is 33433) and logging in at the marketing kiosk of a local plasma collection center.  
Are the Earnings Taxable?
The IRS mandates you to pay taxes on any amount earned from donating plasma. It's because the compensation counts as an income stream. You should report the earnings in your tax filings and pay tax where applicable. 
If you belong to a low tax bracket, the IRS may not require you to pay income tax from the earnings. But you still have to indicate in your tax filings that you earned money from donating plasma. If you fail to do so, you risk paying hefty fines. 
The New Donation Week and Its Impact on the Payments
CSL Plasma seeks to adjust its donor payment week in 2023. The change will allow donors to donate plasma at the beginning of a weekend. It also reduces the volume of donations received across CSL Plasma centers. 
The company complies with FDA's regulations on donation frequency. In particular, the FDA recommends donating plasma once in two days to give your body room to replenish the lost fluid. You should also not do it more than twice a week. 
What the Donation Bonus Entails
Did you know that CSL Plasma offers incentives such as bonuses to loyal donors? If you are eligible, you can earn an extra $10 for donating the second time in the last week of the month. Terms and conditions apply if you want to enjoy this offer. 
The company also has a loyalty program iGive Rewards) that donors can explore. When enrolled in this program, you get to earn loyalty points that are redeemable in cash.  
First, sign into your account to convert your iGive Rewards points into cash. You should then make a Fast Cash order to initiate the conversion.  
The CSL system currently only allows $200 per order. Expect to receive the money on your prepaid card in one or two days after requesting the order.  
Where to Find More Exciting Bonuses
If your goal is to earn more money from the program, take advantage of the company's bonuses. Here are some of the steps to get yourself started: 
Find your local CSL Plasma donation center online. Search for the center by zip code or state

here

.

 

A webpage with a list of donation centers in your locality will appear. Each center will have vital details like contact details, operating hours, and address. Find the "Donation Center Details & Rewards" option on the right of the list.

 

Click on "Donation Center Details & Rewards," and the page will direct you to another page revealing the available coupons.

 
Besides finding your local donation center online, you can also call them and inquire about the bonuses. A simple Google search will give you their details. 
Can a Deferred Donor Get Back to Earning?
If a CSL Plasma donation center disqualifies you from the program, it isn't easy to get back in. Depending on the reason for disqualification, the center may ban you permanently or temporarily.  
A permanent ban stays with you for a lifetime. You will never get to donate plasma at any CSL Plasma facility. 
On the other hand, a temporary ban lasts for a few months or years. The center may accept you back if you meet their requirements. They will reassess you for eligibility before enrolling you in the compensation program. 
CSL Plasma centers give donors health screening and medical interviews before each donation. These tests help assess a person's fitness to donate plasma on that day. 
Can You Earn Money From More Than One Donation Center?
CSL Plasma can only allow you to donate at one center. With this restriction, the company aims to prevent health implications brought by frequent donations. The centers communicate with each other to ascertain that no one is violating this policy. 
Donating plasma more than required can negatively affect your health. Your body won't get enough time to regenerate crucial components of the blood. 
How Much Can You Earn Through Referrals?
Referrals are a great way to earn from CSL Plasma. So, if you refer a friend or family member to the program, both of you get to earn something.  
The company can offer you a $50 referral bonus as the CSL Plasma pay chart 2023 suggests. Your referrals also get a welcome bonus of $5. However, for this to work, you need to meet certain requirements. 
If you are already a member of iGive Rewards, you automatically qualify to seek referrals. The same would be true if you donated plasma in the past 30 days.  
The company will award you and your referral a bonus through iGive Rewards. So, if you are looking to refer a friend, proceed as follows: 
Download the CSL Plasma app for Android or iOS.

 

Use a valid email address or phone number to log in. Also, enter your password in the log-in form.

 

Activate iGive Rewards on the app

 

On the estimated earning page, find the "Refer Friend" option and click on it.

 

The system will include the bonus to your account balance after your referral makes their first donation.

 
Other Companies Like
CSL Plasma
For individuals looking to earn extra money by donating plasma, there are several alternatives to CSL Plasma. These companies similarly value the life-saving contributions donors make and compensate them for their time and donation.
BioLife Plasma Services is an industry leader in the collection of high-quality plasma. Donors can earn up to $700 per month, and the company also offers a convenient mobile app to schedule appointments, track donations, and receive personalized promotions.
Grifols is a global healthcare company with several plasma donation centers across the United States. They offer compensation for donations and emphasize creating a safe and pleasant experience for donors.
Octapharma Plasma operates over 100 donation centers throughout the U.S. In addition to providing monetary compensation, they have a donor rewards program where individuals can earn points to redeem for a variety of gifts.
BPL Plasma has been a global leader in the plasma collection industry for over 25 years. They provide monetary compensation to donors and also run regular donation promotions where individuals have the chance to earn extra money.
KEDPLASMA prides itself on ensuring donor comfort and safety during the plasma collection process. Donors can earn money through their KEDRewards program, which provides compensation for each successful donation and includes bonus earnings opportunities.
Summing up
Treatments derived from plasma do so much for many patients. They help treat people with burns, neurological disorders, and immunodeficiencies. Since plasma saves lives, donating at a CSL Plasma center can impact the lives of thousands of people. 
Besides doing it for the love of humanity, donating plasma is an alternative way of making money. As an eligible donor, you get to earn up to $1,000. Referrals can also earn you more cash. 
Related Posts: