How to Work from Home on the Road
Updated on: by FStewart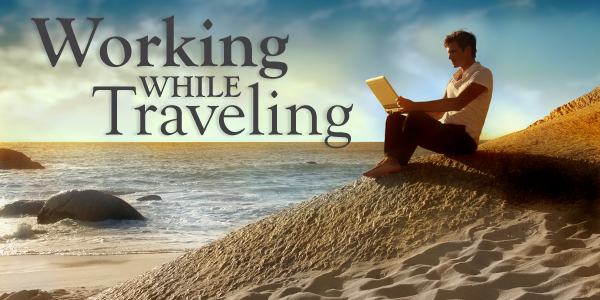 Need Easy Extra $350+/Month For Free?
The draw for many work-at-home jobs is flexibility not only in time, but also in location. While the life of a freelance virtual assistant, writer, or social media manager may not include paid vacation and sick time, there is flexibility available that makes that okay. This is particularly true if the job is one that is done online. If you are married to a trucker or someone else who travels frequently, then you may be able to travel with them. If you have children, you and the kids can tag along with dad on business trips during the summer. Whatever your reason for taking your work on the road, nothing is ever as easy as it seems is it? The following tips and food for thought will hopefully help out with planning and productivity when taking your work-at-home job on the road whether during summer vacation, fall break, spring break, or any other time of the year.
Finding a Place to Work
If you are staying in a hotel, it is essential to find one with free wireless internet if you intend to work. Of course, most offer wireless in some capacity, but you may have to pay, which in an unnecessary fee with all that do offer it for free these days. If this is not an option, or if you are camping or staying at a truck stop (for those on the road with trucker spouses) without internet access, you can still work. You just may have to get a little creative. Consider the following options before you leave so that you can have a plan in place:
• The Library
You can take a laptop or borrow one of theirs to log in and work in many cases, depending on your specific job. If you have kids, older ones can sit and read for a while. If you have younger ones, look for events geared toward kids that can keep them occupied for a bit. A preschooler can easily sit and listen to story time or watch a puppet show while you sit a few feet away and get some work done.
• Fast Food
Many fast food chains offer free Wi-Fi, and a lot of those also have a play area for kids. It could even be possible to get more work done here than at home if they are occupied on the playground for a bit. If you do not have kids and prefer something a little more refined, try the local coffee shop.
• Business Center
As a last resort, you can always work in the business center of the hotel. This is a last resort for a couple of reasons. First, it is not likely you will be able to occupy little ones, so you will need to wait until your significant other is off work if you are tagging along for their job. This takes away from your time together as a family also, which is another drawback of this option. Second, most hotels have time limits for use of the business center if others are waiting. If you only get 10 minutes and someone else wants on, you are not going to get very much done.
Avoid All Work and No Play
It is fun if you can make it a mini-vacation while you are at it. First, you want to be sure to make time to spend any free time your spouse has with them. If there are kids, they don't want to be trapped in the hotel room or fast food restaurant the whole time while you work. You might as well have stayed at home. However, the fact that you cannot take the time completely off means that you may not have the funds to do all of the touristy things the town you are in has to offer. You can still have a great time though.
Take advantage of free options.
The pool at the hotel is a biggie. It you are there you might as well take advantage of it. The library comes in handy here to. Check online to see what it coming up while you are in town. Many sponsor visits from the local zoo, complete with a few furry friends, or a play or puppet show during the summer. Another option is a local park. We spent two weeks in a hotel while my husband was working out of town this summer, and we drove 20 minutes to a park we found in a nearby town. You would have thought my kids were in Disney World. It was a really nice park, but the major attraction was it was someplace different. There are plenty of free things to do in a lot of places. Let me reiterate again how important it is to look for these things and plan for them before you leave. If you look for a part after you finish work for the day, it could be time to come home before everyone even gets out the door to get there.
If you are traveling without children, be sure to take some time off work each day to enjoy the change of scenery. Check out some local shops, garages sales, and other local attractions if you cannot swing a big shopping trip or other expensive attraction. If all else fails, give yourself at least an hour a day alone by that hotel pool, or pencil in some time in the hot tub.
There are many reasons why you would need to take your work on the road. If you can take off completely, do that. But if not working is not an option, the beauty of this type of work is often you are not trapped at home. With some creativity and time management, you can get your work done and enjoy time away from home with your family.
Related Posts:
Earn Everything… nearly!
Join Ipsos iSay, one of the few Faithful and Honest survey panels and earn prizes, gift cards and donations. Stack your points and redeem them: Simple! No hidden fees and completely free!


Need Easy Extra Cash?
Pinecone Research, a leading name in online survey panel honesty, absolutely guarantees $3 cash for every survey you complete!
Take advantage of their time limited New Membership drive and register NOW. Join today: 100% free!