How Would You Answer These Seven Interview Questions?
Updated on: by Erica Martin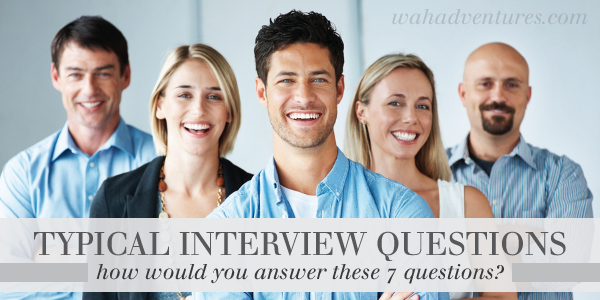 Need Easy Extra $350+/Month For Free?
I recently read a book called Hiring Manager Secrets: 7 Interview Questions You Must Get Right by Russell Tuckerton.  According to the subtitle, answering even one question wrong could cost you your new job.  This post will discuss those seven questions, the reasons they're asked, and the types of information you should provide.
1. Tell me why you're interested in this position (or our company)?
The purpose of this question is to make sure you're applying for the job for the right reasons – the human resources manager wants to make sure that you're interested in the company, and not just the position itself.  In order to answer this question intelligently you'll want to do a little research on the company you're applying with.  Of course, if you're applying for a freelance job posted on a site like elance or Odesk, that could be more challenging – you'll want to check message boards or comments left by other freelancers who've worked for the client to see what  kind of experiences others have had.
There are several example responses provided for this question, but one good response that I thought could work well for someone applying for a work from home position is
"This position represents several unique challenges, and I am excited about applying my skills and background to tackle these challenges.  I take customer service very seriously and feel it is critical to the success of both the company and your customers, and welcome the opportunity to work with your customers to ensure they have a great experience with these products."
Of course, you'll want to change that response slightly depending on what kind of position you're applying for.  Bad responses to this question include responses that show you haven't put any effort into finding out more about the company, such as "My friend works for this company and said it is a lot of fun," or "I've heard your company has great benefits."
2. Why are you looking to leave your current position?
This question is asked to determine why you weren't satisfied with your current or past position, and if those reasons would result in you  not being happy or productive in the position you're applying for.
One example of a good response is "My previous role was very rewarding and allowed me to contribute to the company and its customers; however I feel like I am ready to take on a larger role and set of responsibilities, and my current company is not at a stage where they can offer me this opportunity."
When answering this question, avoid mentioning anything that related to pay or benefits, being passed over for promotion, not getting along well with your  manager or coworkers, or the hours not fitting your schedule.  If you were laid off from your previous position, you'll want to mention that your position was eliminated for whatever reason (the company went through a reorganization, etc).  If you were fired, you'll want to provide a response that explains why you were fired, and also shows that you  learned from that experience.
For example, "I made an error in judgment on how I expressed my disagreement with the direction the company was taking and they let me go as a result.  It was a great learning experience for me in terms of how to constructively provide input without alienating the management team, and I would certainly handle it differently in hindsight."
If there is a long gap between your last position and the position you're applying for, you should use the most appropriate response based on your situation, however you do NOT want to mention that you've been interviewing for however many  months – managers are very sensitive to someone who has been unemployed for a long time and has been interviewing the entire time  – if others don't want to hire you, the company you're applying with may not want to hire you either.
3. What is important to you in a work environment?
This question is asked to understand what the candidate focuses on when they are in a certain role – are they focused on the right behaviors and cultural environment?  This one could be more difficult to answer if you're applying for a work at home job, because obviously you're not going to have a lot of physical contact with others.
Need Easy Extra Cash?
Pinecone Research, a leading name in online survey panel honesty, absolutely guarantees $3 cash for every survey you complete!
Take advantage of their time limited New Membership drive and register NOW. Join today: 100% free!


4. Why should we hire you/What makes you the best candidate for this role?
This question is asked to determine how confident you are that you will be able to meet and exceed the responsibilities of the position.  When you respond to this question, you want to  not only talk about your skills, but also mention any experiences you had that would make you the best candidate for the job you're applying for.   When answering this question, avoid responses that indicate you think you're  smarter than others, and also avoid saying point-blank that you're a hard worker or that you get along well with others.
5. Tell me about a specific situation where you failed
Human resources managers ask this question to find out how good you are at learning from your mistakes.  When answering this question, be sure to not only mention the situation, but also talk about what you learned from it.  When you answer this question, your response should be longer – you'll want to spend about 4-5 minutes answering this question, and be sure you talk about a situation where you learned something.  Avoid telling the human resources manager that you've never failed, because they will think you're lying. If you can't think of a situation where you failed in your work life where you failed, maybe use an example from your personal life.
6. Tell me about a past accomplishment you are especially proud of
The purpose of this question is to find out what's important in your life.  You should spend about 3-4 minutes answering this question, and when answering the question, be sure to  mention why this is one of the accomplishments you're most proud of.  Also keep in mind, the accomplishment doesn't have to be work-related, so those of us who work from home could talk about something family or community-related that we're involved in.
7. Tell me how you handle conflict at work
This question is asked so the human resources person can determine if you handle conflict in constructive ways.  When answering this question,  be sure to show that you're aware that conflict is inevitable, and that you work to diffuse the situation and then contribute to resolving it.  Don't ever try to avoid this question by stating that you haven't had any conflict in your previous work experiences – the human resources person will think you're either lying, or that you're completely oblivious to the events going on around you.
These seven interview questions are the most important questions to answer correctly at an interview – I hope this post has given you some insight into the reasons these questions are asked, and gotten you thinking about ways you  can answer them when or if you eventually  have to interview for a new job, whether it's a work from home job, or a job outside the home.  To find out more about "Hiring Manager Secrets: Seven Interview Questions You Must Get Right," feel free to check out this link.
Related Posts:
Earn Everything… nearly!
Join Ipsos iSay, one of the few Faithful and Honest survey panels and earn prizes, gift cards and donations. Stack your points and redeem them: Simple! No hidden fees and completely free!