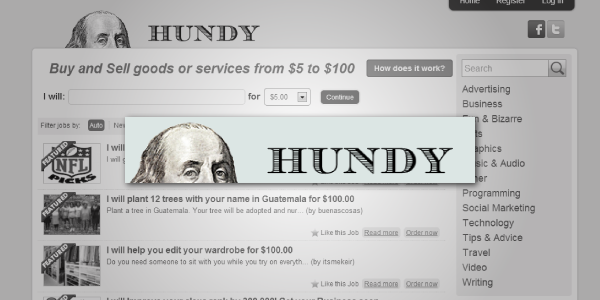 Need Easy Extra $350+/Month For Free?
Hundy is an online market place where you are able to sell your products or services at prices starting at $5 but most of the jobs posted are $100.
Examples given on the Hundy website include:
"I will professionally design your business/event advertising flyer, night club poster or web banner for $100.00." – Under the advertising category.
"I will give a link on a PR10 site for $100.00." –Under the business category.
"I will cast an extremely powerful Mayan Spell to get you whatever you want for $100.00." –Under the fun and bizarre category.
"I will send you 4 astrology aromatic rolls-ons for $100.00." –Under the gifts category.
"I will do a pop art sketch from your photo for $100.00." –Under the graphics category.
"I will create a custom, hip hop, pop or R&B instrumental for $100.00." –Under the music and audio category.
"I will teach you HTML for $100.00." –Under the programming category.
I will do social bookmark 300 Delicious, 200 Stumbleupon, 100Folkd and 50 Google+ for your site for $100.00." –Under the social marketing category.
"I will you a 1 hour dance lesson with me, a professional Hollywood dancer, via Skype for $100.00." –Under the tips and advice category.
"I will conduct a 15 minute Skype interview with you for $100.00." –Under the video category.
"I will write 15 articles with 400-500 words for $100.00." –Under the writing category.
How Do I Apply to Share my Services on Hundy?
The application is easy and quick.  All you have to do is enter a username of your choice and your email address.  A password will be sent to your email.  Then just go back to www.hundy.net and log in.
How Does Hundy Work?
As a Buyer at Hundy
If you want to purchase the products or services from someone listed on the site, all you need to do is order the listing.  You can pay by credit card or PayPal.  The seller will be notified of your purchase.  You can track their progress as well as exchange files and communications.  Once you receive what was ordered, you have 72 hours to request any needed revisions.  Then all you need to do is provide the appropriate feedback.
As a Seller at Hundy
If you are selling a product or service, you would create your listing which includes posting a description of what you are offering, any instructions you think the buyer would need and how many days it will take you to complete the task.  When someone orders your listing, you will be notified by email.
Need Easy Extra Cash?

Join e-Poll, one of the few faithful and honest survey panels and earn cash - paid via PayPal - gift cards for Amazon, Best Buy, iTunes, Starbucks, and Walmart, plus Retail e-vouchers.
The surveys are aimed at entertainment-related research, covering such things as personal TV watching habits, give feedback on new TV commercials or to review DVDs that are sent to your home.
For USA residents aged 13+. No hidden fees and completely free!


How do Payments Work at Hundy?
After you deliver your order and the client is satisfied, you will be credited 90% of your sale price and Hundy keeps the other 10%.  The funds will then be available for withdrawal to your PayPal account after 14 days, which is how long the clearing time is. this holding/clearing period is very typical of sites like this. Fiverr, a leading company like Hundy, can some times take even longer.
Bottom line:
There is very little information online about Hundy because it is not used as often as their competitor sites.  The site does not have a whole lot of listings or activity.  If I had to guess, I would say there were maybe 50 or so listings.  Also, I checked about 20 listings and none of them has had any buyers as of yet. Since listing your services is free and does not take long, it is always worth a shot. If your services are something you can do for under $5, then just don't waste your time and go straight over to Fiverr.com.
Related Posts:
Want more money?

Join Surveyo 24 #1 paid survey site. It's easy - complete a survey and receive payment. No hidden fees and completely free!