"Im Broke and Need Money Now!" – Here are 15+ Ways to Get Cash Fast
Updated on: by Amy Kennedy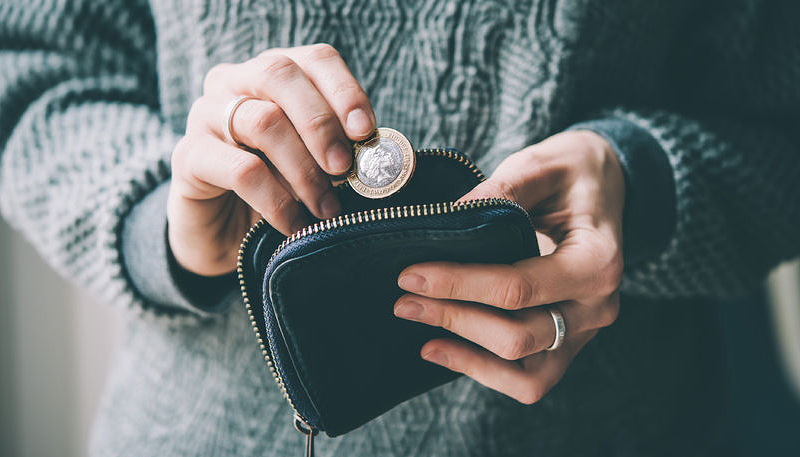 It's something that happens to the best of us: we find ourselves in a desperate money situation in which we need to find super easy ways to make money fast.
Need Easy Extra $350+/Month For Free?
If you're in this position, don't worry.
There are things you can do to get money ASAP, both online and offline.
And, no, they don't involve begging your friends for cash or applying for another payday loan.
Most of the advice you give is okay advice, but it's generic.
You already know that you can have extra cash in your wallet by cutting back on things you don't need (duh!).
Which is why I'm making this list of things that can actually help you in a time of need.
Whether you found yourself suddenly unemployed, or you had an unexpected bill pop up, these money-making methods can give you the cash you need.
Unemployed and Need Cash Desperately?
I get it!
Most people have found themselves in a desperate situation at one point or another.
Unfortunately, we never know when we might lose our jobs or become ill and need to take two weeks off work, losing out on a paycheck.
Sometimes, we have unexpected car repairs that can cost thousands.
In these cases, it's important to know how to make money fast.
Even if you don't have a desperate situation at the moment, you could tomorrow, so this article can help you prepare.
Fast Ways to Make Money Online
Answer Surveys
Taking surveys is something we talk about a lot on Work at Home Adventures, but that's because it works.
Some people are able to make hundreds of dollars just by taking online surveys every month.
Need Easy Extra Cash?
Pinecone Research, a leading name in online survey panel honesty, absolutely guarantees $3 cash for every survey you complete!
Take advantage of their time limited New Membership drive and register NOW. Join today: 100% free!


When you're in a pinch, they can be a great way to have some extra cash, so you don't get behind on your bills.
And, if you lost your job and are waiting for potential employers to get a hold of you, you can take some surveys in your spare time and make money!
There are numerous online survey sites, but here are a few of our favorites:
Read More:
Best Free Online Surveys – Top 12 Legit High Paying Sites
21 Paid Online Surveys for Teens to Earn Money in Their Spare Time
23 Best Paid Online Surveys for Canada Residents
Get Rewarded for Online Tasks
Love doing things online?
Well, this opportunity is for you.
These sites are known as Get Paid To (GPT) sites, because you will have a variety of tasks that will give you money.
Most of these sites offer things like:
Paid web searches
Paid surveys
Paid videos
Paid games
Referral programs
Free and paid offers
Cashback shopping
I personally use some of these to bring in some extra money every month.
But, if you have some time to spare, you can make way more than pocket change with these sites.
Take advantage of everything free (which most of it is), like free offers and surveys, to rack up money quickly.
Most sites don't require a huge minimum account balance to get your first payment.
Here are a few of our favorite GPT sites:
Create a Gig on Fiverr
Fiverr is a great place for freelancers to make some money.
Not a freelancer yet?
Don't worry.
All you need to do is sign up for the platform and start creating "gigs."
Whatever skills you think you can use to start a gig, go for it!
People here do things like write articles, take custom photographs, design websites, comment on blogs, manage social media accounts, and more.
Seriously – you can do just about anything here.
Create gigs starting at $5 or more, and you can make add-ons for additional costs to meet your pricing needs.
After you finish a gig, you can receive your funds in 14 days.
So, continue doing gigs, and you should have a decent amount saved up in a couple of weeks!
Read More: Make Extra Money or Start a Freelance Business on Fiverr
Make Crafts
Do you enjoy making crafts?
If so, then selling crafts online may be your thing.
Earn Everything… nearly!
Join Opinion Outpost, one of the few faithful and honest survey panels and earn cash and gift cards for your opinion. Stack your points and redeem them: Simple! No hidden fees and completely free!


Etsy is the number one place to go to sell your crafts, but there are plenty of others to choose from.
A lot of sellers have luck promoting their items on social media, especially Instagram and Pinterest, and on their blogs.
If you don't have any of those, don't worry, because Etsy has a wide range of tools you can use to help you promote your items.
Some people keep it simple by selling digital items, like website themes or logos.
So, if you want to get a quick start and have some designing skills, that might be the way to go.
Or, you can find something to create from things you already have in your home for a quick and inexpensive start.
Sell Photos
If you're constantly snapping photos on your cell phone, then you should consider getting some money from them.
Plenty of stock photo websites allow you to sell high-quality photos for others to purchase.
As long as there are blogs and websites, there will be a need for photos to go with them!
Some excellent stock photo sites on which you can start selling your photos are:
Alternatively, you can even learn how to make money with your Instagram photos!
And, if you'd prefer to let an app take care of all the selling for you, here are a few of those to try out:
Sell or Take Notes
If you're a student who's also an excellent notetaker – and you need to make some money – then this opportunity could be right up your alley.
You can sell your notes to other students!
Of course, you'll have to be very detail-oriented and organized for this to work in your favor.
Stuvia is one place you can go to sell your notes. Stuvia says that some students earn $2500 in one year of selling their notes!
Or, you can use OneClass to become an Elite Notetaker.
You can upload your notes every week here and earn credits, which you can later redeem for cash and gift cards.
Most notetakers for OneClass even say that they improve their own grades by becoming a notetaker.
Sell Stuff Online
Selling stuff online can be a quick and painless process if you have things you want to get rid of and make some cash off them.
If you use trusted sites, you won't have to worry about scammers or safety as much as you would selling in person.
Some of the best things to sell online are electronics and collectibles, but you can sell anything you don't have a need for on places like eBay.
Here are a few of the most trusted places for selling things online:
Read More: What's the Best App to Sell Stuff Online? Find Ways to Sell Stuff Fast
Take Up Microtasking
Microtasking is a great way to make some money in your spare time by doing quick online tasks, like searching the web, writing product descriptions or articles, categorizing photos, and more.
This guide to Amazon Mechanical Turk will help you navigate one of the most popular microtasking platforms.
However, there are other microtask sites that pay as well as Amazon mTurk (some, even more!):
Read More: 36 Best Ways to Earn Cash Online with Super Quick Tasks
Test Websites and Apps
Testing websites and apps can earn you a quick $10 for about 20 minutes of your time.
This task involves companies or individuals wanting you to provide your feedback on their websites and apps.
Often, other people can catch things that they can't, so it's important to have some extra sets of eyes on their work.
Fortunately, you get paid to do just that.
For testing websites, you'll visit the site, follow the instructions given to you, and speak into a microphone as you complete the tasks, providing your feedback as you go.
For apps, you'll provide feedback after you're done using them, which can include anything you like, didn't like, and any bugs you experienced along the way.
Here are some testing sites to try out:
Read More: These 20 Companies Will Pay You Cash to Test Websites from Home!
Fast Ways to Make Money Offline
Advertise on Your Car
Did you know you can make money just by driving your car?
That's the beauty of car advertising!
It won't be a super quick process to get money, but once you get all set up, you can earn a steady paycheck each month.
It could even give you hundreds of dollars every month!
When you advertise on your car, you'll be wrapping your car in an advertisement or placing ads in specific spots.
Car wrapping, of course, will be the most time consuming but will also pay you the most money.
Websites like Carvertise and Wrapify will connect you to companies needing advertisements.
Your exact profit depends on your car, how many miles you drive, and how long of a contract you enter into.
Read More: How to Get Paid to Advertise for Companies: 5 Unique Ways
Become a Delivery Person
Deliver groceries to the elderly or lunch to a corporate office.
Becoming a delivery person is one of the newest, most popular gigs to enter the gig economy, and it's rapidly growing.
You basically work for yourself as an independent contractor but can use platforms to help you find people in need of your services.
So, until you get another job, this can be an excellent part-time opportunity for you.
GrubHub is a place that lets you deliver food from restaurants to people who prefer a delivery service.
Doorman is another platform where you can sign up to deliver things like packages, food, and more.
Shipt takes it one step further and pays you to shop for, and deliver, groceries to people who use it.
The best part? You can work the hours you want for any of these companies!
Become an Uber Driver
Uber driving is one of the most popular ways to earn some extra money part-time, and some drivers are even turning it into a full-time job.
You're an independent contractor for Uber, so you are in charge of when, and how often you work.
You'll basically use your car to transport people in your immediate area to the places they need to go.
This service obviously works better for drivers in larger cities who can find more clientele easily.
But, you might be able to at least pick up a few people here and there for some extra cash.
Uber says that most of its drivers can earn about $20 per hour.
Oh, and you don't even have to drive people if you don't want to. You can simply sign up as a driver to deliver things to people too.
Rent Your Parking Space
Have an extra parking space in your apartment car garage, or perhaps you don't use your student parking space?
If so, then you can make some money off it!
But first, check with the rules in your town because some places don't allow you to rent parking spots like this.
Also, if you plan to rent your student parking space, you'll need to check that it's not against your school's rules first.
If you're given the all-clear, here are a few websites that help you find people in need of your parking space:
Sit for Kids, Pets, and Houses
Housesitting, babysitting, and pet sitting are all viable ways to make some money offline.
People who go away on business trips frequently or are going away on vacation may need a house sitter to make sure everything is safe and secure in their home while they're away.
You can sign up for places like Care.com or MindMyHouse.com to find people near you who might need your help.
Pet and babysitting are also perfect for people who love animals and kids!
Watch them while owners and parents work or are going out for the night.
Babysitters and pet sitters can easily earn $10 per hour or more, per pet or child.
Try Care.com and SitterCity to find babysitting jobs near you, and Rover.com or DogVacay.com to find pet sitting opportunities!
Participate in Market Research Studies
Market research companies often conduct studies and surveys to gather consumer feedback on products and services.
You can sign up to participate in these studies and earn money for your opinions.
Look for local market research companies or online platforms that offer paid focus groups, product testing, or online surveys.
While the earnings may vary, participating in market research studies can provide a quick way to make some extra cash.
Offer Moving or Hauling Services
If you have access to a vehicle and some physical strength, offering moving or hauling services can be a lucrative option.
Many people require assistance with moving furniture, appliances, or other large items.
Advertise your services on local classifieds, community boards, or online platforms.
Make sure to set competitive rates and provide reliable and efficient service to attract customers.
Rent out Equipment or Tools
If you own specialized equipment or tools that are in demand, consider renting them out to others.
Examples include power tools, gardening equipment, camping gear, or photography equipment. Advertise your offerings locally through word-of-mouth, community boards, or online classifieds.
Be sure to establish clear rental terms and take necessary precautions to protect your assets.
Become a Mystery Shopper
Mystery shopping involves evaluating the quality of service and customer experience at various businesses.
Companies hire mystery shoppers to visit their establishments, make purchases, and provide detailed feedback.
You can sign up with mystery shopping agencies or browse online job boards for opportunities in your area.
While the pay may vary, mystery shopping can provide a quick way to earn some extra money while enjoying different experiences.
Offer Event or Party Services
If you enjoy planning and organizing events, consider offering your services for parties, weddings, or other special occasions.
You can provide services such as event planning, decorating, or serving as a DJ or entertainer.
Advertise your services through social media, local event listings, or by distributing flyers.
Building a strong portfolio and networking within the event industry can lead to more opportunities and faster income generation.
Conclusion: "Im Broke and Need Money Now!" Now You Have Options!
You have several options available if you're in a pinch and need some fast cash.
I hope that this article helped spark some ideas and gave you some helpful tips if the need ever arises.
I also recommend getting set up on freelancing websites like Upwork or Guru if you have tech-savvy skills, like writing, data entry, graphic design, and more.
New jobs get added daily, even hourly, on these freelance marketplaces, so you can usually find quick work when you need it.
What do you do when you need fast cash?
Let me know your online and offline ideas in a comment!
Related Posts:
Earn Everything… nearly!
Join Ipsos iSay, one of the few Faithful and Honest survey panels and earn prizes, gift cards and donations. Stack your points and redeem them: Simple! No hidden fees and completely free!