13 of the Best Ways to Increase Your Income Every Month
Updated on: by Amy Kennedy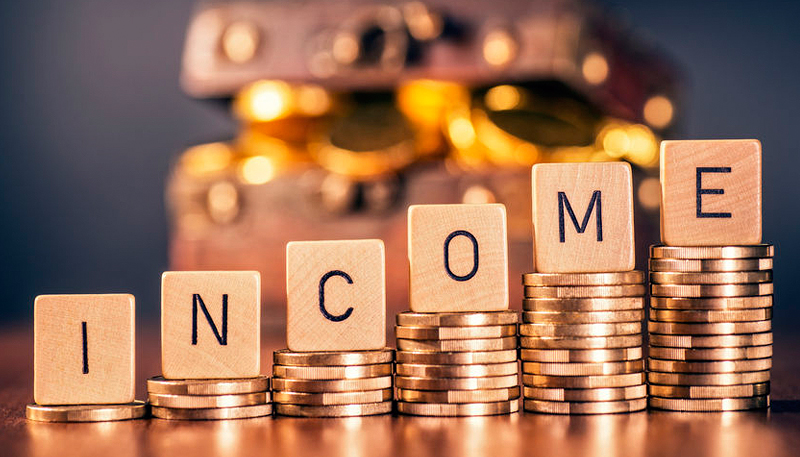 Looking for a money boost for your wallet every month?
Need Easy Extra $350+/Month For Free?
If so, stop looking for an extra part-time job to increase your income.
I'm sure your regular job can be stressful enough without adding in more long hours and awkward schedules into the mix.
Instead, get creative!
I'm going to talk about several ways you can increase your monthly earnings without taking on another job.
Here's How to Maximize Monthly Income
Make More Money at Your Current Job
First things first.
Let's not rule out your current job!
You might think you're stuck at a dead end with your job and earning potential, but have you really tried to earn more there?
If not, now's the time. You might be surprised by the result.
Talk to your boss about getting a raise.
You'll need to sell yourself here, though.
He or she is going to want to know why, out of all the employees at your job, you deserve more money.
If you've had any big, recent accomplishments, be sure to jot them down and present them when you meet.
If a raise is totally out of the question right now, then see if there's another position with a better salary that you might be perfectly suited for.
Or, you can ask about overtime hours and see what you can do about squeezing in a few of them every week.
Your current job is the easiest place to start when it comes to boosting your monthly earnings, so be sure to tap into the resource.
Need Easy Extra Cash?
Pinecone Research, a leading name in online survey panel honesty, absolutely guarantees $3 cash for every survey you complete!
Take advantage of their time limited New Membership drive and register NOW. Join today: 100% free!


Sell Stuff
When talking with your boss doesn't go over well or didn't give you the extra money you'd hoped for, don't feel defeated.
There are plenty of other things you can do for extra cash that don't involve your job.
Selling stuff is one of them – and, trust me, there are a lot of things you can sell that you've probably never thought of, like:
And the list goes on!
Tap into the things you have that you don't need. Scour your closets and basement for hidden gems to sell.
Or, create your own stuff, like crafts, custom t-shirts, jewelry, and anything else that can make you some money.
You can get so creative here, which is why this method of making money is one that's suited to just about anyone.
Flip Blogs
Did you know that you can buy and sell domain names – or even full websites – to make thousands of dollars?
Seriously!
I know a few people personally who are in the domain and website flipping business (yes, it's a lot like flipping homes!).
They start off small, buying domains or websites for low prices.
Then they build those up, make them popular, and sell them for thousands.
Once they get momentum going, they can start to purchase more expensive websites that already have an established following, continue growing them, and sell them for ridiculously high numbers.
Or, you can even buy an already-popular website and start earning the cash it makes every month!
Eventually, you'll make more than what you paid, so anything else will be pure profit.
Look on Flippa to find these gems.
Find a site that's already earning money from advertising every month so you'll know you can continue making that money.
Start a Side Hustle
Side hustles are so flexible, making them perfect for people who already have full-time jobs to still earn some money when they have free time.
And, you can even use your mobile device to find people near you who need your help!
Use apps like Gigwalk and Taskrabbit to find locals who need help with painting, landscaping, buying groceries and anything else that you can assist with.
You'll get paid once you complete your task and you won't have to spend a bunch of time marketing your services around town.
Read More: The Most Lucrative and Legitimate Side Hustle Ideas In 2018
Freelance
It probably won't be much longer before we see about half of Americans choosing freelancing over typical jobs.
But, until you're ready to make the leap, you can pick up some freelancing work on the side.
Freelancing covers a wide range of skills, like tech support, customer service, 3D modeling, and tutoring.
Any skills you have, you can probably apply them to freelancing.
Check out sites like Upwork and Fiverr, which can help you put your freelancing skills to use, in your own time, so that you can start earning money.
Read More: 8 Ways to Get Started as a Freelance Writer 
Turn Your Hobby into a Money-Making Gig
Do you have a hobby that you've always dreamed of turning into a money-making gig?
Earn Everything… nearly!
Join Opinion Outpost, one of the few faithful and honest survey panels and earn cash and gift cards for your opinion. Stack your points and redeem them: Simple! No hidden fees and completely free!


Well now is your chance!
Hobbies can absolutely make you money because they're likely things that other people enjoy doing.
When other people enjoy something, they want more of it – and are usually willing to pay for it!
What do you enjoy doing? Use your interests to turn a hobby into a cash-earning machine.
For example, you can make money fishing.
You can also sell your favorite photos to stock photography sites and apps for other people to buy.
Or, set up local photography sessions for families in your neighborhood.
If you love fantasy football, you can make money playing it.
Write for greeting card companies if you have a funny bone or just love to write.
Even video game fanatics can make money playing games!
Walk the Neighborhood Dogs
Apps like Rover and Wag! Walking have made it so easy to find local dogs to walk when their owners are at work or on vacation.
It couldn't be simpler.
Sign up for your favorite app (or both of them if you really want to cash in on your spare time) and get matched with people near you who need a dog walker.
You can walk the dog, report back to the owner with how it went, and get paid for your time.
Each app gives you reviews from dog owners, too, so if you do a great job, you'll find it even easier for other people to choose you!
Deliver Stuff
You can look for people in your neighborhood who need help with deliveries, such as elderly folks who could use a hand getting their groceries from the store and back to their house.
Or, you can make it even easier by signing up for one of several delivery services that match you with people who need your help.
Think of yourself like an Uber for anyone who needs something delivered, whether it's coffees to a local office, pizza from a shop that outsources its deliveries, or new furniture to a family who's moving in down the road.
Deliver food with UberEats, a newer service from Uber that allows you just to be a delivery person of food rather than tote others around in your car.
Or, you can become a personal shopper and deliverer of groceries with InstaCart.
Saucey lets you deliver alcohol to the neighbors.
And Postmates lets you deliver just about anything locals need!
Take Care of Kids
Babysitting may seem like a job for teenagers, but some parents don't trust leaving their kids in the care of teens.
So, if you love kids, then babysitting in your spare time may be the perfect opportunity for you to earn extra money.
Your location will somewhat dictate the average hourly price you can get for babysitting.
But, you can usually expect at least $5 an hour, per child, as a minimum price for watching kids.
Ask the parents to include a lunch and their own diapers and wipes to save on the costs you spend out of pocket to maximize your earnings.
Before you get set up with this biz, be sure to check out the laws and regulations in your area.
Most localities have laws governing in-home daycares and what you'll need to qualify for one, so it's a good idea checking them out before getting too invested in the process.
Advertise on Your Car
Let your car make money for you!
You can seriously earn up to $1,000 per month just by advertising for companies on your car.
Not only will that cover your car payment for the month, but it may even cover your insurance premium and leave you some left over!
Basically, you'll have a car that pays for itself and some extra money to boot.
The downside is, to earn this much money, you'll need to have a full wrap done on your car.
You don't have to pay for it (the advertiser does), but it may not be what you envisioned for your dream car.
You'll enter into a contract with the advertiser for a certain number of months to keep the wrap on, and you'll get paid each month.
This opportunity is best for people who drive a lot, as most advertisers will want to see that you drive several miles every day to get their advertisements in front of as many people as possible.
Or, Advertise on Yourself!
You can always advertise on yourself for cash too!
This method of advertising is all about tattoos.
You'll essentially be a walking billboard for brands who want to pay you to advertise them on your body.
People have made tens of thousands of dollars doing just that!
Granted, they usually have to stick a tattoo on their foreheads or some other spot that can be seen by everyone they come across.
But, if it nets you thousands of dollars, maybe it'll be worth it for you?
Some people have found success selling their extra body space for advertising tattoos on Craigslist and eBay.
In fact, one auction for this went up to $37,000!
You can also reach out to brands directly to see if it might be something they're interested in.
I'm willing to bet that you should stick with offbeat brands who might appreciate this type of thing a little more than wholesome, family brands – but you never know, I suppose!
Let Your Computer Make Money for You
Even when you're not using your computer, you can make money on it!
Well, actually, it can make money for you!
It's a process known as distributed computing.
Basically, you can rent out your computer space and power to people who need it for research, analytics, and more.
They need a lot of CPU to carry out the processes, so they'll pay people to borrow some on their computer.
All you have to do is stop using your computer, let it run, and make some money.
Stick to a legitimate distributed computing company to find companies willing to pay you for your computer usage because this niche can tend to be filled with scam artists.
Refer People to Your Favorite Sites
Referrals can significantly increase the amount of traffic a website gets and the number of sales a company gets.
That's why so many companies are using referral programs to incentivize people to refer their friends to sign up or make a purchase.
Check the websites you use a lot – there's a good chance that your favorites have referral programs that will pay you to invite a few friends.
Don't leave your favorite apps out, either, because they may also have their own referral programs!
Here's a list of several sites and apps that pay you to bring your friends or family along.
Conclusion: Best Ways to Increase Your Income
Increasing your income every month by $100 to $1,000 is plausible if you put in the work to find an opportunity that suits you best.
The above ideas are just a few of the things you could be doing RIGHT NOW to earn extra money!
Use them as inspiration to come up with the perfect strategy to make extra money each month, and potentially thousands of extra dollars every year.
Do you currently do anything to make extra money in addition to your job every month?
We want to hear about it – leave a comment!
Related Posts:
Earn Everything… nearly!
Join Ipsos iSay, one of the few Faithful and Honest survey panels and earn prizes, gift cards and donations. Stack your points and redeem them: Simple! No hidden fees and completely free!