20 Best Legit Jobs for Introverts – Make Money the Introverted Way!
Updated on: by Amy Kennedy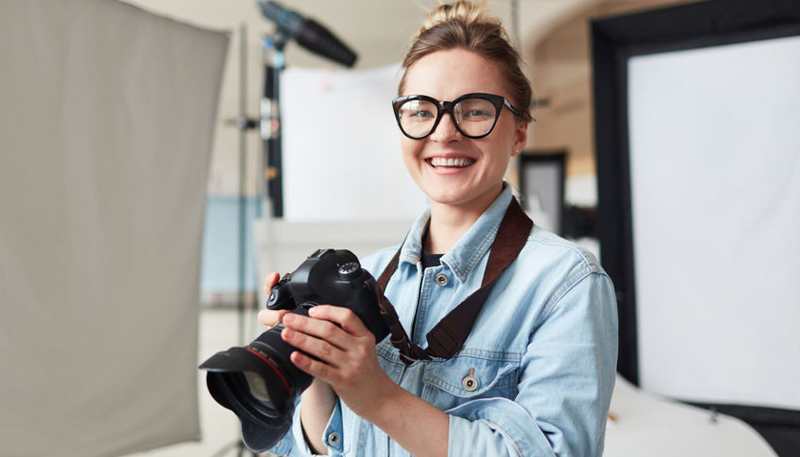 It's tough finding a job where you don't have to deal with people (or, at least, can deal with them at a minimal level every day) when you're an introvert.
Need Easy Extra $350+/Month For Free?
Introverts are an interesting group.
They may have some very close friends, but when it comes to interacting with groups of people on a daily basis, the thought leaves their heads spinning.
I know because I am one!
Working from home or starting your own business is one of the best ways to find a dream career as an introvert.
You're in control of what you do and who you communicate with (for the most part), so you can do what you're comfortable with.
I've come up with several job ideas for introverts like me to get started on right away!
What are Some Solitary Jobs I Can Do Now?
If you want some legit ideas of careers for hermits, here they are!
These jobs require minimal communication efforts, so you can make money without being overly social.
Sell Your Stuff Online
Selling your stuff isn't a job necessarily, but it can become an excellent money-making hobby.
You can sell everything from old clothing to used laptops online.
The best thing is that you can skip the yard sales and sell directly to people online who want to buy your stuff.
Or, find local buyers who are already interested in what you have, so you won't have to meet with a bunch of "maybe" buyers.
Have an old wedding dress? Sell it!
Get rid of your old CD collection and make some money!
Your options are virtually endless.
Need Easy Extra Cash?
Pinecone Research, a leading name in online survey panel honesty, absolutely guarantees $3 cash for every survey you complete!
Take advantage of their time limited New Membership drive and register NOW. Join today: 100% free!


Read more: What's the Best App to Sell Stuff Online? Find Ways to Sell Stuff Fast
Shop Online
If you really hate being in crowds, then shopping online is the way to go.
I'm not embarrassed to admit that I'd rather even spend a few more dollars to shop online than to visit a store full of crowds.
But, I've actually seen that most online retailers offer deeper discounts (or I can usually find some great promo codes) than their brick-and-mortar counterparts.
By shopping online for toys, clothing, office supplies, and just about anything else I can (even groceries sometimes), I estimate that I save hundreds of dollars every year.
If you do want to start making shopping online a habit, then check out Paribus.
This tool syncs with your email provider and scans through your online shopping receipts to make sure you got the best price!
If not, you'll get a refund.
Not only can shopping online save you from crowds, but it can also save AND make you money!
Read more: Best 22 Online Coupon Sites For 2018: Save Money Shopping Online!
Get Paid to Do Your Grocery Shopping
There are, unfortunately, some things you just have to leave the house to buy.
In that case, stick with an app like Ibotta, which will give you money back on your purchases.
Before you shop, use the app to find deals for products you want to buy.
Go to the store, buy those items, and then scan your receipt when you get home,
Ibotta will match your receipt with the deals and give you the money you earned in your account.
Once you make $20, you can cash out with PayPal!
You can play as a team with others, but don't worry – no communication is necessary!
Ibotta will connect you with your Facebook friends and put you on the same team so that you can earn money faster together.
Read more: 20 Best Free Coupon Apps for Stores, Restaurants, Groceries, and More
Make Money with Online Reward Sites
I'm sure you've heard of reward sites like Swagbucks and InboxDollars (probably because I talk about them a lot here!).
If you haven't yet jumped on the bandwagon, now may be a good time.
These sites will give you some extra spending money while you're looking for the perfect job to fit your introverted lifestyle.
Earn rewards from checking emails, inviting your friends, playing games, taking surveys, completing free offers, and more.
It's simple, you can use the sites on your own time, and you never have to deal with another person while doing it.
Read more: Top 14 GPT Sites That Pay Instantly with PayPal Cash and Other Rewards
Share Your Opinions Anonymously Online
Survey sites are another great way to make some extra money online.
They're flexible to use (use them whenever you have some spare time) and can give you extra spending money for the month.
Most survey sites don't divulge your personal information unless explicitly stated for the purposes of a specific survey.
You won't have to talk to anyone. Just answer questions online about your interests, hobbies, dislikes, habits, etc.
Earn Everything… nearly!
Join Opinion Outpost, one of the few faithful and honest survey panels and earn cash and gift cards for your opinion. Stack your points and redeem them: Simple! No hidden fees and completely free!


Read more: 17 of the Best Free Survey Sites in 2018 That Really Pay!
Get Crafty
If you love making crafts, but the thought of entering a craft fair with crowds of people makes your skin crawl, then maybe selling crafts online is a better option!
Sites like Etsy have made it commonplace for people to come up with a unique idea and start selling their handmade items to others.
There's no need to join your local flea market or start a neighborhood yard sale.
Set up an online shop, market your products however you feel comfortable, and start making money.
Get the kids involved and turn it into a family business with the people you feel most comfortable with!
Read more: 20 Places to Sell Handmade Crafts Online (Some Are FREE!)
Design and Sell T-Shirts
Selling t-shirts online has become incredibly popular in the past few years.
The main reason for that is because it's such a simple business model that has a high potential for success if you do it right.
Another reason for that is because it's an introvert's dream come true.
Sites like Shopify and Merch by Amazon have made it as easy as possible to start selling your designs.
With some places, you won't even have to handle your customer service requests!
There are several t-shirt companies that do it all for you, so don't get all anxious wondering how you'll deal with customers who have a complaint.
Read more: 22 Best Places to Sell Your Custom T-Shirts Online
Stay Behind the Scenes with Video Editing
Do you love watching or creating videos but hate the idea of being in front of them?
Why not become a video editor instead?
You can still have a hand in creating hilarious or inspirational YouTube hits, but without the panic-inducing need to be in front of the camera.
The best way to look for these jobs when you're starting out is by using freelance marketplaces like Upwork or Fiverr.
Browse the categories to find people in need of video editing services and put your skills to use!
See also: Top 20 Methods to Get Paid to Watch Videos Online
Become a Freelancer
About 34% of Americans are currently freelancing either part-time or full-time, and that number is expected to move into the 40's in a couple of years.
If you haven't gotten your share of the freelance world, then now's the perfect time to jump in on the action.
Freelancing is a blanket term that can encompass several skills.
Think about the skills you have:
Web design
Graphic design
Writing/translating/editing/proofreading
App development
Tutoring
Marketing strategy
Business consulting
Animation
Voice over talent
WordPress programming
Interior design
Those are just a small sample of the kinds of skills freelancers all over the world have.
Look through the categories of Upwork and Fiverr to get some more ideas of where you might fit in.
Sign up for the platforms and start finding clients who need you!
Or, you can seek out your own clients by visiting their websites and sending them some well-thought-out pitches of services you can provide for them.
Read more: Make Extra Money or Start a Freelance Business on Fiverr
Set Up an Online Checking or Savings Account
For introverts, something as simple as having to visit the bank to cash a check can cause anxiety!
Which is why you should look into online-only checking or savings accounts!
Capital One 360 is one of my favorites.
It's so easy to set up your account, add another one later if you need to, create automatic savings transfers, transfer money between accounts, and more.
Your savings account will also yield interest, so you'll make money without having to do anything besides keeping some money in your account.
Some online banks will even give you bonuses for opening new accounts, so be sure to check out NerdWallet's updated bonus listings for the newest information.
Get Bonuses from Financial Products
Speaking of bonuses, you can also get them from opening new credit cards.
You won't want to do this often, of course, because having a lot of inquiries to your credit report can harm your credit score.
But, when you need a new card, look for ones that have awesome bonuses.
I've seen some that will give you $300 or more just for making a certain number of purchases within the first three months of having your card.
As long as you're responsible in paying off your balances, then this can be a great way to get some extra money in your pocket without ever talking to another human.
Bet on Your Fitness Skills
Love to exercise, but you're not a fan of going to a gym full of sweaty companions?
That's okay – you can make money by betting on your fitness skills with like-minded people.
The best part is that you never have to meet these people!
You do it all through fitness apps, like DietBet, which let you join challenges to bet against others or challenge yourself to meet your goals.
Making money while getting healthy? Yes, please!
Read more: Top 14 Apps That Pay You to Exercise, Get Fit and Stay Healthy
Sell Photos
You probably have a ton of photos just sitting around in your phone's camera roll.
If that's the case, then make the most of your filled gallery by selling your photos.
This is great for introverts who love photography but don't necessarily love the idea of booking clients for photo sessions.
Instead, take photos you love, upload them to stock photography sites or apps that accept user submissions, and make some extra money.
Read more: Top 10 Ways to Make Money from Your Beautiful Instagram Photos
Keep an Eye on Other Houses
Housesitting is the perfect opportunity for introverts!
Just like babysitting means caring for someone else's babies, housesitting means caring for someone else's house – but no human interaction is required except for coming to an agreement with the homeowner.
You'll probably also be required to keep the homeowner updated on how things are going occasionally.
Other than that, you'll get a place to stay, usually for no cost to you, and you can enjoy the peace and quiet in a new place.
Read more: Top 8 Places to Find Paid House-Sitting and Caretaking Jobs Online
Become a Virtual Bookkeeper
Virtual bookkeeping trumps regular, in-office bookkeeping when you're an introvert.
Why?
Because you'll never have to meet your clients in person!
You can take on local clients or ones from around the world.
Focus on small businesses that resonate with you.
Do all their bookkeeping online using your favorite software.
Sure, you might need to take a phone call once in a while, but it sure beats doing most of the work in an office in face-to-face meetings, right?
Read more: Top 13 Legitimate Work From Home Accounting and Bookkeeping Jobs
Take Up Microtasking
Microtasking is flexible and freeing.
These small tasks can require a variety of skills, so almost anyone can find tasks that fit their interests and what they're good at.
They can also be squeezed into any part of your day when you have some extra time.
Read more: 36 Best Ways to Earn Cash Online with Super Quick Tasks
Don't Like People? Take Care of Dogs!
If people aren't your thing, then maybe dogs are.
Pet-sitting could totally be up your alley and provide you with an excellent opportunity to make some money!
Apps like Wag Walking and Rover can even match you with people local to you who need pet walkers.
Write for Your Favorite Magazines or Blogs
Writing is one of the best ways for introverts to make money.
There's no communication with others involved, other than speaking with an editor about your ideas and any corrections that need to be made.
As long as you have proven writing skills, writing for your favorite magazines and blogs can be a reality for you.
All you have to do is contact them!
Some online publications go through content creation platforms, like Skyword and ClearVoice.
Sign up with those places, and you may find yourself connecting with top brands!
You can also pitch the editors of your favorite sites by searching for their contact emails and coming up with some ideas for articles that will fit within the site's content.
Read more:
These 28 Freelance Online Writing Jobs are Perfect for Beginners
Top 23 Magazines That Pay for Your Personal Stories
Translate or Transcribe
When you translate or transcribe audio files, there's no need to speak to anyone in person.
Just listen to the audio file and turn it into words!
Experienced translators and transcriptionists can absolutely make these jobs their full-time income.
Those who specialize in niche skills, like legal or medical transcription, can make even more.
But, you can even get started as a complete newbie with general transcription.
Check out the link below to find websites that hire general transcriptionists to work from home without experience.
Read more: 30 Best General Transcription Jobs from Home, No Experience Required
Social Media or Blog Management
I know – social media and blogs are supposed to be social.
They are social but being social on them is much different than being social in person.
If you're already blogging and/or using social media, then you might consider taking it a step further and making money off of managing the social media accounts and blogs of other people.
Create graphics, blog posts, and social media blurbs and post them according to the needs of your clients.
You'll have to communicate with your clients occasionally about your gigs, but most of that can be done through email or a quick phone call – no need to in-person meetings!
Read more: 16 Best Paid Blogger Opportunities to Make Money Online!
Conclusion: Best Independent Jobs for Introverts
Is your introverted self-satisfied?
I hope that this post gave you some things to think about as far as legit jobs that don't require a bunch of communicating.
As much as we pick on ourselves for being introverts, we're truly an amazing breed of human that loves those closest to us and thrives on having a lot of alone time.
There's no reason our desire to be by ourselves should limit our work opportunities!
Good luck finding that dream career!
If you're an introvert, we want to hear your thoughts in a comment!
Let us know what you do for work, what you love or hate about it, and any other job ideas you might have for this list.
Related Posts:
Earn Everything… nearly!
Join Ipsos iSay, one of the few Faithful and Honest survey panels and earn prizes, gift cards and donations. Stack your points and redeem them: Simple! No hidden fees and completely free!