iPoll Review: Are These Online Surveys the Best Way to Make Money Online?
Updated on: by FStewart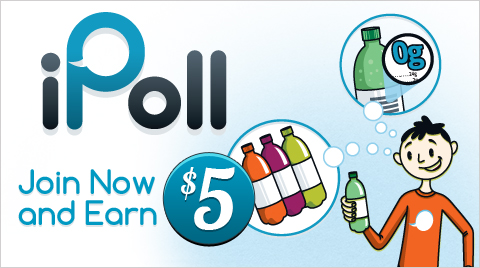 The internet came along and changed our lives in more ways than one. Apart from all the entertainment options available you can find solutions to your financial challenges. It can be as easy as answering a few survey questions and getting paid for it.
Need Easy Extra $350+/Month For Free?
But it's only that easy if you pick the right platforms. If you don't, you may be robbed of your time and have no money to show for it. Is iPoll one of the better options?
It has been around for almost a decade and can proudly state its affiliations with relevant authoritative bodies. But there have also been some fluctuations of service quality over the years. How does this app perform these days?
I did an in-depth iPoll review to help you gauge the truth. Should its reviews be on your to-do list in the future?
The Concept
The iPoll platform is similar to many other online review sites. You can register a profile and from then on complete product and service reviews in return for rewards.
What's attractive about this platform is that the system also incorporates a mobile app. Yes, it will work on both Android and iOS devices, so almost anyone can enjoy this added feature. Why is this so beneficial? Because it means I can make money while I travel or wait in a line; I don't have to be at my desk to do the work.
There's an added feature of challenging you with completing quests. Apart from products, you can do a survey on a business such as a restaurant or a store. This is easily done on your phone while you're at that venue, so having an app makes it more user-friendly.
During these quests, you may also be requested to upload product images, which is effortless when you're ready for action with your app on your phone.
Bottom line: iPoll options are relevant to modern living, such as always having your mobile phone with you. It doesn't require any additional effort, so it's easy to increase the number of tasks you complete.
But where did it all begin?
What is iPoll?
iPoll has been around since 2008, being operated by Survey Sampling International, LLC.
The survey system works in multiple countries, which is impressive, but here's a warning: Not all the countries are necessarily included in all the features. You may not be able to download the app in some areas.
How Does iPoll Make Money on Surveys for Its Users?
You can make money by simply filling out surveys, or you can use some of the advanced options. Rate your local restaurant on its service or atmosphere or get paid to upload a few photographs. These have to be original of course which means you can make money while out and about. That's one of the things I love most about iPoll.
Payment rates are acceptable, and you can earn around $2 per survey. However, you can increase your earnings fast by doing the quests or shopping missions. These pay more (even up to $20), and in some cases, you can complete one mission more than once.
When it's time to request your payout, it's convenient to have more than one option. You can either ask for payment directly to your PayPal account, or you can receive vouchers (reward codes) for a platform such as Amazon or iTunes.
Getting Started
I appreciate user friendliness and iPoll doesn't disappoint. You can create a new profile or make it easy on yourself and use a LinkedIn, Google or Facebook account. If you invest time in completing as much as possible in the original profile, the system will use it to ensure you get access to relevant polls you qualify for.
Need Easy Extra Cash?
Pinecone Research, a leading name in online survey panel honesty, absolutely guarantees $3 cash for every survey you complete!
Take advantage of their time limited New Membership drive and register NOW. Join today: 100% free!


There is a minimum age for iPoll, and in their terms and conditions, it states it is 18 years old.  What is great about it is the wide range of audiences that have access to it – it is available in over 30 countries.
It has a user-friendly interface, and you're credited $5 after joining (yes you get paid to complete the initial questions!), and then you're ready to start.
Pros and Cons
There are a lot of features that prompt me to return to the site and the app time & again. Best of all is that I won't lose my earnings simply because I take a break from iPoll for a while.
The mobile app is definitely a winning feature which I hope all survey platforms incorporate in future. The quests keep it interesting, and it's great to think each shopping spree may lead to me earning a few dollars.
Getting paid to join is huge drawcard of course, and the payment rates are acceptable. It's just unfortunate you have to do a lot of surveys before you have enough to request a payout. It's one of the highest minimum payouts compared to other apps like iPoll.
The platform keeps you busy enough, so you're bound to have new options every week. I also appreciate that the system invites you to relevant ones, which makes for quick access instead of searching for them yourself.
Really the Best?
I'll be honest: This isn't the best I've ever tried out, and it's a bit bothersome to wait long for a payout. Firstly, it sometimes takes a while before I have the necessary funds in my profile and often the payout process itself lags.
Apart from this, I do enjoy using it. The app and quests make it more interesting than some other platforms.
Is iPoll Legit or Scam Related?
Let's work with facts, rather than assumptions by starting with iPoll's rating with the BBB (Better Business Bureau).
They have an F+ rating, but I think iPoll isn't a scam. You'll also find user reviews that praise the brand for their excellence, payout procedures and quality of service.
However, the brand isn't perfect. There are some concerns—especially over the past few months—regarding changes and glitches in the system. Some users' accounts simply get terminated after they request an iPoll cashout. This may be seen as a simple inconvenience, but if you need to create a profile again, it robs you of time. And as in any business, time is money.
Some users also complain that they're prevented from reaching the minimum payout amount as apparently, they don't qualify for surveys after a while. This may very well be the truth, but it does bring some cause for concern. It's one aspect iPoll should maybe address publicly.
Although I'm more than happy with my iPoll experience, I'm keeping a close eye on the number of these or similar complaints.
Be aware that the data you submit, such as your personal information, may be shared with third parties. I do think they should improve their privacy policy.
Getting the Most Out of iPoll
So, yes, in my iPoll review process, I've been happy using it. However, I know much of it has to do with how you use it. Here are some tips for newbies.
Firstly, know that it's worth it to fill out your profile in full. Not only are you paid for some of the questions you answer, ($5 just for signing up—that's quite impressive), but it helps you make money in the long run.
Based on your answers, iPoll will select surveys for you in future. The more they know about you, the more appropriate invitations you'll get, so you won't waste time on ones you don't qualify for.
Secondly, with iPoll, you need to have a long-term plan in place. It can take up to a month to cash out your earnings, so keep this in mind when compiling your personal budget.
The high minimum cash out amount ($50) also affects how you'll use this to supplement your income. You may only get this once every two months, depending on how much time you put in. Just be prepared for these logistical aspects, so your iPoll experience stays positive.
It's noteworthy that you can ask for payouts before you reach $50 (even as low as $10), but that will place you on a different tier and affect in what format you're paid. In lower tiers, you may only get magazine subscriptions.
Final Words
Personally, I have no qualm recommending this site to my friends, so if you're looking for more survey work, you can try iPoll too. There are many others that will pay out sooner, and I hope iPoll resolves some of the issues, so users don't get logged out simply for requesting payment.
For these reasons, this should not be your only option, and if you can only manage a limited amount of surveys each week, there are other options you may want to look at first.
But if you have the time, it's definitely a wise idea to add this app to your mobile phone's Home screen. Who doesn't want to make money each time you head out the door? If you're new to the online survey world, this can also be an easy training option as iPoll is user-friendly.
I've seen better, but iPoll is still worth your time.
Related Posts:
Earn Everything… nearly!
Join Ipsos iSay, one of the few Faithful and Honest survey panels and earn prizes, gift cards and donations. Stack your points and redeem them: Simple! No hidden fees and completely free!