Is a Smartphone a Smart Idea for your Freelance Business?
Updated on: by Miranda Grimm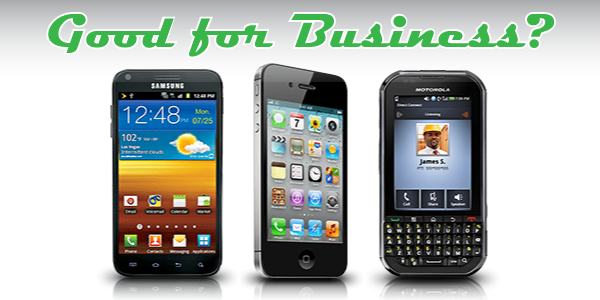 Need Easy Extra $350+/Month For Free?
Working online with your own freelance business means you have slapped yourself right into the middle of this ever-evolving world of technology.  Often-times working for yourself means you must stay in close contact with your clients, have more deadlines than you can manage and social networking is probably more meaningful to you than to most of your friends. There are times when having a Smartphone is good for business and there are times when it is not.
I bought my first smartphone over two years ago. It was expensive, came with a two year contract, increased my monthly bill and was out-dated and tired before I was even done with my two year wireless plan agreement. But as soon as I possibly could, I bought another smartphone and signed another two year agreement.
There are a lot of benefits to having a smartphone.
True Internet nearly anywhere you go. Which means more than just checking your email. You have a GPS with you when traveling, can check for the nearest restaurants, weather, traffic updates and access to hundreds of radio stations around the United States all for no additional cost. And the internet is the same internet you are used to looking at from your computer.
Organizational tools at your hand. All of us have our own organization process. There are so many tools you can find in the app stores that you will surely find some great resources to keep your deadlines met and your mind clear.
Keep in close contact with your clients. Having a fast response time and keeping your clients in the loop with the latest news is always highly appreciated. When treated right, clients are often repeat business. Being able to respond to emails quickly or be available for chat conversations shows your clients you mean business.
Get rid of the rest of your gadgets. If you spend good money on a quality smartphone, you will find it has a great HD camera and video camera. This also gives you the chance to stop using your scanner to send signed contracts or receipts to clients when you can simply take a picture and email it to whomever you please. With your smartphone, you can even turn your images/documents into Adobe files and send to your clients. And, if you have a printer that is up-to-date you can send your documents to your printer or even connect your computer to access the files on your phone.
Make money with your smartphone. There are a lot of apps available to smartphone users that will allow you to actually make a little extra money from your phone. You can also often do actual work from your phone. If you can access it from your computer- you can access it from your smartphone. You will find you can earn money in many ways when you think creatively.
Accept Payments with your smartphone. This is not something I personally have experience with but definitely a unique perk! You can actually accept credit card swipes using your smartphone and an attachment that you can often receive free or for a very small cost.
But there are also many reasons to NOT invest into a smartphone for your freelance business.
It is expensive. Most quality smartphones cost $200 after you receive a discount for signing up for a two year agreement. If you want to avoid being locked into a contract, you are looking at $500+ for a good phone.  Not only does the initial phone cost you, but depending on your wireless provider, it is most likely that your monthly bill will increase, quite a bit!
Technology is moving too fast. If you save money on the phone purchase and sign a two year contract, you cannot buy a new phone and receive another discount until probably near your two year anniversary. Most likely by that time, your phone will be outdated and updates will no longer be supported for your phone. This is especially true if you buy a phone that has been on the market for a while already before your purchase! It is impossible to keep up!
Need Easy Extra Cash?
Pinecone Research, a leading name in online survey panel honesty, absolutely guarantees $3 cash for every survey you complete!
Take advantage of their time limited New Membership drive and register NOW. Join today: 100% free!


You are available at all times. In most ways this is great. But in other ways it is difficult. Trying to break away from work and have family time can be a struggle when you keep getting email or chat notifications.  It is hard to decide whether to interrupt your time to address the issue that may be causing the emails or ignore them and be worrying about it.
Constant Maintenance. Between updates, screen protectors, battery life…it seems having a smartphone can be yet another stress in life. I love my smartphone but deep down I am a very simple girl. I find having a smartphone adds a lot of unnecessary complications. My husband does not understand this. To him it is simple to do a few updates to apps (on a near daily basis) but to me it is frustrating that I even have to think about it.
Did the makers forget it is a phone? I have owned three smartphones (all android- 2 HTC and 1 Samsung) and it seems to me the makers almost forget it is a PHONE. I find making a simple phone-call can be a nightmare! I struggle to find my contacts, the phone portion doesnt always want to load right away. God forbid I ever have an emergency- especially considering I gave up my landline phone.
As with all things technology, it will have its bugs, quirks and never be perfect. It will freeze on you, do weird and unexpected things,  give your kids the ability to call any of your Facebook 'friends' by accident and always need charged (or so it seems). It also will be crushed with a sledgehammer over and over again in your spouses imagination! Trust me.
Knowing if a smartphone is good for your freelance business is something unique to each of you. But I hope seeing the pros and cons from my personal two years of experience will help you make a decision. It is truly a big and long-term choice to make. Remember to ask your cellphone provider what the return policy is on your phone. You may be able to try it for about 14 days before you are officially locked in. Also be sure to ask about any additional insurances and decide if they too are worth the investment.
Related Posts:
Earn Everything… nearly!
Join Ipsos iSay, one of the few Faithful and Honest survey panels and earn prizes, gift cards and donations. Stack your points and redeem them: Simple! No hidden fees and completely free!